Flights to Tibet from US
by Ghita
Last Updated: 2023-01-28
Every year, numerous Americans come across the Pacific Ocean to travel to Tibet. It is necessary to know some tips about the transportation, attractions, and documents of Tibet travel.
Up to now, there are about 9,000 Tibetan Americans living in the USA and Tibetan culture is becoming more and more popular in some districts of the USA. It is an amazing experience for Americans to explore the profound culture of Tibet and appreciate the breathtaking view of nature. In order to have a wonderful travel experience, you are suggested to know how to get there, what to see here and what're the necessary documents. Meanwhile traveling to Tibet at an appropriate time makes it count in one's Tibet tour.
How to Get to Tibet?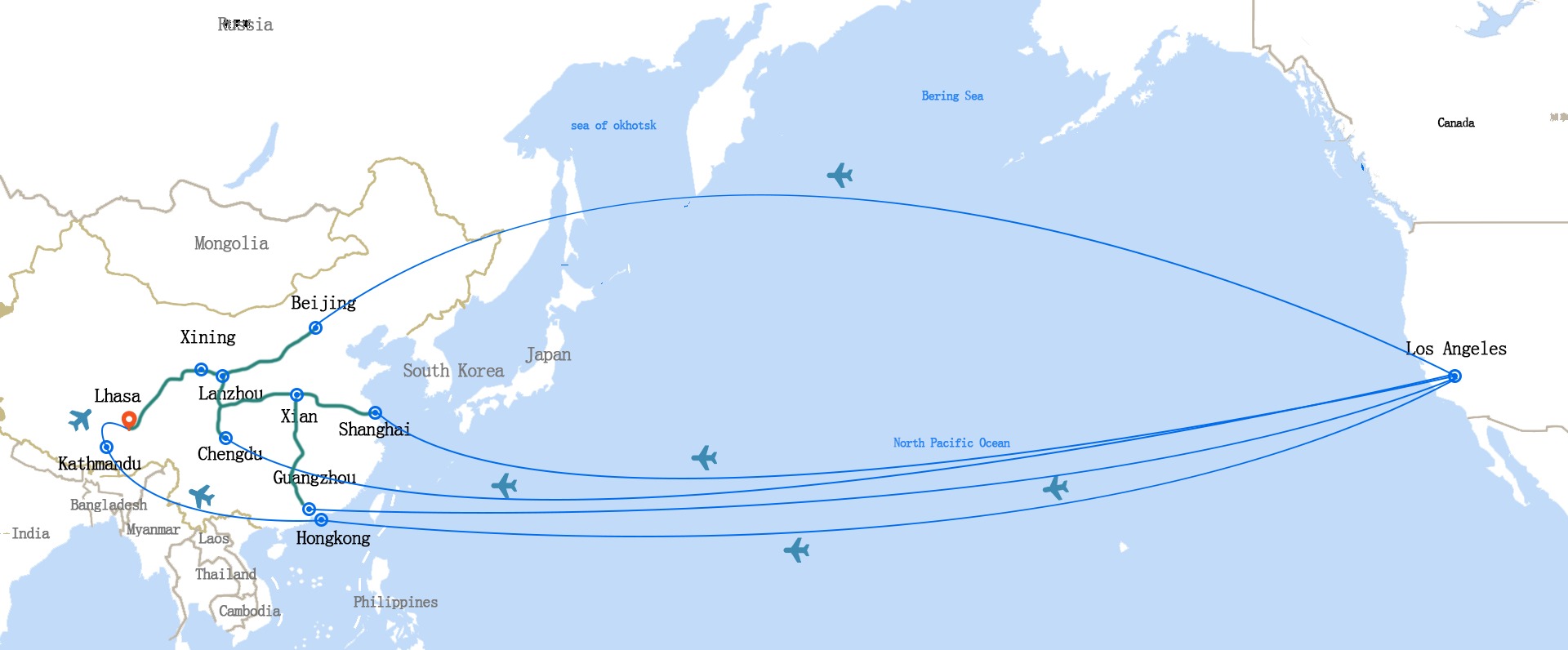 Americans can travel to Tibet from the US by air. Since there is no direct flight from the USA to Tibet, you have to transfer to Kathmandu, Nepal or other cities in China. Traveling to Tibet by air seems to be the best way for Americans since there are multiple flights from the USA to  China and Nepal across all of the four-time zones.
| | | | | | | |
| --- | --- | --- | --- | --- | --- | --- |
| Pacific | Seattle | San Francisco | Los Angeles | | | |
| Mountain | Phoenix | Denver | Salt Lake City | | | |
| Central | Dollas | Michigan | Chicago | Mississippi | | |
| Eastern | New York | Miami | New Jersey | Tampa | Washington DC | Philadelphia |
Here we have already designed some time-saving and cheaper itineraries for you.
1. Traveling from LA to Tibet via Chengdu
Tourists can take flights from LA to Chengdu and then transfer from Chengdu to Tibet. It will take about 14 hours from LA to Chengdu. When arriving at Shuangliu International Airport in Chengdu, you can take a flight to Lhasa or other cities in Tibet including Nyingchi, Shigatse, and Qamdo. You can take a train to Lhasa as well. On the Qinghai-Tibet railway, you will be attracted by the stunning landscape scenery. You can catch a glimpse of the magnificent view of the Tanggula Mountains, Kunlun Pass, Nagqu grassland, etc. Taking a train from Chengdu to Lhasa will take about 44 hours and cost $97 for a hard sleeper berth and $154 for a soft sleeper berth.
2. Traveling from New York to Tibet via Chengdu
Chengdu is considered the best gateway to Tibet because it is not only adjoined to Tibet but also operated multiple flights to Tibet. Taking flights from New York to Chengdu will take about 15 hours. If your time schedule is tight, you may fly to Lhasa from Chengdu directly.  If you have plenty of time,  you can take a train tour to Tibet to enjoy the breathtaking scenery of the Qinghai-Tibet railway.
3. Traveling from Chicago to Tibet via Beijing/ Shanghai
Since there is no direct flight from Chicago to Chengdu, You'd better take flights from Beijing/Shanghai to Tibet. It will take you about 15 hours from Chicago to Beijing/ Shanghai. There are two available ways to Tibet. You can take flights from Beijing/ Shanghai to Tibet or you can take a train to Tibet. It takes about 41hrs from Beijing to Lhasa and 48hrs from Shanghai to Lhasa.
4. Traveling from the USA to Tibet via Nepal
Traveling via Kathmandu, Nepal to Tibet is one of the popular ways for American travelers.  The flights from the USA to Kathmandu costs from US$1,200 to US$1,400 depending on departure location and connections. Currently, there is no train from Kathmandu to Tibet so you can take a flight from Kathmandu to Lhasa or take an overland tour.
What to See in Tibet
Mount Everest
For most Americans, Mt. Everest, the highest mountain in the world is definitely on their travel list because Mt. Everest can fulfill their desires for adventure. There about 50 thousand Americans go to this region every year from spring to fall when the weather is suitable for seeing the magnificent Mt. Everest. 
Lhasa(Potala Palace & Jokhang Temple)
Lhasa, the center of Tibet is an attractive place for Americans who wanna explore the profound culture and history of Tibet. When traveling to Lhasa, you can appreciate the Potala Palace, the highest ancient palace in the world with a profound Buddhist culture. You can join the crowd to pilgrim around the holy Jokhang Temple.
Mt. Kailash
Every year, large quantities of foreign tourists head to Mt. Kailash not only to do the pilgrim but also to enjoy the masterpiece of nature. Mount Kailash trekking tour, also known as the kora around Mt. Kailash is one of the most challenging treks in the world.  
What Documents Do You Need When Traveling from the US to Tibet?
Chinese Visa/ China Group visa
If you travel from Chengdu, Beijing, Shanghai and other cities of China to Tibet, you should apply for a Chinese visa from the Chinese embassy in the USA. However, if you travel from Kathmandu to Tibet, you should apply for a group visa rather than a Chinese visa. To apply for your China Group Visa, you need to book your Tibet tours first for getting an invitation letter. With the invitation letter, your passport and a passport-sized photo, you can then get your China Group Visa.
Tibet Travel Permit
Every foreign tourist who is going to travel to Tibet should have a Tibet Travel Permit, which will be checked before you board the flight/train to Tibet, check into the hotel, enter the tourist spot, etc. You should find a reliable travel agency in Tibet to help you apply for the Tibet Travel Permit and make your whole trip smooth.
Related Articles
Ask a Quick Question Below?
Email response within 0.5~24 hours.