Yunnan and Tibet Tours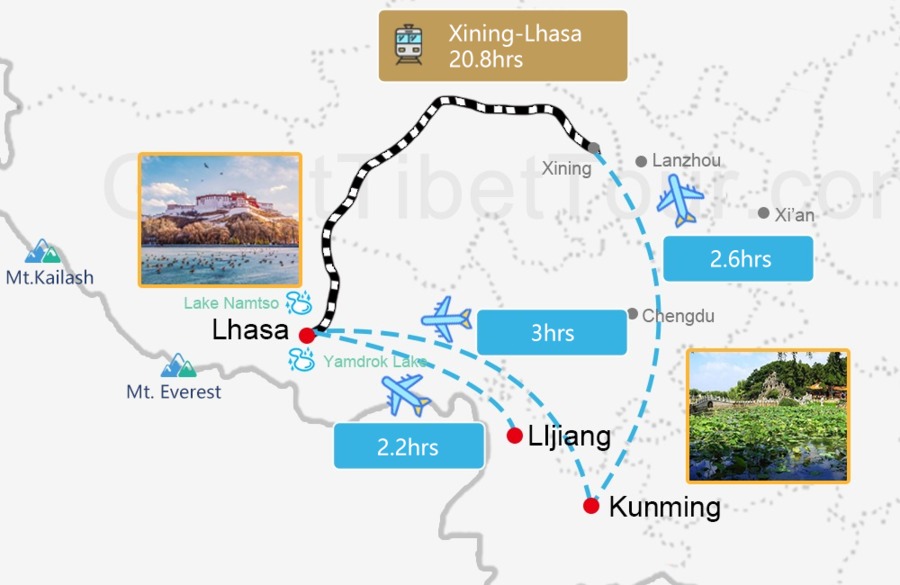 Located in the southwest of China, Yunnan province is one of the most popular destinations for travelers from home and abroad. With an area of 394,000 square kilometers, Yunnan is famous for its natural scenic spots and various geographies. Traveling to Yunnan is the best way for tourists to enjoy charming sightseeing and explore the ancient Tea-horse Road culture in such multiple ethnic gathering places. In Kunming, the capital city of Yunnan, you must be interested in the Stone Forest. In Dali, you will have intimate contact with its local people. In Lijiang, you may indulge in the old town and Jade Dragon Snow Mountain. In Shangri-la, you will fall in love with the wonderful scenery.
Located in the west of China, Tibet Autonomous Region is a holy place for most travelers. Tibet is close to Yunnan province, and it's called the roof of the world with grand mountains, peaceful villages, zigzag roads, and snow-capped mountains. Every year, numerous travelers rush to Tibet after touring Yunnan in order to explore the Tibetan mysterious culture and beautiful landscape.
Here We have designed some tours to incorporate Yunnan and Tibet, as below. They are all flexible and ready to be customized to meet your interests, schedule and budget.
Travel Tips: It's inaccessible for travelers to travel to Tibet from Yunnan by road or by train at present. Thus, there are two options for travelers. The one is to take flights to Tibet from Kunming, Lijiang, or Shangri-La. The other is to take flights to Xining from Yunnan, then transfer a Tibet train from Xining to Lhasa.