How to Get to Tibet?
by Eric
Last Updated: 2023-06-24
Tibet, the roof of the world, is also called the third pole of the world. Due to the high altitude and thin air, this is a piece of pure land that was difficult to reach in the past. At present, however, Tibet has built a comprehensive transportation system of airports, trains, and highways. Every traveler has a chance to see her beauty.
There're mainly two access points to reach Tibet, namely, the mainlands of China and Nepal. From mainland China, you can take flights or trains to Tibet. From Nepal, you can go to Tibet by road or flight. Many travelers may get confused about how to choose the best way to Tibet.
How to Get to Tibet from China?
If you would choose to travel to Tibet from mainland of China, you can choose to take airplanes or trains. For entering China, you need to apply for your Chinese Visa at your nearby Chinese Embassy first. If the Chinese Embassy requires more details, Great Tibet Tour is happy and capable of providing you with all the supporting documents or invitation letters.
China to Tibet By Air
The most efficient and fastest way to get to Lhasa is to take non-stop flights. If you are fortunate to sit by the window, you can view the snowy mountains. You are recommended to take flights from Chengdu, Chongqing, and Xi'an. Among the three cities, Chengdu is the nearest and best gateway city leading to Tibet, with more than 10 flights to Lhasa every day. Flights from these three cities to Lhasa usually take two to three hours. Additionally, flight tickets usually cost somewhere between 200 USD and 350 USD.
The mainland cities of China that offer most international flights to Tibet include Beijing, Guangzhou, and Shanghai. For tourists from the US, Canada, Mexico, Brazil, Australia, Japan, Israel, etc. we recommend you fly to either of the abovementioned cities directly then to Tibet. Although the flights coming from these cities generally make a stopover in Chengdu, Chongqing, or Xián. For tourists from the south, such as Singapore, Malaysia, Thailand, etc. You can fly to Chengdu directly and transfer flights to Tibet.
For most tourists, after they reach China, they would have a local sightseeing tour to enjoy the profound culture and beautiful scenery.
Air Travel Tips
If you choose to book flights by yourself, please make sure of your flight information: departure time, flight terminal and airport.
Please let us know if you are a member of a certain airline company if you book flights with Great Tibet Tour because we can consult about membership points for you.
Compared with train travel, the expense is more and the probability of altitude sickness after landing is high.
Before you board the plane to Tibet, your Tibet Travel Permit is required.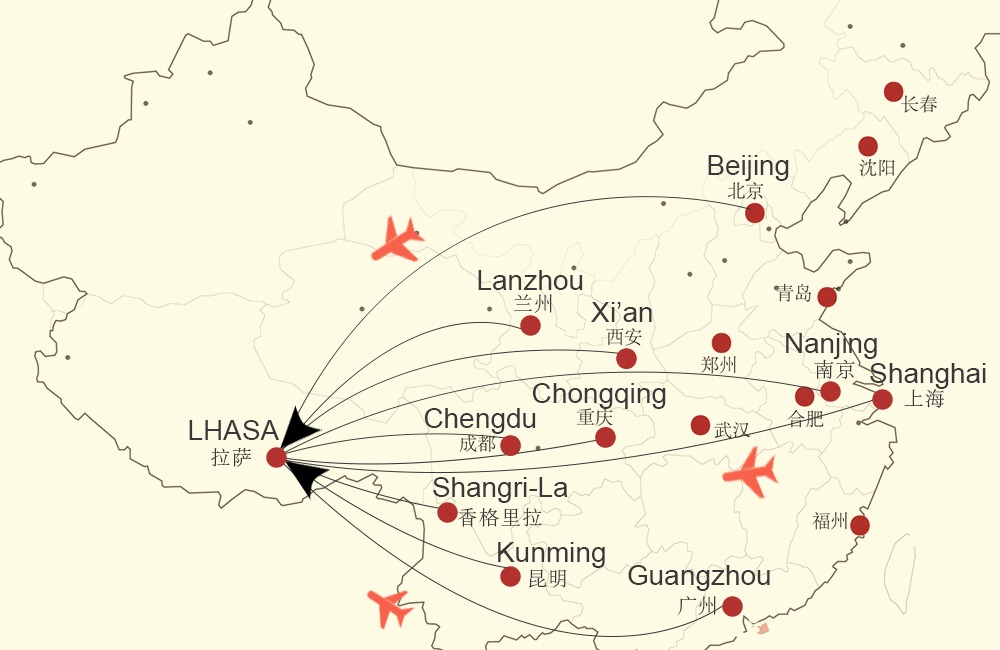 China to Tibet by Train
Taking a train to Tibet is many travelers' choice, as it's safe, cheap and convenient. Along the railway, you will enjoy the stunning scenery of the Tibetan Plateau. Yaks, sheep, Tibetan antelopes, etc. will get into your sights from time to time. However, it's difficult to buy train tickets, especially during peak tourist season, from July to August. At present, there are seven cities with trains departing to Tibet from mainland China including Xining, Lanzhou, Chongqing, Chengdu, Shanghai, Guangzhou, and Beijing. In addition, all trains entering and leaving Tibet must pass through Xining and stop at Xining. And Xining is the starting point of the Qinghai-Tibet Railway. So you also can fly to Xining from other Chinese cities then take a train to Tibet. Below is the Tibet Train schedules,
| Dep. Station | Train No. | Dep. Time | Arr. Time | Freq. | Travel Time |
| --- | --- | --- | --- | --- | --- |
| Beijing West | Z21 | 20:00 | 12:10 | Daily | 40:10 |
| Shanghai | Z164 | 20:10 | 19:30 | Daily | 47:20 |
| Xining | Z6801 | 14:01 | 11:20 | Every other day | 21:09 |
| Xining | Z223 | 12:27 | 9:55 | Daily | 21:28 |
| Xining | Z21 | 15:21 | 12:40 | Daily | 21:19 |
| Xining | Z265 | 19:31 | 16:15 | Daily | 20:48 |
| Xining | Z6811 | 20:30 | 17:45 | Daily | 23:54 |
| Xining | Z165 | 21:27 | 19:30 | Daily | 22:03 |
| Xian | Z265 | 9:45 | 16:15 | Daily | 30:34 |
| Xian | Z165 | 11:24 | 19:30 | Daily | 32:06 |
| Chengdu | Z322 | 21:37 | 9:55 | Every other day | 36:18 |
| Guangzhou | Z264 | 11:45 | 16:19 | Every other day | 52:34 |
Beijing to Lhasa by Train
The capital of China is Beijing, and if you want to travel to Tibet from your country via mainland China, you can take a direct flight to Beijing. And from there, you can board a train heading to Tibet. Upon arriving in Beijing, you can first explore Beijing and stay there for 2 to 4 days. Trains from Beijing usually take around two days to reach Tibet, and Beijing-Lhasa trains are always busy all year long. >>See more about Beijing to Lhasa train
Xining to Lhasa by Train
Another important railway point is Xining, which is the nearest big railway station near Lhasa. If you want to avoid the long train ride from Beijing to Lhasa, you can opt for a flight to Xining and then take a train to Lhasa. Xining Lhasa train only takes 21 hours but you will have a grand eye feast along the Qinghai Tibet Railway. >>See more about Xining to Lhasa train
Chengdu to Lhasa by Train
If you are entering China from the south, you can fly to Chengdu first then take a train to Lhasa. Chengdu, the capital of Sichuan Province has trains that depart every other day from Chengdu North Train Station. Trains from Chengdu usually reach Lhasa after almost 36 hours. >>See more about Chengdu to Lhasa train
Guangzhou to Lhasa by Train
You can also board a train from Guangzhou. Guangzhou Tibet train is the longest railway, and it usually takes around 54 hours to complete the whole journey. >>See more about Guangzhou to Lhasa train
Shanghai to Lhasa by Train
As many international travelers will fly to Shanghai directly so Shanghai Lhasa train is also a hotline. The train departs from Shanghai every day and it takes about 47hrs. >>See more about Shanghai to Lhasa train
Train Travel Tips
If you choose to book train tickets by yourself, please make sure of your train information: departure time, flight terminal and airport.
If you book train tickets with Great Tibet Tour a month before the departure date, we can guarantee your train tickets.
Compared with air travel, the cost of train travel is relatively lower and you can adapt to the altitude better.
If you are boarding the train from Chongqing, Xián, or Lanzhou, you are required to show your original Tibet Travel Permit. For other cities, a copy of your Tibet Travel Permit is enough.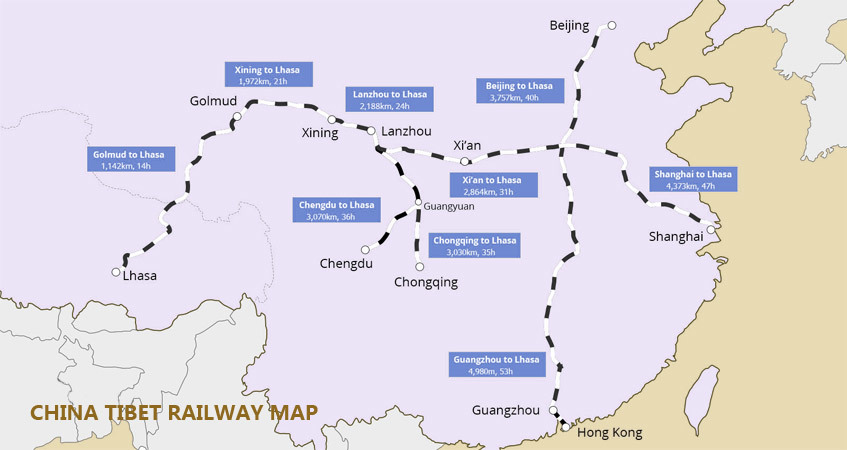 China to Tibet by Road
There are 6 China National Highways in Tibet Autonomous: Qinghai-Tibet Highway (China National Highway 109/G109), Sichuan to Tibet Highway North Line (G318), Sichuan-Tibet Highway South Line (G317), Yunnan to Tibet Highway (G214), Xinjiang to Tibet Highway (G219), and China-Nepal Highway. G318 is the one that gets the most attention because this highway has the most beautiful scenery.
This travel route gathers diversified natural and cultural scenery and condenses the historical relics and customs of many ethnic groups, from the fragrance of birds and flowers in the subtropical zone to the vastness of the plateau glaciers. It is regarded as "China's landscape avenue".
The highway is more than 2,100 kilometers long. There are 13 snow-capped mountains along the way. The highest point is the Mila Pass at an altitude of 5013 meters. The total mileage of dangerous roads is about three to four hundred kilometers. We suggest you don't go in the rainy season. In addition to beauty, more is breathtaking.
Here is the route:
Chengdu → Ya'an → Kangding → Litang → Batang → Markam county → Zogang county → Baxoi county → Bomê County → Bayi → Lhasa
How to Get to Tibet from Nepal?
If you choose to travel from Nepal to Tibet, you can choose to take an airplane or an overland tour. For entering Kathmandu, Nepal, you need to apply for your Nepal Visa on arrival. You can get your Nepalese visa on arrival when you reach Kathmandu's Tribhuvan Airport, road borders at Nepalganj, Birganj/Raxaul Bazaar, Sunauli, Kakarbhitta, Mahendranagar, Dhangadhi, and Rasuwagadhi/Gyirong checkpoint.
Actually, Nepal is the closest overland gateway to Tibet. The linear distance between Kathmandu to Lhasa is barely 600 kilometers or 373 miles. The overland distance is 1,000 kilometers or 621 miles. If you choose this option, you need to plan at least 3 working days in Kathmandu to apply for your China Group Visa, which is the required document if you enter Tibet from Nepal. Even if you have already obtained your Chinese Visa, it would be invalid if you go this route. In 2023, China Group Visa requires 4 participants together, so if there're less than 4, it's not feasible to go this route.
Nepal to Tibet by Air
Interestingly, the fastest way to Tibet is via Kathmandu by plane. Two airlines, namely, Air China and Sichuan Airlines service the air route between these two places. It only takes hours to fly from Tribhuvan International Airport in Kathmandu to Gonngar Airport in Lhasa. If you travel to Lhasa by plane from Kathmandu, there is a big chance that you would get a birds-eye-view of the peak of Mt. Everest because these flights generally pass by the Himalayan Mountain Range. If the weather permits, you can see the peak of Mt Everest from the window. Furthermore, getting to Tibet from Nepal allows you to gradually acclimate yourself to the high-altitude weather of Tibet, and help you avoid the usual high-altitude sickness concomitant with moving abruptly from a lower-altitude place to a high-altitude place.
Tribhuvan International Airport in Kathmandu is also an international airport. For tourists from the UK, Germany, France, Italy, Spain, South Africa, etc., we recommend you fly to Kathmandu to avoid detours unless you have a travel plan in China as well. Right now, the direct flight from Kathmandu to Lhasa has not yet resumed. Instead, you have to transit in Chengdu, therefore you need to apply for a China visa first.
Nepal to Tibet by Road
The road trip from Kathmandu to Lhasa is an ideal trip and very popular among tourists. This overland route starts from Kathmandu and passes via the Sino-Nepal border, which takes about 7 to 8 hours. You will stay overnight at Gyirong town for the first night. From there, your journey will begin along with the friendship highway, you will witness the unique scenery of the Tibetan Plateau, cross the vast grasslands, worship the highest mountain, visit the charming lakes, etc. Once in Lhasa, you will experience the best Tibetan culture and religious beliefs. It would usually take you around 3 to 5 days to complete this 943-km overland road trip. Here is the route:
Kathmandu → Sino-Friendship Bridge → Gyirong → Tingri → Everest Base Camp → Shigatse → Lhasa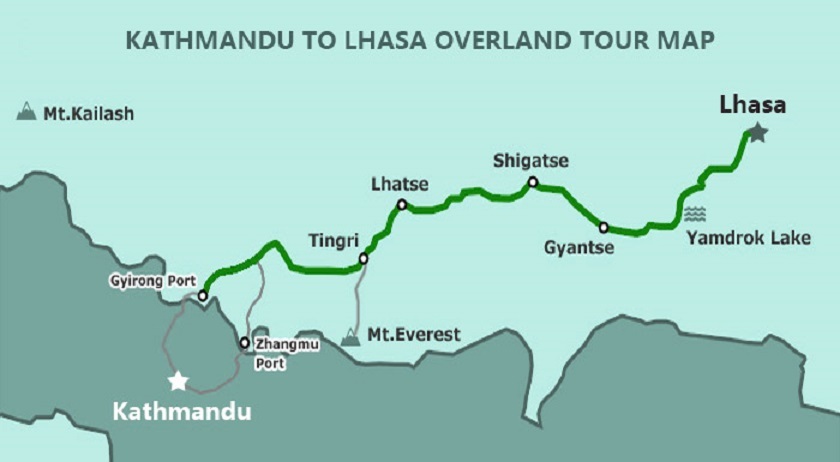 Related Articles
Ask a Quick Question Below?
Email response within 0.5~24 hours.