Mount Kailash Tour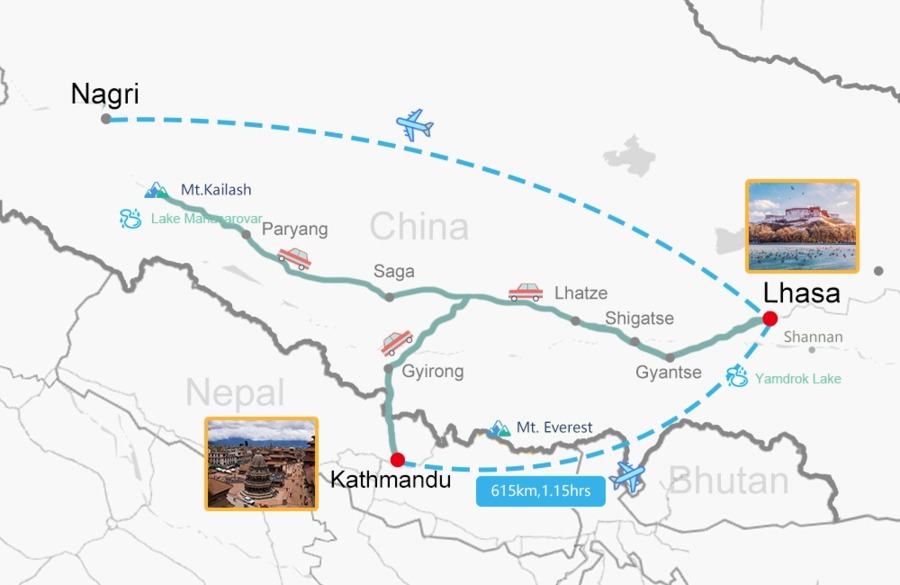 Highlights of the Mount Kailash tour are the sacred Mt.Kailash and holy Lake Mansarovar, which are the most legendary travel destinations in the world. Mt.Kailash has been a religious sanctuary since pre-Buddhist times. The kora (circumambulation/circuit/parikrama) around mount Kailash is one of the most important pilgrimages in Asia. Pilgrims of Hindu, Buddhist, Jain and Bon believe that one kora around Mt.Kailash cleanses sins of this lifetime; 108 koras break the cycle of rebirth and assure one of nirvana at death. And Lake Mansarovar is believed to clean one's annoyances when he is rinsed by the water. A trip to Kailash and Mansarovar is one of the most visited pilgrimages in Tibet.

Mt.Kailash Kora is 52km long, usually takes three days to complete. The altitude ranges from 4,675m at Darchen, the starting point to 5,630m at Drolma-la, the highest point of the kora. The kora is made in a clockwise direction by Hindus and Buddhists but counterclockwise by followers of the Jain and Bön religions.

Besides, if you start your Mount Kailash tours from Lhasa, you can visit Everest Base Camp on the way to Kailash; or extend your tours to the mysterious ruins of the ancient Guge Kingdom. With a rough road, long journey, simple accommodations, and meals, the Mount Kailash tour is a real challenge for most adventures! It wonderfully integrates the spiritual, cultural and physical dimensions of any trip to Tibet. Being able to meet pilgrims from across Tibet and other countries is one of the many alluring factors of this trek.

As a reputable Tibet travel agency recommended by Lonely Planet, Great Tibet Tour provides various hand-picked tour packages with the best price for your choice. Enjoy your Gangs Rinpoche or གངས་རིན་པོ་ཆེ tour!