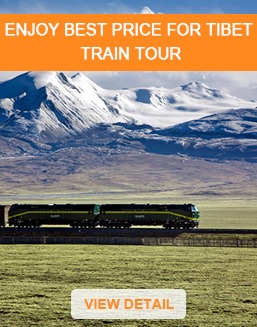 Guangzhou to Lhasa Train
Guangzhou to Lhasa train Z264 is a direct express train running between Guangzhou Railway Station and Lhasa Railway Station, passing through the Qinghai-Tibet Railway. The train from Guangzhou to Lhasa takes 53 hours and covers a distance of 4, 980 kilometers. Having a train travel from Guangzhou makes your schedule flexible because the train departs from Guangzhou for Lhasa every second day.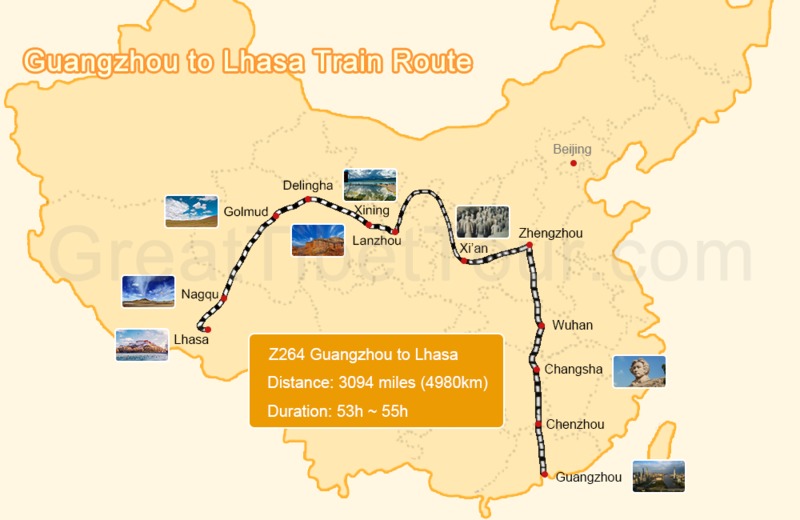 Guangzhou to Lhasa Train Schedule
Z264 departs from Guangzhou at 11:40 and arrives in Lhasa at 16:56. Z266 is the train from Lhasa back to Guangzhou, which also runs every day, departing from Lhasa at 12:40 and arriving in Guangzhou at 20:17 after two days. The train cost is around USD150~USD250, according to the classes of cabins.
For international travelers, a copy of your Tibet Travel Permit is a must to board a train to Lhasa. You're suggested to book a Tibet tour a least one month before your departure time so that your Tibet travel agency can apply for a Tibet Travel Permit for you in time.
Guangzhou to Lhasa Train Ticket Price and Schedule
| Train No. | From / To | Dep. / Arr. | Duration | Frequency | Soft Sleeper Ticket | Hard Sleeper Ticket |
| --- | --- | --- | --- | --- | --- | --- |
| Z264 | Guangzhou/Lhasa | 11:40/16:56 | 53h16m | Every Day | CNY1468/USD245 | CNY865/USD145 |
| Z266 | Lhasa/Guangzhou | 12:40/20:17 | 55h37m | Every Day | CNY1468/USD245 | CNY865/USD145 |
Please kindly note: All the train ticket prices listed on our website are the NET price. Now traveling to Tibet by train is so popular that the demand for train tickets far exceeds the supply. Although the tickets are started to sell online 30 days before departure, you are hard to get one as they will be sold out in a short time, especially from April to October, the peak season of Tibet tourism. No matter inbound or outbound tourists have to pay more than the net price to buy the tickets. Sometimes, even travel agencies have to buy tickets from scalpers. So, we could help you book the train tickets in and out of Lhasa by adding a little service fee (subject to different seasons and cities) on the net price to guarantee the tickets for you. This service is for providing the biggest convenience for our clients.
Train Travel from Guangzhou to Lhasa
Guangzhou to Lhasa train is China's longest train ride, traveling through eight Chinese provinces including Chengdu, Xi'an, Lanzhou, Xining, etc. Although it sounds a bit long, every spot along the journey is beautiful. It is definitely worth taking your time.
Board on train Z264, and travel throughout China, from the graceful south to the vast north, while gazing at the diverse natural beauty outside the window.
On the Qinghai-Tibet Railway section from Xining to Lhasa, train Z264 goes over the Kunlun Mountains. The Tanggula Mountain Pass (5072m), the Tuotuo River, and the Hoh Xil all pass by your train, where sceneries are really fantastic and you will even find Tibetan antelopes. These are things you probably cannot experience by plane. The train stops at Golmud station and Nagqu station where you can get off the train and experience the scenery of the plateau.
Guangzhou to Lhasa Train Stops
| | | | |
| --- | --- | --- | --- |
| Days | Station | Altitude | Arr. /Dep.Time |
| 1 | Guangzhou | 21m | --/11:40 |
| 1 | Chenzhou | 189m | 15:31/15:34 |
| 1 | Changsha | 63m | 19:06/19:12 |
| 1 | Wuchang | 24m | 22:38/23:00 |
| 2 | Zhengzhou | 108m | 03:40/03:46 |
| 2 | Xian | 385m | 09:46/09:54 |
| 2 | Lanzhou | 1,520m | 16:43/16:58 |
| 2 | Xining | 2,200m | 19:21/19:45 |
| 2 | Delingha | 2,980m | 23:50/23:52 |
| 3 | Golmud | 2,780m | 02:20/02:45 |
| 3 | Amdo | 4,702m | 11:02/11:07 |
| 3 | Nagchu | 4,500m | 12:26/12:32 |
| 3 | Lhasa | 3,650m | 16:56/-- |
Highlights along Guangzhou Lhasa Train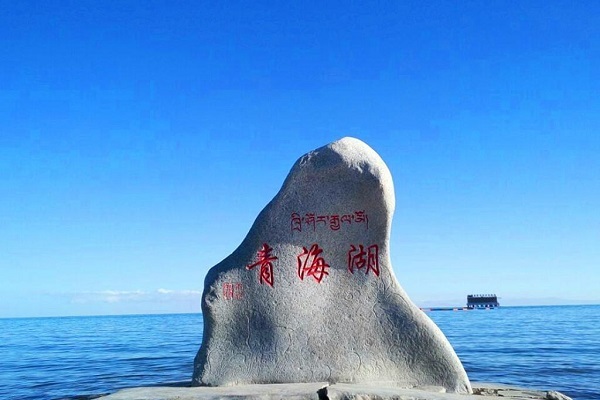 Qinghai Lake
When Z264 passes by the northern shore of Qinghai Lake, you will experience a breathtaking view that the water is deep and dark blue yet transparent, against the heavens. If it weren't among the snow-capped mountains, you would have believed it an ocean.
Kunlun Mountains
Head south from Golmud to Nagqu, where you will find the rolling Kunlun Mountains coming into view. The ice and snow are covering on the top of the mountains all year round, which created a "Kunlun June Snow" natural wonder.
Yuzhu Peak
Yuzhu Peak is located 10 kilometers east of the Kunlun Pass, 160 kilometers south of Golmud, Qinghai. It is the highest peak in the eastern section of Kunlun. When the train deepens into the Kunlun Mountains, the mountains outside the window were no longer undulating, but tall and majestic. Yuzhu Peak is like a tall slim girl standing here, gazing at Hoh Xil.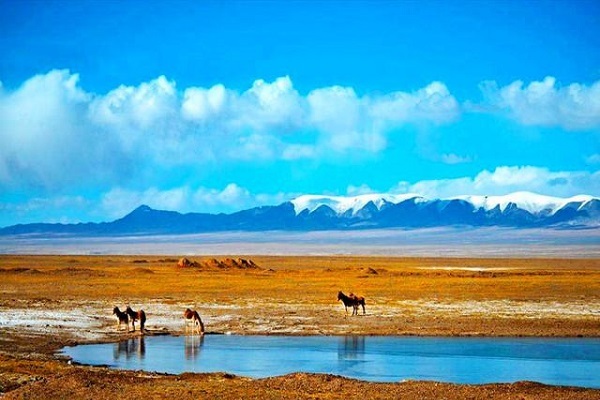 Hoh Xil Nature Reserve
A little further south is the Hoh Xil Nature Reserve, which means "cyan mountain ridge" in Mongolian, and is also called "beautiful girl". You will be impressed by the magnificent mountains and rivers, and the cheerful little creatures - Tibetan antelopes.
Tuotuo River
The Tuotuo River is a section of the Yangtze River that flows peacefully under the morning glow.
Tanggula Mountain
Tanggula Mountain Pass (5072m) is the highest place you will reach during the entire Guangzhou-to-Lhasa train journey. It means "a mountain that the eagle can't fly over" in Mongolian. Cross over the mountain pass, you will enter the Tibet area.
Qiangtang Prairie
As the train moves by the Qiangtang Prairie, you have already been in Nagqu. The expansive nature of northern Tibet is full of yaks and sheep on which the herdsmen depend for survival. Outside the window, the rolling snow-capped mountains continue to the end of sight. And the road beside the railway is so straight that it seems to extend to the horizon.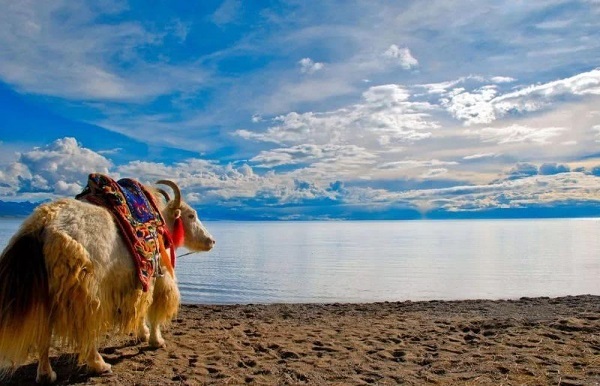 Namtso
Go further down from Nagqu to Lhasa, where you will pass by Namtso Lake. The lake shows the beauty of contrast, serene in winter, bustling in summer. The lake is as vast as a sea, with incomparably real clouds spreading over the turquoise lake, and few people can resist her holy beauty.
Life on Guangzhou - Lhasa Train
Built for running at high altitudes, the Guangzhou to Lhasa train is equipped with a modern facility. Food and drink are available in the dining car and from the food trolley. However, you're suggested to bring some food with you because the food on the train is more expensive. Hot water is free.
The train is equipped with air conditioning and an oxygen system. The train will start supplying oxygen after passing through Golmud, which means that the plateau has arrived. So it's unlikely to suffer from altitude sickness for passengers on the train. In every soft sleeper cabin, a toilet and two washbasins are available. Your luggage can be stored in the closet above the door.
Once you arrive in Lhasa, your Tibet Travel Agency will transfer you from the train station to your hotel. You're suggested to have a good rest and drink enough water to adapt to the high altitude on the first day.
Tips:
1. Since the journey takes two days and two nights on the train, you're recommended to choose a comfortable cabin for good rests. Two classes of cabins are available on the train hard-sleeper cabin and soft-sleeper cabin. Most travelers choose soft-sleepers, which can offer you a better berth with more private space as you only need to share the compartment with 3 other people instead of 5.
2. Although the landscape is marvelous, you can also take some books and download some movies to pass time since it's a long journey and there's nothing viewable at night.
3. Once you arrive in Lhasa, your Tibet Travel Agency will transfer you from the train station to your hotel. You're suggested to have a good rest and drink enough water to adapt to the high altitude on the first day.
Related Articles
Recommended Tour Packages
Ask a Quick Question Below?
Email response within 0.5~24 hours.