Guangzhou to Lhasa Train
Located in the southwest of China, Guangzhou is a gateway to Tibet. As one of the major cities of China, flights and trains are both available in this modern city. For many travelers to Tibet, a Guangzhou to Lhasa train tour is always suggested.
The train from Guangzhou to Lhasa takes 53 hours and covers a distance of 4, 980 kilometers. Have a train tour from Guangzhou makes your schedule flexible because the train departs from Guangzhou for Lhasa every second day.
For international travelers, a copy of your Tibet Travel Permit is a must to board a train to Lhasa. You're suggested to book a Tibet tour a least one month before your departure time so that your Tibet travel agency can apply the Tibet Travel Permit for you in time.
Z264 departs from Guangzhou at 11:45 and arrives in Lhasa at 16:19 after two days; while Z266 departs from Lhasa at 12:55 and arrives in Guangzhou at 20:00 after two days. Z264 and Z266 are not bullet trains, as high-speed trains to Lhasa are not available till now.
Guangzhou Lhasa Train Ticket Price and Schedule

| | | | | | | |
| --- | --- | --- | --- | --- | --- | --- |
| Train No. | From / To | Dep. / Arr. | Duration | Frequency | Hard sleeper Ticket | Soft Sleeper Ticket |
| Z264 | Guangzhou/Lhasa | 11:52/16:45 | 52h53m | Every Other Day | CNY865/USD145 | CNY1468/USD245 |
| Z266 | Lhasa/Guangzhou | 12:55/19:50 | 54h55m | Every Other Day | CNY865/USD145 | CNY1468/USD245 |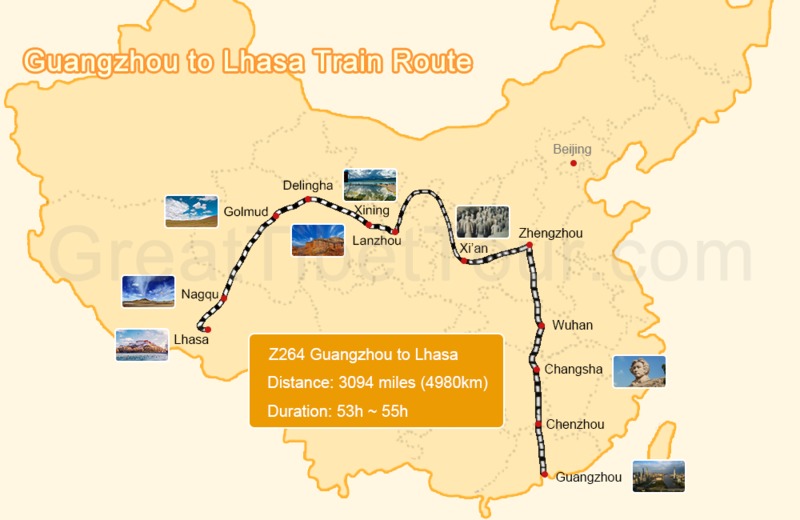 Since the journey takes two days and two nights on the train, you're recommended to choose a comfortable cabin for good rests. Two classes of cabins are available in the train - hard-sleeper cabin and soft-sleeper cabin. The soft-sleeper cabin costs CNY1, 468 (USD245) per person while the hard sleeper cabin costs CNY865 (USD145) per person. Most travelers choose soft-sleeper, which can offer you a better berth with more private space as you only need to share the compartment with 3 other people instead of 5. During the journey, you'll enjoy breathtaking scenery along the railway such as snow-capped mountains, tranquil pastures, and blue lakes. Although the landscape is marvelous, you can also take some books and download some movies to pass time since it's a long journey and there's nothing viewable at night.
Built for running at high altitude, the Guangzhou to Lhasa train is equipped with a modern facility. Food and drink are available in the dining car and from the food trolley. However, you're suggested to bring some food with you because the food on the train is more expensive. Hot water is free.
The train is equipped with air conditioning and an oxygen system. The train will start supplying oxygen after passing through Golmud, which means that the plateau has arrived. So it's unlikely to suffer from altitude sickness for passengers on the train. In every soft sleeper cabin, a toilet and two washbasins are available. Your luggage can be stored in the closet above the door.
Once you arrive in Lhasa, your Tibet Travel Agency will transfer you from the train station to your hotel. You're suggested to have a good rest and drink enough water to adapt to the high altitude on the first day.
2020 Guangzhou Lhasa Train Schedule
| | | | | | | | | | | | | |
| --- | --- | --- | --- | --- | --- | --- | --- | --- | --- | --- | --- | --- |
| 2020 | Jan | Feb | Mar | Apr | May | Jun | Jul | Aug | Sep | Oct | Nov | Dec |
| Guangzhou → Lhasa | EVEN | ODD | EVEN | ODD | ODD | EVEN | EVEN | ODD | EVEN | EVEN | ODD | ODD |
| Lhasa → Guangzhou | ODD | EVEN | ODD | EVEN | EVEN | ODD | ODD | EVEN | ODD | ODD | EVEN | EVEN |
Please kindly note: All the train ticket prices listed on our website are the NET price. Now traveling to Tibet by train is so popular that the demand for train tickets far exceeds the supply. Although the tickets are started to sell online 30 days before departure, you are hard to get one as they will be sold out in a short time, especially from April to October, the peak season of Tibet tourism. No matter inbound or outbound tourists have to pay more than the net price to buy the tickets. Sometimes, even the travel agencies have to buy tickets from the scalpers. So, we could help you book the train tickets in and out of Lhasa by adding a little service fee (subject to different seasons and cities) on the net price to guarantee the tickets for you. Please trust us that we don't have any profit on this matter. What we do is trying to provide the biggest convenience for our clients.
Related Articles
Recommended Tour Packages
Ask a Quick Question Below? Or Call 0086-891-6679450
Email response within 0.5~24 hours.