Flights to Tibet from Kathmandu
Flights to Tibet from Kathmandu
by Liffity
Last Updated: 2020-03-04
The Land of Snows falls under the People's Republic of China. Tibet's nearest neighbor, Nepal is now the only nation with global air links to China. To visit China from Nepal, every outsider needs to reach Tibet first.
Taking a Flight from Kathmandu to Lhasa is absolutely a good option for you which gives you a chance to see the great aerial views of Mt. Everest as you pass over it and it is advisable to choose your seats on the left side of the plane to enjoy the summit of Mt. Everest. While the document you required to enter Tibet is different from the mainland of China. Instead of a normal Chinese Tourist Visa, you need to apply for Group Chinese Tourist Visa which can be applied with the assistant of the Travel Agency you booked. And the Group Chinese Visa's can also be issued to the solo traveler. In addition, all travelers should get Tibet Entry Permits to enter Tibet and check-in hotel. Since you have already booked a Travel Agency, they will take care of applying for your Tibet Entry Permit.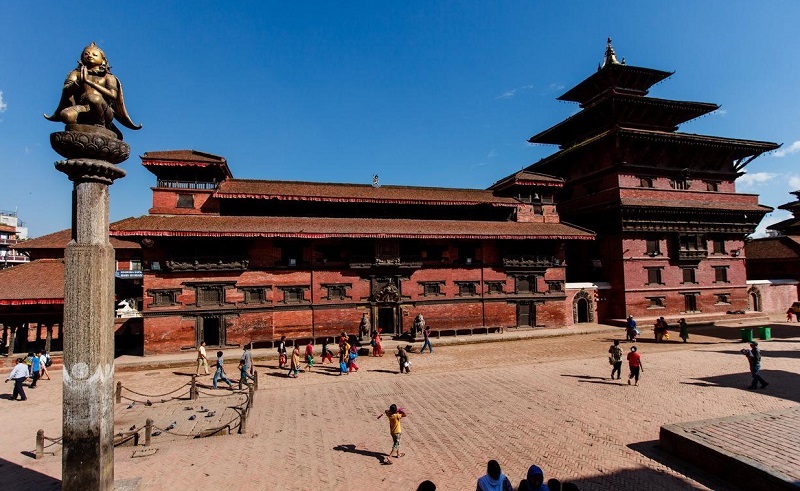 Kathmandu Durbar Square.
Kathmandu to Lhasa Flight Schedule and Price
The only terminal that runs flights to and from Lhasa is the Tribhuvan International Airport (KTM) in Kathmandu. When alone, you can book tickets online. If in a group, then book once everyone reaches Nepal.
As of now, there are two airlines offering non-stop flights. Generally, they cost USD 400 per individual, one way. It ordinarily takes 90 minutes.
Of the ways to reach Lhasa traveling from Kathmandu, an easy way to travel is taking a flight route like the following,
Home→ Nepal → Nepal to Tibet Flight → Tibet 
And now, there's no train available between Kathmandu and Lhasa. Or you can opt for an overland tour that a 1300Km journey to Lhasa via Gyirong Port. It typically takes 7-8 days. If you want a quicker and more convenient way, go for the flights.
Taking a Direct Flight from Kathmandu to Lhasa
If you don't wanna transfer to other cities, taking direct flights is best for you. Fly from Tribhuvan International Airport, the sole international airport in Nepal, to Lhasa Gonggar Airport will take about one and a half hours. Presently, there are 2 direct flights between Lhasa and Kathmandu, one is run by Air China and another is run by Sichuan Airline separately. Due to a large number of passengers in the peak tourism season, booking flight tickets in advance(at least 20 days) is necessary. As soon as you arrived at the Lhasa airport, your booked guide, private vehicle, and driver will greet you. Then, you can start your Tibet travel according to the itinerary arranged for you.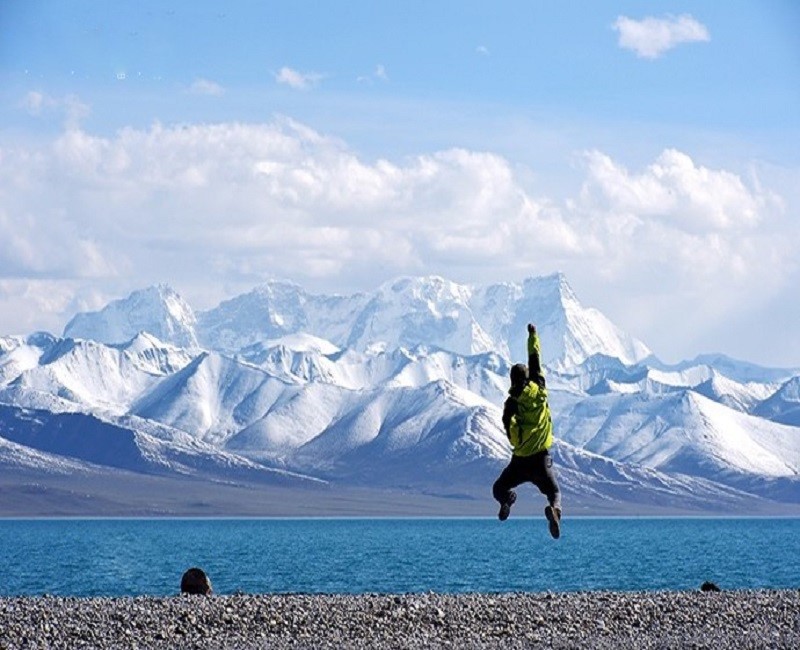 You will see snow-capped mountains and crystal alike lakes in Tibet.
Air China is the biggest carrier that offers direct flights every alternate weekday ( Tuesday, Thursday, Saturday ) from Kathmandu to Lhasa. From Kathmandu, flights leave on a daily basis around 12:10 pm NPT and land in Lhasa Gonggar International Airport at about 4:00 pm. The above mentioned is considering the time zone differences.
There are four flights are run each week by the Sichuan Airlines between Lhasa and Nepal. Direct flights leave at 11:10 am NPT on every alternate weekday (Monday, Wednesday, Friday). They touch base at 2:50 pm local time at Lhasa.
The Time Schedule of Flights from Kathmandu to Lhasa
Flight No.
Departure---Arrival
Duration
Frequency
Plane
Price

3U8720

Sichuan Airlines

12:00--15:30
1h 15m

Every alternate weekday  

(Monday, Wednesday, Friday, Sunday)

Airbus 319

USD460

Economy Class
The Time Schedule of Flights from Lhasa to Kathmandu
Flight No.
Departure---Arrival
Duration
Frequency
Plane
Price

3U8719

Sichuan Airlines

11:35--11:00
1h 40m

Every alternate weekday

 (Monday, Wednesday, Friday, Sunday)

Airbus 319

USD460

Economy Class
Discounted Flight Tickets from Kathmandu to Lhasa
In fact, flying to Lhasa from Kathmandu is not very cheap. But how can get a discounted flight ticket from Kathmandu to Lhasa? You'd better know about the following two ways. The first way is to plan a Tibet tour in the slack tourist season, nearly from November to April. During the low season, the price of the air ticket will be lower than the peak tourist season. The second way is to book your air ticket in advance. According to the survey, travelers who book the air ticket tens of days in advance can enjoy a favorable price than those who book the air ticket closing to the departure.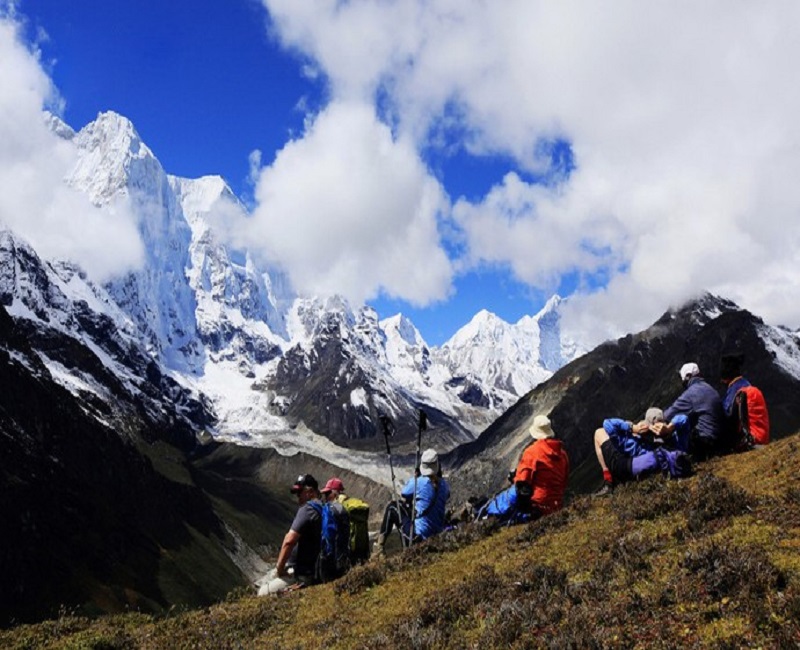 Enjoy the snow-capped mountains at a far distance.
Getting to the Kathmandu Airport
Tribhuvan International Airport is about six kilometers away from Kathmandu. Without normal traffic, it takes 15-20 min. by road. It is advisable to leave with a margin of at least an hour to reach the airport. In case of unexpected traffic, it is better to travel early to avoid unfortunate events. There are two kinds of taxis that you can utilize. These taxis connect the airport to the city. You can even book the prepaid airport cabs through the hotel. Since these taxis are government regulated, your safety is ensured.
Then there are local taxis, which are barely managed, can be hailed from the street. They're less comfortable, run without a meter and you should probably settle on a price beforehand. You can always bargain from them. As there are no adequately regulated prices or meters calculating the price, you might get charged hefty amounts. It is better to know how far away your destination is and how much the charge must be. If you rely on your bargaining skills and if you can use the aid of the locals, you can opt for this. However, local taxi drivers are extremely cheerful and outgoing. Though not many of them speak English, they try their best to be chatty and interactive during the trip.
To sum up, you must be arranged in advance, either traveling from Kathmandu to Tibet or Mainland China to Tibet. As is known to us that traveling by air is the most convenient and comfortable way of getting from Kathmandu to Tibet while the procedure of booking air tickets is not always straightforward. Choosing a local travel agency definitely a good idea by which you can ensure booking the tickets easily and fast. Great Tibet Tour, one of the excellent local travel agency in Tibet may meet your demand. With the service, they give to you and the awesome itinerary they provide to you, you are supposed to have an amazing journey.
Related Articles
Ask a Quick Question Below? Or Call 0086-891-6679450
Email response within 0.5~24 hours.