Maps play an important role in your Tibet travel. Search for the most recent Tibet maps? Here we provide easy-understanding maps to help you get a better understanding of Tibet's geography, administrative division, tourist attractions, cities, transportation, etc. All these maps are printable. Please feel free to use them when visiting Tibet.
Tibet Political Map
Tibet is a large region with a capital city, six prefectures, 72 counties, and has about 3.3 million people. The capital city of Tibet is Lhasa (3658m), and six prefectures are Shigatse, Ngari, Shannan, Nagqu, Nyingchi, and Chamdo. The highest prefecture is Ngari (4500m), the lowest prefecture is Nyingchi ( 3000m), and the world's highest mountain is Mt. Everest (8844.43m) in Shigatse prefecture.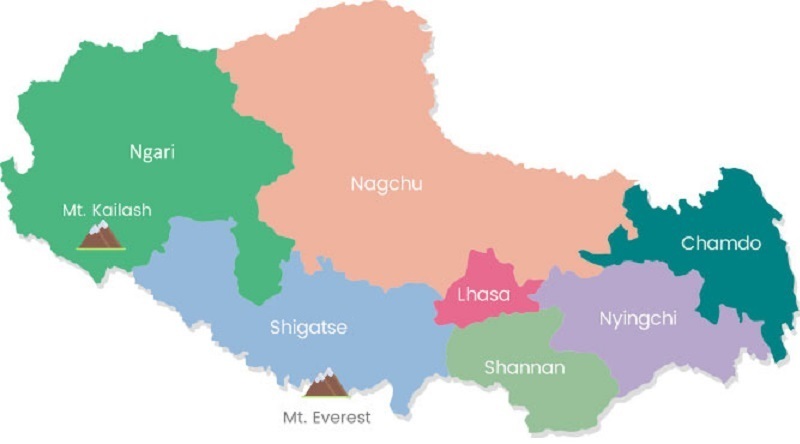 Tibet Tourist Maps
Tibet is vast and there're numerous places of interest deserving your visits. You must have known the most popular tourist attractions first, while you may not know where they located. Have a look at the tourist maps below to learn the exact locations of the attractions.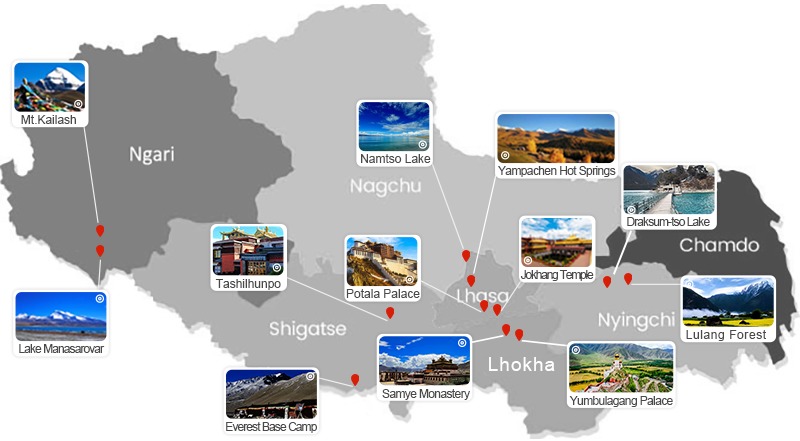 Map of Potala Palace Map of Jokhang Temple Map of Namtso Lake Map of Sera Monastery
Tibet Prefecture/City Maps
There are maps in each of the hot tourist prefectures/cities in Tibet. They will show you the details of each place. Just click the images below.