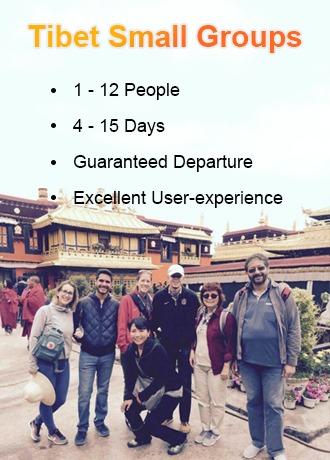 Nyingchi Chengdu Flights
by Liffity
Last Updated: 2020-10-23
Nyingchi is a place with beautiful scenery and culture. It's situated at the lowest altitude in Tibet but has some enthralling natural resource like dense forest and booming peach flowers for the tourists. The literal meaning of Nyingchi is "The Throng Of The Sun," and that is exactly what the place is like. Let us see how you can travel to this dream place from Chengdu.
Important Facts About The Flight From Chengdu to Nyingchi
The distance can be covered in a matter of 2 hours and around 1 hour and 50 minutes when traveling from Nyingchi to Chengdu.
The Chengdu Shuang Liu International Airport (CTU) has four direct flights to Nyingchi Mainling Airport and the other way around.
There are many connecting flights to Nyingchi as well.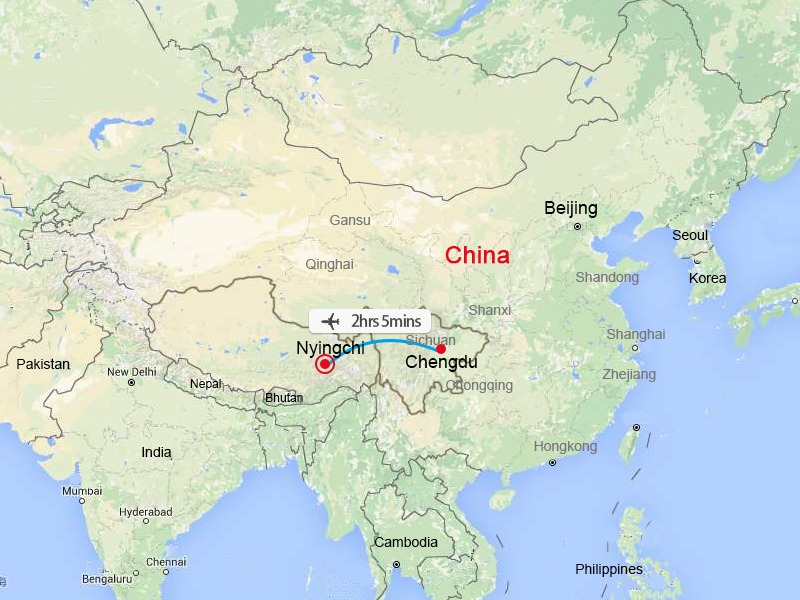 Air route from Chengdu to Nyingchi.
Travel By Air
There are a total of 3 flights between Chengdu and Nyingchi. These flights are non-stop and operate on a daily basis during the peak season. The travel duration is around 2 hours. Here is the detailed flight schedule.
Chengdu to Nyingchi Flight Schedule
Flight No.
Departure---Arrival
Duration
Frequency
Aircraft Type
Price

Sichuan Airlines

3U8693

07:45---10:00

2h 15m
Every Day
Airbus A319

USD210

Economy Class

Air China

CA4431

08:15---10:25

2h 10m
Every Day
Airbus A319

USD210

Economy Class

Air China

TV9902

08:30---10:35

2h 5m
Every Day
Airbus A319

USD210

Economy Class
Nyingchi to Chengdu Flight Schedule
Flight No.
Departure---Arrival
Duration
Frequency
Aircraft Type
Price

Tibetan Airlines

TV9901

09:50---11:35

2h 45m
Every Day
Airbus A319

USD210

Economy Class

Sichuan Airlines

3U8694

10:05---11:50

1h 45m
Every Day
Airbus A319

USD210

Economy Class

Air China

CA4432

11:10---12:55

1h 45m
Every Day
Airbus A319

USD210

Economy Class
Please note:
The flight details and fares are subjected to change as there can be a lot of alterations due to climate and seasonal changes.
You should have the Tibet Travel Permit before checking in at the airport. You will not be allowed to travel if you do not have a travel permit for Tibet.
Frequently Asked Questions About The Travel To Nyingchi
Why Should I Enter Tibet via Nyingchi?
Nyingchi is somewhere you can't miss out in Tibet. The place is crowned as the "Switzerland in the East". There're lots of tourist attractions deserving your visits in Nyingchi such as Draksum-tso Lake, Lulang forest, Shuba Ancient fort, Niyang River, etc. Moreover, if you are traveling to Tibet, it's better to take the route through Nyingchi due to the lower altitude, which enables you to adapt the altitude change in a better way. Nyingchi, with the lower reaches of the Yarlung Zangbo River, is the lowest region in Tibet.
When Should I Travel To Nyingchi by Air?
Even though the weather in Nyingchi is beautiful and pleasant, the best time to visit it is from April to October. But try to avoid the Labor Holiday at the beginning of May and the National Holiday in early October which makes Nyingchi crowded by many tourists.
Is Tibet Permit a Must Before Taking A Flight From Chengdu?
Yes. If you're going to fly to Tibet from anywhere in China, you are required to present your Tibet Travel Permit before boarding. Currently, individual travelers are not allowed to apply for this permit by yourself. Instead, you have to book a Tibet Tour Package via a reliable Tibet Travel Agency at least one month before your departure date. It usually takes 10 working days to obtain your Tibet Permit issued by Tibet Tourism Bureau. And your Travel Agency needs a few days to express this file to your hotel in any city of China. Only with your original Tibet Travel Permit, you can board the plane to Tibet.
How Far Between The Nyingchi Airport and The Bayitown?
The airport is situated in the valley of Yarlung Zangbi River. It is around 50 kilometers away from the Bayi town in the city. The airport is the lowest airport in Tibet, being at a level of 2949m above the sea level. However, the highway that runs through the city from the airport is an amazing drive. It is a stretch of around 45km. You can easily take a Taxi or Bus or even the Shuttle Bus that is available between the Nyingchi Airport and Bayitown.
How to Get to Nyingchi from Lhasa?
The transportation between Nyingchi and Lhasa is very smoothy. The roads are in great condition except for a small portion in which is prone to landslides. The total distance from Nyingchi to Lhasa is around 410 kilometers.
You can easily find a shuttle bus to reach Nyingchi from Lhasa and vice versa. Along the way, you will get to see some beautiful lakes like the Basum Lake and the Mila Pass will be a memorable site too. The journey in itself is an amazing one.
How to Reach Chengdu from My Country?
Chengdu is the capital of Sichuan Province. It's the most important gateway city of southwest China and the fifth-ranked air harbor city in the country. The city can be easily reached from multiple international destinations as many flights operate on a daily basis.
Related Articles
Ask a Quick Question Below? Or Call 0086-891-6679450
Email response within 0.5~24 hours.