Bhutan Nepal Tibet Tour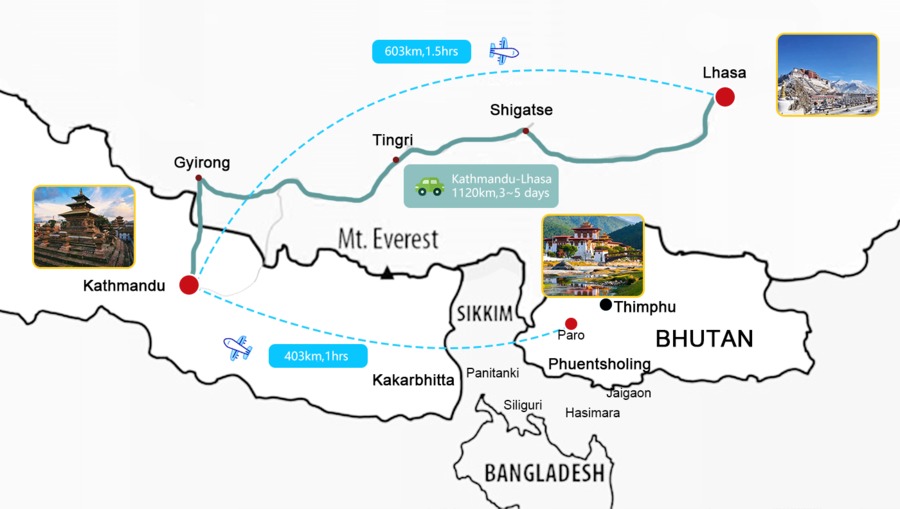 To explore the distinct Buddhist culture of the Himalayan kingdoms, the best choice is to visit Bhutan, Nepal and Tibet on a trip. The Bhutan Nepal Tibet Tour offers travelers a panorama of the Buddhist pilgrimage, the Himalayan valleys and magnificent mountains.
Known as "the last Shangri La in South Asia", Bhutan is blessed with captivating landscapes and tranquil lifestyles. Dotted with countless monasteries, possesses a unique civilization, traveling on this land will change your spirit. In Nepal, you will be impressed by ancient temples, elegant pagodas, exquisite stone carvings, and exotic costumes in Kathmandu Valley. In Tibet, you can pay a visit to sacred monasteries, tranquil pastures, snow-capped mountains, and turquoise lakes. Feast your eyes on this mysterious land to your heart's content.  
You can also customize your tour to these fabulous destinations, starting from any of the three, such as Nepal Bhutan Tibet tour, Nepal Tibet Bhutan tour, or Tibet Nepal Bhutan tour. Great Tibet Tour provides a one-stop service so you can focus 100% on enjoying your trip without worrying about your Tibet Travel Permit, Bhutan visa, local transport, tickets, and hotels, and so on.