by Ghita
Last Updated: 2020-03-19
What is the best way to travel to Tibet? For foreign travelers, flying to Tibet is a much better option, not only faster but most cost-effective as well, since the train tickets have to be booked in advance and overland has to be accompanied by local guide & vehicle. There are flights to Tibet from many cities of mainland China, as well as from Kathmandu, Nepal, the one and only international flight. Since there are no direct long-haul flights to Lhasa, travelers usually have a stopover in mainland China, to receive their original Tibet Permit, then carry it on to fly to Lhasa. The major entry cities are Chengdu, Beijing, Shanghai, Xian, Xining, Diqin (Shangrila), Chongqing, Guangzhou, etc.
Domestic Flights
In China, there are non-stop flights connecting Lhasa with Chengdu, Chongqing, Diqing, and Xian, while direct flights connecting Lhasa with Beijing, Shanghai, and Guangzhou make stops at Chengdu, Chongqing, Diqing or Xian. Flying from Chengdu will be most convenient, as more than 15 flights leaving Chengdu for Lhasa. Besides, direct flights from other cities often go through Chengdu.
| | | |
| --- | --- | --- |
| Flight Route | Duration | One Way per Person |
| Chengdu ↔ Lhasa | 2h30m | CNY 1680 |
| Chongqing ↔ Lhasa | 2h20m | CNY 1890 |
| Beijing ↔ Lhasa | 5h30m | CNY 3260 |
| Shanghai ↔ Lhasa | 5h30m | CNY 3340 |
| Xian ↔ Lhasa | 3h10m | CNY 2280 |
| Xining ↔ Lhasa | 2h30m | CNY 1850 |
| Diqin (=Shangrila) ↔ Lhasa | 2h | CNY 1570 |
| Guangzhou ↔ Lhasa | 5h20m | CNY 2690 |
International Flight
There is only one international airline getting to Tibet. Travelers often arrive at Kathmandu and then transfer to Lhasa. But departures are limited.
| | | |
| --- | --- | --- |
| Flight Route | Duration | One Way per Person |
| Kathmandu ↔ Lhasa | 1h20m | Changeable |
For tourists who travel to Tibet by air, it necessary to know the general info of the airports in Tibet so as to find a better airport that meets your demand. Presently, there are five main airports in Tibet. Among those five airports, Lhasa Gonngar International Airport is the most significant airport in Tibet and Qamdo Bangda Airport is the highest airport in Tibet. Although Nyingchi Mainling Airport is the lowest airport in Tibet, it is more difficult to fly than any other airports in Tibet. In addition, there are another two important airports in Tibet-- Shigatse Peace Airport and Ngari Gunsa Airport.
Lhasa Gonngar International Airport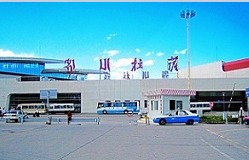 Lhasa Gonggar International Airport, located at Gyazuling Town of Gonggar County of Shannan Prefecture. It's one of the highest airports in the world with an elevation of 3,570 meters. Undoubtedly it is also the major air hub for entry and exit of Tibet, both domestically and internationally, with non-stop flights connecting Lhasa with Chengdu, Chongqing, Diqing, Xian, Bamda (a town of Chamdo, Tibet) and Kathmandu (capital of Nepal).
As a 4E level Airport with a runway of 4000m long and 45m wide, Lhasa Gonggar Airport can be used for taking-off and landing of Boeing 747, Airbus and other large aircraft which make it as the first choice for the majority of the tourists.
Nyingchi Mainling Airport
Located in the Yarlung Zangbo River, in Nyingchi County, Mainling Airport, with an altitude of only 2,949 meters (9675 feet). Ny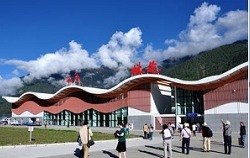 ingchi Mainling Airport is the lowest airport in Tibet. While due to its unique topography, changeable weather and dense clouds, lush forest and ample precipitation, it was considered to be the most challenging airport. Nyingchi Airport, the 3rd civil airport in Tibet, formally went into operation in 2006, providing more conveniences to domestic and overseas tourists to Tibet. It provides a nonstop flight to Nyingchi from Chengdu, Chongqing, Lhasa, and Guangzhou, or connecting flights from Beijing, Shanghai, Xian, Guilin, Lanzhou with a transfer at Chengdu Shuangliu International Airport or Chongqing Jiangbei International Airport are both available.
Nyingchi Airport may become many tourists' first stop in Tibet because its altitude is less than 3,000 meters, allowing visitors to acclimatize themselves gradually to higher altitudes.
Shigatse Peace Airport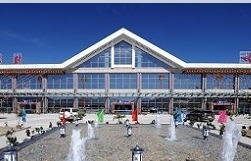 Opening from October 30, 2010, Shigatse is located 250km from Lhasa and it normally takes 3-4 hours to get with good road conditions. Flights now only take 2 hours and 15 minutes from Chengdu to Shigatse and 30 minutes from Lhasa to Shigatse.
As the fifth civil airport in Tibet, Shigatse Peace Airport serves both for civilian and military use. The airport, located in Jiangdong Village, 43km away from Shigatse downtown is an important link between Tibet and Chengdu, a metropolis in the south-west of China. Meanwhile, built near the world's tallest peak Mount Everest, it is much more convenient for tourists to fly to Shigatse to visit Mt. Everest, Tashilhunpo Monastery and many other famous spots than taking a train.
Qamdo Bangda Airport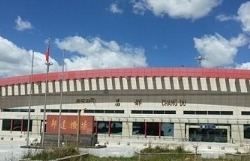 Qamdo Bangda Airport, located at the Bangda prairie, in the narrow and long valley of the west bank of Yuqu River, is the farthest airport to downtown. Qamdo Bangda Airport is also one of the highest airports in the world of which the altitude is about 4300m. Considered as one of the most challenging airports, the climate in Qamdo Banda Airport is terrible that the wind seep reaches 30m/second in winter and the temperature is under -20 degrees centigrade in winter and spring. Besides, the air density is only 50% of the sea level. Flights here are frequently delayed due to the harsh weather in the plateau. Therefore, most tourists prefer Lhasa Airport to Qamdo Bangda Airport. With the current flights to Lhasa, Chengdu, Chongqing, Tianjin, and Anhui Fuyang, Qamdo Bangda Airport offers a convenient way to visit famous spots, like Ranwu Lake and Karuo Relics in Qamdo.
Ngari Gunsa Airport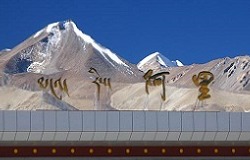 As another entrance to Tibet, Nagri Gunsa Airport situated 45km from southwest Shiquanhe, which put into operation since 2010. As one of the high plateau airports, it is able to serve the takeoff and landing of the High-plateau-typed airplanes. Up to now, tourists can get to Ngari from Lhasa, Urumqi, and Kashgar by flight. With a 4500 meters long and 60 meters wide runway, the airport can meet the fly and landing requirements of planes like Airbus A319. 
Farthest from Lhasa among all Tibetan prefectures, Ngari is difficult for tourists to get to due to long-distance and poor road condition. Before the airport, Ngari was linked to Lhasa only by road and it took 3 days to cover the 1,600-km route. Luckily, Ngari now is easily accessible. It will take only one and a half hours to reach Ngari from Lhasa. What's more, Ngari Airport will make less-than-4-hour traffic possible from Chengdu to Ngari.
Related Articles & Posts
Ask a Quick Question Below? Or Call 0086-891-6679450