Everest Base Camp Tour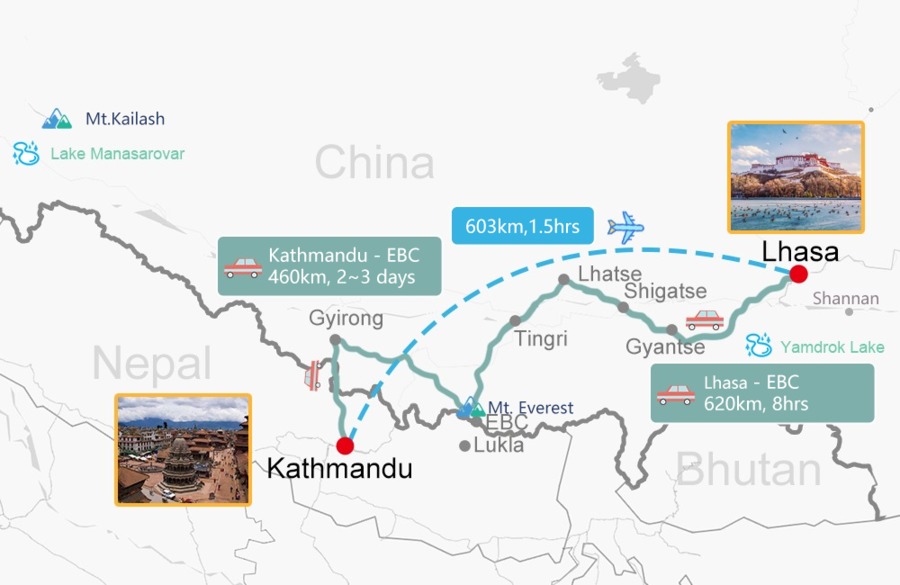 World-known Mount Everest has a Tibetan name -- " Chomolungma", which means "the Goddess of the universe". It's the main peak of the Himalayas and proved to be the highest mountain on earth by the official record of 8,848m (29,029 feet). With snow and ice covering all year round, it appears like a silver pyramid from a distance. For centuries, it has been standing firmly and watching the world quietly.

People want to conquer Mt. Everest as it's the nearest place to heaven. However due to the extremely adverse natural conditions, this dream was achieved until May 29, 1953, when New Zealander Edmund Hillary and the Sherpa guide Tenzing Norgay finally made the first successful attempt at the summit. Thousands of adventurers have been inspired and come to challenge themselves. Thus, Mt. Everest turns into a trekking or mountaineering destination for all adventure lovers.

Nowadays, a series of backup facilities have been built in the Everest Base Camp, which means this holy mountain has become more and more touchable for normal travelers. People in good body condition can easily go for a trip to Everest Base Camp, to make their dreams of reaching the sky come true. You can either have an Everest Base Camp trek or take a car to have a glimpse of this sacred mountain. If you go there, you will see an idyllic land with peaceful Sherpa villages, starry sky, glacial mountains and foothills. Are there any other reasons to say no to Everest?

Tips: The best time for the Everest tour are from late April to early June, and early September to late October, as the weather is ideal to enjoy Mt. Everest clearly and oxygen content is competitively sufficient to acclimatize to the high altitude.