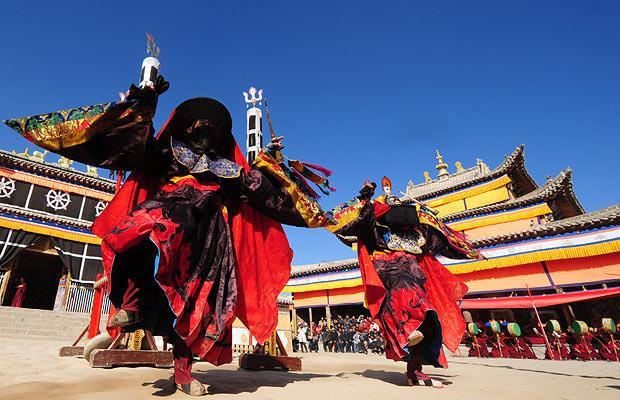 What is the most attractive highlight in Tibet? Some people may be interested in Tibetan charming scenery, special Tibetan style food, and unique Tibetan building. However, a large great number of travelers are fond of traditional Tibetan cultures and customs. What's the best way to know more about Tibetan local cultures and customs? It's no doubt that having a Tibet festival tour is the best answer to this question. Festival is the spirit of an ethnic group, which stands for the basic belief and faith. As the root of a region, the festival plays an important role to inherit and spread the local traditions by holding grand ceremonies. As one of the minority nationality regions, Tibet provides a great platform for tourists to explore the traditional cultures and customs.

There are numerous grand festivals held in Tibet every year, especially in the peak tourist season. The days of celebration are varied differently. Some festivals may last one or two days, such as the Butter Lamp Festival, Nyingchi Peach Blossom Festival, etc. While some may last at least one week, such as the Tibetan New Year Festival (Losar), Saga Dawa Festival, Shonton Festival, Horse Racing Fair and Archery Festival, Bathing Festival of Tibet, Bumper Harvest Festival, etc.

Do you want to witness these grand Tibetan festivals? Are you ready to have a Tibet festival tour? Great Tibet tour can provide you various Tibetan festival tour packages, which can make you have a deep understanding of local Tibetan culture. Check the following Tibetan festivals and start your dreamy tour of Tibet!
Great Tibet Tour sorted out the new calendar of 2020 and 2019 Tibetan festivals
Tibetan Festivals
Tibetan Calendar
2020 Solar Calendar
2019 Solar Calendar
2018 Solar Calendar
Active Region

Tibetan New Year
(The most important one)

Jan.1
Feb. 24
Feb.5
Feb.16
TAR
Butter Lantern Festival
Jan. 15
Feb. 8
Feb. 19
Mar. 2
Jokhang Temple
Nyingchi Peach Blossom Festival
Between Jan. and Feb.
Not yet issued
Mid-mar to early Apr.
Mar.25
Nyingchi
Tsurphu Cham Dance Festival
Apr.10
Jun. 2
Jun.12
May.24
Tsurphu Monastery

Saga Dawa Festival
(The holiest one)

Apr.15
Jun. 15
Jun.17
May.29
TAR
Tashilhunpo Thangka Festival
May 14 to 16
Jul. 4
Jul.14 to Jul.16
Jun.26
Tashilhunpo Monastery
Chokor Duchen Festival
Jun.4
Not yet issued
Aug.4
Jul.16
TAR
Gyangtse Horse Racing Festival
/
Jul. 20
Aug.
Jul.20
Gyangtse
Ganden Thangka Festival
Jun.15
Jul. 29
Aug.15
Jul.27
Gandan Monastery
Nagqu Horse Racing Festival
Jun.
Not yet issued
Aug.10
Aug.10
Nagqu

Shoton Festival
(The most popular one)

Jul.1
Aug. 20
Aug.30
Aug.11
TAR
Samye Dolde
(Samye Festival)
/
Not yet issued
/
/
Samye Monastery
Drak Yerpa Thangka Festival
Jul.10
Not yet issued
Sept.8
Aug.20
Drak Yerpa
Damxung Horse Racing Festival
Jul.10 to Jul.12
Not yet issued
Aug.20
Aug.20
Damxung
Bathing Festival
Jul.8
Aug. 26
Sep.4 to Sep.10
Sept.16
TAR
Ongkor Festival
Between Jul. and Aug.
Not yet issued
End of Sept
End of Sept
TAR
Buddha's Descent Day
Sept.22
Not yet issued
Nov.19
Oct.31
TAR
Tibetan New Year in Kongbo Area
Oct. 1
Nov. 16
Nov. 27
Nov. 7
Nyingchi
Palden Lhamo Festival
Oct.15
Not yet issued
Nov.23
Nov.23
Lhasa
Butter Lamp Festival
Oct.25
Dec. 10
Dec.21
Dec.2
Lhasa