Guangzhou to Lhasa Flight
Guangzhou to Lhasa Flight
by Liffity
Last Updated: 2023-01-25
At present, there is only one direct flight flying from Guangzhou to Lhasa. The whole distance between Guangzhou and Lhasa is about 2651 kilometers. It will take travelers about 6 hours to arrive at Lhasa Gonggar Airport including the one-hour stopover in Chongqing from Guangzhou Baiyun Airport. If you want to take this direct airplane to Lhasa, you need to book the airplane ticket from China South Airlines, which is the only airline operating direct flights between Guangzhou and Lhasa currently.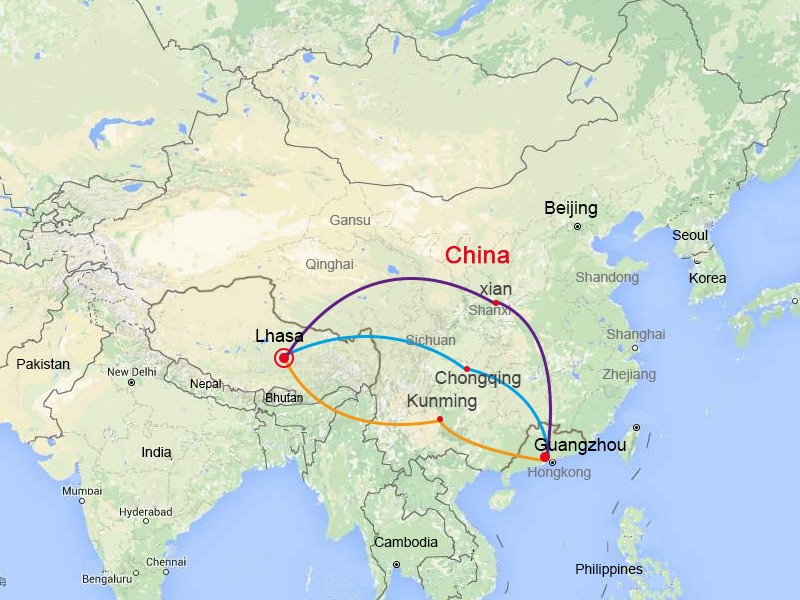 Booking Discounted Guangzhou Lhasa Flight Tickets
To benefit from the discounted tickets, you'd better avoid long holidays in China, such as Chinese New Year (Mid Jan.~Mid Feb.), National Day (Oct.1~7) and students' summer vacation (July~August). A lot of people will take flights for the holidays. And the tourist sites are crowded. At other times, you can book some discounted flights. Flight tickets can be booked at online websites, such as Booking.com, Expedia, Ctrip, Qunar, etc. Great Tibet Tour provides a ticket booking service as well. Please feel free to ask your trip consultant when you need this service.
Guangzhou to Lhasa Flight Schedule
Flight No.
Departure---Arrival
Duration
Frequency
Aircraft Type
Price

South Airlines

CZ3463

08:10----14:05

1h 5m layover in Chongqing

5h 55m
Every Day
Airbus A319

USD418

Economy Class
Lhasa to Guangzhou Flight Schedule
Flight No.
Departure---Arrival
Duration
Frequency
Aircraft Type
Price

South Airlines

CZ3464

14:55---20:35

1h 5m layover in Chongqing

5h 40m
Every Day
Airbus A319

USD418

Economy Class
Guangzhou Baiyun International Airport
Guangzhou Baiyun International Airport is located in the Baiyun district, about 28km from the center of Guangzhou city. It is a 4F-class civil international airport, and one of the three gateway hub airports in China. The airport has two terminals, T1 and T2. There're more than 220 domestic and international air routes, including nearly 90 international and regional routes, covering five continents.
From downtown to the airport, tourists can take Metro Line 3 to the Airport South Station. The full fare is USD2. The opening time of the subway is from 6:10 am to 23:00 pm. This is the most economical and fast way. There are frequent airport shuttle bus lines, connecting the airport to most areas of downtown. You can take a taxi if time is limited or you carry too much baggage. It costs about USD15-30.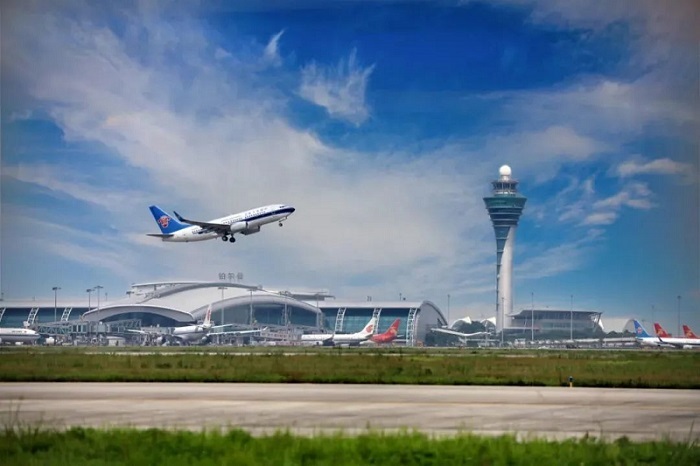 The Best Time to Travel to Guangzhou and Lhasa
Guangzhou is good for travel all year round. October to December is the best season for travel. Since the low latitude, the climate is humid in Spring and a bit hot in Summer, whereas, Autumn temperature is appropriate, cool and windy, good weather can last until November and December, the most suitable for tourism.
Lhasa is suitable for people of all ages to travel all year round. You can experience the different customs of Lhasa in different seasons. April to October is the best time to travel in Tibet due to the moderate weather, high oxygen content, and best scenic views. However, winter and spring are the perfect seasons for budget travelers, with the temperature at around 10°C to -8°C, the lowest price of tickets and hotels, and the attractions being the least touristy.
Documents Needed for Taking a Flight from Guangzhou to Lhasa
Besides the passport and China visa, a Tibet entry permit is a must document to take a flight to Tibet. You cannot board a plane without a permit because it will be checked at Guangzhou airport. To make it simple, you can book a tour with a local agency, and your agency will handle all the necessary permits for you.
You just need to send a picture of your passport and China visa by email to your Tibet tour agency. Once the permit is issued, they will express it to your halt city in China, like Guangzhou. Please kindly note, a Tibet entry permit can only be applied for by a qualified Tibet travel agency. It needs about 10~30 days to obtain the permit. Thus, please book your Tibet tour with a local travel agency in advance.
Transportations from Hongkong and Shenzhen to Guangzhou
From Hongkong to Guangzhou, you must pass by Shenzhen first. The most convenient way from Hongkong to Guangzhou is Canton - Kowloon line, getting on the train at Hongkong Hung Hom Station and getting off at Guangzhou East Railway Station. The train runs only 2 hours. It leaves every hour from 7:25 am to 20:00 pm, charging HK$210 for first-class and HK$250 for the premium class seats. One thing to remind you, please leave some time for entry/exit inspection at Shenzhen Port.
From Hongkong airport, you can take the cross-border bus on the underground floor of the arrival hall directly to Guangzhou Tianhe district. It takes about 4 hours and the ticket price is about HK$200.
From Shenzhen to Guangzhou is very convenient. You can take a high-speed railway from Shenzhen North Station or Futian Station to Guangzhou South Station. It takes 40 mins and the price is RMB99. Bus lines are also available, it takes 1.5 hours, and the bus fee is about RMB80.
In case you miss the flight to Lhasa, it is an alternative to fly from Guangzhou to Chengdu, then fly to Lhasa. You have a wide choice of airlines and flight times on both flights, which takes 2 hours each.
Arriving at Lhasa Gongga airport
Lhasa Gongga International Airport, LXA, located at Yingbin road, Gongga county, Shannan city, Tibet autonomous region, about 65 km from downtown Lhasa, is a 4E-class military and civilian co-use international airport, one of the highest airports in the world and the largest aviation hub in Tibet autonomous region.
Related Articles
Ask a Quick Question Below?
Email response within 0.5~24 hours.