12 Days Lhasa Mt Everest & Mt Kailash Kathmandu Group Tour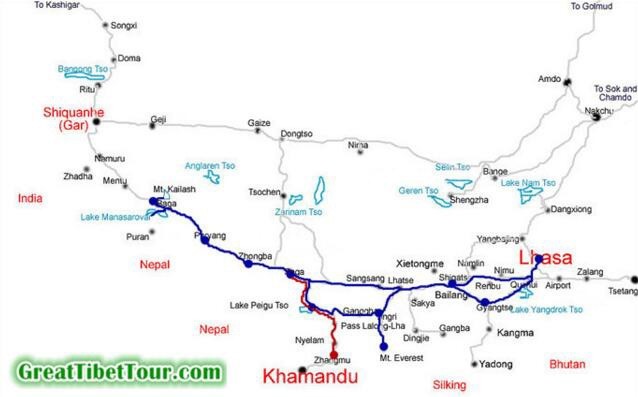 Lhasa Mt Everest & Mt Kailash Kathmandu Group Tour
Duration:

12 Days

Price:

From

USD1870

Route:

Lhasa – Gyantse – Shigatse - EBC - Saga – Darchen - Kailash Trek - Lake Manasarovar – Zhongba - Gyriong

Season:

Spring
Summer
Autumn
Winter

Tour Type:

Group Tour

Group Size:

Max 12
Add

to Favorites
Overview
This 12 days Lhasa Mt.Everest & Mt Kailash Kora Pilgrimage group tour were newly opened from 2019. It's for travelers who'd like to have three days trekking around Mt.Kailash and overland tour to Kathmandu. This tour starts from Lhasa, and you can visit the best holy part of Lhasa city like the world heritage Potala Palace, sacred Jokhang temple, etc. Then, you will drive to the west of Tibet, Nagri, via Shigatse and Saga. Along the way, you will visit the deep turquoise Yamdroktso Lake, the world's highest peak-Mount Everest, and famous monasteries. When you arrive in Darchen, you will start three days Mt Kailash Kora from here. The altitude would be 4700m. Your three days trekking would be at this altitude, more or less 100m around. After that, you will drive to the Gyirong border. From here, you can transfer to Kathmandu city and visit famous resorts in Nepal and enjoy wildlife in Chitwan, a well-known jungle in Nepal.
Daily Itinerary
Collapse
Expand
Cost & Calendar
All prices are in US Dollar / Person
Economic Class (3-Star Hotels)
| | |
| --- | --- |
| 2020-09-01 ~ 2020-10-07 | 2020-10-08 ~ 2020-10-31 |
| USD2110 | USD1870 |
Comfortable Class (4-Star Hotels)
| | |
| --- | --- |
| 2020-09-01 ~ 2020-10-07 | 2020-10-08 ~ 2020-10-31 |
| USD2220 | USD1980 |
Schedule
Discount Policy
You may only enjoy one of the advantageous policy, not both.
Option A:
3 or More to Join the Same Group
$105 / person
Option B:
Tour in Apr~Oct

To book 6-month prior tour starts 5% Off / person
To book 3-month prior tour starts 3% Off / person
Booking Policy
A minimum of 2 people for opening a new group is required.
Confirmed Dates
Book at least 30 working days ahead of time
Dates Listed
2 Persons or above, 45-day prior
Dates Not Listed
2 Persons, 90-day prior
3 Persons or above, 45-day prior
Our Service
INCLUSIONS
* Comfortable Hotel Accommodations as listed in the itinerary;
* Meals as listed in the itinerary;
* Travel-licensed vehicle according to group size & season as itinerary needed including gas and parking fee;
* Lhasa Railway Station transfer at all time on the first & last day;
* Pick-up from Lhasa Gonggar Airport to your hotel at 9:30 am, 13:00 pm and 16:00 pm on the first day;
* Shuttle Bus fee go to Kailash: USD10/person;
* Shuttle Bus fee back from Kailash: USD10/person;
* Experienced local English-speaking tour guide;
* All entrance fee mentioned in the itinerary;
* All necessary permits to Tibet;
* Travel Agency Liability insurance;
* Government Tax;
* Express delivery fee of Permit (eg. SF. Express)
* Food & lodgings for guide & driver;
* Oxygen tank for emergency use;
* Two bottles of mineral water per person per day;
EXCLUSIONS
* Yaks & herders during 3-Day Mt Kailash Kora;
* Shuttle Bus fee at Lake Manasarovar: USD 43/person;
* International flight to and out of China;
* Domestic flight/train to and out of Lhasa; (We'd like to book the domestic flight/train ticket at the BEST price. Please contact us for details.)
* If you miss the free transfer schedule due to flight delay or cancelation, then you are required to pay private transfer from USD 80/vehicle/time.
* Transfer from Gyirong to Kathmandu;
* Lunch & Dinner are not included but we will recommend some good ones for you according to your requirements. Usually, it takes 3-10 USD per person for each meal.
* While Gratuities for guide and driver is NOT mandatory, it is expected. Based on their service, you can tip them on the last day of the tour. Each of you is suggested to tip them 5-10 USD/day in total;
* All the commission and tax charged by PayPal, Bank, and government when making payment. (e.g. PayPal --- 4.2%. Wire transfer --- 2%);
* Personal expenses;
* Anything not mentioned in the Inclusions.
Note
* Tibet Tourism Bureau Permit (TTB) & Military Permit usually takes about 30-working-day to apply. If you couldn't provide the required docs & info on time, an extra handling fee will be charged. Please consult your travel consultant for details;
* During the 3-day Mt Kailash Kora—
Lodgings: clean dorm-bed guesthouse; in peak season, we provide the tent in case the guesthouses are fully booked by Indian pilgrims.
Food: locals sell Tibetan noodles (USD 5) & instant noodles(USD 2) along the way.
Luggage: leave most of your luggage in our vehicle, bring only the necessary.
* We reserve the right to change the itinerary order and attractions in Lhasa;
* If you prefer to book your own hotels over those included in our group tour, please meet the rest of the group at their daily hotel on time. We don't include the transfers to your own hotels;
* We need to pick up and drop off all members of the group on first & last day from Lhasa Airport/Railway, thus there may not always have guide presence but driver;
* Due to the special nature of Tibet travel, any unforeseeable and unavoidable objective circumstances, including but not limited to natural disasters, war, terrorism, riot, civil commotion, strikes, public health emergencies, government action, major traffic jams, delay or cancellation of flight/train, attractions temporarily closed. etc., resulting in a change of itinerary, the increased cost will be paid by travelers; if any attraction visits have to be canceled due to the same reasons above, GTT won't be held responsible for a refund except certain attraction entrance fee which will be solely decided by GTT.
* Single Supplement: our quote is based on twin rooms. For single travelers, the single supplement is required at the time of booking. If there is another traveler to share the room with you, the single supplement will be refunded.