How to Plan a Trip to Tibet?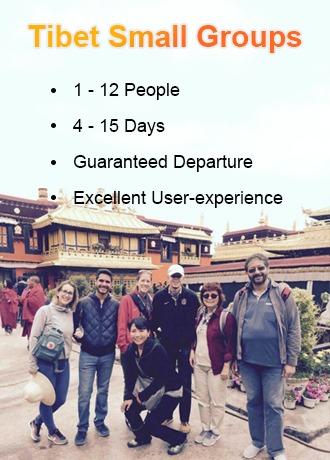 How to Plan a Trip to Tibet?
by Eric
Last Updated: 2021-04-15
Tibet, a pearl on the Qinghai-Tibet plateau, has attracted a lot of followers from all over the world. It has a unique landscape, snow towering mountains, holy lakes, mysterious Tibetan Buddhism, magnificent monasteries, colorful prayer flags, and many other fantastic things for you to explore.
However, it's not as easy as other places in China for foreigners to travel due to its special geographic and political situations. Hence, here we list the step-by-step tips for foreigners traveling to Tibet based on our experience. Now, let's get started…
What's the Best Time to Visit Tibet?
Tibet is a place you can visit all year round, except for mid-February to March when Tibet will close for foreigners due to the Chinese and Tibetan New Year. You can choose the rest of the year to make your Tibet trip.
The best time to visit Tibet is from April to October, during which, the weather is the best, neither too hot, nor too cold. You can get a clear view of the most tourist attractions in Tibet. Besides, the oxygen content of the air is higher than other times, which is helpful indeed to reduce the risk of getting altitude sickness. July, August and September are the peak tourist season, so the price is relatively higher. It's advised to avoid the Chinese National Holiday(Oct 1st to 7th) when millions of Chinese people head to Tibet and you have to enjoy the scenic spots with a lot of people.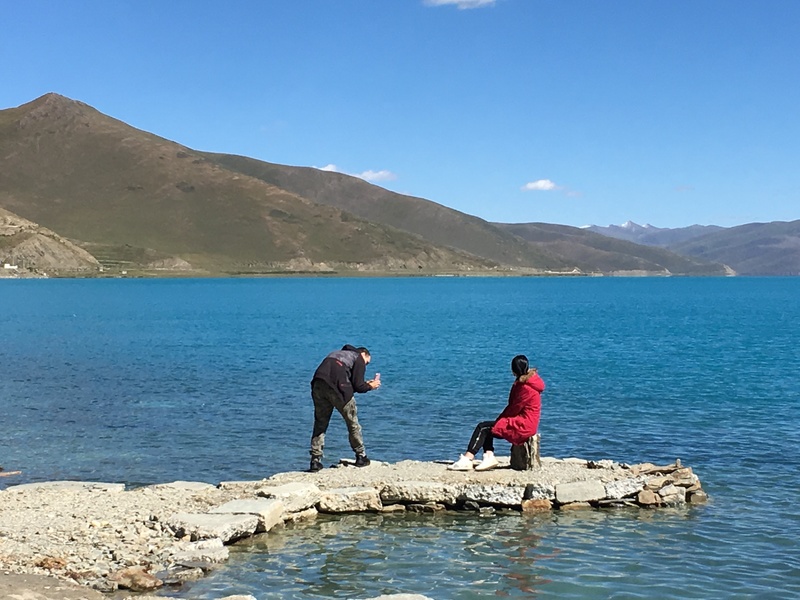 The best time to visit Tibet is from April to October.
Where to Go?
As a big highlight of Tibet tours, Everest Base Camp attracts 60% of the travelers during their Tibet trip. The best time to visit Mt. Everest is from late April to May and late September to October. Another 20% of travelers would visit Mt.Kailash. The best time to have a Mt.Kailash pilgrim trekking tour is from September and October when the weather is moderate and the scenery is the best of the year. It's better to avoid the monsoon season from late June to August. Only 20% of the travelers would visit Lhasa and surrounding areas alone.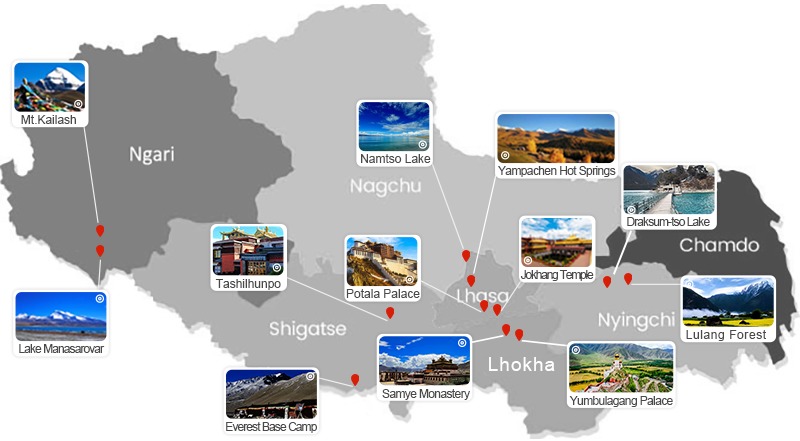 Top Tibet Attractions
How Long to Stay in Tibet?
For first-timers, it is recommended to stay for 8~15 days in Tibet. By visiting the main attractions, you are able to see the unique cultural landscape and natural scenery of Tibet: the magnificent Potala Palace, the turquoise Yamdrok lake, the spectacular Everest peak even Mt. Kailash and Manasarovar in remote Ngari Prefecture. You can take your 8 Days Lhasa Gyantse Shigatse Mt. Everest Group Tour or 15 Days Mt.Everest & Mt.Kailash Kora Pilgrimage Group Tour with us to truly appreciate Tibet.
Knowing what you expect to see or do in Tibet will help determine how long you should stay. The more you want to experience, the more time you will need to take.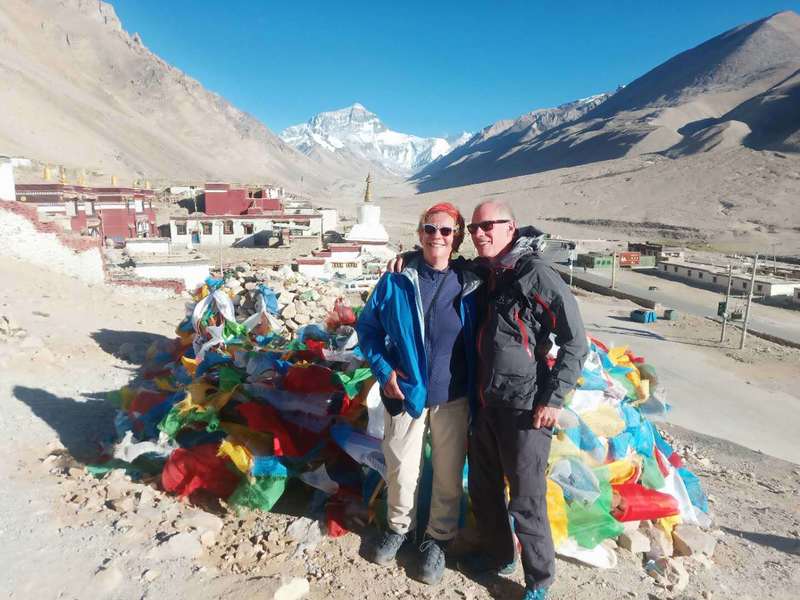 Visiting Everest Base Camp is the most popular choice.
How Much Would a Trip to Tibet Cost?
It's also a frequently asked question. Have a quick look at the costs below:
You can only reach Tibet from mainland China or Kathmandu, Nepal. If you are from Europe, you can fly to Kathmandu first. If you are from the US, you are suggested to fly to mainland China for shorter flight duration and cheaper cost. The cost is similar, about USD800 to USD1200 for a round trip. By the way, summer is always the most expensive travel time.
Traveling from Kathmandu/mainland China to Tibet
You can take an overland tour or fly from Kathmandu to Lhasa. The overland tour costs USD1200 p.p. if you join in a group tour, however, it included the tour fee along the way, so it's a cost-effective one. For round-trip flights between Kathmandu and Lhasa, the cost is about USD600 to USD800.
Flying from major entry cities to Tibet, such as Beijing, Shanghai, Guangzhou, etc. The round trip flight fare would be USD700 or USD800. Meanwhile, you can take a train for one way to save the cost. The train journey cost is about USD300.
Please note that Tibet is not a budget-friendly destination. In addition, the tour cost also depends on the factors below,
The number of travelers
The duration to stay and the month you come
The specific regions planned to be visited
The type of accommodation
Whether you consider private tours or group tours
Here is a list of a join-in group tour VS private tour in ordinary seasons, from which you can tell the rough cost of a Tibet tour. In peak tourist seasons(July, August, and September), the price would rise up 10~20%. In low tourist seasons(November to next March), the price would lower accordingly.
 Tour Costs(in USD) in Tibet
Tour Type
4-star Hotel Accommodation
3-star hotel Accommodation
4-Day Group Tour
540
500
4-Day Private Tour (Based on 2 Pax)
810
750
8-Day Group Tour
990
920
8-Day Private Tour (Based on 2 Pax)
1485
1380
15-Day Group Tour
1960
1870
15-Day Private Tour (Based on 2 Pax)
2940
2805
On Friendship Highway.
Book Your Tibet Tour in Advance
Sometimes people may buy an immediate air ticket to some tourist attractions on a whim. But for Tibet, it never happens. Unlike other tourist destinations in the world, foreigners must book the Tibet tour 20 days prior.
According to the regulations, foreigners are not allowed to travel to Tibet alone but must be accompanied by a travel-licensed guide & vehicle with the prearranged time & route. That means you should join an organized tour with a Tibet travel agency. After you finally engaged with a Tibet travel agency, your agency will help you obtain your Tibet Travel Permit.
What is Tibet Travel Permit? Any Other Documents Needed?
Well, a Tibet Travel Permit is the essential paper document issued by Tibet Tourism Bureau. You will be checked when you board a train/plane to Tibet. If you are going to certain areas such as Ngari, you will be required multiple travel permits such as Aline's Travel Permit and Military Permit. As mentioned above, your travel agency will help you handle all your Tibet Travel Permits after you confirm the booking.
To get your Tibet Travel Permit, scans of your China Visa and Passport are required. If you choose Kathmandu as your entry to Tibet, you need to apply for your China Group Visa with the assistance of your Tibet travel agency. In this way, you don't have to apply for a China Visa.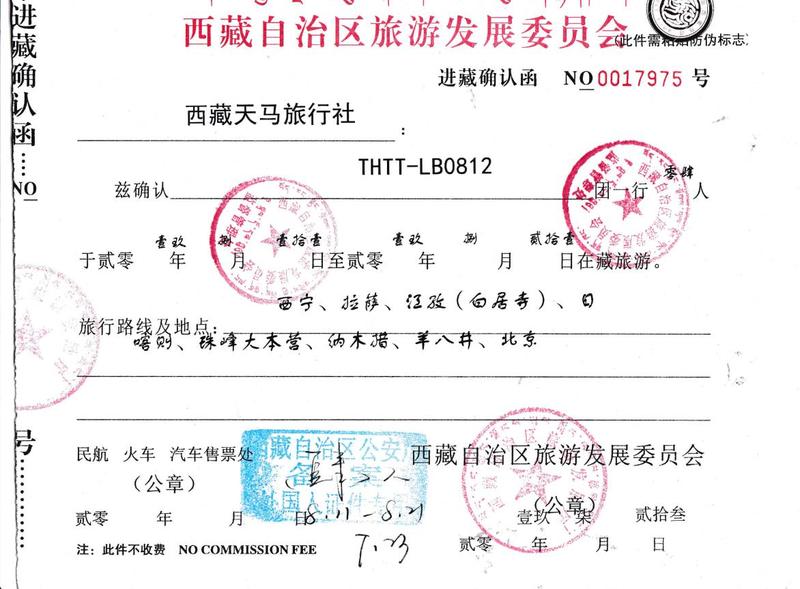 Tibet Travel Permit is required when non-Chinese passport holders enter Tibet.
How to Book Flights, Hotels, Trains?
Round-Trip Air Tickets
There are numerous daily non-stop flights to the gateway cities in China, like Beijing, Shanghai, Chengdu, Guangzhou from all over the world. You can fly to one of those gateway cities first, then take a train/flight to Tibet. In addition, there is a direct flight between Nepal and Tibet. Expedia.com is a good choice for international flight booking. We provide a domestic air/train ticket booking service.
Book Your Hotel
Usually, the accommodation is included in the tour package. The hotels we arrange for our clients have good locations and services. If you want to book your own hotel, Trip.com is not bad. One thing to remind you, some remote areas like EBC or Mt. Kailash are not likely for you to book the hotel or guesthouse online. So, our professional service can save you lots of time.
Book Train Tickets
When traveling in/out of Tibet, the train is a very popular method to get to view stunning scenery along the Qinghai-Tibet railway and adapt yourself gradually to the higher altitude in a comfortable way. The train ticket is issued to sell on the internet only 30 days before departure. It is very hard to purchase the tickets. Therefore, ask your Chinese friends or our trip consultant to reserve the tickets for you in advance.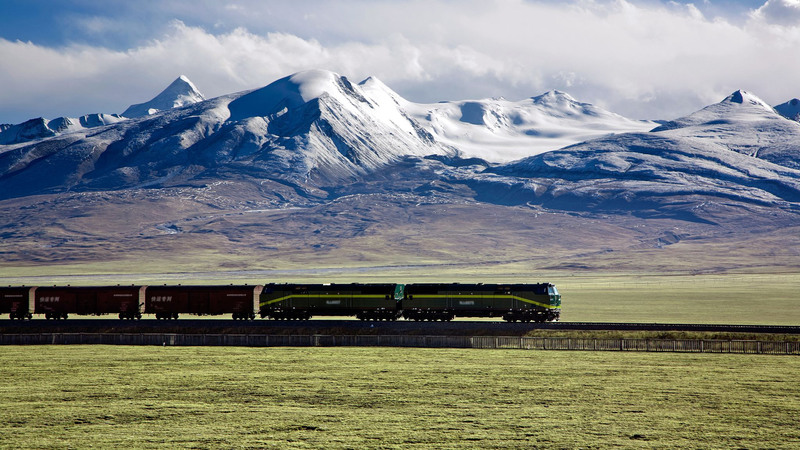 Taking a Tibet train to enjoy the stunning scenery along Qinghai-Tibet Railway.
Know Money and Currency in Tibet.
The official currency of Tibet is the Ren Min Bi, often called RMB or CNY (Chinese Yuan), and is used throughout mainland China. It is commonly referred to as kuai (pronounced kwai) by locals.
Use a Credit/Debit Card
Hotels, standard restaurants, and large shopping malls in Lhasa and Shigatse accept credit/debit cards. But please be aware that small shops or stalls only accept Chinese Yuan in cash.
Prepare Chinese Cash
You will need cash for small purchases in Tibet: souvenirs, meals, personal use, etc. You can exchange money in Lhasa. For a small amount, you can exchange it with our tour guide. For the big one, the guide will lead you to ATM or Bank of China, which is the only bank in Tibet providing the exchange service of foreign currency. The reception desk of some five-star hotels also offers money exchange, but only for the hotel guests.
Alipay/Wechat
Alipay/WeChat is acceptable in Lhasa, which a very practical and convenient App. This is a good option if you get an account.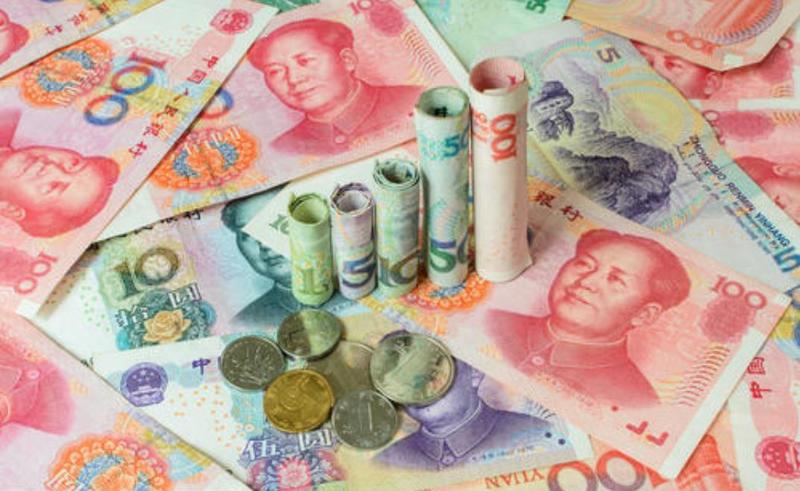 Chinese Currency
Buy Yourself a Travel Insurance
Travel insurance will make you a worry-free trip, not only for medical emergencies, but also for providing assistance of lost baggage, trip delays, trip cancel, or interruptions due to snowstorms, heavy rains, and unexpected accidents.
Start Packing
We suggest you do not take too much stuff, just take some simple and essential items, such as comfortable shoes, T-shirts, long pants, Jacket, down jacket, scarf, sunglasses, skin creams, sunscreen, hat, etc.
During Your Trip to Tibet
Stay Connected
Please be aware of the difference of electrical sockets between China and your country. Your phone or laptop can access the internet but you might need an adapter, a converter or both to charge batteries. By the way, the network speed is a little bit slow in Tibet.
Is Tibetan food safe and tasty?
Yes, you may have a try in some reputable restaurants. Fried Dumpling filled with potato and yark meat, Tibetan Yogurt and Roast Mutton Chops are recommended. Please avoid street stalls or eateries for hygienic issues.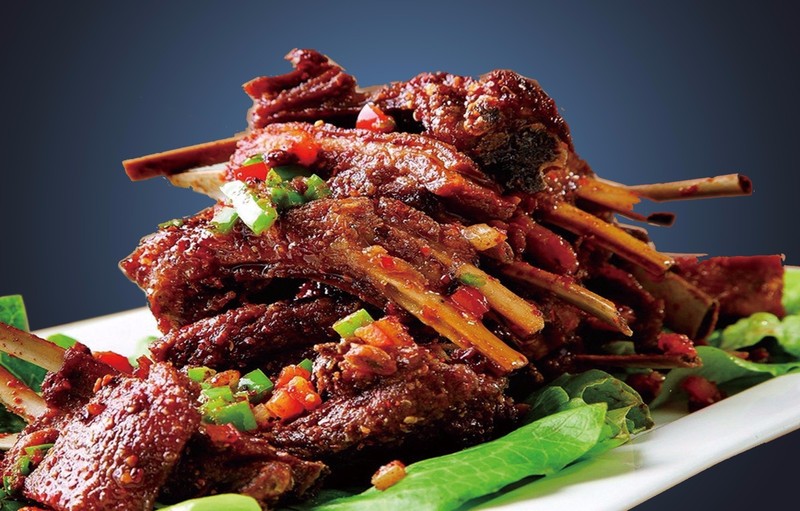 Roast Mutton Chops
Can I drink running water?
No. Tap water needs boiling before drinking. Also, we will provide mineral water for free.
Get a Deeper Cultural Experience
Learn Tibetan Buddhism
Paint Tibetan Tangka
Visit a Tibetan Family
Plan your tour during Tibetan Festivals like Saga Dawa and Shoton Festival.
Tipping
Gratuities for guide and driver are not mandatory, but it's expected. You can tip them on the last day of the tour as your gratitude for their caring during the tour. You are suggested to tip each of them 5~10 USD/day in total.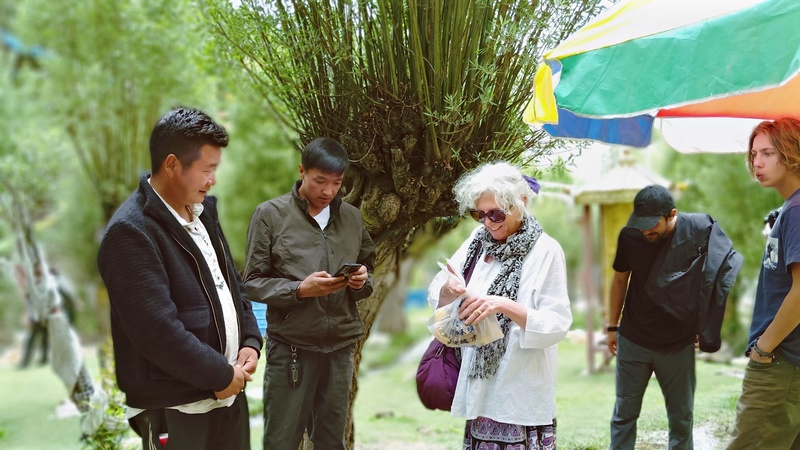 Tipping for guide and driver is not mandatory but it's expected.
Our Picks of the Best Experience Tours
All of the itineraries on our website can be hand-picked by us from various options and can be tailored further to fit your needs. Please do not hesitate to tell us a few things about what your perfect Tibet trip looks like and our team are here to make it happen.
Here are our most popular tour packages,
Related Articles
Ask a Quick Question Below? Or Call 0086-891-6679450
Email response within 0.5~24 hours.