by Nance
Last Updated: 2019-12-23
As the capital of China, Beijing is usually the first station for foreign tourists to enter China. If you choose to land in Beijing, you may stay 2 or 3 days here to visit the incredible historical sites such as Forbidden City, the Summer Palace, the Great Wall, and Tiananmen Square, then take a train from Beijing train station to Lhasa.
As early as July 2006, Beijing Lhasa Railway (Z21) has become one of the three earliest railways in Qinghai-Tibet railway, and the other two main lines are from Chengdu to Lhasa, Xining to Lhasa. The trains from Beijing to Lhasa are 3757 kilometers long, across eight provinces. There are ten stations between the Beijing West Railway Station and the Lhasa railway station. The train from Beijing to Lhasa stops averages about 11 minutes per station. And it takes three days or about 41 hours on the whole train journey. It will give you an unforgettable experience in a lifetime.
The average elevation from Beijing to Lhasa is 3379 meters above sea level, especially after Xining (2295 meters), the train gradually will rise to the highest point of the Qinghai-Tibet railway- the Tanggula Mountain Pass (5072 meters). You can enjoy the Gobi desert, snow-capped mountains, and the Tanggula Mountain, vast grasslands and other beautiful scenery along with Qinghai-Tibet railway. Here's the train route,
Beijing Lhasa Train Ticket Price and Schedule
| | | | | | | | |
| --- | --- | --- | --- | --- | --- | --- | --- |
| Train No. | From/To |  Dep. /Arr.  | Duration | Distance(km) | Frequency | Hard Sleeper Ticket | Soft Sleeper Ticket |
| Z21 | Beijing/Lhasa | 20:00/12:26 | 40:26 | 3757 | Daily | CNY720/USD116 | CNY1144/USD185 |
| Z22 | Lhasa/Beijing | 16:30/08:28 | 39:58 | 3757 | Daily | CNY720/USD116 | CNY1144/USD185 |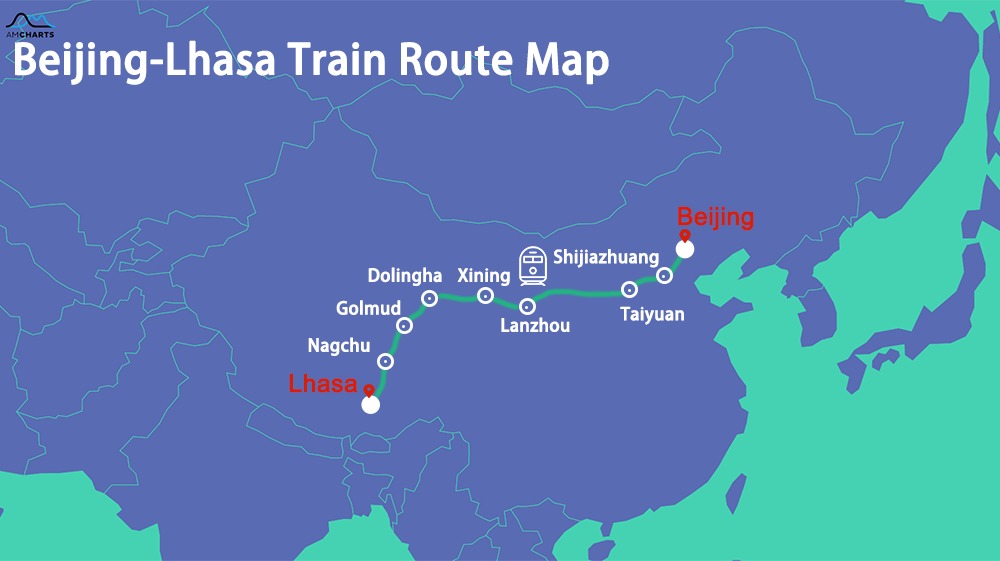 How to Book Beijing Lhasa Train Tickets?
Beijing Lhasa train tour is very popular, so tickets are sold out very quickly. And there are two ways for you to book train tickets -- book by yourself or through a travel agency. If you know how to book train tickets online with Chinese payment, you can book them on your own. Generally speaking, you can not buy the exact types of train sleepers by yourself. So, you'd better ask help from a travel agency that can offer your preferred sleepers (soft/hard sleepers). Meanwhile, you should provide us your passport information so that we can book the train tickets for you online.
Tips: Due to the massive demands, train tickets to Tibet are not easy to book, and the price may higher than the net worth. Although tickets are difficult to get, we will try our best to book tickets for you at a reasonable price.
How to Get to Beijing West Railway Station?
There are five railway stations in Beijing, including Beijing Railway Station, Beijing North Railway Station, Beijing South Railway Station, Beijing West Railway Station, and Beijing East Railway Station. And train from Beijing to Lhasa starts from Beijing West Railway Station, which is located at Lianhuachi East Road, 36km away from Beijing Capital International Airport. Meanwhile, Beijing is a cosmopolitan with highly developed transportation, and taking the subway to the railway station is quite convenient with Metro Line 7 and Line 8.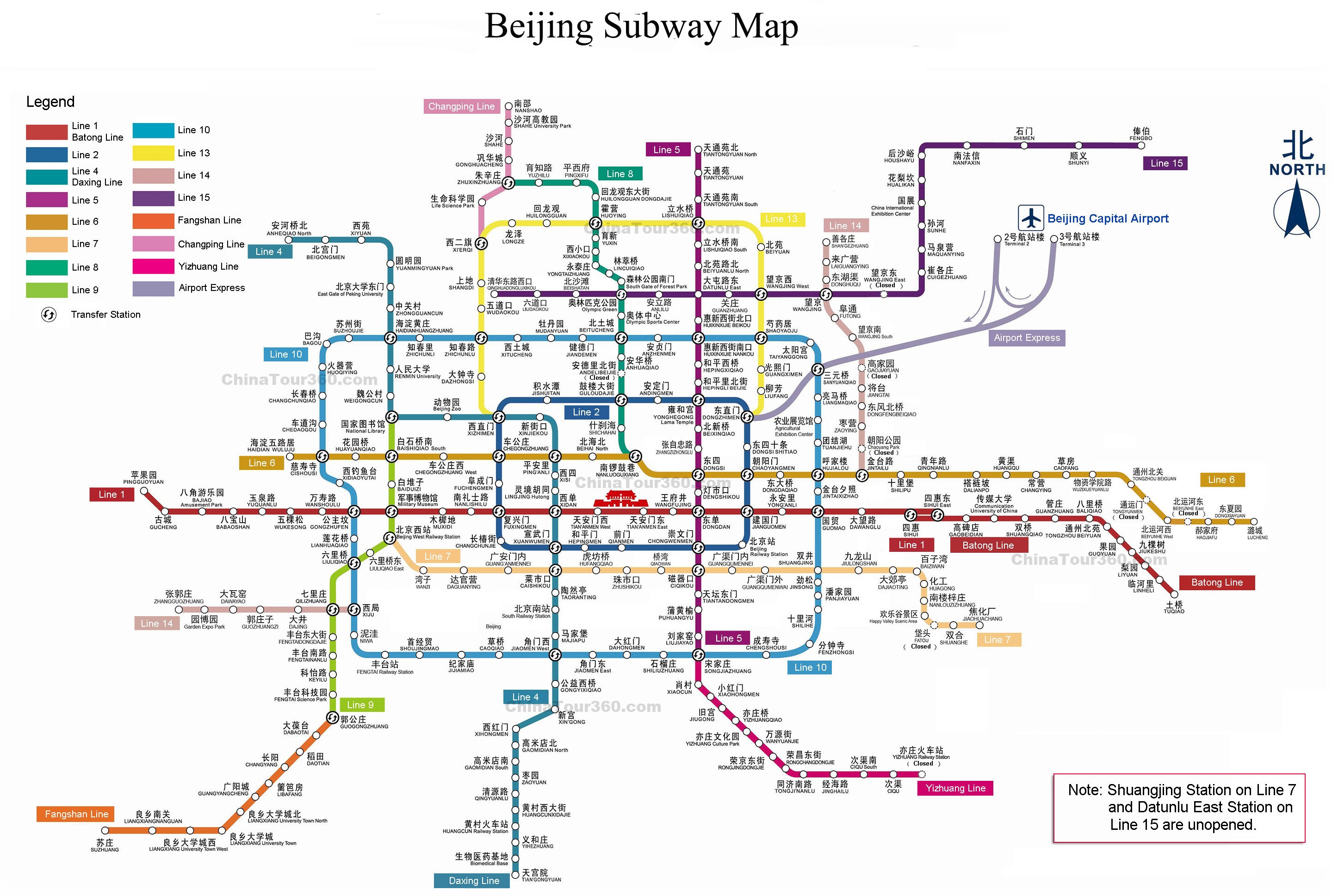 Which Sleeper Should Tourists Choose, Hard Sleeper or Soft Sleeper?
Normally, there are three categories of seat classes available in Qinghai-Tibet Train, including soft sleeper, hard sleeper, or hard seat. According to the commonplace experience, soft sleepers are strongly suggested to ensure you comfortable overnights on the train. A soft sleeper is much more spacious, cozier, quieter, and safer, compared with a hard sleeper.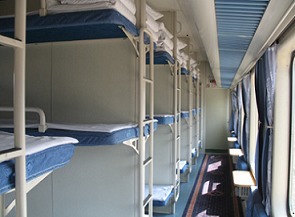 VS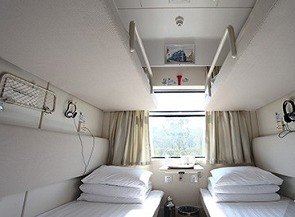 Life on the Beijing Lhasa Train
Food & Drink
The dining carriage is in the middle position of the train, offering breakfast, lunch and dinner and some snacks. Only formal Chinese food is available, like rice, vegetables, and soups. You can also buy a boxed meal or some snacks or soft drinks from the Food Trolley, which will be passed to your carriage at mealtime. Hot water is provided all the time, so you can have instant food.
What's more, you can buy some snacks or fruit before your check-in to spend your leisure time.
Air Conditioning & Oxygen Supply
The temperature is comfortable, and the air is fresh on the train due to the air-conditioning system. The windows of Tibet train are airtight to protect you from extreme temperature change outside. What's more, there are two kinds of oxygen supply systems equipped on the train to reduce the altitude sickness of tourists.
Luggage Storage
If you are in a soft sleeper carriage, you can put your suitcase on the luggage closet, which is 16 inches (40cm) high and 20 inches (50cm) wide above the door. If you are in a hard sleeper carriage, you can put your suitcase above the luggage rack by the aisle.
Tibet Permits Required
Tibet Travel Permit is the must-need documents for foreign travelers who want to enter Tibet. So if you're going to take a train to Tibet, you should get this permits before you board the train from Beijing to Lhasa. However, this permit cannot be applied on your own as tourists should be escorted with the tour guide in Tibet. As the Local Tibet Travel Agency, we can help you to apply for it from the Tibet Tourism Bureau. After booking your Beijing Lhasa Train Tour, please send copies of your passport and China Visa to us so that we can apply the permits for you in advance.
Please kindly note: train between Lhasa and Beijing runs every day and tickets are issued to sell on the internet only 30 days before departure. It's very hard to purchase the tickets on tourist seasons. It's almost impossible for both you and us to get tickets on the internet, so we have to get the ticket from the ticket scalper by paying them a very high handing fee (we will charge this fee from clients) to guarantee the ticket for you. We have NO profit at all to book any flight/train tickets for clients. We provide tickets booking service and want our travelers could get into and out of Lhasa easily after tour booked with us.
Related Articles & Posts
Recommended Tour Packages
Ask a Quick Question Below? Or Call 0086-891-6679450