Beijing to Lhasa Train
by Nance
Last Updated: 2020-12-06
Beijing to Lhasa train Z21 departs from Beijing West Railway Station at 20:00 every day and arrives at Lhasa Railway Station at 12:40 on the 3rd day. After 41 hours of bumps, it passes Shijiazhuang North-Taiyuan-Lanzhou-Xining-Golmud-Nagqu and other stations and finally arrives in Lhasa. The train from Beijing to Lhasa is 3,757 kilometers long with 10 stations, across eight provinces. The average stay time per station is about 11 minutes.
From Xining, the start point of the Qinghai-Tibet Railway, you'll get to see some of the most spectacular views of this train route. You can enjoy the highlights of this train journey such as Qinghai Lake, Chaidamu Basin, Gobi Desert, snow-capped mountains, the Tanggula Mountains, vast grasslands and other beautiful scenery along with the railway. Here's the train route,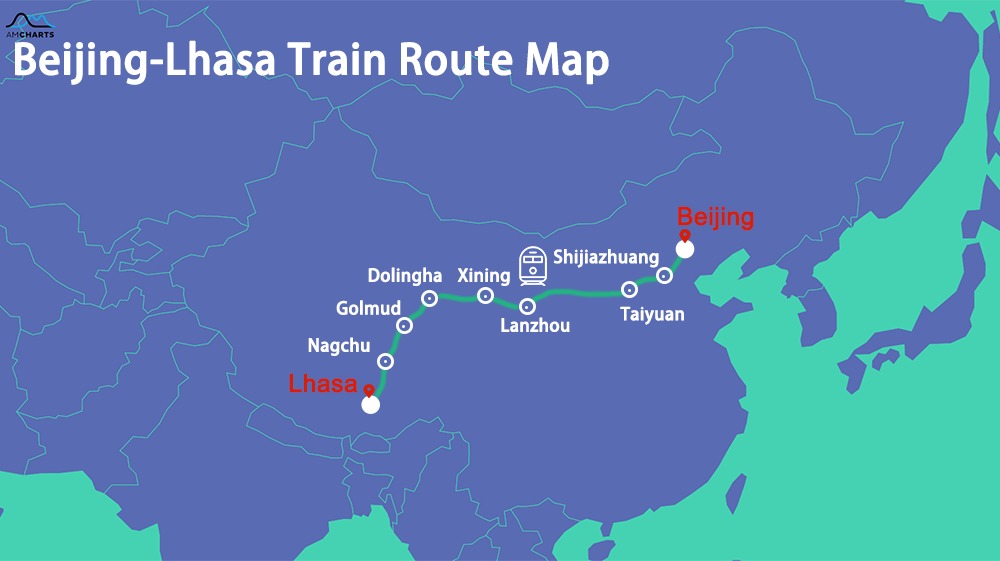 Here are the main threads you may interest in this post
Train Schedule and Ticket Info
From Beijing to Xining, which usually takes 17 hours, there is a gradual altitude change (from 44 meters to 2,200 meters above sea level). So, passengers will not experience any symptoms of altitude sickness. After Xining, the train will keep running on Qinghai-Tibet Plateau, at an average altitude of above 4,000 meters. When the train moves from Xining to Nagchu, there is an abrupt altitude change from 2,200 meters to 4,500 meters, during which you will also reach the highest point of the rail line - the Tanggula Mountain Pass (5,072 meters). At Nagchu Station, the train will stop for 7 minutes. If you want, you can get out of the train to feel the weather of Tibet Plateau. Moreover, at Golmud Railway Station, the oxygen supply is immediately turned on to compensate for the lack of oxygen in the surroundings.  
Beijing to Lhasa Train Schedule
| | | | | | |
| --- | --- | --- | --- | --- | --- |
| Stations | Arrival | Departure | Distance | Stop Time | Altitude |
| Beijing | | 8:00 pm | | | 44 meters |
| Shijiazhuang | 10:33 pm | 10:37 pm | 291 km | 4 minutes | 80 meters |
| Taiyuan | 12:19 am | 12:25 am | 516 km | 6 minutes | 820 meters |
| Zhongwei | 7:05 am | 7:16 am | 1,263 km | 11 minutes | 1,225 meters |
| Lanzhou | 12:17 pm | 12:32 pm | 1,569 km | 15 minutes | 1,530 meters |
| Xining | 3:01 pm | 3:21 pm | 1,785 km | 20 minutes | 1,785 meters |
| Delingha | 7:23 pm | 7:25 pm | 2,306 km | 2 minutes | 2,306 meters |
| Golmud | 10:10 pm | 22:35 pm | 2,615 km | 25 minutes | 2,780 meters |
| Nagchu | 8:41 am | 8:48 | 3,435 km | 7 minutes | 4,500 meters |
| Lhasa | 12:40 pm | | 3,757 | | 3,650 meters |
Beijing ⇋ Lhasa Train Ticket Info
| | | | | | | | |
| --- | --- | --- | --- | --- | --- | --- | --- |
| Train No. | From/To |  Dep. /Arr.  | Duration | Distance(km) | Frequency | Hard Sleeper Ticket | Soft Sleeper Ticket |
| Z21 | Beijing/Lhasa | 20:00/12:45 | 40:45 | 3757 | Daily | CNY720/USD116 | CNY1144/USD185 |
| Z22 | Lhasa/Beijing | 16:30/08:28 | 39:58 | 3757 | Daily | CNY720/USD116 | CNY1144/USD185 |
Nota Bene:
The abovementioned ticket prices are only net prices and the actual booking price may be higher because it includes a service fee.
It would be advisable to make an early reservation to ensure that you will get the train ticket for your preferred date.
Hard Sleeper or Soft Sleeper?
Normally, there are three categories of seat classes available in Qinghai-Tibet Train, including soft sleeper, hard sleeper, or hard seat. Beijing-Lhasa train travel is a long journey that takes up to three days. Due to its length as well as the changing altitude, soft sleepers are strongly suggested to ensure you comfortable overnights on the train. A soft sleeper is much more spacious, cozier, quieter, and safer, compared with a hard sleeper.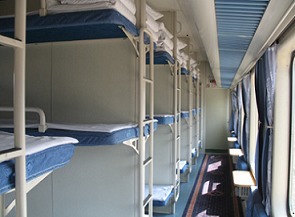 Hard Sleeper
VS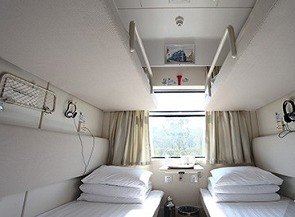 Soft Sleeper
The Best Time for Train Travel
You can visit Tibet all-year-round by train. Yet, there are peak and low train travel seasons in Tibet. The onset of summer is the start of peak travel season in Tibet and this peak season includes the months of June, July, August, and September. During these months, getting a train ticket to Tibet from Beijing may be a bit difficult. Hence, if you want to travel during this period, you need to book your train ticket at least one month in advance to ensure that. The low travel season, on the other hand, is from December to January. During this period, you can easily get tickets. 
How to Book Beijing to Lhasa Train Tickets?
You can book a train ticket at the railway station. To book a ticket, you need to bring with you your original passport as well as a photocopy of your Tibet Travel Permit. You can also contact Great Tibet Tour and we will be very much willing to book you a ticket on your preferred travel date. At the West Railway Station of Beijing, you should proceed to counter 16 at the north square's east ticket hall. There, you will find an English-speaking employee. Make sure that you get the right one when you book a ticket.
You can also book a ticket on 12306.cn which is the official ticket-booking website. This ticket-booking website is operated by China Railway Engineering Corporation. Through this website, you can accurately and immediately book a train ticket to Tibet. Before you can book, however, you need to register and login. After you have booked a ticket, you can then check the confirmation page and then pay up. You can pay via Chinese Banks, Alipay, or UnionPay. The problem is that you need to know how to read Chinese before you can book a ticket on this website because the website used Chinese characters.
You can also call 95105105 for a reservation. You can call this number from 7:00 am to 11:00 pm. However, customer service speaks in Chinese likewise.
Lastly, you can also book a ticket by contacting us, at Greattibettour. As a touring service of your choice, we can book for you your train ticket as well as facilitate your travel to Tibet. If you book your train ticket with us, we will send the train ticket to your address in Beijing. In some cases, we will personally hand over your train ticket at the railway station before you board the train. You can also proceed directly to the railway station to collect your ticket by simply showing your booking number, Tibet Travel Permit, and passport.
Tips: You should go to the train station earlier, at least 2 hours before the departure of the train so that you can have enough time for collecting your ticket.
How to Get to Beijing West Railway Station?
Beijing is the most important air, rail, and road transportation hub in China, being the capital city of the country. Among the railway stations in Beijing, only the Beijing West Railway Station offers Beijing to Tibet train. Beijing West Railway Station is located at Lianhuachi East Road(West 3rd Ring Road), 36km away from Beijing Capital International Airport. Beijing is a cosmopolitan with highly developed transportation, so you can get to the Beijing West Railway Station via subway, taxi, or shuttle bus.
Via Subway
The subway route is the fastest way to access the Beijing West Railway Station. This route allows you to escape the usual traffic jams on the major thoroughfares. It will cost 30 RMB from the airport and it usually takes around one hour and twenty minutes to travel from the airport. Its route includes taking the Airport Line, then, transferring to Metro Line 2, afterward, transferring to Metro Line 4 Daxing Line, and lastly, via the Metro Line 7. From downtown to Beijing West Railway Station, you can take a taxi, or travel via Metro Line 7 or Line 9.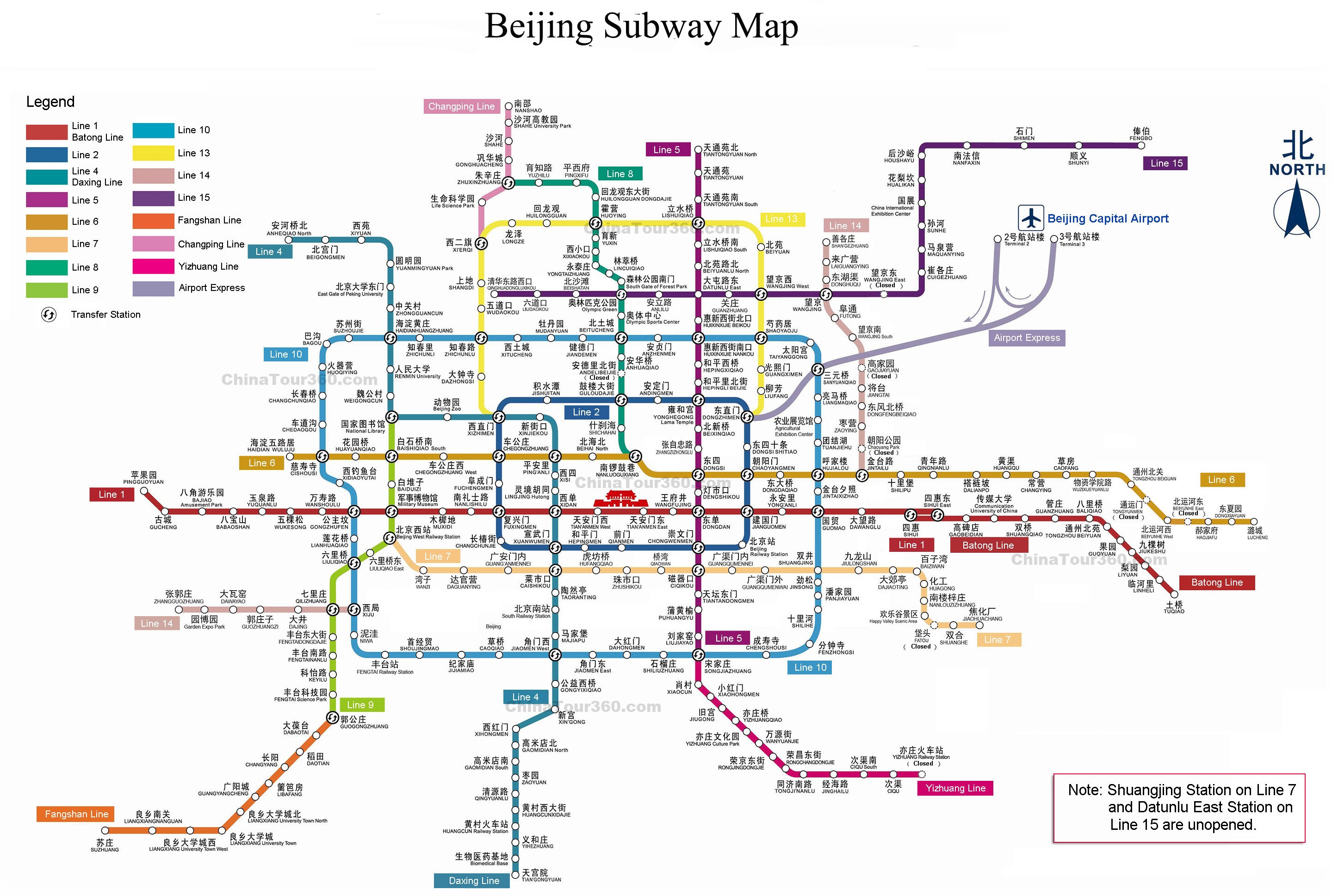 By Airport Shuttle Bus
Just outside the airport, you simply need to go to the bus terminal and look for Shuttle Bus No. 7. This shuttle bus leaves every half an hour. It takes only 2 hours of bus ride from the airport to the Beijing West Railway Station. This bus ride costs around 30 RMB.
By Taxi
Outside the terminal buildings of the airport, you will find a taxi terminal. You can ride one of the taxis at this terminal. By taxi, you can reach the Beijing West Railway Station within an hour. A taxi ride, however, costs much more. It usually costs around 120 RMB. Moreover, nighttime fares are usually more expensive than daytime fares.
Life Onboard
Altitude Sickness and Oxygen Supply
Altitude sickness is the major concern for first-time visitors to Tibet. It's symptomatic of the following conditions, namely: headaches, vomiting, trouble sleeping, tiredness, and dizziness. This sickness is caused by exposure to low levels of oxygen at high elevation. You will never experience the lack of oxygen on the train.
The train will start supplying oxygen after passing through Golmud, which means that the plateau has arrived. Two sets of oxygen supply systems are equipped on the train, one is a "diffusion" oxygen supply set above the windows of each car so that the oxygen content of each car is kept at about 23%; the other oxygen supply is on the wall of the sleeping berth. At the same time, the windows of the train are automatically pressure-regulated, and the pressure inside the train will be automatically adjusted with changes of altitude, which greatly reduces altitude sickness. Only very few people will feel particularly uncomfortable due to the altitude change.
By the way, the temperature is always comfortable, and the air is fresh on the train due to the air-conditioning system. The windows of the Tibet train are airtight to protect you from extreme temperature change outside.
Food & Drink
The dining carriage is in the middle position of the train, offering breakfast, lunch and dinner and some snacks. Only formal Chinese food is available, like rice, vegetables, and soups. You can also buy a boxed meal or some snacks or soft drinks from the Food Trolley, which will be passed to your carriage at mealtime. Hot water is provided all the time, so you can have instant food. What's more, you can buy some snacks or fruit before your check-in to spend your leisure time.
Luggage Storage
If you are in a soft sleeper carriage, you can put your suitcase in the luggage closet, which is 16 inches (40cm) high and 20 inches (50cm) wide above the door. If you are in a hard sleeper carriage, you can put your suitcase above the luggage rack by the aisle.
Toilet 
The soft sleeper carriage usually comes with one western-style toilet and a squat-style toilet. The hard sleeper carriage has two squat-styled toilets. There are also washbasins on the train with hot & cold water available. As a tourist, you need to bring your own towel, tissue paper, and other toiletries.
Dustbin, Power Plug Outlets & Shower Room
At one end of the carriage, you will see a dustbin. There is also a hot water dispenser and free boiled water is available all the time. Along the corridors, you will find power plug outlets. There are also outlets in your soft sleeper cabin under the table. There is no shower room inside the train.
FAQs About the Train from Beijing to Tibet
1. How do I board a Beijing-Lhasa train?
Although you might have already booked a ticket and have your ticket with you, you still have to follow some procedures when boarding the train.
First, you should fill out the Health History Form. The Health History Form requires you to declare your medical history including illnesses like stroke, hypertension, chronic respiratory problem, and any other cardiovascular disease. You can never board the train if you have any of the abovementioned illnesses.
Then, you need to pass through the security check. You should line up for the security check before you can enter the waiting hall. You need to present your passport, train ticket, and Tibet Travel Permit to the staff and put your luggage, including backpacks and carry-on bags on the security scanner conveyor belt.
Afterward, you need to find the waiting room. You'll be guided by the LED screen that shows the train number, terminal, and the departing time as well as the waiting room.
Finally, you will board the train. Check-ins usually start from 15 to 30 minutes prior to the departure. The barriers usually close five minutes before the train departure. Lastly, you should find your berth based on your ticket.
2. Should I carry my Tibet Travel Permit all the time?
Yes, you need to carry with your Tibet Travel Permit most of the time because this permit is usually checked a lot of times during your train journey. You should also have several copies of this permit. Aside from the Tibet Travel Permit, you should also carry with your passport.
3. Can I transfer from one train to another using the same ticket?
Although many trains entering Tibet need to be changed but the train from Beijing to Lhasa does not need to get off and change. If you want to stay longer in Xining or any other stops, you need to buy a different ticket for the succeeding sections. You should not worry, however, about taking breaks for in some stations, the train usually makes longer stops for sightseeing and the needed break.
4. Is there any high-speed train from Beijing to Tibet?
No high-speed train is available from Beijing to Tibet currently. The only direct train Z21 is an ordinary train. However, you can take a high-speed train from Beijing to Xining then take a train to Lhasa.
Related Articles
Recommended Tour Packages
Ask a Quick Question Below? Or Call 0086-891-6679450
Email response within 0.5~24 hours.