Apart from citizens of Brunei, Japan, and Singapore, all visitors to Tibet require a valid Chinese visa. Visas for individual travel in China are easy to get from most Chinese embassies, though it's important not to mention Tibet on your application. For sometimes, China embassy may request you to present Tibet Tourism Bureau Permit; but here in Lhasa, we have to have Chinese Visa first to apply TTB permit for you. so really, it's an egg-and-chicken bureaucratic error. Therefore, it's best that you don't mention Tibet while applying for a Chinese visa. If Chinese embassies request more details of your tour, Great Tibet Tour is happy and capable of providing you with the supporting docs to apply for your Chinese visa.
And here's another important factor. If you are going to visit Tibet from Nepal, then you need China Group Visa instead of Chinese Visa. Yet, it still looks complicated and confusing for many travelers.  Here's an image to make it simple and easy to understand.
                     Chinese Visa VS China Group Visa
Most Chinese embassies and consulates will issue a standard 30- or 60- day, single-entry tourist (an 'L' category) Visa in three to five working days. The 'L' means to travel. Fees vary according to how much your country charges Chinese citizens for a visa (US citizens pay a lot more than anyone else). Fees must be paid in cash at the time of application and you'll need two passport-sized photos. It's possible to download an application form at embassy or visa agency websites. Express services cost double the normal fee. Your application must be written in English, and you must have one entirely blank page in your passport for the visa.
Some Chinese embassies offer a postal service for a fee, but this takes around three weeks. Chinese embassies in the USA do not accept mail-in applications, so unless you live in a major city you'll have to use a visa agent. In some countries, the visa service has been outsourced to a visa-issuing servicing center that levies an administration fee, which effectively doubles the cost of your visa.
The visa application form asks you a lot of questions (your entry and exit points, travel itinerary, means of transport, etc), but once in China you can from this as much as you like. When listing your itinerary, consult our experienced tour consultants in case further documents are required, eg. hotel confirmation, etc.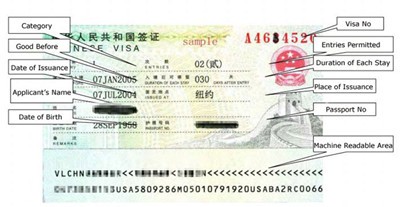 Visas valid for more than 30 days can be difficult to obtain anywhere other than Hong Kong, although some embassies abroad (eg. US, Uk) often give you 60 or even 90 days if you ask nicely. This saves you the considerable difficulty of getting a visa extension in Tibet. Most agencies in Hong Kong can arrange a 90-day visa. Most Chinese embassies abroad will issue a double-entry visa.
A standard single-entry visa is activated on the date you enter China and must be used within three months from the date of issue. There is some confusion over the validity of Chinese visas. Most Chinese officials look at the 'valid until' date, but on most 30-day visas this is actually the date by which you must have entered the country, not the visa's expiry date. long-stay visas are often activated on the day of issue, not the day you enter the country, so there's no point in getting one too far in advance of your planned entry date. check with the embassy if you are unsure.
It's possible to travel in Tibet with a student (X), resident (D ) or business (F or Z) visa, etc. but not a journalist (J) visa.
Ask a Quick Question? Ask below or call 0086-891-6873166