13 Days Classic Tibet Nepal Bhutan Tour
Classic Tibet Nepal Bhutan Tour
Duration:

13 Days

Price:

From

USD2230

Route:

Lhasa - Gyantse - Shigatse - Tingri - EBC - Gyirong - Kathmandu - Paro - Punakha Dzong - Paro - Taktsang - Paro

Season:

Spring
Summer
Autumn
Winter

Tour Type:

Group Tour

Group Size:

Max 12
Add

to Favorites
Overview
This 13-day tour will take you to three separate countries, Tibet, Nepal, and Bhutan. In Lhasa, Tibet, you can see some cultural and historical sites, including Potala Palace and Jokhang Temple. Meanwhile, you can visit some monasteries such as Sera Monastery and Drepung Monastery. After catching a glimpse of Mount Everest, you will cross the vast expanse of the Tibetan Plateau to delve deep into the Kathmandu Valley to explore Nepali culture. Before flying across to Paro, in Bhutan, you can visit some unique sights of the Bhutanese culture and religion. Taking a short-hop flight across borders to visit the beautiful country of Bhutan, you can join the trekking and murmuring.
| Day | Route | Attractions & Activities | Accommodation | Meals |
| --- | --- | --- | --- | --- |
| 1 | Arrival in Lhasa (3650m) | Pick up and transfer to the hotel. | Lhasa, 3★/4★ | |
| 2 | Lhasa Sightseeing | Drepung Monastery, Sera Monastery | Lhasa, 3★/4★ | B,D |
| 3 | Lhasa Sightseeing | Potala Palace, Jokhang Temple, Barkhor Street | Lhasa, 3★/4★ | B |
| 4 | Lhasa- Gyantse(4040m)- Shigatse(3840m), 360km, approx. 7hrs | Yamdroktso Lake, Karola Glacier, Simila Mountain Pass, Pelkor Chöde Monastery, Far view of Gyangtse Fortress | Shigatse, 3★/4★ | B |
| 5 | Shigatse - Tingri - EBC(5100m), 350km, approx 7hrs | Tashilunpo Monastery, Rongbuk Monastery, sunset of golden Everest peak | Rongbuk guesthouse or Nomad Tent, (Dorm Bed) | B |
| 6 | EBC – Gyirong Border 370km, approx. 8hrs | Everest Base Camp, Pekutso Lake, Far view of Mt. Shishapangma | Gyirong, Guesthouse | |
| 7 | Gyirong to Nepal Border / transfer to Kathmandu | Send off to Gyirong border / transfer to Kathmandu | Kathmandu, 3★/4★ | |
| 8 | Day tour in Kathmandu: Kathmandu City, Swayambhunath and Patan City | Kathmandu Durbar Square, Swayambhunath Pagoda | Kathmandu, 3★/4★ | B |
| 9 | Day tour in Kathmandu: Pashupatinath, Boudhanath and Bhaktapur City | Pashupatinath, Boudhanath | Kathmandu, 3★/4★ | B |
| 10 | Fly from Kathmandu to Paro International Airport Then Transfer to Paro Town (2300m) | Fly from Kathmandu to Paro then transfer to the town | Thimphu, 3★/4★ | B,L,D |
| 11 | Day tour in Punakha Dzong / Drive Back to Paro (1460m) | Punakha Dzong, National Museum | Paro, 3★/4★ | B,L,D |
| 12 | Trek to Taktsang (Tiger's Nest Monastery) and drive back to Paro | Tiger's Nest, Kyichu Lhakhang | Paro, 3★/4★ | B,L,D |
| 13 | Departure from Paro | Departure from Paro | | B |
Our staff will greet you at Lhasa Airport/Railway to transfer you to the hotel. From Lhasa Airport to downtown Lhasa, it usually takes about one hour; from Lhasa Railway Station, about 20mins. After transferred to hotel, the rest of the day you will be free to wander around the city on your own but try not to overtax yourself. The first day's well-rest is crucial to acclimatize the high altitude. Remember to drink lots of water, eat light, and not to have a shower if you can help it.
Stay overnight in Lhasa, 3★/4★
Our guide and driver will pick you up at the hotel in the early morning and then drive to visit the Drepung Monastery , which is located at the foot of the Gambo Utse Mountain, 5 kilometers (3.1 miles) from the western suburb of Lhasa. Drepung Monastery is known as the most important monastery of Gelugpa in Tibetan Buddhism. It was founded in 1416 by Jamyang Choeje, who's one of the Tsongkhapa's main disciples.
After lunch, you are going to visit the Sera Monastery, which is renowned as the most beautiful Tibetan Monastery. Sera Monastery is one of three famous monasteries in the city along with the Drepung Monastery and the Ganden Monastery. One of the main attractions of Sera Monastery is debating. As a part of their study, lamas must participate in debates to further their comprehension and proceed to more advanced levels of study. The debating usually is held at around 3 - 5 in the afternoon except for Sunday.
Stay overnight in Lhasa, 3★/4★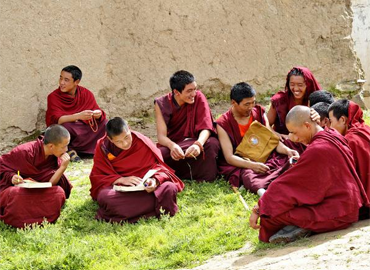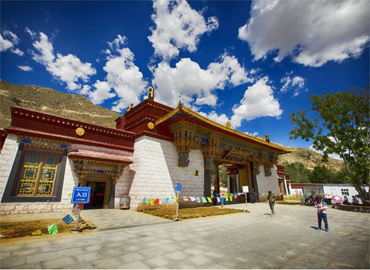 Meals:
Breakfast
Welcome Dinner
Today, we will go to the famous world heritage Potala Palace. It's situated on the Red Hill of central Lhasa. Potala Palace is the highest ancient palace in the world, reaching 3,767.19m (12,359.55ft) at the topmost point. The most valuable collections of Potala Palace are the gilded burial stupas of former Dalai Lamas and meditation Cave of the 33rd great king of Tibet.
In the afternoon, take an easy visit to Jokhang Temple in the center of the Lhasa old town. Jokhang temple is the most sacred temple all over Tibet and it is always bustling with earnest local pilgrims. After you visit the temple, you'll have time to walk around the Barkhor street, which is one of the most devotional circuits as well as the crowded central market of Lhasa since the early days. As a symbol of Lhasa, it is also a must-see place for visitors.
Stay overnight in Lhasa, 3★/4★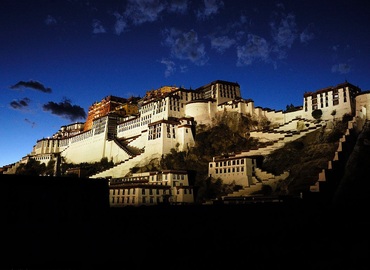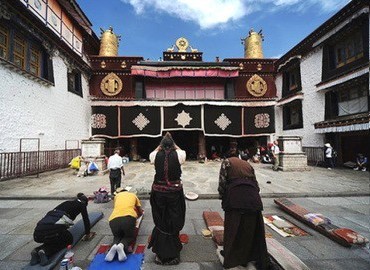 We will pass by Kampala pass (4790m) on the way from Lhasa to Shigatse and visit Yamdrok Lake. Covering 638 km², Yamdrok Lake is one of the top three sacred lakes in Tibet. The lake is surrounded by many snow-capped mountains and is fed by numerous small streams.
Later we will pass and enjoy the Karola Glacier on the roadside. It is about 300m from the main highway with easy access on your way to Gyantse.
Then visit the main monastery in Gyantse - Pelkor Chode Monastery. Pelkhor Chode in Gyantse town is located about 230km to the south of Lhasa and 100km to the east of Shigatse. The monastery is a short walk from the heart of the town.
Stay overnight in Shigatse, 3★/4★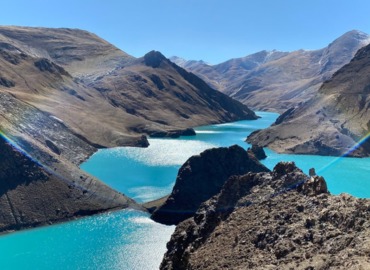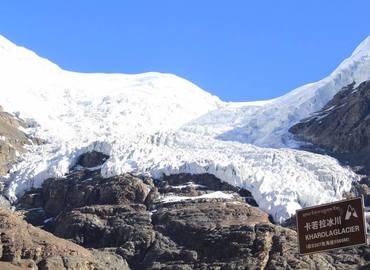 In the morning, we will visit the home of Panchan Lama - Tashilunpo Monastery and then drive to Lhatse, a small town located 150 km from Shigatse, and you may have lunch in the local restaurant. After a short rest, you will go ahead to Tingri. You will pass Tsola Pass(4600M), and Gyatsola Pass(5248M). In the late afternoon, you enter Mt. Everest National Nature Reserve. You can enjoy the panorama of the Himalayas at Gawula Pass (5198m).Then we drive along the new zigzag road to Rongbuk Monastery or Everest Base Camp to stay overnight. If the weather is good, you can have a clear view of the sunset of golden Everest peak.
If it's summertime (usually May~Oct), we will carry on the last few kilometers to Everest Tent Camp to stay the night; if winter time (usually Nov~Apr), we will stay at Rongbuk Monastery's guesthouse. Both places have but only the dorm bed lodging available. Both places you can see the glorious Everest sunset if the weather is good.
Stay overnight in Rongbuk guesthouse or Nomad Tent, (Dorm Bed)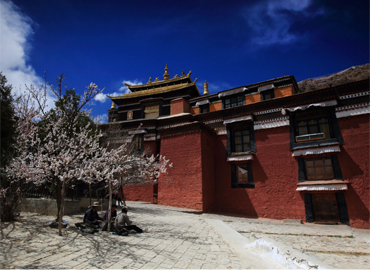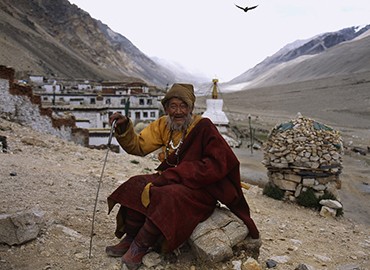 We didn't include breakfast this morning. You will understand why when you're at Everest Base Camp. Tibetan breakfast, such as noodle, zanba, etc. abt CNY 30 is available here. You are highly suggested to bring along some cookies, instant coffee. etc. on your own. You can get up early and enjoy the sunrise of Everest Peak at the lodging area if the weather is good. After sightseeing, we will drive to Gyirong, the border which connects Tibet & Nepal. On the way, tourists can enjoy the breathtaking vista of Mt. Shishapangma and Pekutso Lake. After passing the Ghungtang Lhamo(5236M), we will arrive in Gyirong in the late afternoon.
Stay overnight in Gyirong Town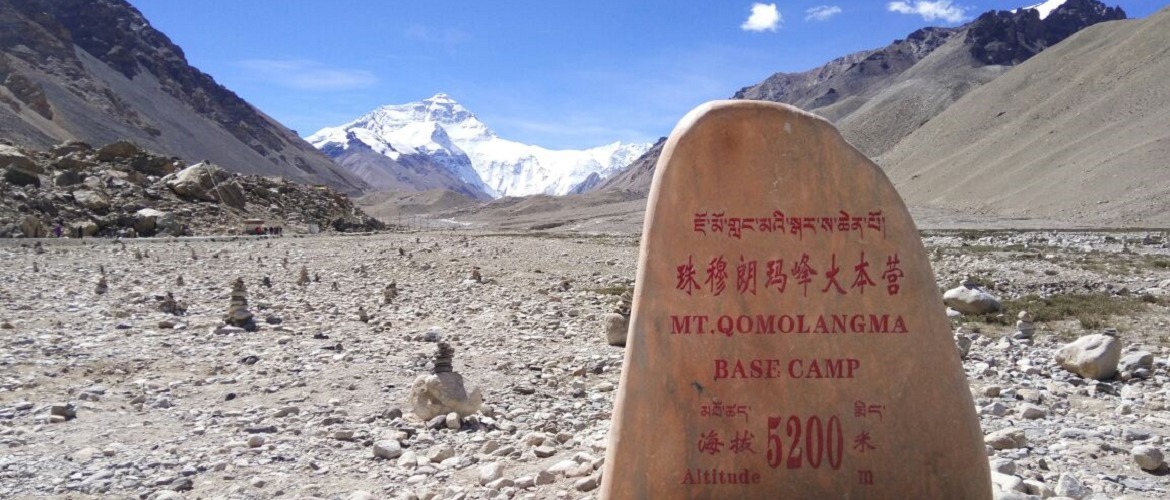 In the morning, your guide will take you to the border of Nepal and our guide from Nepal will meet you on the other side. Then transfer to your hotel in Kathmandu. The rest of the day is for you to look around the area, or just rest in your hotel.
Stay overnight in Kathmandu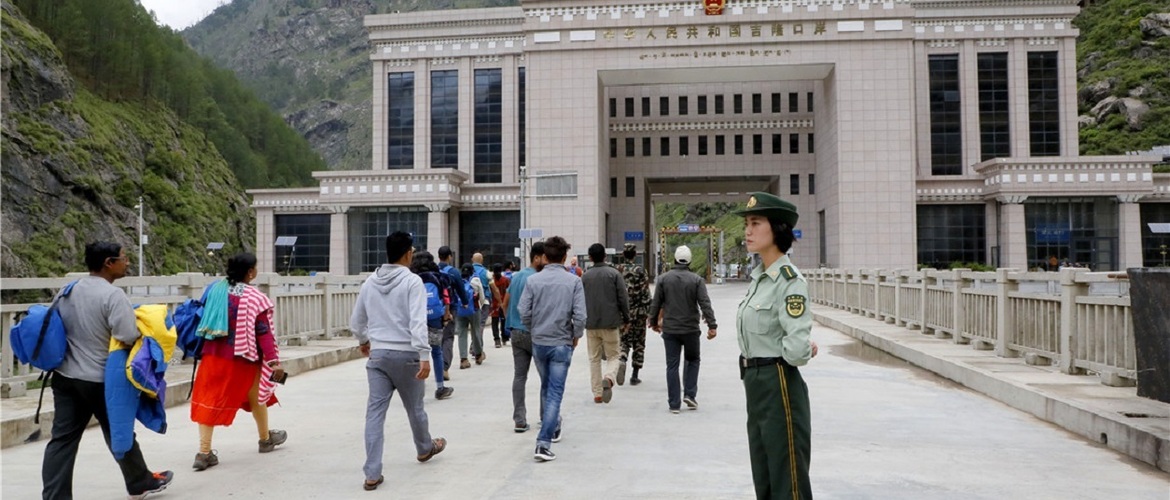 Today, we will explore the Kathmandu City. The guide will take you to visit the famous Kathmandu Durbar Square, the Royal Palace square in the city which is surrounded by ancient buildings from the early 16th century. The magnificent architecture, exquisite decorations, and the intensity of historical items give a great insight into Nepali culture.
After that, continue the tour to visit the Swayambhunath Pagoda which is one of the oldest Buddhist sites in Nepal. Swayambhunath is a huge golden stupa festooned with prayer flags that flutter in the breeze, on a hill that overlooks the entire city. Then make your way to Patan City, the second largest city in the Kathmandu Valley area. Patan City has one of the oldest Buddhist temples in Nepal that dates back to the 12th century and is a great place to explore the Buddhist culture of Nepal.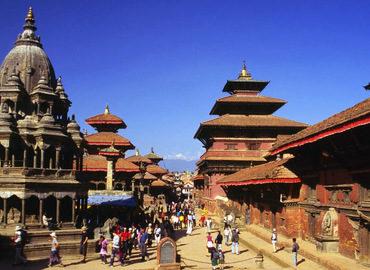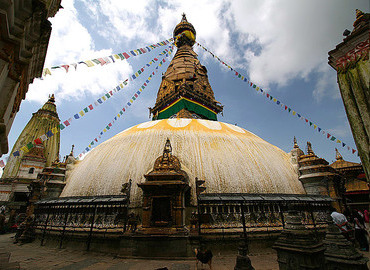 Today, we are going to visit the ancient Hindu temple of Pashupatinath, and Boudhanath, one of the largest stupas in Asia, and a focal point for Tibetan Buddhism in Nepal. Set on the banks of the Bagmati River, Pashupatinath is one of Nepal's famous UNESCO sites, and the sunset over the temple roofs is spectacular.Then head to Boudhanath, located on the ancient trade route. It is a place of meditation and part of the spiritual journey around Kathmandu. With one of the largest stupas in the world, it has been the site of many Tibetan prayers over the centuries.
Stay overnight in Kathmandu.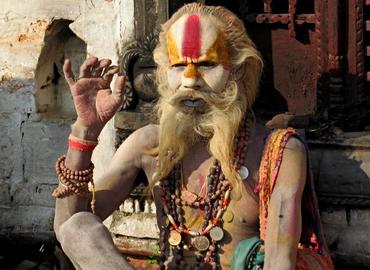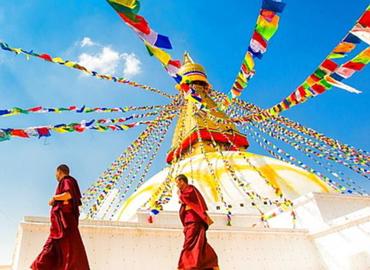 Today you will be taken to the airport, for the flight from Kathmandu to Paro, and you will get to see the breathtaking views of the Himalayas from the plane, including the sacred Mt. Jumolhari, known as the "bridge of Kanchenjunga", and its companion mountain, Mt. Jichu Drake, in Bhutan. On arrival at Paro International Airport, your guide will transfer you to the hotel. You still have lots of time to wander around the town of Paro. You could appreciate the famous Queen Mother's Winter Palace and get a view of the Dzong architectures.
The rest of the day is for you to stroll around the town or take a rest in the hotel.
Stay overnight in Paro/Thimphu.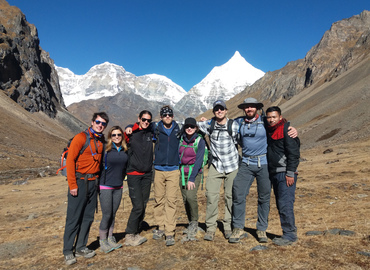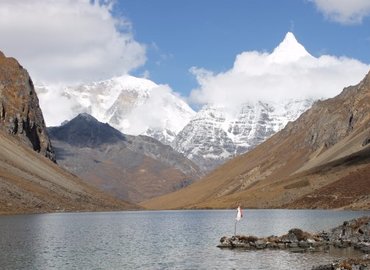 Attraction:
Mt. Jumolhari
Mt. Jichu Drake
In the morning you will be driven from Paro/Thimphu to Punakha, crossing the Dochu La Pass at 3,100 meters, where you will be able to see the 108 beautiful Chortens, also known as Druk Wangyal Chortens. It's to commemorate those who lost their lives in the suppression of the Assamese rebels in southern Bhutan and to pray for world peace. In Punakha, you will get to visit the most beautiful Dzong in Bhutan Punakha Dzong, which was built in 1637 by Shabdrung Ngawang Namgyal. After visiting the dzong, you will drive back to Paro.
Perched above Paro Dzong, the ancient Ta Dzong is a watchtower. It was built in 1649 to protect the undefended Dzong. And it was renovated into a National Museum in 1968. The unusual round building was built to be in the shape of a conch shell, with 2.5m-thick walls. The watchtower suffered damage in the 2011 earthquake but was reopened in 2016 as the nation's premier museum.
Stay overnight in Paro.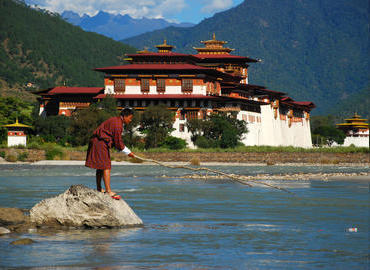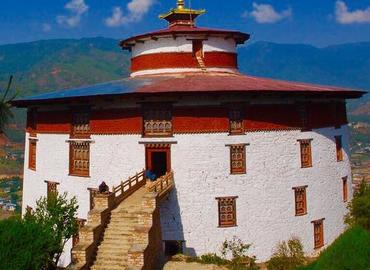 Attraction:
National Museum
In the morning you will trek from the bottom of Paro Valley to the Taktsang Monastery, perched on the side of the mountain. Taktsang (commonly known as Tiger's Nest) is the most sacred site in Bhutan and one of the top ten super temples in the world to go. Located at an elevation of 3120 meters, Taktsang is the birthplace of Bhutanese Buddhism. Guru Rinpoche flew here from Tibet on the back of a tigress, which was the manifestation of his divine consort Yeshe Tsogyal.
You can ride a horse or walk to Tiger's Nest. It is a challenging trek so you will gain merit with every step. The view from the Paro Valley to the monastery is worth your climb. The hike starts from a gentle forest with some prayer flags. After passing a creek and some water-powered prayer wheels, the trail starts getting steeper.
On the halfway up the monastery, there is a nice teahouse with great views of Taktsang Monastery that makes a welcome stopping point. You can get some tea and take a break here. You can continue climbing to the viewpoint, where's the best place to take photos of Taktsang. From here, you will walk down a series of steep stairs to a waterfall to achieve your final ascent to the entrance. Here you will be required to leave your backpacks, cameras, and phones.
In the afternoon, you will visit Kyichu Lhakhang, the oldest temple in Bhutan. After visiting today's attractions, if time permits, the tour guide can also take you to visit the ordinary market in Paro, where you can buy some handicrafts with Bhutanese characteristics.
Stay overnight in Paro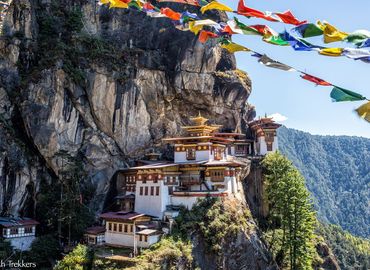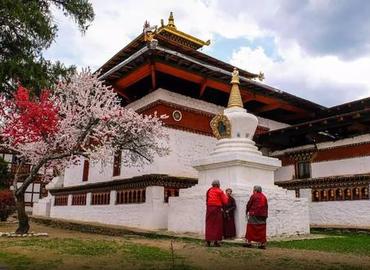 Attraction:
Kyichu Lhakhang
Your guide will pick you up from your hotel and take you to the airport, and help you with checking in for your flight from Bhutan.
Cost & Calendar
All prices are in US Dollar / Person
Economic Class (3-Star Hotels)
| | |
| --- | --- |
| 2021-10-08 ~ 2021-10-31 | 2021-11-01 ~ 2021-12-31 |
| USD2370 | USD2230 |
Comfortable Class (4-Star Hotels)
| | |
| --- | --- |
| 2021-10-08 ~ 2021-10-31 | 2021-11-01 ~ 2021-12-31 |
| USD2680 | USD2560 |
Schedule
| Starting Date | Price From | Booked | Book Now |
| --- | --- | --- | --- |
| 2021-10-28 | USD2370 | open for booking | Book |
| 2021-10-30 | USD2370 | open for booking | Book |
| 2021-11-02 | USD2230 | open for booking | Book |
| 2021-11-05 | USD2230 | open for booking | Book |
| 2021-11-09 | USD2230 | open for booking | Book |
| 2021-11-12 | USD2230 | open for booking | Book |
| 2021-11-19 | USD2230 | open for booking | Book |
| 2021-11-26 | USD2230 | open for booking | Book |
| 2021-12-03 | USD2230 | open for booking | Book |
| 2021-12-10 | USD2230 | open for booking | Book |
| 2021-12-17 | USD2230 | open for booking | Book |
| 2021-12-24 | USD2230 | open for booking | Book |
| 2021-12-31 | USD2230 | open for booking | Book |
No desired date of departure? Please send us an inquiry and we will try to arrange your tour according to your plan.
Discount Policy
You may only enjoy one of the advantageous policy, not both.
Option A:
3 or More to Join the Same Group
$30 Off / person
Option B:
Tour in Apr~Oct

To book 6-month prior tour starts 5% Off / person
To book 3-month prior tour starts 3% Off / person
Booking Policy
A minimum of 2 people for opening a new group is required.
Confirmed Dates
Book at least 12 works days ahead of time
Dates Listed
2 Persons or above, 45-day prior
Dates Not Listed
2 Persons, 90-day prior
3 Persons or above, 45-day prior
Our Service
INCLUSIONS
*Bhutan Visa
*Lodgings: 10 Nights, twin room en suite in 3★/4★; 2 Night in GUESTHOUSE;
*Meal: as listed in the itinerary
*Travel-licensed vehicle according to group size & season as itinerary needed including gas and parking fee;
*Transfer from Gyriong border to Kathmandu by Jeep.
*Free Lhasa Railway Station transfer at all time on the first day;
*Free pick-up from Lhasa Gonggar Airport to your hotel at 9:30 am and 4:00 pm on the first day;
*Free drop-off from your hotel to the airport on the last day;
*Guide: experienced local English-speaking tour guide
*Attractions: all entrance fee mentioned in the itinerary
*Permit: Tibet Tourism Bureau Permit (TTB); Alien's Travel Permit(PSB) to be applied in Shigatse with your original passport which takes abt 30mins;
*Travel Agency Liability insurance;
*Government Tax;
*Express delivery fee of Permit (eg. SF. Express)
*Food & lodgings for guide & driver;
*Oxygen tank for emergency use;
*Two bottles of mineral water per person per day;
EXCLUSIONS
* Nepal Visa
*International flight to and out of China;
* Domestic flight/train to Lhasa, Flight from Kathmandu to Paro; (We can help you book the flight/train ticket at the BEST price. Please contact us for details.)
* If you miss the free transfer schedule due to flight delay or cancelation, then you are required to pay a private transfer from USD 80/vehicle/time.
* Lunch & Dinner are not included in Nepal and Tibet but we will recommend some good ones for you according to your requirements. Usually, it takes 3-10 USD per person for each meal.
* While the gratuity for guide and driver is NOT mandatory, it is expected. Based on their service, you can tip them on the last day of the tour. Each of you is suggested to tip them 5-10 USD/day in total;
* All the commission and tax charged by PayPal, Bank, and government when making payment. (e.g. PayPal --- 4.2%. Wire transfer --- 2%);
* Personal expenses;
* Anything not mentioned in the Inclusions.
Note
*Tibet Tourism Bureau Permit (TTB) usually takes about 12-working-day to apply. If you couldn't provide the required docs & info on time, an extra handling fee will be charged. Please consult your travel consultant for details;
*We reserve the right to change the itinerary order and attractions in Lhasa;
*If you prefer to book your own hotels over those included in our group tour, please meet the rest of the group at their daily hotel on time. We don't include the transfers to your own hotels;
*We need to pick up and drop off all members of the group on the first day from Lhasa Airport/Railway, thus there may not always have guide presence but driver;
*Single Supplement: our quote is based on twin rooms. For single travelers, the single supplement is required at the time of booking. If later we manage to match you with another traveler to share the twin room, the single supplement will be refunded.
What Our Customers Say
The itinerary was well designed. The selected sights were varied and also the key ones for each country. We very much enjoyed the opportunity to get to know each country as well as we could in the somewhat limited time we had in each. ....
Read more testimonials...
INQUIRY ABOUT THE TRIP
Email response within 0.5~24 hours.