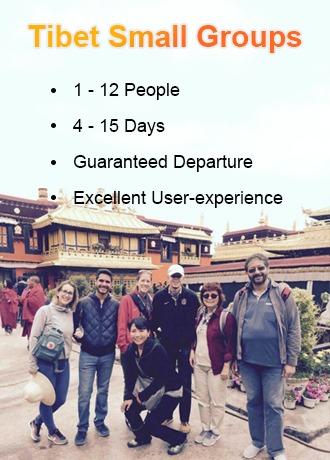 Shigatse Chengdu Flights
by Liffity
Last Updated: 2020-11-16
Being the second-largest city in Tibet, Shigatse once served as the religious and cultural center of Tibet. With numerous peaceful monasteries and mesmerizing natural wonders, Shigatse is travel-friendly and easy to reach.
Flight Info
Frequency: One non-stop flight runs every day from the Chengdu Shuangliu International Airport to Shigatse Peace Airport, offered by Tibet Airlines. On Tuesday, Thursday and Saturday, there is a morning flight while there is an afternoon flight on Monday, Wednesday, Friday and Sunday.
Duration of the journey: The flight duration from Chengdu to Shigatse takes 2 hrs and 40 mins and the return trip takes about 2 hrs and 10 mins.
Increase in altitude: 500 m (Chengdu) to 3782 m (Shigatse).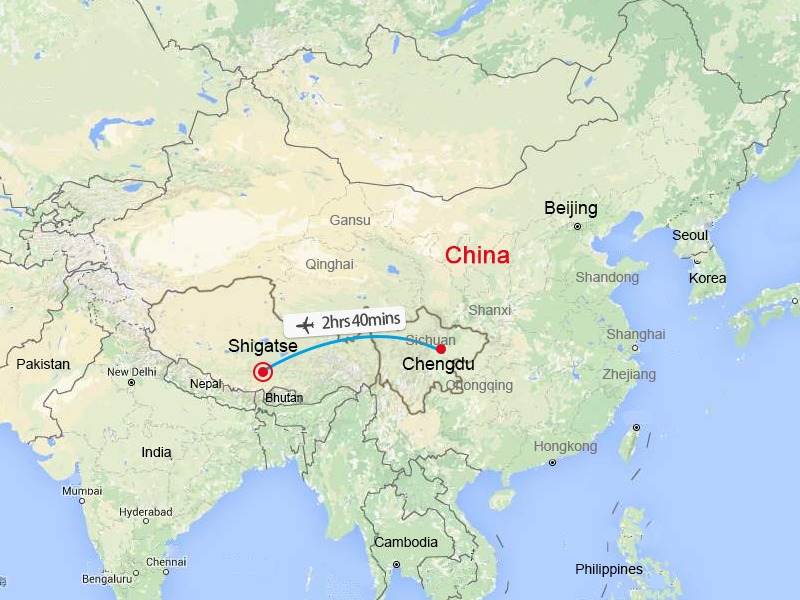 Air route from Chengdu to Shigatse.
Chengdu to Shigatse Flight Schedule
Flight No.
Departure---Arrival
Duration
Frequency
Aircraft Type
Price

Tibet Airlines

TV9843

06:20----09:10

2h 50m
Every Day
Airbus A319

USD260

Economy Class
Shigatse to Chengdu Flight Schedule
Flight No.
Departure---Arrival
Duration
Frequency
Aircraft Type
Price

Tibet Airlines

TV9844

09:15----12:05

2h 15m
Every Day
Airbus A319

USD260

Economy Class
Please Note:
There might be a change in the flights and fares because of the seasonal and climate change. Contact us to get a better and detailed flight schedule.
Ensure you have a Tibet Travel Permit before you reach the airport.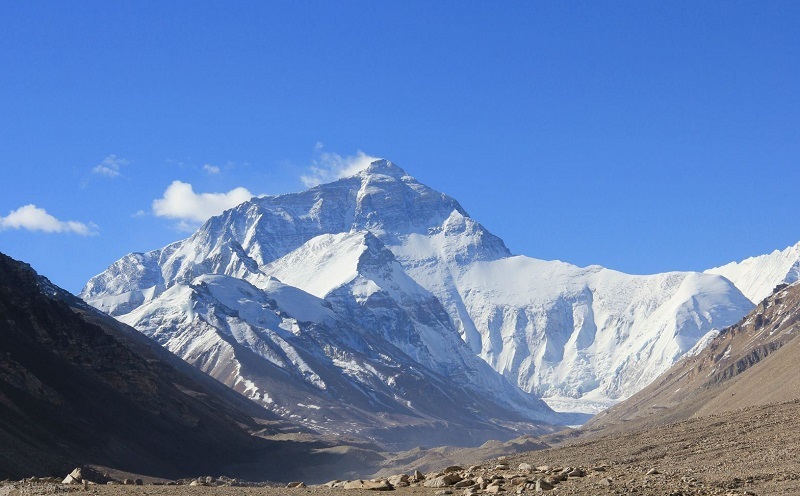 Mt. Everest locates in Shigatse. As the world's highest mountain, Mt. Everest attracts numerous tourists every year.
FAQs
What is the perfect time to plan a trip from Chengdu to Shigatse?
May to October is the ideal time to visit Shigatse. The incredible humid temperature of the place due to the elevation is a great benefit. The summers are rough and wet, while the winter is dry and windy. Though from July to August, the heavy rains may become a source of some obstacles in smooth transportation. If you want to trek to Mt. Everest, May to October except July and August is the best time. May and June are the best times to climb Mount Everest and other high mountains. During this period, many adventurous travelers and climbing enthusiasts will go to Shigatse.
In addition, Shigatse has many religious buildings and temples, including the famous Tashilhunpo Monastery, Shalu Monastery, and Sakya Monastery. These places are not affected by the weather and can be visited at any time. So you can determine the time of your visit based on the tourist sites you want to visit.
What should you be taking for a flight from Chengdu to Shigatse?
An official permit known as the Tibet Travel Permit (Tibet Visa) is required for traveling in Tibet. Without the travel permit, no one will be allowed to enter Tibet. So, ensure you have the file before taking a flight. Your passport and China Visa are also required.
What is the location of the Shigatse Peace Airport?
The airport is in the south of Yarlung Zangbo River Valley. This airport is at an approximation of 43 kilometers from the Sangzhuzi District, Shigatse. The airport of Shigatse is the fifth civil airport in Tibet and the only airport in Shigatse Prefecture. That means, if you want to visit Mt.Everest, the closest airport is Shigatse Peace Airport.
How to reach Shigatse from Lhasa?
Lhasa is a beautiful place in the southwest of Tibet. Lhasa is at a distance of about 260 km from Shigatse.
By train: 2 trains run daily between Shigatse and Lhasa. The journey takes around 3 hours.
By road: Travellers can opt for one of the two highways that are there between Lhasa and Shigatse.
What another city can I fly to in Tibet apart from for Shigatse?
From Chengdu, tourists can easily get a flight to Lhasa or Nyingchi. The Chengdu to Lhasa flight is the best option to arrive in Tibet.
You may also consider flying to Nyingchi from Chengdu first. The option is popular among many travelers. Not only can this place helps you adopt the altitude, but also Nyingchi has rich natural tourist resources like Draksum Lake, Lulang forest, etc.
How to prevent high altitude sickness when traveling around Tibet?
Altitude sickness can lead to a lot of serious effects on the body. Very basic effects such as asthma, insomnia and many other effects are visible. There are a lot of severe symptoms as well. If you fly to Shigatse from Chengdu directly, you are very likely to encounter altitude sickness due to the abrupt altitude change. You are suggested to stay at least 2 days in Shigatse before moving forward. During the 2 days, your body can adapt to the altitude and all the symptoms will disappear.
If your symptoms can't get improved in 2 days or you feel very sick, you are suggested to descent to lower altitude places.
Related Articles
Ask a Quick Question Below? Or Call 0086-891-6679450
Email response within 0.5~24 hours.