Chongqing to Lhasa Flight
Chongqing to Lhasa Flight
by Eric
Last Updated: 2022-09-26
Located on the upper reaches of the Yangtze River, Chongqing is one of the four municipalities in China. With the famous scenic spot - Three Gorges, Chongqing is deserving of a visit before your Tibet trip. Besides, Chongqing is an important transportation hub itself. Chongqing is well-connected with several international cities and most major cities in China. It is also one of the main flight hubs for those who are traveling to Tibet. Because of the short flight distance of 1,489 kilometers from Chongqing to Lhasa, a lot of tourists choose Chongqing as the departure city to Tibet.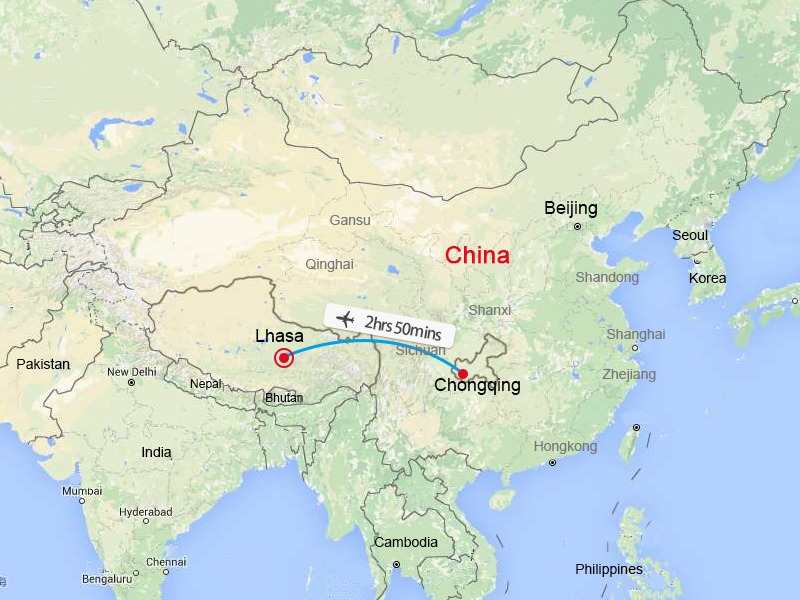 Content Preview
Chongqing Jiangbei Airport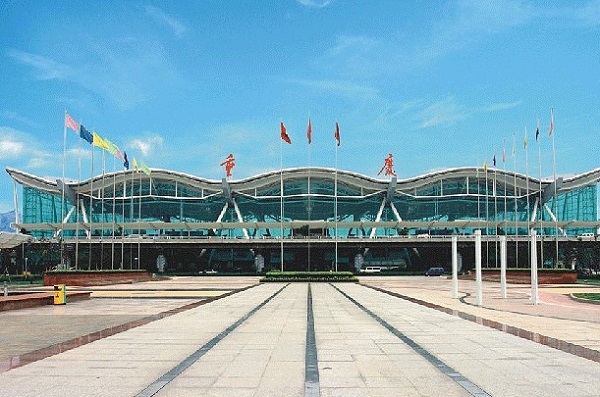 Chongqing Jiangbei Airport is one of the busiest airports in China, located in the town of Yubei District, 19 kilometers away from downtown Chongqing. It is the third-largest aviation hub in southwest China. It is also a national airport, one of China's top ten airports and the world's top 100 airports. The airport aims to become a world-class business airport and Asia's leading hub.
International Flights to Chongqing
Tourists from the following locations can fly to/from Chongqing directly.
Europe: London, Rome, Helsinki, Frankfurt, Amsterdam
Australia: Sydney, Auckland
North America: San Francisco, Los Angeles
Africa: Cairo, Aswan
Middle East: Dubai
East Asia: Tokyo, Seoul, Osaka, Chiengmai, Daegu
Southeast Asia: Singapore, Bangkok, Krabi, Phuket, Male, Jeju, Sien Reap, Kuala Lumpur, Nha Trang, Koh Samui, Da Nang, Kalibo
West Asia: Doha
North Asia: Moscow
Other regions: Hong Kong, Macao, Taipei, and Kaohsiung can reach Chongqing directly by flight.
Domestic Flights to Chongqing
Chongqing offers hundreds of domestic flight routes to other cities in China. Most of these flights use Terminal 2 of the Chongqing Jiangbei International Airport, while some use Terminal 3. These flights include frequent non-stop flights to/from the major tourist destinations and regions of China.
Northern Chinese cities of Xian, Dunhuang, Hohhot, Tianjin, Taiyuan, Harbin, and Xining.
Eastern Chinese cities of Shanghai, Beijing, Hangzhou, Shenzhen, Xiamen, Guangzhou, and Nanjing.
Southern Chinese cities of Sanya, Guilin, Kunming, Yichang, and Guiyang.
Western Chinese cities of Lhasa, Chengdu, Jiuzhaigou, Daocheng, Kangding, Lijiang, Kunming, Nyingchin, Dali, and Shangri-La. Lastly, it also services flights to/from the middle regions of China like Wuhan, Changsha, Luoyang, Nanchang, and Hefei.
Chongqing to Tibet Flights Timetable and Schedule
There are 4 direct flights to Tibet from Chongqing every day, respectively operated by Tibet Airlines, Sichuan Airlines, Southern Airlines, West Air, Air China and Chongqing Airlines. Travelers can choose to fly to Lhasa, Nyingchi, or Qamdo as a destination. And, some discounts will be offered even in peak travel seasons from May to October. Besides, flying to Tibet from Chongqing is a short flying distance compared with flights to Tibet from Shanghai, Beijing, etc, which only cost 2 hours and 30 mins on average.
Chongqing to Lhasa Flight Schedule
Flight No.
Departure---Arrival
Duration
Frequency
Aircraft Type
Price

Sichuan Airlines

3U8633

06:35--09:25
2h 45m
Every Day
Airbus A319
USD324
Economy Class

West Air

PN6271

12:00---14:55
2h 55m
Every Day
Airbus A319
USD324
Economy Class

Tibet Airlines

TV9935

12:20---15:00
2h 40m
Every Day
Airbus A319
USD324
Economy Class

Air China

CA4420

14:50---17:40
2h 50m
Every Day
Airbus A319
USD324
Economy Class
Lhasa to Chongqing Flight Schedule
Flight No.
Departure---Arrival
Duration
Frequency
Aircraft Type
Price

Sichuan Airlines

3U8634

10:30--12:55
2h 25m
Every Day
Airbus A319
USD324
Economy Class

Air China

CA4419

11:10---13:35
2h 25m
Every Day
Airbus A319
USD324
Economy Class

China Southern Airlines

CZ3464

14:55---17:25
2h 30m
Every Day
Airbus A319
USD324
Economy Class

West Air

PN6272

17:45---22:20
2h 35m
Every Day
Airbus A319
USD324
Economy Class

Tibet Airlines

TV9936

19:30---21:50
2h 20m
Every Day
Airbus A319
USD324
Economy Class
Flights from Chongqing to Tibet's Other Prefectures
Tibet has 4 other airports aside from the Lhasa Gonggar International Airport. The other four airports are the Qamdo Bangda Airport, Nyingchi Mainling Airport, Ngari Gunsa Airport, and Shigatse Peace Airport. From Chongqing Jiangbei International Airport, you also can book flights to the Nyingchi Mainling Airport and Qamdo Bangda Airport.
Chongqing to Nyingchi Flight
You can choose Nyingchi as the first stop on your tour of Tibet. Nyingchi is in the southeast region of Tibet and it is a prefecture-level city. Many tourists are attracted to Nyingchi because of its natural beauty. It has the Yarlung Tsangpo Grand Canyon and other awesome sites to boast of. In fact, it is often referred to as "Eastern Switzerland."
The flight from Chongqing (CKG) to Nyingchi (KZY) takes 2 hours and 45 minutes and there are around 13 direct flights between these two cities. The flight numbers for this route are 3U8153, 3U8439, and TV9870, and the airlines that serve this route are Tibet Airlines and Sichuan Airlines, both of which are using A31X/32X types of aircraft.
The Nyingchi Mainling Airport (LZY) has an elevation of 2,949 meters. It is lower in elevation than the Lhasa Gonggar Airport, and thus, it is a good choice for acclimatizing yourself to high-altitude weather before heading to Lhasa.
Nyingchi is also considered one of the world's most difficult airports for aircraft to reach because of its unusual location in the Yarlung Tsangpo River Valley and the narrow flight path leading to the airport. It is also hemmed by high mountains and enveloped in fogs and clouds most of the time. Most flights to Nyingching Mainling Airport arrive in the early morning, while outbound flights to Chongqing are mostly in the afternoon.
Chongqing-Qamdo Flights
Qamdo or Chamdo is also a prefecture-level city in eastern Tibet. It is the third-largest city in Tibet and its airport is the Qamdo Bamda Airport (BPX) which first opened in 1994. It is tagged as the world's second-highest airport, perched at an elevation of 4,334 meters above sea level.
Qamdo also has the longest runway in the world with a length of 5,500 meters and a width of 45 meters. It also holds the title of having the world's worst climate for an airport. The flying distance between Qamdo and Chongqing is 922 km and it takes about 2 hours to complete this flight.
Qamdo is known for the mesmerizing Ranwu Lake and the famous Karub Relics, and for this reason, many tourists brave the difficult travel to Qamdo to visit its remarkable sites.
Compared to the Chongqing-Lhasa flights, the costs of Chongqing-Qamdo flights are cheaper. Qamdo is also easily accessible from Chongqing. Moreover, there is only one flight service the Qamdo-Chongqing flight route, and this flight is offered by Tibet Airlines. This lone flight departs in the morning.
Lhasa Gongga International Airport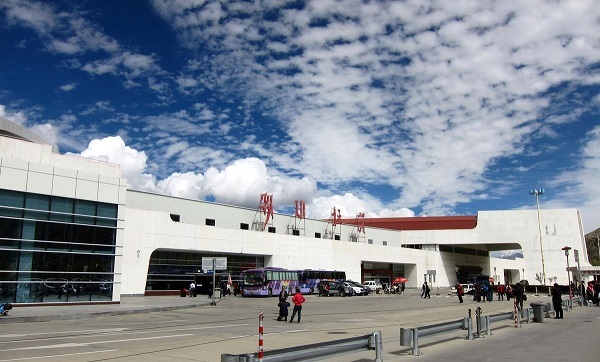 After 2.5 hours of air travel, you will arrive at the largest airport called "Lhasa Gonggar International Airport" (LXA). This airport is 62 kilometers from Lhasa, being located in Gonggar County, Shannan Prefecture. It is situated 11,710 ft above sea level and only Boeing 747 and Airbus A340 can lad in this airport.
This airport is serviced only by one international flight from Kathmandu. During peak season, there are one or two daily direct flights that ply the Kathmandu-Lhasa air route. These flights are operated by Sichuan Airlines and Air China.
Being the most important airport in Tibet, the Lhasa Gonggar Airport caters to many domestic flights from the other cities of China that include Chengdu, Shanghai, Xian, Guangzhou, Kunming, Xining, Chongqing, Shangri-La, and many other domestic cities. Chengdu is one of these domestic cities that offers direct flights to Lhasa.
>>See more about Lhasa airport
FAQs About Chongqing-Lhasa Flight
How do I get to Chongqing Jiangbei International Airport?
Chongqing Jiangbei International Airport (CKG) is 19 km away from downtown Chongqing. If you are coming from downtown Chongqing, it will take you less than an hour to reach the airport. You got several options to reach the airport:
First, you can either hail a taxi to the airport and spend around CNY50 or more on the taxi fare.
You can also go via Metro Lines 3 and 10 both have airport stations. You can find the entrance of Line 3 at the parking lot of the airport and along the T2B Terminal and Passengers Service Area C. This Line is open from 6:30 am to 10:30 in the evening. On the other hand, you can find the entrance and exit of Line 10 at Terminal 2. Metro Line 10 operates from 7:30 am to 9:00 pm if you are coming from the airport.
Lastly, you can ride one of the long-distance buses that ply the airport-downtown route.
How long does it take to reach Lhasa from Chongqing?
Lhasa is about 947 miles or 1,525 kilometers from Chongqing. Thus, it will usually take 2 hours and 17 minutes to complete a flight from Chongqing to Lhasa. The Lhasa-Chongqing flight is definitely one of the fastest and most convenient flight options you can have from any inland city in China.
Where is JKG airport located?
Chongqing has around three civil airports in operation, and the busiest among the three is the Chongqing Jiangbei International Airport. It is the 8th busiest airport in China and it is located some 19 kilometers from downtown Chongqing. Its exact location is in Chongqing's Yubei District. It handles around 41,595, 887 passengers per year.
What documents do I need to have the Chongqing-Lhasa flight hassle-free?
There are basically three important documents that you should have to make this trip a hassle-free trip, namely: Tibet Travel Permit, your valid Passport, and your Chinese Visa. Please note your passport should be valid and updated. As a local Tibet travel agency, Great Tibet Tour can help you handle all the necessary permits.
Related Articles
Recommended Tour Packages
Ask a Quick Question Below?
Email response within 0.5~24 hours.