Shangri-La to Lhasa Flights
Shangri-La to Lhasa Flights
by Lynn
Last Updated: 2023-09-25
Shangri-La is a mystical city located in Diqing Tibetan Autonomous Prefecture in the northwestern part of the Yunnan Province. Perched on the southeastern edge of the central region of the so-called "Three Parallel Rivers" and Qinghai-Tibetan Plateau, Shangri-La is surely a place worth visiting and an entry point to Tibet. This city is surely a mystical place and had been romanticized in the popular novel "Lost Horizon" by the British author James Hilton.
Shangri-La boasts picturesque landscapes of grasslands, steep canyons, snow-capped mountains, virgin forests, and alpine lakes. Moreover, it has a unique local and ethnic cultural heritage that is worth discovering. Hence, if you plan to visit Lhasa in Tibet and Shangri-La in Yunnan together, it's convenient to take a direct flight to either of the places.
Shangri-La-Lhasa Flight Information:
Altitude Change: Since Shangri-La is located around 3,280 meters above sea level and Lhasa is approximately 3,650 meters above sea level, there is undoubtedly not much difference between the altitudes of both cities.
Air Miles: 1,625 kilometers
Flight Time: The flights between Shangri-La and Lhasa take around 2 hours.
Airports of Both Cities: Shangri-La has one airport, namely, Diqing Shangri-La Airport. Lhasa's main airport, on the other hand, is Lhasa Gongga Airport.
Indirect and Direct Flights: At present, two non-stop flights service the Shangri-La to Lhasa route. There are, however, some indirect flights to Lhasa from Chengdu and Chongqing that make their stopovers at Shangri-La.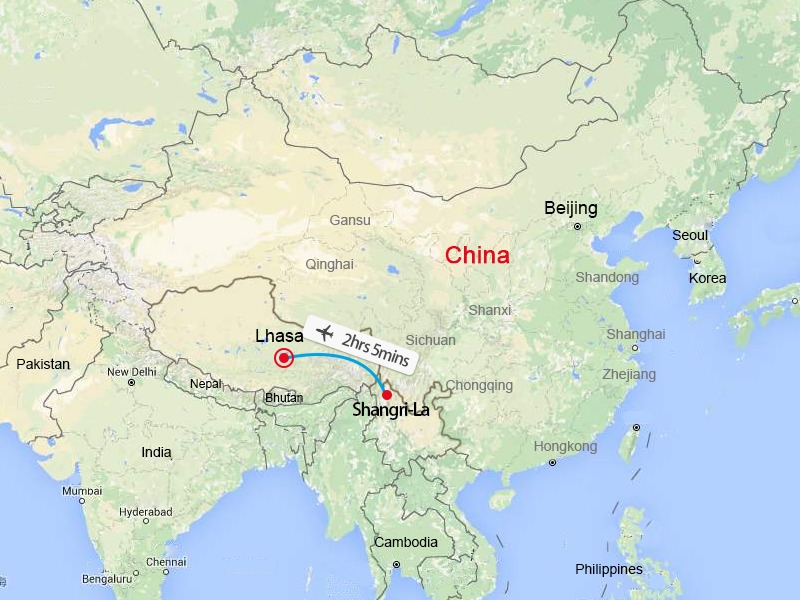 Flights Info:
At present, there are regular flights from Shangri-La to Lhasa, Chengdu, Kunming, Guangzhou, Shanghai, and other domestic cities of China. However, there is only one direct daily flight from Shangri-La to Lhasa during the peak travel season of Tibet (April to October). This flight usually takes around two hours to reach Lhasa and vice versa. It would be good to take note of the fact that the volume of passengers going to Lhasa is usually higher from July to September. For this reason, the costs of airplane fares are a bit higher than the usual prices.
Shangri-La to Lhasa Flight Schedule
Flight No.
Departure---Arrival
Duration
Frequency
Aircraft Type
Price

China Eastern Airlines

MU5774

11:30----13:30
2h
Every Day
Boeing 73
USD230
Economy Class
Lhasa to Shangri-La Flight Schedule
Flight No.
Departure---Arrival
Duration
Frequency
Aircraft Type
Price

China Eastern Airlines

MU5773

18:50----20:50
2h
Every Day
Boeing 737
USD230
Economy Class
Please note:
1. Due to climate and seasonal changes, the schedule above is for reference only. You can ask our travel consultant for detailed airfare and schedule.
2. Before checking in, please make sure you have obtained the Tibet Travel Permit. Otherwise, you will be prohibited from boarding. We can provide you with the best quality services, including flight ticket booking, permit application and Tibet travel arrangements.
FAQs about Shangri-La-to-Lhasa Flights
When is the best time to Visit Shangri-La and Lhasa?
These two cities are perched high in the Himalayan region. Hence, the altitudes of these two cities are above 3,000 meters.
Shangri-La's weather is generally influenced by the monsoon and it has a humid continental climate. Winters here are chilly, yet sunny. Summers, on the other hand, are a little bit warm. Hence, the best time to travel to Shangri-La is during the summer season, which also coincides with the summer season of Lhasa, Tibet (June to September). During these periods, the weather is mild and humid, and you can also enjoy some of the best festivals in both cities.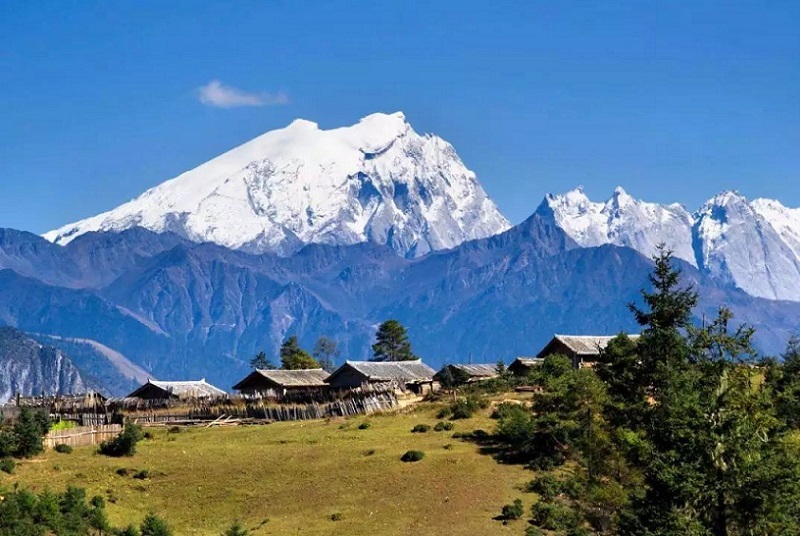 What can I expect to see in Shangri-La?
Just like Lhasa, Shangri-La is also a tourist destination on its own. It has the Pudacuo National Park, which is the very first national park within China that meets the IUCN standards. You can also visit the attractions, such as Gandan Sumtseling Monastery, Pudacuo National Park, Ganden Sumtsen Ling, and the Tiger Leaping Gorge near the city.
Where is the main airport in Shangri-La?
Diqing Shangri-La Airport(IATA: DIG, ICAO: ZPDQ) is the only airport in Shangri-La. It is 5.4 kilometers away from Shangri-La County. It is connected to the county seat by 214 National Highway and Shangri-La's Kangba Avenue. There are currently 7 domestic regular airlines, including Kunming, Chengdu, Lhasa, Guangzhou, Chongqing, Shanghai, Beijing, etc.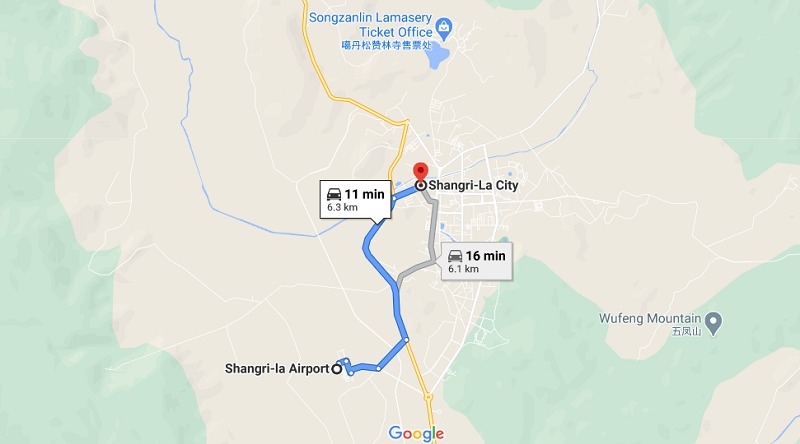 Can I take flights to Tibet from other cities in Yunnan Province?
Yes. You also can take flights from Kunming or Lijiang. Kunming is the capital city of Yunnan Province. There are direct flights going to Tibet. Lijiang is another city in Yunnan Province that offers a flight to Lhasa during Tibet's peak travel season.
Is my hotel readily accessible from Lhasa's airport?
Gonggar Airport is just 65 kilometers away from Lhasa city. Hence, you can quickly access your hotel from the airport. Moreover, there are many means of transportation for you to reach the downtown area of Lhasa. First, you can ride one of the shuttle buses that usually cater to arriving airport passengers. These shuttle buses are just waiting right at the very exit of the airport, and they operate until 9:30 in the evening. If you don't like to ride one of these shuttle buses, you can also call a taxi from the airport to ferry you to your hotel, but this option may be a bit costlier than the shuttle bus.
Would I experience altitude sickness when I travel from Shangri-La to Lhasa?
Altitude sickness usually happens when a person drastically moves from a lower altitude place to a very high-altitude location. In the case of traveling from Shangri-La to Lhasa, the discrepancy between the altitudes of both cities is very minimal, meaning you will not experience an abrupt change in altitude if you move from Shangri-La to Lhasa. Hence, you have no need to worry about altitude sickness when you make this trip as long as you have already adapted yourself to the ambiance of Shangri-La.
Before boarding the plane at Shangri-La, what are the necessary documents I should present to authorities?
You are required your original Tibet Travel Permit, which is also considered a Tibet Visa. All foreign tourists going to Lhasa or any territory of Tibet will need to present this permit. To get the Tibet Travel Permit, you need to book Tibet tours beforehand with a local Tibet travel agency. Great Tibet Tour can surely help you get the permit.
Related Articles
Ask a Quick Question Below?
Email response within 0.5~24 hours.