8 Days Shanghai Tibet Train Tour
Shanghai Tibet Train Tour
Duration:

8 Days

Price:

From

USD1235

Route:

Shanghai-Lhasa-Shigatse-Lhasa-Shigatse-Lhasa

Season:

Spring
Summer
Autumn
Winter

Tour Type:

Private Tour
Add

to Favorites
Overview
This tour starts by taking the Shanghai-Lhasa Train Z164. It departs every day from Shanghai Railway Station and arrives at Lhasa Railway Station on the third day after about 47hrs on the train. The train will go through Qinghai-Tibet Railway starting from Xining, which is called the "Sky Road". You will see Tibetan antelope, wild yak, endless prairie, Namtso lake, etc. After crossing the Tanggula Pass, Tibet is at your feet. On your Tibet trip, you will visit landmarks of Lhasa city such as the majestic Potala Palace, sacred Jokhang Temple, etc. Then you will drive along the friendship highway and visit Tashilhunpo Monastery - the seat of Panchan Lama, as well as the beautiful landscape along the way.
| Day | Route | Attractions & Activities |
| --- | --- | --- |
| 1 | Train Shanghai-Lhasa | Go to Shanghai Railway Station on your own |
| 2 | In the train | Enjoy the beautiful scenery on the way |
| 3 | Arrival in Lhasa (3650m) | Pick up and transfer to the hotel |
| 4 | Lhasa Sightseeing | Potala Palace, Jokhang Temple, Barkhor Street |
| 5 | Lhasa Sightseeing | Drepung Monastery, Sera Monastery |
| 6 | Lhasa – Gyantse – Shigatse, 360km, Approx. 7hrs | Yamdroktso Lake, Karola Glacier, Pelkor Chöde Monastery |
| 7 | Shigatse – Lhasa, 280km, Approx. 6hrs | Tashilhunpo Monastery, Yungdrungling Monastery, Tibetan Incense Workshop in Nyemo |
| 8 | Lhasa departure | Send off to the airport/railway station |
Please go to the Shanghai Railway Station on your own and you'd better reach there 2 hours before departure. Usually, you need to show your original passport, the booking number & the Tibet permit (maybe 1 copy will be kept by the conductor) to pick up the train ticket at the ticket window. Your travel consultant will send you the copy of the Tibet permit at least several days in advance and you need to print it out (3 copies are highly recommended) to bring with you. You may also need to show the permit to get on the train.
Stay overnight in the train
The train Z164 starts from Shanghai to Lhasa, with a total length of 4373 kilometers. It takes 47 hours and 27 minutes, which means you have to stay on the train for three days and two nights. It sounds long but you can witness countless beautiful scenery along the way. You will move westwards and see the majestic mountains, the barren land, and the Yellow River on the 2nd day. In the evening, you will arrive in Xining - the starting point of the Qinghai-Tibet railway. You will see massive deserts, immense grasslands, vast valleys, snow-capped Mountains, picturesque lakes, and flocks of yaks and sheep.
Stay overnight on the train
Our staff will greet you at Lhasa Railway to transfer you to the hotel. From Lhasa Railway Station, it usually takes abt 20mins. After transferred to the hotel, you will be free for the rest of the day to wander around the city on your own but try not to overtax yourself. The first day's well-rest is crucial to acclimatize the high altitude. Remember to drink lots of water and eat light. Not to have a shower if you can help it.
Stay overnight in Lhasa
Today you will visit the famous world heritage Potala Palace. It's situated on the Red Hill of central Lhasa. Potala Palace is the highest ancient palace in the world, reaching 3,767.19m at the topmost point. The most valuable collections of Potala Palace are the gilded burial stupas of former Dalai Lamas and the meditation Cave of the 33rd great king of Tibet.
In the afternoon, take an easy visit to Jokhang Temple in the center of old Lhasa city town. Jokhang Temple is the most sacred temple in Tibet and it is always bustling with earnest local pilgrims. After visiting the temple, you will have time to walk around the Barkhor Street, which is one of the most devotional circuits as well as the crowded central market of Lhasa. In the early days, it was the most famous local market but now it's the tourist shopping center.
Stay overnight in Lhasa
You are visiting the Drepung Monastery this morning. Drepung means "piles of rice" in Tibetan, which symbolizes prosperity. It was the world's largest monastery that housed more than 10,000 monks in the past. Also, It's the highest-ranking monastery in the Gelug Sect.
After lunch, you are going to the Sera Monastery, which is renowned as the most beautiful Tibetan Monastery. To witness the debate sessions of Sera Monastery is the thing you cannot miss. The topic of debate involves all aspects of Tibetan Buddhism. As a part of their study, lamas should participate in debates to further their comprehension and proceed to more advanced levels of study.
Stay overnight in Lhasa
From Lhasa to Gyantse is about 264km, en route you will pass by Khamba-la Pass(4790m), from there you will be amazed by the breathtaking glimpse of the holy Yamdroktso Lake with its turquoise color and snow-capped Mt.Nyenchen Khangsar in the distance. About two hours away from Yamdrok Lake is Karola Glacier. It isn't a big glacier, but the white glacier looks spectacular from the highway, and it is close enough (about 300 yards) to the highway.
Arrival at Gyantse, you visit Palkhor Choede Monastery, where you can see a magnificent One-Hundred-Thousand-Buddha Tower, aka Gyantse Kumbum. It's well known as the largest stupa in Tibet, with unique architecture, as well as old sculptures and paintings all around its inner walls. Then head to Shigatse via the fertile Nyangchu Valley, a wide agricultural plain where yaks and horses are used by Tibetan farmers to cultivate the land.
Stay overnight in Shigatse
In the morning, drive to visit the Tashilhunpo Monastery which is founded by the First Dalai Lama in 1447, the monastery's structure was expanded by the Fourth and successive Panchen Lamas. Tashilhunpo is the seat of the Panchen Lama since the Fourth Panchen Lama took charge in the monastery, and there are now nearly 800 lamas.
After that, we transfer to Yungdrungling Monastery. It is one of the few remaining Bon Monasteries in Tibet. Often referred to as the original religion of Tibet, Bon came about during the 11th century. The Monastery is rather small but in a wonderful setting with only a few monks to maintain the many valuable Bon writings. This is a great side trip when traveling between Lhasa and Shigatse.
Today's sightseeing will end on visiting the Tibetan Incense Workshop in Nyemo. There still keeps a natural way to make incense and this intact craftsmanship can trace back to 1300 years ago, which is listed as state-level intangible cultural heritage. Walking along streams and bridges, there are many spots for visitors to experience its procedures.
Stay overnight in Lhasa
Your tour ends today. Our guide and driver will collect you from your hotel and transfer you to Lhasa Airport/Railway Station for your next destination.
Tour Price and Service
From US$1235 p/p
Based on 3-star hotels for 2 people in low seasons. Price varies according to travel season, number of people and level of accommodation.
INCLUSIONS
Tibet Tourism Bureau Permit and all other necessary permits to Tibet;
Soft-sleepers from Shanghai to Lhasa;
All entrance tickets fee for tourist attractions listed in the itinerary;
Experienced local English-speaking tour guide;
Travel-licensed vehicle according to group size & season as itinerary needed including gas and parking fee;
All lodging listed in the itinerary; it's your decision about the accommodation class: luxury 5-star international hotel, comfortable 4-star hotel, economic 3-star hotel, or guesthouse. Please tell us your preference;
Breakfasts provided by hotels;
Pick-up & Drop-off service from Airport/railway station;
Travel Agency Liability insurance;
Government tax;
Express delivery fee of Permit (eg. SF. Express);
Food & lodgings for guide & driver;
Oxygen tank for emergency use;
Two bottles of mineral water per person per day.
---
EXCLUSIONS
International flight to and out of China;
Chinese Visa/China Group Visa; (Note: we could help you by providing the hotel or domestic flight reservation copies for your Chinese Visa or the invitation letter for your China Group Visa)
Other domestic flights to and out of Lhasa; (We can help you book the domestic flight/train ticket at the BEST price. Please contact us for details.)
Meals are not included but we will recommend some good ones for you according to your requirements. Usually, it takes 3-10 USD per person for each meal.
While the gratuity for guide and driver is NOT mandatory, it is expected. Based on their service, you can tip them on the last day of the tour. Each of you is suggested to tip them 5-10 USD/day in total;
All the commission and tax charged by PayPal, Bank, and government when making payment. (e.g. PayPal --- 4.4%. Wire transfer --- 2%);
Personal expenses, like laundry, phone call, snacks, soft drinks, optional tour activities, etc.
Anything not mentioned in the Inclusions.
What Our Customers Say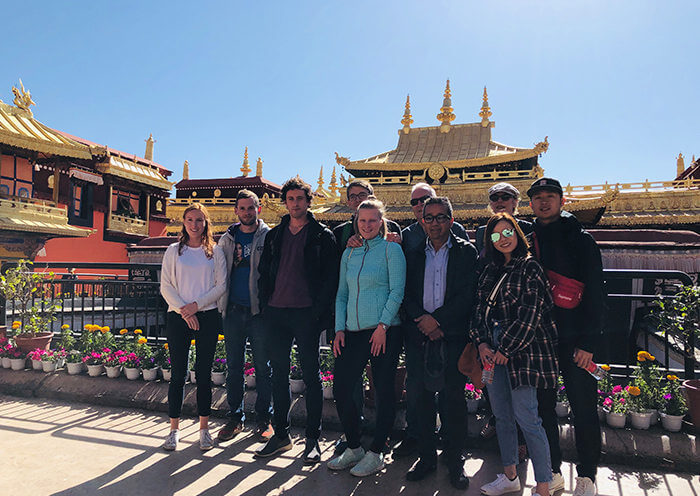 The initial itinerary that was sent to me called for Drepung/Sera on first full day, then Potala/Jokhang the next day. We ended up doing Potala first day and were grouped with 3 other tourists. Not a huge problem and we are used to having to be flexible when we travel, but would have been nice to ha ....
Read more testimonials...
INQUIRY ABOUT THE TRIP
Email response within 0.5~24 hours.