If you are going to travel in Tibet during December, it would be good to learn more about its weather during this month. The month of December marks the low season for tourist arrival into Tibet. This is attributed to the lack of public holidays in Tibet and in China during this month and is also partly due to the cold weather. Winter days in Tibet during the month of December are not extremely cold during daytime. Its cold temperature, however, is the result of the region's high altitude.
Tibet's climate is classified as cold/continental subarctic climate according to the Köppen climate classification system. Tibet's southeastern part is generally temperate and is milder with its average temperature of 8℃ or 46.4℉. Western Tibet, on the other hand, is harsher with an average temperature of 0℃ or 32℉. In general, the sunny and dry weather on Tibet Autonomous Region (TAR) feels warmer than its actual temperature. On the average, the region's temperature can plummet from its maximum of 9℃ or 48.2℉ during daytime to a minimum temperature of -9℃ or 15.8℉ during evenings.
December climate in this autonomous region is generally dry with relative humidity of 71 percent and zero precipitation or rainfall. The daily average temperature during this period is around 0℃ or 32℉ and is considered very cold, but during the daytime, it is generally sunny with an average sunshine length of about eight hours a day.
Places to Visit in Tibet
Lhasa and its Weather
Situated in the middle of Tibet at an average elevation of 3,656 meters (11,995 feet) above sea level, Lhasa's weather is surprisingly good. Known as the "Sunlight City," Lhasa receives significant amount of sunshine for about eight hours daily and is remarkably warmer with its average maximum temperature of 8℃ or 45℉ and average minimum temperature of -9 ℃ or 15℉ during December. On the average, the hottest month in Lhasa is June with an average temperature of 15.6℃ or 60℉ and the coldest month is January with a mean temperature of -2.2℃ or 28℉. Hence, during December, the average temperature of the city is -1.1℃ or 30℉. December is also considered as the driest month of Lhasa with zero rain and precipitation in the city.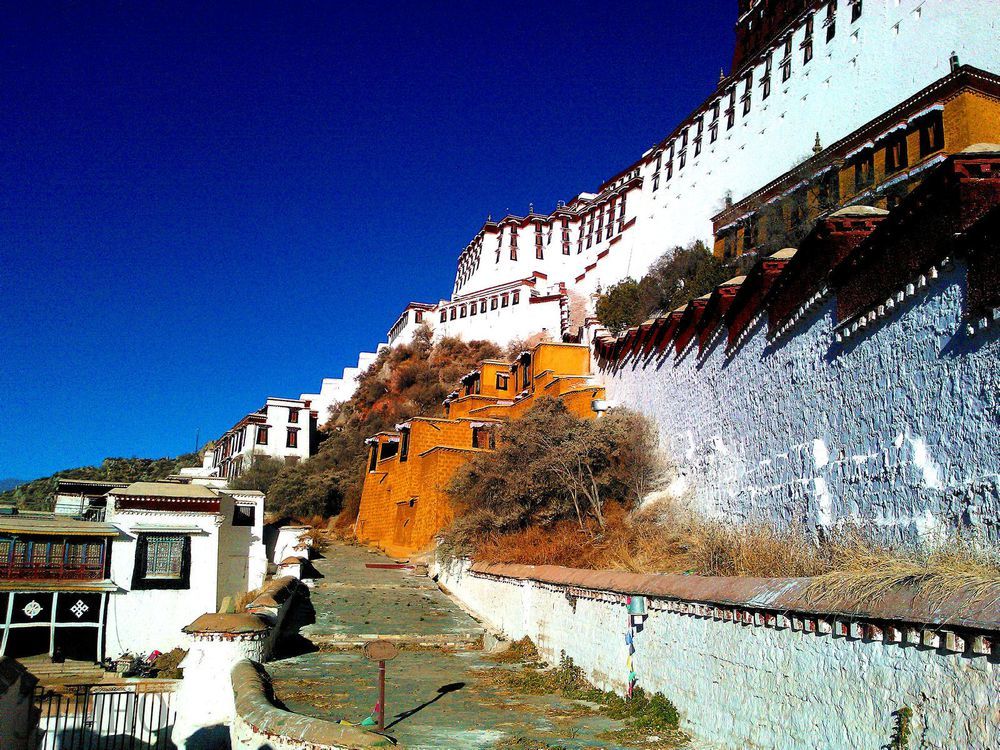 When you visit Lhasa during December, you will not actually feel very cold due to the intense sunshine in daytime.
Shigatse and its Weather
While the city of Shigatse is only two-hundred and seventy-three kilometers away from Lhasa by road, Shigatse is perched at an elevation of 3900 meters (12,795 feet) and is quite colder than Lhasa. With an average maximum daytime temperature of 7℃ or 44℉, it is a degree colder than the capital city of Tibet. Additionally, the average nighttime temperature can plummet down to -15℃ or 5℉. Shigatse also has zero rainfall like Lhasa; but has a miniscule amount (less than 1 millimeter) of precipitation during this month.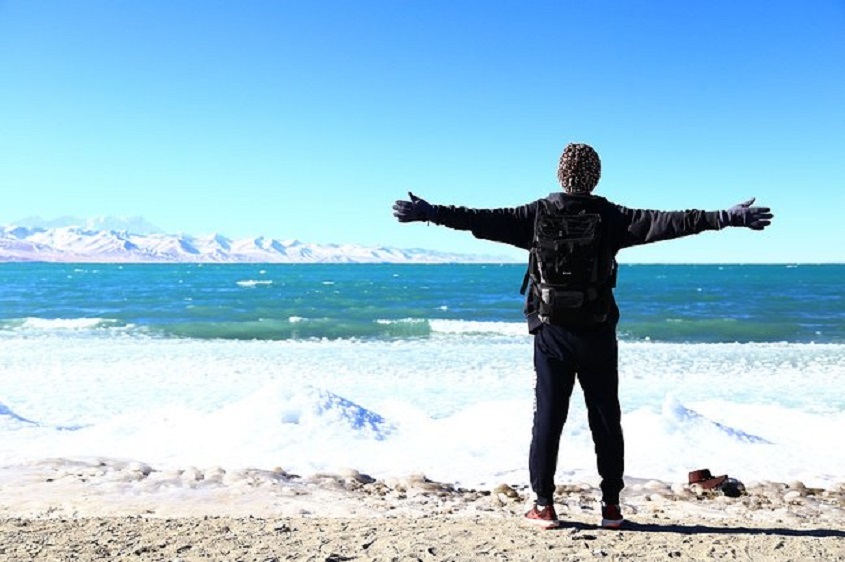 If you get to Shigatse from Lhasa city, you will pass by Yamdroktso Lake. It's listed as one of the top 3 holy lakes in Tibet.
Weather in Everest Base Camp (EBC)
Another frequently visited place in Tibet is the Everest Base Camp (EBC). Situated at an elevation of 5,200 meters (17,060 feet), this favorite tourist spot is off-limit in December because it is freezing cold for extended excursion. EBC's daily temperature in December fluctuates between an average high of 4℃ or 39℉ during daytime and a minimum of -15℃ or 5℉ during nighttime. Moreover, the mist or fog in EBC can severely restrict the visibility and prevent the viewing of its surrounding areas.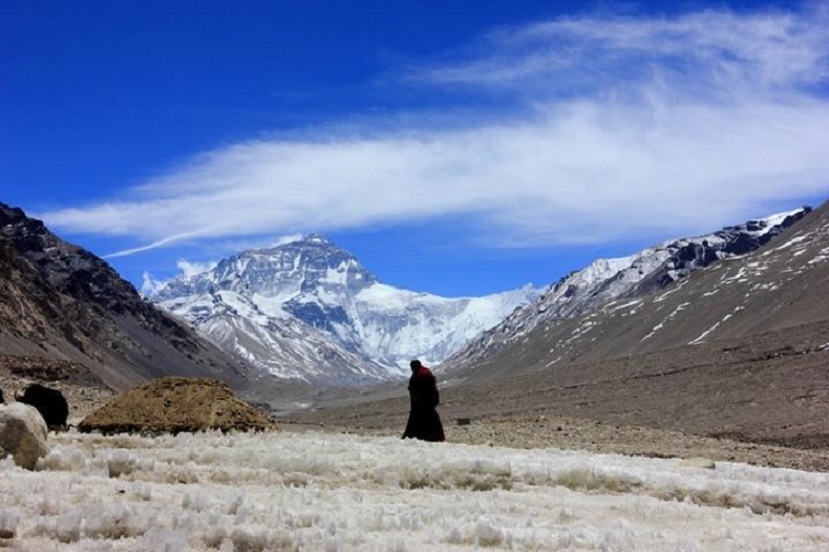 Near EBC, there's a world's highest monastery named Rongbuk. The monks here treat suffering as part of their practice.
Other Destinations
Tibet is not just Lhasa, Shigatse and EBC. There are many other tourist spots with stunning scenery in Tibet like those of the Namtso Lake, Nyingchi, and Tsedang.
Namtso Lake, for example, is the world's highest altitude saltwater lake at an elevation of 4,718 meters (15,479 feet). During the month of December, snow falls on the Namtso Lake area and its water naturally freezes. The temperature around the area dips down to -10℃ or 4℉ during nighttime while during daytime the temperature may rise up to 8℃ or 46℉.
Nyingchi is another beautiful place to visit in Tibet. It is considered to be the "Switzerland in East" as it is the greenest part of Tibet and boasts of forested areas and large collections of plant life. Nyingchi, like many other areas in Tibet, is generally dry during the month of December. Its temperature may vary from place to place due to the variance in its area elevations. During the day, temperature may rise to 11℃ or 51.8℉ and may plummet down to -4℃ or 24.8℉ during the night.
Another great place to visit in Tibet is Tsedang, located 60 kilometers southeast of Lhasa. This fertile area shares almost similar climate with Lhasa but is a degree warmer than that of Lhasa. You should not miss Tsedang when you visit Tibet.
Advantages of December Travel to Tibet
Traveling in Tibet during the month of December offers some perks. First, since December is offseason for tourists, you'll be able to save on your airfares or train fares if you visit Tibet during this month. You'll also get cheaper hotel rates during this month. Moreover, you'll get a better chance of interacting with Tibetan people during this season because of the absence of many tourists. Hence, immersing yourself into Tibetan culture becomes easier during this month. 
On the other hand, visiting Tibet during December has its own downside. First, it is very cold during the night and the presence of fog and mist during daytime or nighttime can hinder you from taking good photos of its mesmerizing tourist spots. In addition to the very cold temperature, December is also the driest month in Tibet, and as such, this dry weather can pose a serious problem to some tourists.
Yet, if you really want to traveling in Tibet during December, you should be well-prepared for its weather. You should bring your sweater, down jacket, winter pants, boots, hat, gloves, snow glasses, and sun block to ensure that you will be protected from the freezing cold of nighttime and the UV light of daytime. As long as you are well-equipped with all these things, you'll definitely enjoy your stay in Tibet.
Related Articles & Posts
Ask a Quick Question? Ask below or call 0086-891-6873166