Lhasa weather
Lying in a small basin, Lhasa city is famous for its mild climate which is characterized by moderate summer and winter seasons. Being on a plain land, the city experiences highland semi-arid monsoon climate. This is characterized by thin air and temperatures that keep varying within the day. Especially after sunset, you will experience rapid temperature drop. The annual average temperature of this city is about 8 °C (46 °F).
Lhasa experiences strong sunshine throughout the year with around 3,000 hours of sunshine time as it's also being called as the City of Sunlight. Because of the strong ultraviolet radiations in the city, it is very easy to suffer from sunburns. It is therefore very crucial that you come with protective gears such as umbrellas, hats, sun cream or sunglasses.
The rain pattern is what makes this place the 'magical' city. Unlike many other places with unpredictable weather patterns, in this city, it will rain at night but still be sunny the following day. Rainfall is usually high from July through to September with an annual precipitation of about 500 mm or 20 inches. Due to the rapidly varying weather conditions, it is advisable that you carry a variety of clothing to ensure that you are never caught of cold. Planning a trip to Lhasa? Come between April and October as this is the best travel time.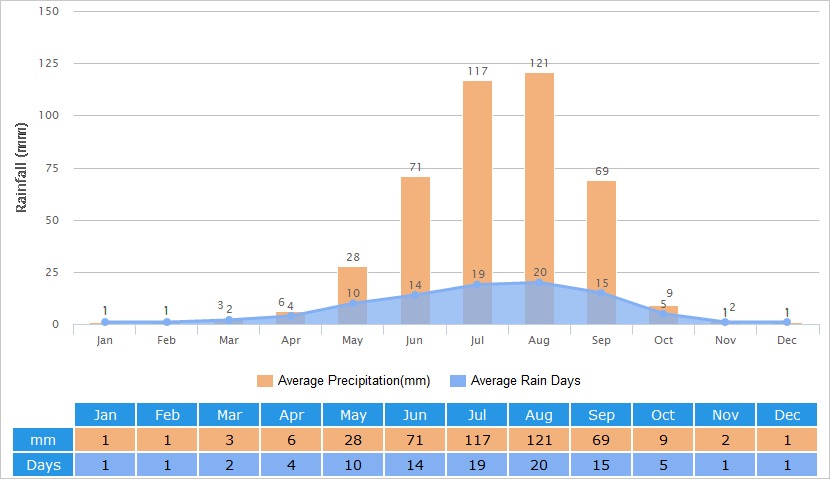 Spring
Spring starts from March running through to May. Although the weather is a bit warm, alternating low temperatures are still experienced. During this season, sunny, dry and windy weather patterns are experienced. Coming to Lhasa during spring? Prepare light jackets, sweaters and long-sleeve shirts.
Summer
Do you fancy cultural celebrations and festivals? Then summer is the best time to travel to Lhasa! Starting from June to August, the season is sunny coupled with some humid and rainy weather conditions. You will also experience big variation on temperatures just before and after sunrise from hot weather conditions to chilly weather conditions. What to prepare? Carry along some summer clothing but also equip yourself with a sweater or a jacket for the varying weather conditions.
Autumn
The weather is relatively humid and pleasantly mild. Autumn runs from September to October and it is one of the best periods to travel to Lhasa. Come along with a sweater, an overcoat and some long-sleeved shirts.
Winter
Winter is characterized by windy and dry weather conditions and runs from November to February. During this season, the sun is often bright and high. Very a few people come to Lhasa during winter. It may be interesting to note that the city does not experience severely cold conditions even during this season. Coming to Lhasa during winter? Please carry some winter clothing such as pullovers, sweaters and down jackets. Also, because of the dry weather and the strong sunshine during the season, it is important that you carry some sun protection gears, lip balm and moisturizers.
Of interest to note here is that very a few tourists come to Lhasa during winter and hence it is the best time for you especially if you are on a tight budget. This is because the tour rates are lower and the hotels are cheaper.
Related Articles
Ask a Quick Question Below? Or Call 0086-891-6679450
Email response within 0.5~24 hours.