Namtso Lake, one of the top three holy lakes in Tibet, is an ideal place to take a spiritual journey. Surrounded by snow-capped mountains and grasslands, Namtso is favored by nomads and tourists. Namtso Lake is at 4730m so you'll need to acclimatize in and around Lhasa for a few days before heading this way. It is not unusual for visitors to get altitude sickness at Namtso Lakeside.
General Info of Namtso Lake
Approximately 240km northwest of Lhasa, Namtso Lake is the second-largest saltwater lake in China and one of the most beautiful natural sights in Tibet. Namtso Lake is over 70km long, reaches a width of 30km and is 35m at its deepest point. When the ice melts in late April, Namtso Lake is a miraculous shade of turquoise and there are magnificent views of the nearby mountains. The wide-open spaces, dotted with tents of local nomads, are intoxicating, as Namtso Lake is a favored pasture for local nomads. The Nyenchen Tanglha range, with peaks of more than 7000m, towers over Namtso Lake to the south.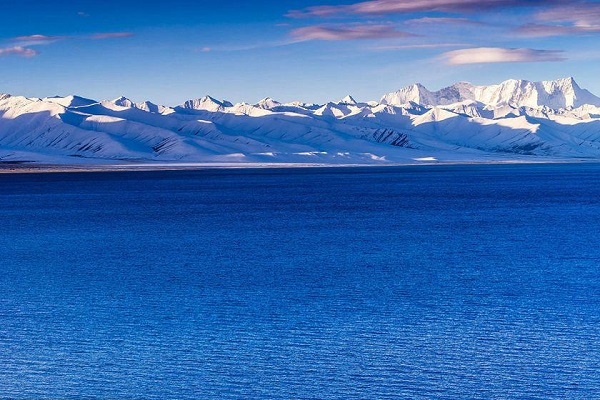 Take a Spiritual Trip to Namtso Lake
Namtso means "heavenly lake" in the Tibetan language, which is the closest lake in the world to heaven. Among the three holy lakes, Namtso is a popular place for pilgrims. Surrounded by many sacred mountains, Namtso Lake is sure to be sacred as well by Tibetans. There are five uninhabited islands in the lake, as well as a few rocky outcrops which have long been used as spiritual retreats for pilgrims. Every year, many devout Buddhists travel to these sacred lakes to walk around the lake's perimeter that known as a holy kora. Pilgrims will spend a few days on the island with enough food in summer and walk across the lake's surface in winter when it is frozen.
Look for the Ruddy Shelduck in Namtso
The largest island, sitting in the northwest corner of the lake, is home to many kinds of migrating birds. The birds travel there twice a year, such as the Ruddy Shelduck and several species of cormorants. The island is over two kilometers long, only three kilometers from the shore.
Visiting the Tashi Dor Peninsula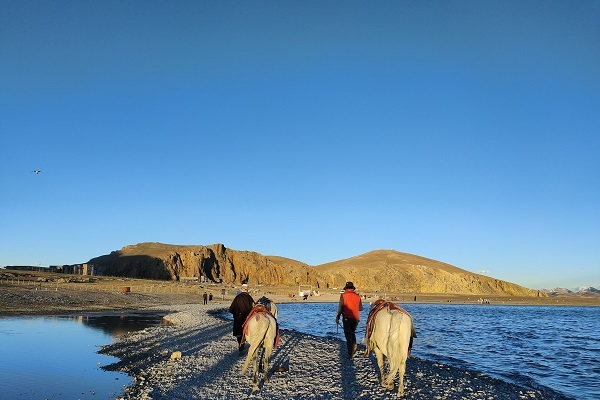 There are also five peninsulas that just out into the lake from the shore. With Tashi Monastery, and several karst caves on the land, the Tashi Dor Peninsula seems to be the largest peninsula in the lake. The karst caves are different in shape such as long, narrow, vast, and domed. The stone forest in the peninsula is a masterpiece of nature, comprising dozens of natural stone peaks. Some of those peaks resemble tree trunks, and some even look a little human in shape. These stunning shapes can spark the imagination. With the caves, the stone forest, the natural stone bridges, and the ladders, Tashi Dor Peninsula fills with mystery and enchantment.
Best Time to Travel to Namtso Lake
Summer is the best season to visit Namtso when the grasslands are at their greenest and most growth stages. Alongside the lake, wild animals such as black bears, yaks, wild donkeys, and marmots can often be found leisurely grazing. While the best photography time is before and after sunrise or sunset within half an hour. At dawn, you may be able to see the golden snow mountains of Nyainqen Tanglha, and at sunset, you may see the north lakeshore of the Tashi peninsula.
How to Get to Namtso Lake?
Over 240 km from Lhasa, there is no direct bus to get to Namtso Lake. Hiring a car seems an excellent and convenient way to get to the lake. However, the road to Namtso is not very good. Therefore you need a 4WD. Meanwhile, due to the expensive cost of hiring a car, you'd better hire the vehicle together with other travelers.
How to Avoid Altitude Sickness?
The altitude of Namtso is 4718 meters above sea level, 1100 meters higher than Lhasa, with lower oxygen content, so the response to the altitude in Namtso is much more serious than in Lhasa. Therefore, it's better to stay in Lhasa for at least 2 days before going to Namtso. Don't do strenuous exercise at the lakeside, eg. do not squat down and stand up too quickly when taking photos.
The weather is changeable, even in midsummer, it's still possible to suddenly cool down and hail. At night, the weather would lower a lot, and it's not only cold but also windy, so please wear warm clothes to prevent from getting cold.
Tour Lake Namtso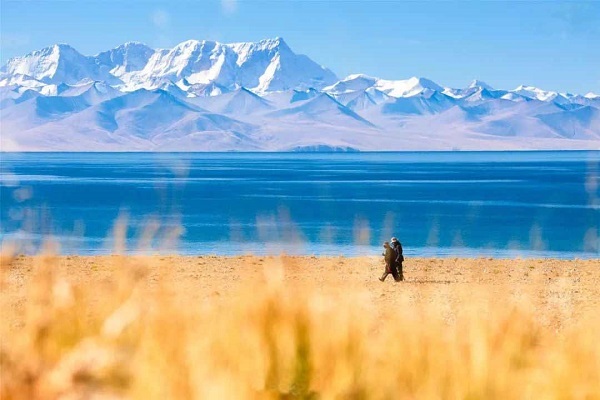 2-day tour is highly recommended as it gives you plenty of time to appreciate the beautiful natural scenery and capture the best images. There's 6 hour's drive from Lhasa to Namtso. Along the way, you will have a far view of Nyenchen Thanglha Snow Mountain, Qinghai-Tibet Railway, Racetrack, Tibetan house and Nagela Pass(5150m). After entering the scenic area, you can take a leisure trek around Tashi Island, and enjoy a sunset view of the lake which will highlight your tour. Accommodation by the lakeside is not available now. If you want to enjoy the starry sky here, you can bring sleeping bags on your own, as well as your toiletries and some dry food. On the 2nd day morning, we will drive you back to Lhasa. You will pass by Yampachen and enjoy the highest-altitude hot springs(4290–4500m) in China.
A one-day tour is also available if your time is limited. We believe an impression visit to Lake Namtso will still remain a great memory for you.
Quick view of a day trip to Namtso.
Wander legendary Buddhist monasteries, enjoy heavenly Lake Namtso, and explore the fabled birthplace of Tibetans.
Get into the vast grassland and witness thrilling horse racing as well as the beauty of Lhasa and Lake Namtso.
Explore the magnificent palaces of Lhasa and the fascinating sceneries of Namtso Lake to experience culture and nature.
Get More Itineraries Including Namtso Lake
Ask a Quick Question Below?
Email response within 0.5~24 hours.