Best Time to Visit Nepal
by Mark
Last Updated: 2023-02-02
Nepal has the reputation of "the kingdom of snow mountains", and the most attractive place is the snow-capped Himalayas all year round. Renowned as one of the most suitable countries for hiking, it offers some of the most exciting cultural tours and soft adventure treks. Besides, its majestic and mesmerizing landscapes, intriguing historical and cultural sites, exhilarating river rafting, and wildlife safari are worth experiencing. So when is the best time to visit Nepal?
Based on our years of experience, the best season to visit Nepal is in Autumn(October and November); the second-best season to visit Nepal is in Spring(from February to April); the ordinary season is in winter(from December to January) and Summer(May); the worst season is the monsoon season(from June to September).
Climate in Nepal
The climate of Nepal can be simply divided into the monsoon season and the dry season. The monsoon season is from June to September. Heavy rainfall will cause a lot of inconvenience for your traveling. The rest of the time can be called the dry season, which is good to visit Nepal. In addition, the climate of Nepal can be divided into three regions. The northern alpine region has a cold climate; the central valley region has a temperate climate; and the southern plain region has a subtropical climate, which is hot throughout the year, with a maximum temperature of more than 40 degrees Celsius. Therefore, before going to Nepal, great preparations should be based on the specific areas of ​​visit. Below we have listed the average monthly temperature of the four most popular tourist destinations of Nepal -  Kathmandu, Chitwan National Park, Namche Bazaar, and Pokhara.
| | | | | |
| --- | --- | --- | --- | --- |
| Months | Kathmandu | Chitwan National park | Namche Bazaar | Pokhara |
| January | 9°C | 16.2°C | -0.8°C | 13.1°C |
| February | 12°C | 18.4°C | 0°C | 14.9 °C |
| March | 16°C | 23°C | 3.5 °C | 15.5 |
| April | 20°C | 27.1°C | 6.7 °C | 23 °C |
| May | 22°C | 28.2°C | 6.8 °C | 24.1°C |
| June | 23°C | 28.8°C | 10.7 °C | 25.2°C |
| July | 22°C | 28.2°C | 11.7 °C | 25.3°C |
| August | 22°C | 28.4°C | 11.7 °C | 25.2°C |
| September | 22°C | 28.2°C | 10.1 °C | 24.1°C |
| October | 20°C | 26.5°C | 7°C | 21.6°C |
| November | 15°C | 22.4°C | 2.9°C | 17.5°C |
| December | 11°C | 17.7°C | 0.5°C | 13.8°C |
Seasons in Nepal
Nepal has unusual geography! Mt. Everest (8848m), the highest point in Nepal and on earth, is situated in the north of Nepal. While Terai Plaine is the lowest point at 70 meters above sea level. For such a huge altitude drop, nowhere else on earth could you find it. Because of its unique topography, you will find in Nepal six climatic zones, namely: tropical, subtropical, temperate, subalpine, alpine, and tundra/nival/trans-Himalayan. So, before making your tour of Nepal, you should figure out the zones that you are going to visit.
Aside from the five climatic zones of Nepal, there are five pronounced seasons in Nepal, namely: summer, monsoon, autumn, winter, and spring.
Given its five seasons, it would be good to know beforehand the best time to visit the different tourist sites of Nepal. The main tourist sites of Nepal include Lumbini, Sagarmatha National Park which has Mount Everest, Kathmandu Valley, Chitwan National Park, Pokhara, and Annapurna trekking circuit.  Here is a short description of the five seasons of Nepal:
Autumn
The Autumn months of October and November are generally considered the ideal time to travel to Nepal. During this period, you'll see bluer and clearer skies and captivating views of its great valleys and mountains. This period is the best time to engage in adventure tours. The weather stays relatively dry up until April.
During the autumn months like October, the average temperature in Kathmandu is around 20°C. It drops down to 15°C during November. Chitwan, of course, also has great weather during these two months. Namche Bazaar, however, has a lower average temperature of 7°C, and it would even go down to 2.9°C in November. So, if you are coming from a tropical country, you better bring in your thick clothing when going to Namche Bazaar. Moreover, the early days of October may still be rainy, so you better bring in your clothes for rainy days. Yet, Pokhara has fair and cool temperatures during these two months.
Some of the festivals you can attend during this time is the Dashain Festival, a 15-day long festival, which is considered the most colorful festival in the Nepalese Calendar and the Krishna Puja Festival held in the late autumn.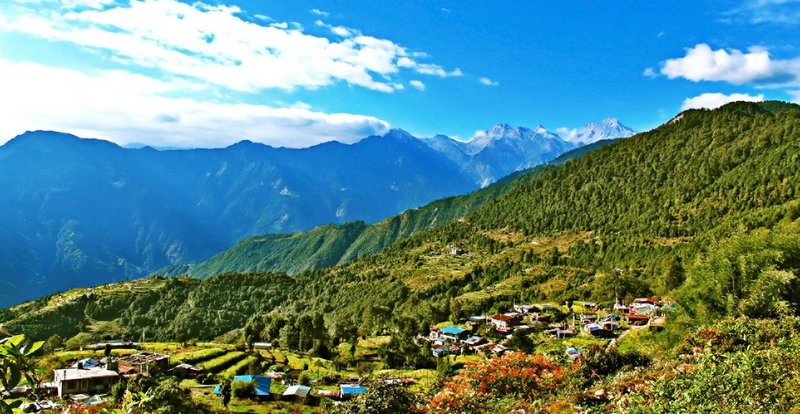 Winter
The temperature begins to drop in December and January. During these months, nighttime temperatures can be freezing cold. Yet, you will still enjoy the panoramic views of the great valleys of Nepal. The famous trails, however, are a bit silent during these months because fewer trekkers tackle the trails.
If you want to take a tour of Bardia and Chitwan, you can still enjoy the perfect adventure of these places during winter because these places are situated in the southern part of Nepal. Winter is perfect for visiting the Chitwan National Park. This park offers jungle trails and safari expeditions. You will get the best chance to witness the exotic wildlife of Nepal's jungle from November to February. During this time, you will see rhinos as well as Bengal tigers and elephants.

Spring
February heralds springtime. From February to April, temperatures slowly go up, while the rhododendrons reach their full blooms in April. Moreover, the days are longer and are perfect for trekking. Yet, the temperatures are still a bit cold during nighttime. So, you should bring in your thick clothing for nighttime protection.
Spring is a great time for trekking and adventurous tours. The weather transitions to a more stable one. Hence, during this period, lots of trekkers trudge the trails. Besides trekking, you can also attend some popular festivals during springtime. Some of these great spring festivals include the Holi Festival which is celebrated in March and the Nepalese New Year which is celebrated in April.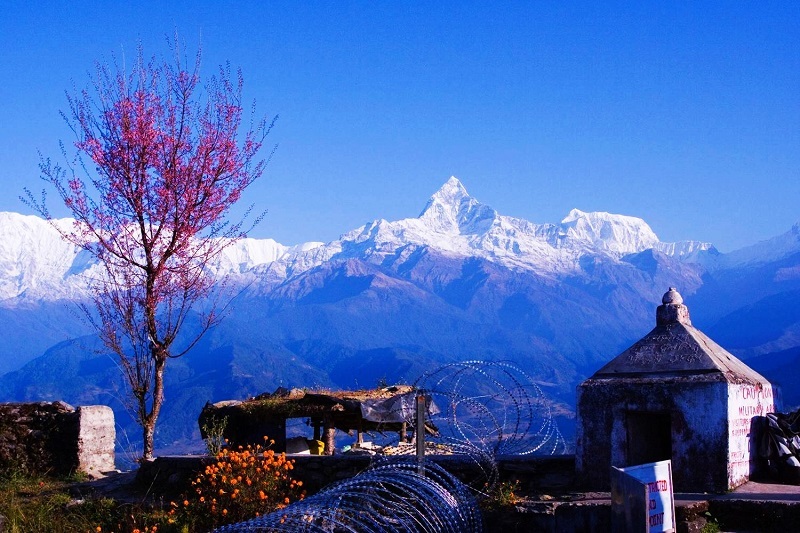 Summer
The onset of May, however, pushes the mercury a bit higher with higher humidity levels likewise. During this month, the trails are busy, and Nepal is bustling with tourists. Summer and Monsoon, are closely associated with each other. The real summer is quickly cut short by the onset of the monsoon season. The monsoon wind coming from the Indian Ocean begins to bring in rain showers from June until September.
During this period, the majestic views are often veiled by monsoon clouds. Moreover, the trails may be a bit sodden and slippery to tackle. You can still engage in trekking, however, during the monsoon months by choosing trails situated within the Himalayan "rain shadow" region such as the trails in Nar Phu and Upper Mustang.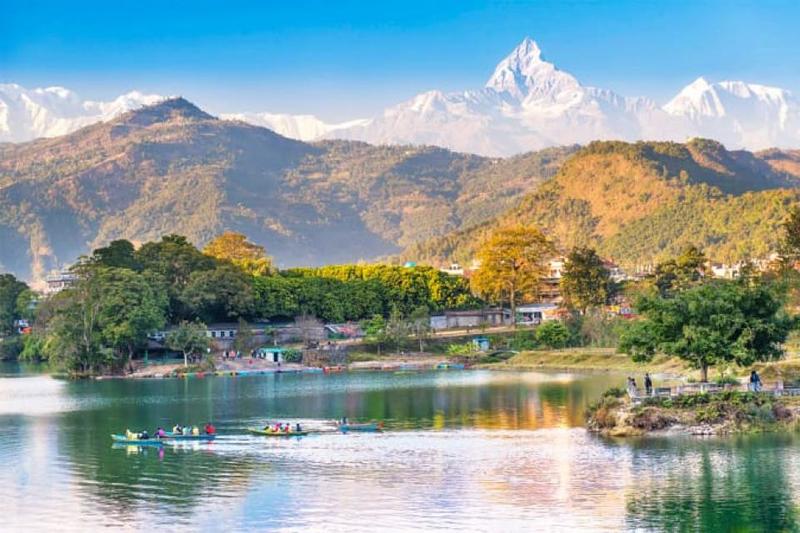 Monsoon
The days leading to the Monsoon season are stiflingly hot with occasional rain shower in the afternoon. The monsoon season starts in mid-June and reaches its peak in July and August. It winds down in the early weeks of September. This period is not the best time to trek. Yet, there are still trekkers who brave the trails of Nepal during this season.
The monsoon season is perfect for trekking in the regions of Dolpo and Mustang. These areas are within the "rain shadow"—areas that are spared from heavy downpours during monsoon season. Nevertheless, this period is also good for cultural visits and exciting rafting. The most popular trekking trails of Nepal, however, are unusually tranquil and quiet during this time. In the Everest region, there is not much rain in its upper region as compared to the lower regions of Nepal.
You can expect around 3 to 4 hours of rain at the same time of the day during this season. In the low altitude and forests of Nepal, you will also likely encounter clouds and dense fog, though, occasionally, the views will clear a bit for perfect views of the valleys. Hence, if you plan to go to Nepal during this time, you will need to bring with you your gears for rainy days and don't forget your umbrella. You should also wear clothes that dry quickly and are not too warm for your body.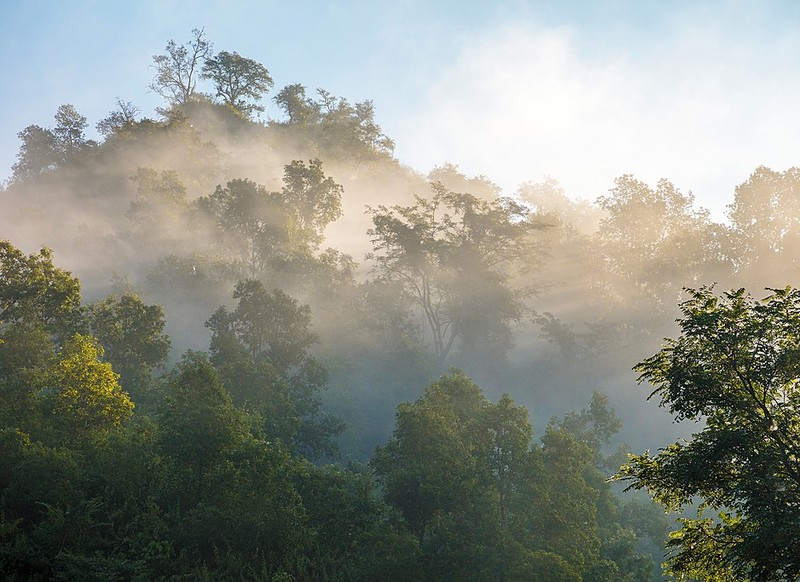 Best Time to Travel by Themes
The best time to travel to Nepal, however, partly depends on the type of travel package that you would avail of. If you only plan to visit Kathmandu, you can visit it anytime. If your chosen travel package involves an adventure tour that includes hiking, trekking, river rafting, wild safari, and mountaineering, you may as well find the most suitable time for such an adventure tour.
The Best Time to Visit Kathmandu
Kathmandu, of course, is the central hub of most tours of Nepal. If Kathmandu is the only place you want to visit in Nepal, then, you can visit it any time of the year. During December and January, Kathmandu can get very cold. Hence, if you are looking for the ideal time to visit Kathmandu, you should consider going there from March to April and September to November.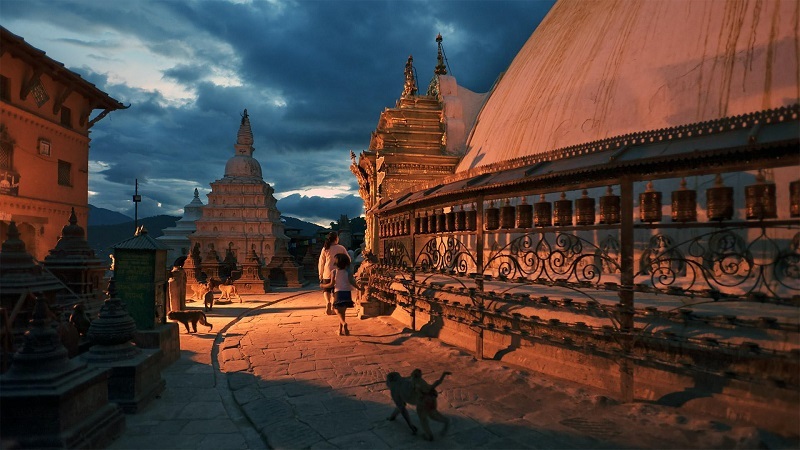 The Best Time for Trekking in Nepal
The best time for trekking in Nepal depends on which trails you are going to tackle. If you intend to engage in high-altitude treks, you should refrain from trekking during Nepal's coldest winter months. The coldest months include December, January, and February. During these months, some trails can be impossible or dangerous to tackle.
The best times for trekking will be from March to May and October to November. Whether you are going to tackle the Everest base Camp, Annapurna Circuit Trek, or the Ghorepani Poon Hill Trail.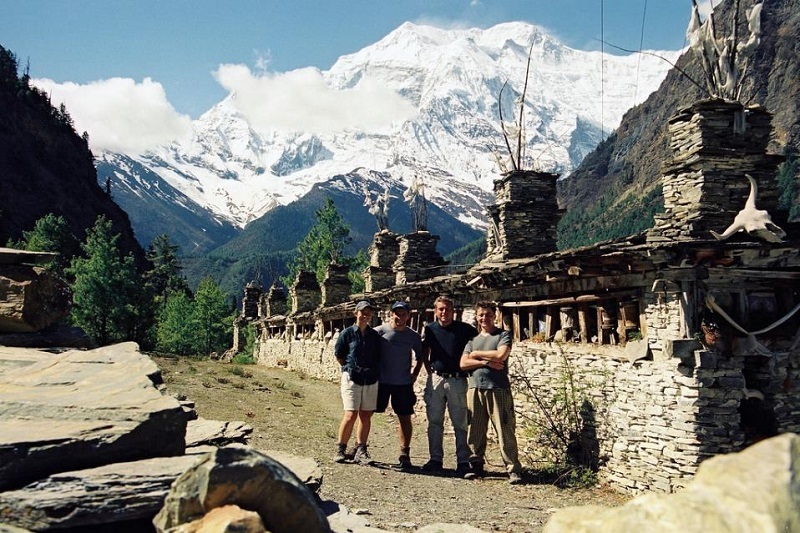 The Best Time for Festival Tours
If you want to experience the popular festivals in Nepal, it is best to look at the calendar of festivities of Nepal. The exact date differs or varies for each festival. This is because each festival is based on the lunar calendar which is different from the Gregorian Calendar.
There is, however, a festival season in Nepal. During this season, there are many festivals held throughout Nepal. This season is from September to November. The famous Dashain Festival, for example, is held in September or October. The festival of Tihar is in November. Other popular festivals held in other months include the Holi which is celebrated in the early spring and the Nepalese New Year which usually occurs in April.
Related Articles
Ask a Quick Question Below?
Email response within 0.5~24 hours.