How to Get to Shannan?
by Cherry
Last Updated: 2022-08-03
Ever wondered how old is the civilization of the historical Tibet and where did it start? Let us tell you that Shannan region is said to be the birthplace of rich Tibetan civilization and is dates back to about four million years ago.
Commonly known as Lhoka, Shannan is the home to first ever Buddhist monastery- Samye Monastery, as well as the first ever palace - Yumbulagang, and the earliest agricultural farmland of Tibet. Shannan is the best destination to visit if you want to explore the historical face of Tibet. Accommodation and transport are really good and provides the best experience.
The Exact Location of Shannan
Shannan means South of the Mountains. Shannan got this name because it lies in the south of Nyenchen Tanglha Mountains and Gangdise Mountains. Shannan has Lhasa on the north, Nyingchi on the east, and Shigatse on the west. On the south, Shannan has international borders with Bhutan and India. The middle and lower reaches of Yarlung Tsangpo River lies within Shannan. The exact location of Shannan can also be traced through these coordinates (28°33′22″N 92°33′24″E) on Google Maps.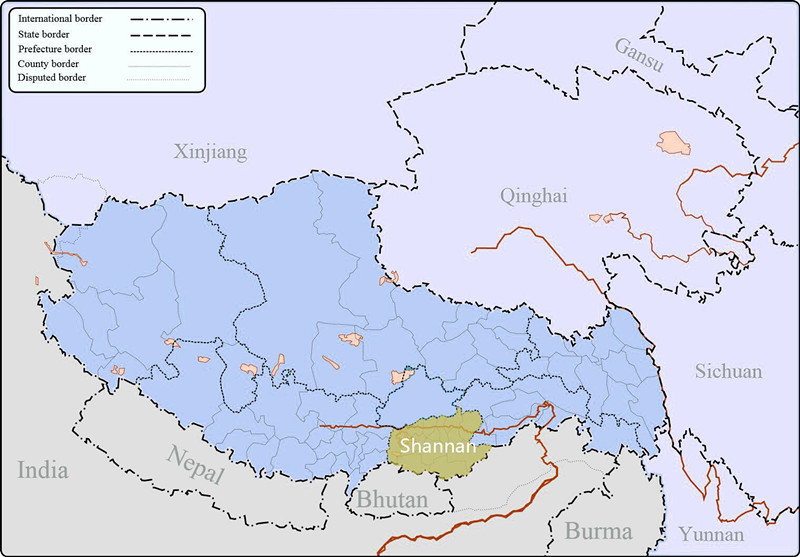 Transportation means to get to Shannan
All the counties of Shannan are fully developed and connected through the highways. The attractions like Yamdrok Lake and Samye Monastery can easily be accessed through these roads by smooth drives. You can get to Shannan by the following transportation means.
By Air
Lhasa Gonggar Airport is located in Shannan which is the only international airport of Tibet. If you cannot get an international flight to Shannan directly, you may consider taking domestic flights to Lhasa Gonggar Airport from Xian, Shanghai, Beijing, Chongqing, Chengdu, Shangri-La, and Kunming. A daily flight from Kathmandu can also be taken to Shannan. From the airport, the distance to Tsedang is about 100km and it's really very easy to travel to Tsedang by air.
By Road
Before visiting Tsedang, tourists usually visit Lhasa. Being the capital city of Tibet, Lhasa is a transportation hub and is connected with several major cities through different means of transportation including trains and flights. The distance between the Lhasa City and Lhasa Gonggar Airport is about 60km, and it can be covered in about 1-hour driving. Lhasa Railway Station can also be accessed easily as it is located within the city area. You may also take daily shuttle buses.
The distance between Lhasa and Tsedang is 160km and it takes about 2 hours to reach there. You can either take a coach or a private car to get there.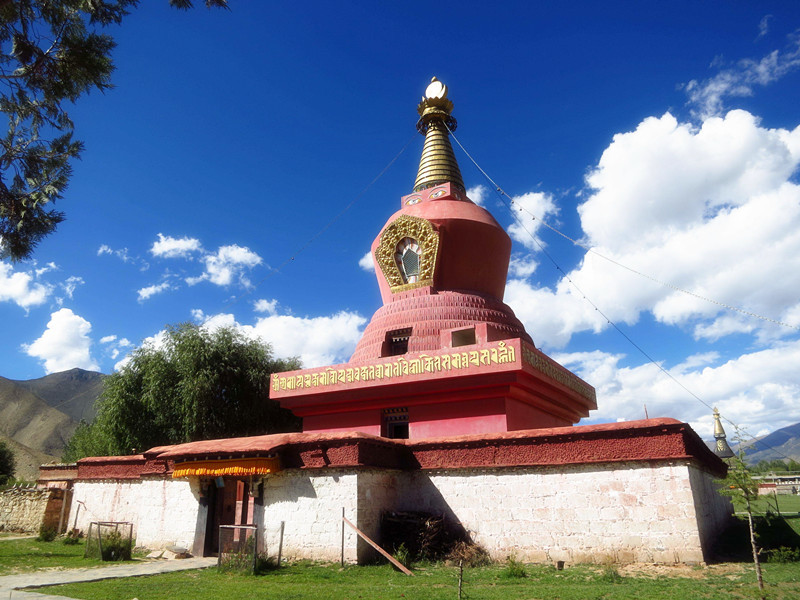 Shannan Attractions that You Must Not Miss
Yamdrok Lake - The best ever lake you may visit in your lifetime. It is also known as Blue Tears of God.

Yumbulangang Palace - The first ever Tibetan King built this palace and it is the first ever palace of Tibet. Its architecture mesmerizes its viewers and this palace is a must-visit place for those who love history.

Samye Monastery - Samye Monastery is the first ever monastery in Tibet and it is said to be the ancient heart of the Buddhist world of Tibet.

Lhamo La-to Lake - It is the holiest lake in Tibet and it is widely said that one can see his past and future lives in this lake.

Tombs of the Tibetan Kings - These tombs are located at Mure Mountain and a must-visit place while you are in Shannan.

Langbo Township - To experience the original ecological landscape of alpine canyons, you should consider visiting Langbo Township.
Final Words
Shannan can be considered as the real face of Tibet as the history of the region was started from this area. While in Shannan, you'll feel like a time traveler. You must consider visiting Shannan at least once in your lifetime to explore Tibetan history.
Related Articles
Best time to visit Shannan
Generally speaking, you can visit Shannan at any time of the year. While the best time to visit shannan is from April to October. The rainy season of Shannan is from July to August.

Lhoka Map
Lhoka is located in the middle and lower reaches of the Yarlung Zangbo River, in the south of the Gangdise Mountains and south of the Nyenchen Tanglha Mountains. Check the detailed Lhoka travel maps and find tourist attractions, travel routes, nearby counties, etc.

How to Visit Lhoka?
Lhoka is highly regarded as the cradle of Tibetan civilization and is progressively turning into a showcase of some of Tibetan best aspects of both culture and scenery. Here are some tips for you to discover this mysterious and picturesque place.
Ask a Quick Question Below? Or Call 0086-891-6679450
Email response within 0.5~24 hours.