How to Get to Tibet from Shanghai?
How to Get to Tibet from Shanghai?
by Sophie
Last Updated: 2023-11-11
Tibet is an outstanding tourist destination because of its unique culture and history as it has been partially isolated from the rest of the world for several centuries. Now it's more accessible to the outside world.
Many international tourists visit Tibet from Shanghai, which is also a well-visited tourist destination in mainland China. Moreover, there are multiple international flights to Shanghai. Hence, the Shanghai-to-Lhasa tour is one of the most sought-after tour packages by many international tourists.
Places to Visit in Shanghai
Shanghai is an exciting tourist destination. So, before you journey to Lhasa, Tibet, you should at least spend one or two days visiting the tourist spots of Shanghai. Situated in central-eastern China, Shanghai is rich in wonderful scenic and historic sites. It is divided by the Huangpu River into two distinct parts, namely: Pudong and Puxi. Pudong is the contemporary development area of the city, while Puxi contains the historic and scenic sites of Shanghai.
Some of the important sites to visit in Shanghai include Shanghai's Promenade called the Bund, Oriental TV Tower, Yu Garden, the Jade Buddha Temple, Shanghai Museum, Longhua Temple and Pagoda, Nanjing Shopping Center at Nanjing Road, People's Square, The Tianzifang or French Connection, etc.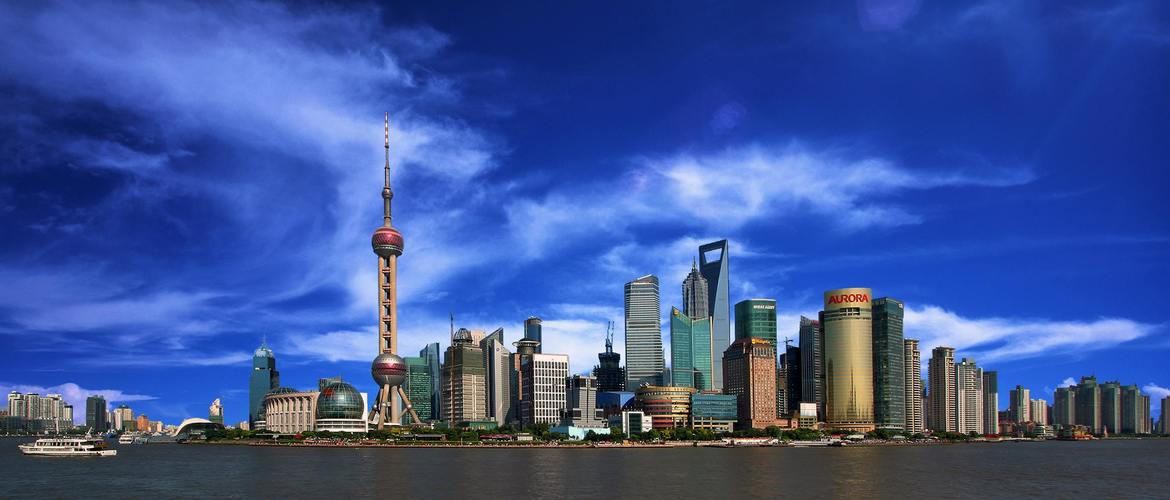 Why Should You Choose Shanghai Tibet Route?
Shanghai is a good gateway to China. It is also one of the best jumping-off points to Tibet. First, it has a rich culture and history that would surely enthuse any tourist. Second, it has all the contemporary amenities that every traveler is looking for in a tourist destination. Lastly, it is a transportation hub that offers various modes of transportation to Lhasa, Tibet.
Shanghai is around 2,944 kilometers from Lhasa which is quite a distance to cover in a single tour. Yet, you have three viable options to reach Lhasa from Shanghai, namely: by train, by plane, or by a combination of plane and train travel. Each of these three options has its own pros and cons.
A. Shanghai to Lhasa by Train
The Shanghai to Lhasa train is renowned as the most beautiful Tibet train route. It covers a distance of around 4,373 kilometers. If you choose this traveling option, you would be spending around 44 hours and 30 minutes on the train.
One of the upsides of train travel from Shanghai to Lhasa is the chance to behold the scenic beauty of rural China. The gradual ascent of the train to Lhasa will allow you to see verdant plains, prairies, gorges, lakes, rivers, and majestic snowcapped mountains along the way. The sceneries make this train trip a once-in-a-lifetime journey that you will surely never forget. In addition, taking a train can help you adapt to the high-altitude environment better.
Shanghai's main train station is readily accessible from your hotel in Shanghai. You should book your ticket in advance to avoid any travel hassle. You can easily take your paper ticket from the ticket hall along with your passport and Tibet travel permit copy. It would be best if you choose the soft sleeper berths because you need to feel comfortable in this long, enervating, but exciting journey.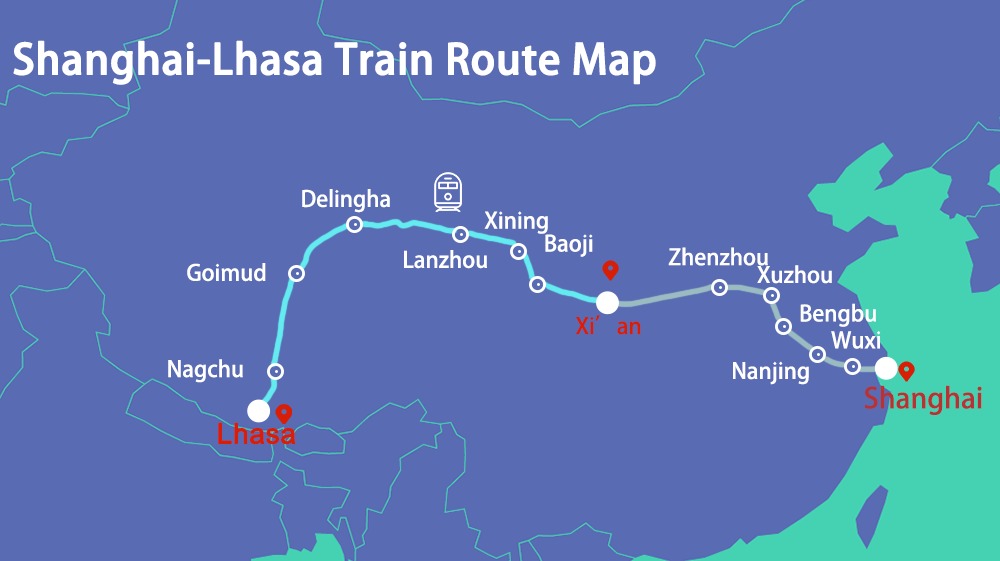 Train Schedule:
There is a single train that departs from Shanghai to Lhasa every day. This train reaches Lhasa within three days. Three days is a lot of time to spend inside a train, but you can find a lot of things to enjoy along the way in your quest to reach Lhasa. Here is the basic information about the train schedule:
| Train no. | Route | Frequency | Dep./ Arr. | Duration | Soft Sleeper |
| --- | --- | --- | --- | --- | --- |
| Z164 | Shanghai--Lhasa | Daily | 18: 33/ 15:06 (third day) | 44hrs 33mins | CNY 1,262.5 |
Train Amenities
This train is equipped with pressurized cabins and an oxygen supply to prevent shortness of breath. Its windows are also lined with UV filters. Moreover, the train is fully airconditioned and the hallways and bathrooms are well maintained and kept clean likewise.
Altitude Changes and Scenic Spots
Tibet is situated on the Tibetan Plateau. Hence, the journey to Tibet from Shanghai is an ascending journey that entails gradual changes in altitude. Shanghai is 16 meters above sea level while Lhasa is 3,650 meters above sea level. This gradual ascent gives you ample time to adjust to high altitude and avoid altitude sickness.
From Shanghai, you will pass by Suzhou, Wuxi, Nanjing, Bengbu, Xuzhou, Zhengzhou, Xian, Lanzhou, and Xining. Xining is already 2,200 meters above sea level. From Xining, the train will move to Golmud, Nangchu, and finally to Lhasa. Each of the abovementioned stops has something beautiful to offer. So, you should cherish every stopover and take pictures for memory. Additionally, stops usually range from 3 minutes to 25 minutes.
The train route from Shanghai to Xian covers mostly central China that consists of flat plains with intermittent grasslands, and scattered buildings. But once the train enters Xian, the views and landscapes radically change. Scenery after scenery of awesome mountains, lakes, massive ice, streams, and verdant fields would befall and enthuse your sight, leading you to mutter to yourself that this train journey is really worth the effort.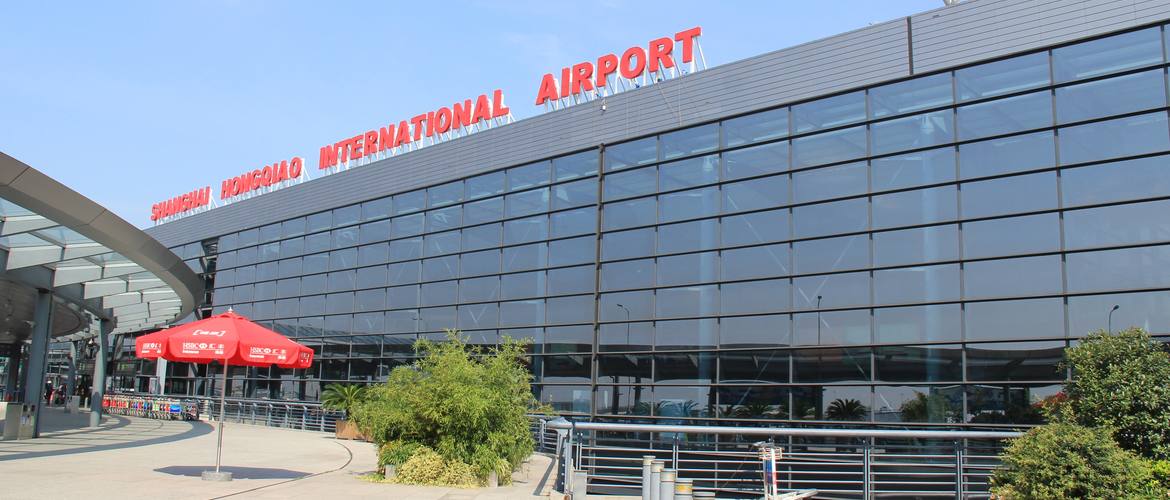 B. Shanghai to Lhasa by Plane and Train
If you can't afford to spend three long days of train travel, your next best option is to mix up train travel and plane travel. You can do this by boarding a plane to Xining which is just 3 hours and 25 minutes away by plane from Shanghai; then, at Xining, you can board a Xining to Lhasa train. This option affords you to see the best highlights Qinghai Tibet Railway while shortening your travel time by more than half.
Shanghai to Xining Flight Schedule
There are several direct flights from Shanghai to Xining. Here are the flight schedules.
| Airline | Route | Dep./ Arr. | Duration |
| --- | --- | --- | --- |
| Juneyao Airlines | Shanghai-Xining | 07:10 to 10:50 | 3h 40m |
| Shanghai Airlines | Shanghai-Xining | 09:10 to 12:35 | 3h 25m |
| China Eastern Airlines | Shanghai-Xining | 16:15 to 19:40 | 3h 25m |
| Air China | Shanghai-Xining | 16:20 to 20:00 | 3h 40m |
Xining to Lhasa Train Schedule
There are several trains departing from Xining to Lhasa every day. In peak tourist seasons, more trains for your choice.
| Train no. | Route | Frequency | Dep./ Arr. | Duration | Soft Sleeper | Hard Sleeper |
| --- | --- | --- | --- | --- | --- | --- |
| Z323 | Xining--Lhasa | Every other day | 11: 41 / 07:41+1 | 20hrs | CNY 781 | CNY 495 |
| Z21 | Xining--Lhasa | Every day | 15: 24 / 11:21+1 | 19hrs 57mins | CNY 781 | CNY 495 |
| Z265 | Xining--Lhasa | Every day | 18: 13 / 14:17+1 | 20hrs 4mins | CNY 781 | CNY 495 |
| Z165 | Xining--Lhasa | Every day | 19: 26 / 15:05+1 | 19hrs 39mins | CNY 781 | CNY 495 |
| Z9817 | Xining-Lhasa | Every day | 21:10 /17:10+1 | 20hrs | CNY 781 | CNY 495 |
C. Shanghai to Lhasa by Plane
If you want to reach Lhasa quickly, then, the flight from Shanghai to Lhasa would be your best option. The upside of this option is that it is convenient and fast. You can reach Lhasa from Shanghai in less than 4 hours. The downside of this option is that you have only limited time to adjust to high altitude which means you have less time to acclimate your body to the high altitude of Lhasa, making you more prone to experiencing altitude sickness.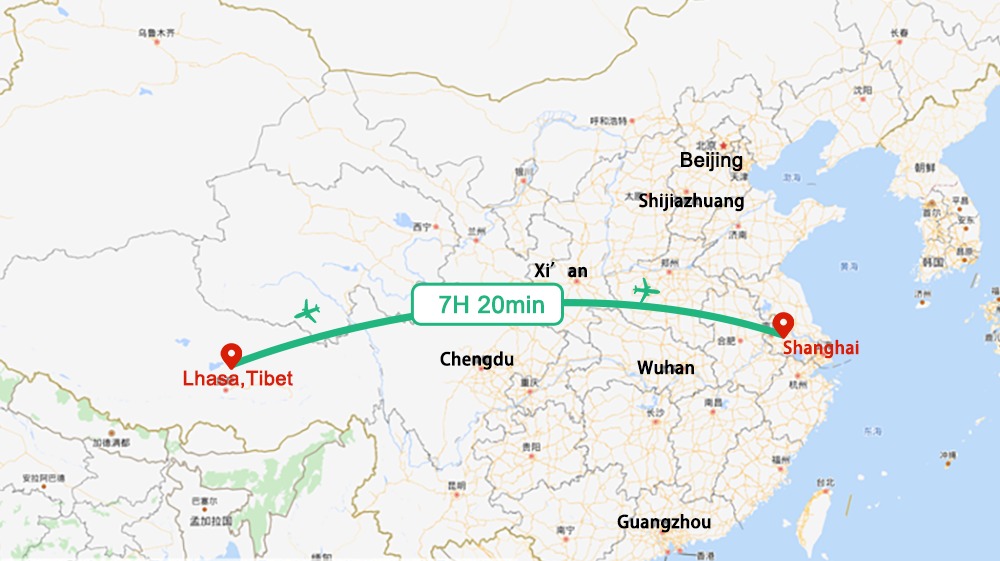 There are not so many direct flights from Shanghai to Lhasa. Most of these flights make a layover in Chengdu or in Xian. Some flights have one or more stopovers likewise.
Here is the schedule of these direct flights:
Airlines
Dep./ Arr.
Stopover
China Eastern Airlines MU2335
PVG - LXA
06:30 - 15:10
(7h 40m)
Xian
(2h 20m)
Tibet Airlines TV9882
SHA - LXA
14:40 - 21:40
(7h)
Chengdu
(1h 15min)
Shanghai-Lhasa Train Travel Highlights
Jinyintan Prairie
About 120 kilometers west of Xining, you'll notice a vast tract of land that is carpeted by green grass and blossoming flowers. This far-reaching prairie is called "Jinyintan Prairie." It covers an area of around 1,100 square kilometers. This vast tract of land is replete with fantastic sceneries and wildlife. The best season to visit this place is from July to September.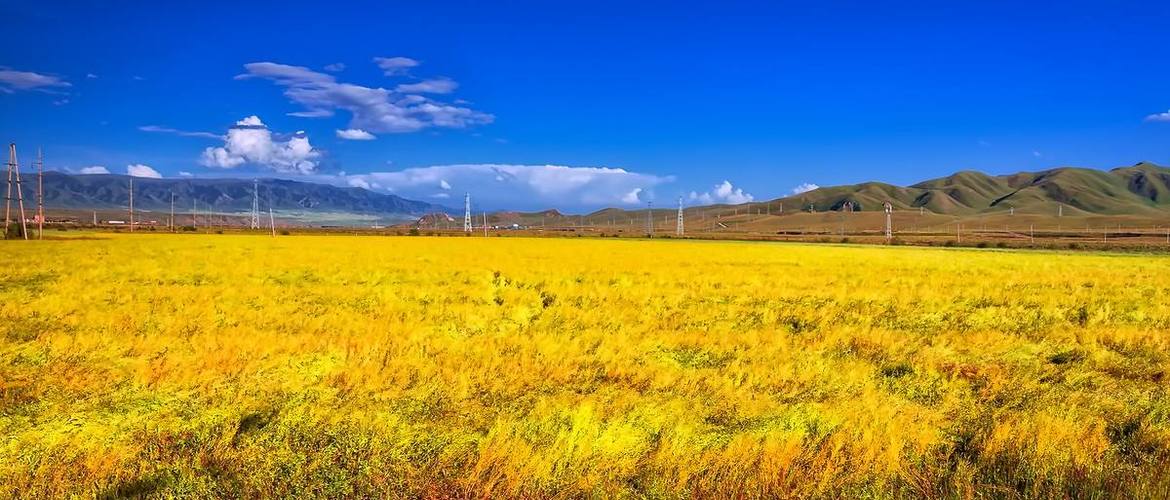 Qinghai Lake
Traveling further west from the Jinyintan Prairie, you will see the largest saltwater lake in mainland China. It is called "Qinghai Lake." The rail line moves along the northern bank of this lake, affording travelers a clear view of the turquoise water of the lake. This view is further enhanced by the reflections of the snowcapped mountains.
The best time to visit this place is during July and August. During these months, cole flowers are in full bloom, giving the surroundings an idyllic beauty. The undulating beds of cole flower along with the turquoise water of the lake, plus the rays of sunlight turn this place into a picturesque scenery that is almost surreal and perfect.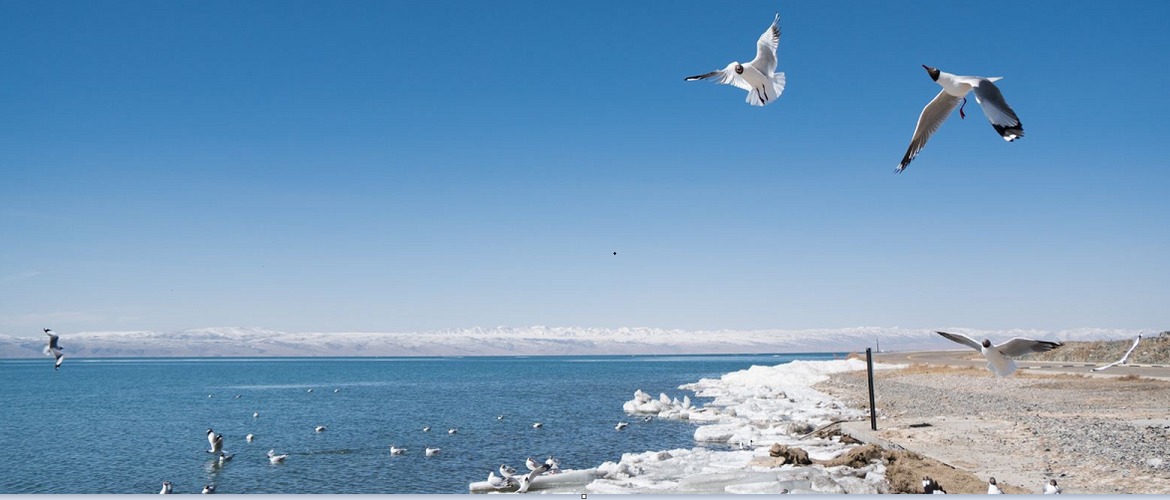 Qarhan Salt Lake
If you think Qinghai Lake may be the highlight of this train travel, you will be surprised by the next amazing destination—the Qarhan Salt Lake. This lake has a Long Salt Bridge that serves as the highlight of this scenery. This Long Salt Bridge is literally a broad road consisting of salt that runs across the lake. This salt road is around 32 kilometers in length.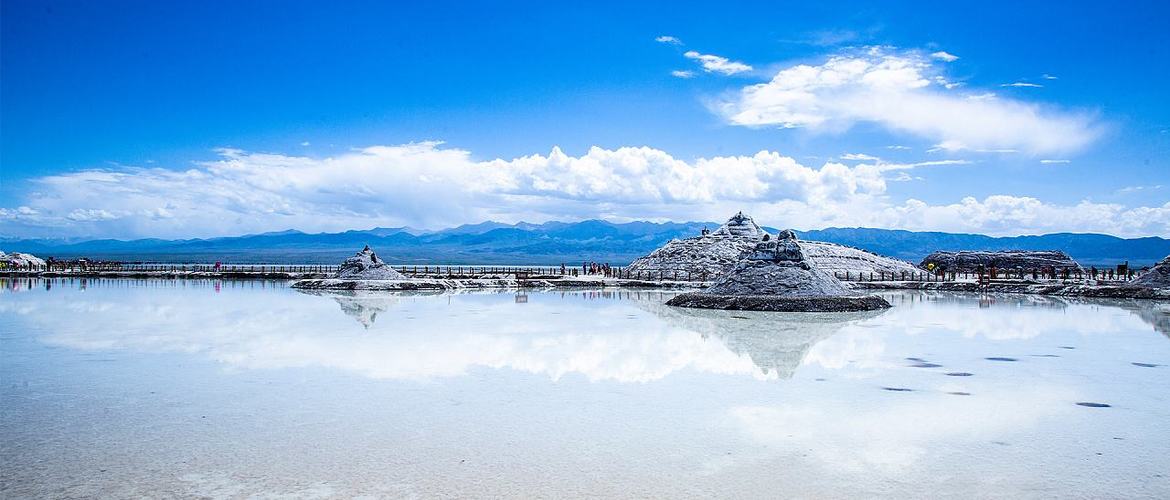 Kunlun Mountains
After passing the Qarhan Lake, the next fantastic highlight would be the Kunlun Mountains. Before reaching the Kunlun Mountains, the train would usually take a 25-minute stop at Golmud. This is by far the longest stop of the train. This city is located along the Tsaidam Basin. Leaving Golmud, the train will then make a journey inside the very belly of the Kunlun Mountains that serve as a natural boundary of Qinghai Province.
If you peek through the train's window, you'll see the snow-capped mountains and the massive glaciers. The train will then slither along elevated bridges and well-made tunnels that include the Kunlun Mountains Tunnel—known for being the longest permafrost tunnel in the world. Right after leaving the tunnel, you'll notice Taoist Shrines, Mani Stones, colorful prayer flags, and stone steles.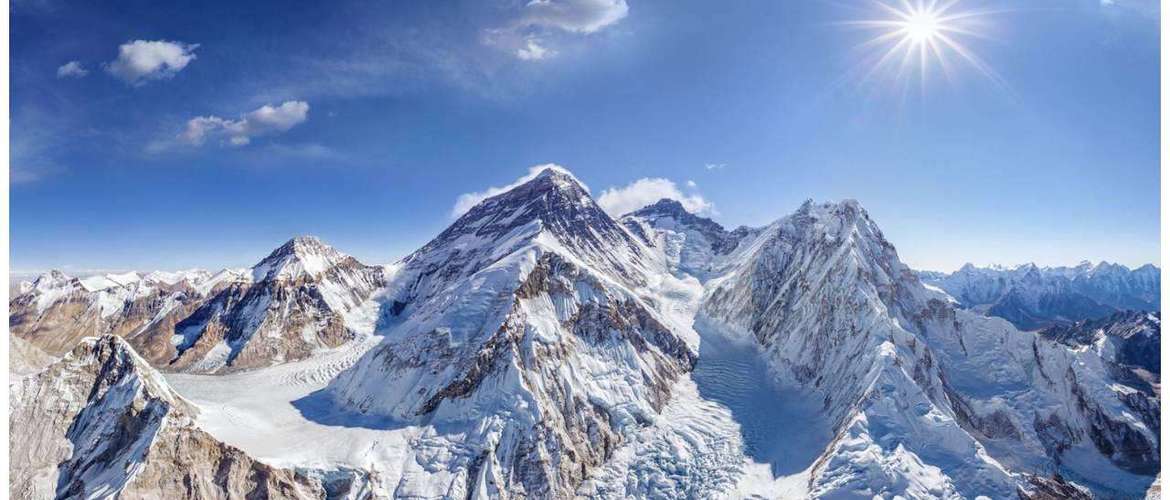 Hoh Xil
The train will then move into Hoh Xil, the third-largest area in the world that is unpopulated. It is the largest unpopulated area in China likewise. This area consists of gorges, stone forests, rivers, and saline. This area may be unpopulated, but animals thrive here. If you're lucky enough, you'll get to see sprinting Tibetan antelopes and yaks. A 12-mile-long section of the railroad is intentionally elevated to allow animals to move and migrate under. The train will pass along Chamuer and Tuotuo Rivers—a section that would afford you awesome views. From beyond, the rail line appears like a heavenly road that leads to the sky.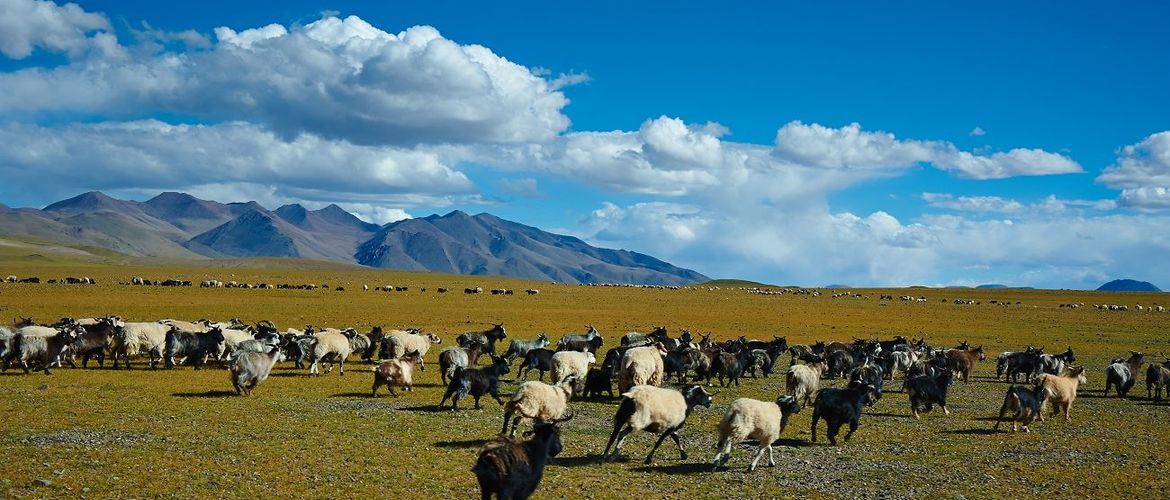 Tanggula Mountains
The train slithers then up the highest section in the Tanggula Mountains and it will reach the Tanggula Station, which is the world's highest railway station (16.627 feet above sea level). From this station, you'll get a birds-eye-view of the plains. You'll get to glimpse likewise the dazzling mountains from beyond covered with snow.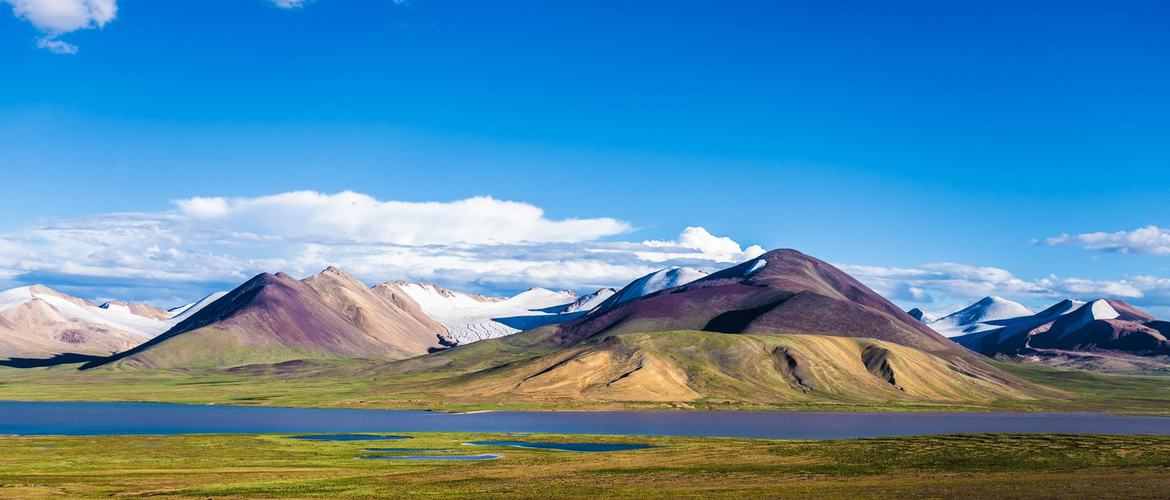 Nagchu
The next station will be the Nagchu Railway Station right after the train winds out of the Tanggula Mountains. This station is situated on the Qiantang Pasture a very huge pasture. Peering from the station, you'll see the lakes, plains, magnificent jokul, and wild birds. If you travel here in August, you might get the chance to witness the Nagchu Horse Race held yearly in this place.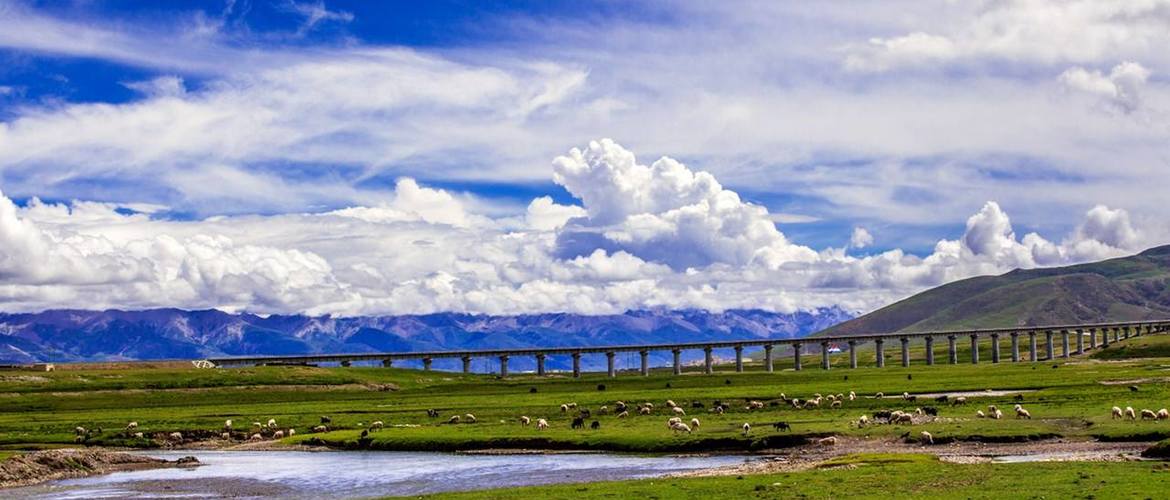 Other Highlights Along the Way
After crossing Tanggula Mountain, the train will pass by Cona Lake which is regarded as the world's highest freshwater lake. Further ahead, the train will pass the Nyainqentanglha Mountains, which are the final mountains along the way. Afterward, it will pass by Yangpachen, Dagze County, and finally arrive in Lhasa.
Related Articles
Recommended Tour Packages
Ask a Quick Question Below?
Email response within 0.5~24 hours.