Travel to Tibet from Mainland China
Travel to Tibet from Mainland China
by Liffity
Last Updated: 2022-08-05
Known as the "Roof of the World," Tibet is definitely a mysterious and beautiful place to visit. On the Tibetan plateau, you can see towering snow-capped mountains, colorful prayer flags hanging by the winding highways, and tranquil alpine lakes reflecting the centuries-old glaciers. Because of this lofty location hemmed by the Himalayas and other natural barriers, traveling to Tibet has long been thought of as difficult. Contrariwise, traveling to Tibet nowadays is no longer difficult for there are many modern means of transportation that would enable you to conveniently reach Tibet.
Tibet is accessible from mainland China or from Nepal. Here is the detailed info about traveling to Tibet from China, from which you can experience age-old history, amazing natural scenery as well as the unique Buddhist culture in a journey.
Travel to Tibet from China by Flight
Traveling by plane is the fastest, most convenient and comfortable transportation mode from China to Tibet. Currently, there are now more flights going to Lhasa than before. Tourists nowadays can fly to Lhasa from mainland cities like Chengdu, Beijing, Shanghai, Chongqing, Kunming, Xining, Guangzhou, and Xi'an. Nyingchi and Shigatse are also reachable from Chengdu, and as of the moment, flights originating from Chengdu are the most numerous.
So, if possible, we suggest you take a plane to Tibet from Chengdu because it has more daily flights and offers you more options. During the high season, at least 15 direct flights to Lhasa are available in Chengdu, which makes your journey more convenient.
Since Lhasa Gonggar Airport is situated at a high altitude of around 3,570 meters above sea level, you should be prepared for the abrupt change in air pressure in order to avoid altitude sickness. Moreover, the price of flight tickets from the following cities varies according to the season of travel. Remember, you need to show your Tibet Travel Permit to board the plane.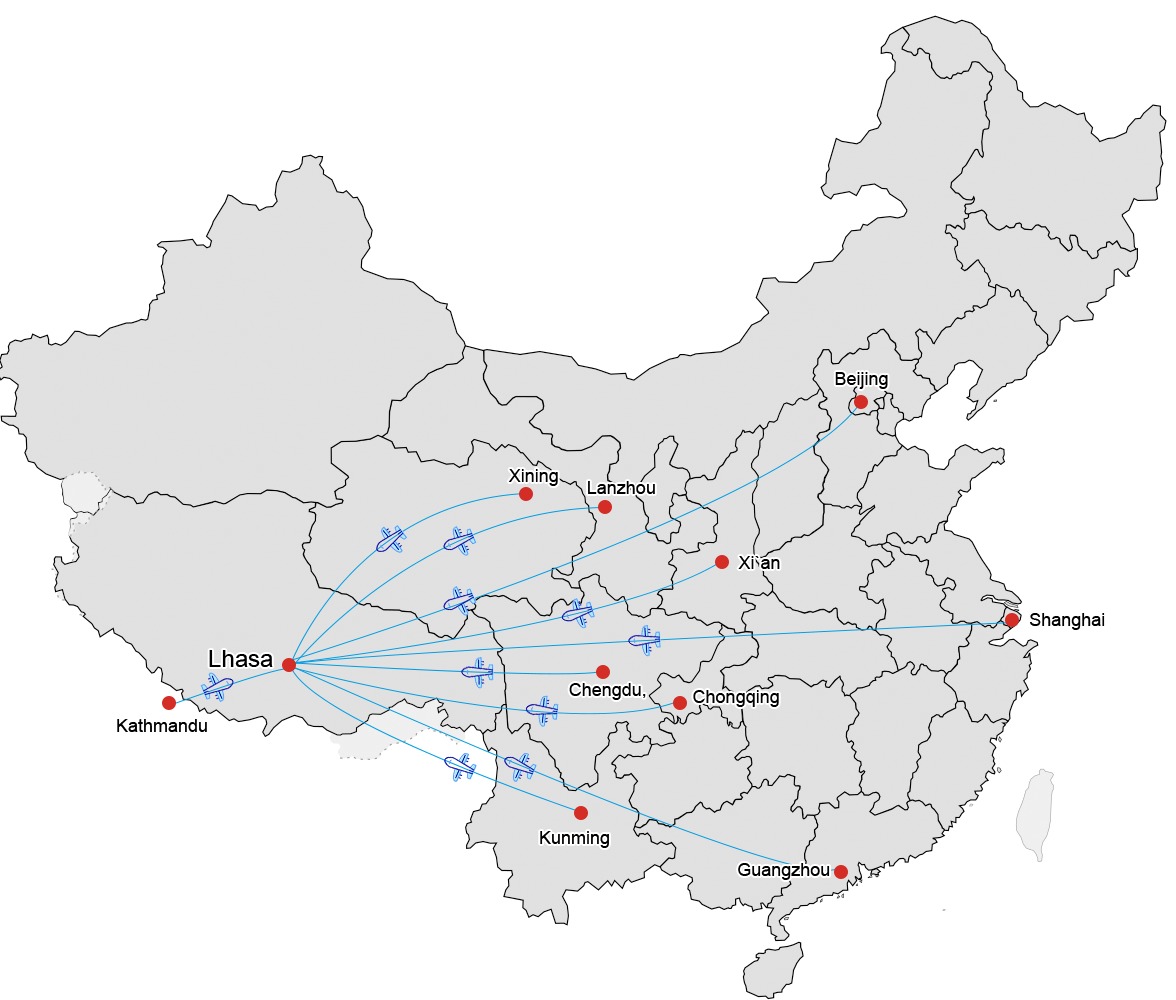 Beijing to Tibet Flight
Beijing, the capital of China, offers two flights daily to Lhasa. One of these two flights is a direct flight to Lhasa, while the other one makes a stopover at Chengdu. The direct flight from Beijing to Tibet usually takes around 4 hours and 30 minutes. The direct flight is operated by Air China. >>See more about Beijing to Lhasa flights
Chengdu to Tibet Flight
Chengdu is basically the stopover point of most flights to Tibet because it's a major city closest to Tibet. Every day, there are flights from Chengdu to Lhasa, Nyingchi, Shigatse and Qamdo. Flights from Chengdu to Tibet usually take 2 hours. Airlines that operate flights to Tibet from Chengdu include Tibet Airlines, Air China, Sichuan Airlines, and China Eastern Airlines. >>See more about Chengdu to Lhasa flights
Guangzhou to Tibet Flight
There is one flight to Lhasa from Guangzhou that makes a stopover at Chongqing. This flight is offered by China Southern Airlines. This flight's duration is around 6 hours including the stopover. >>See more about Guangzhou to Lhasa flight
Kunming to Tibet Flight
From Kunming, you can board a direct flight to Lhasa. These flights are operated by China Eastern Airlines, Sichuan Airlines, and Tibet Airlines and the duration of these flights is around 3 hours. >>See more about Kunming to Lhasa flights
Shanghai to Tibet Flight
Shanghai is a transportation hub in China. Many tourists make Shanghai their entry point to inner mainland China. From Shanghai, there is one flight to Lhasa offered by China Eastern Airways which makes a stopover at Xi'an. >>See more about Shanghai to Lhasa flights
Chongqing To Tibet Flight
There are generally 9 direct flights to Lhasa from Chongqing, and these flights are operated by Tibet Airlines, China Eastern Airlines, and Sichuan Airlines. From Chongqing, you can reach Lhasa in two hours and forty-five minutes. >>See more about Chongqing to Lhasa flights
Travel to Tibet from China by Train
Train travel to Tibet is the most exciting way as you will go through Qinghai-Tibet Railway which is the highest railway network in the world and an engineering marvel. Because of the Qinghai-Tibet Railway, Lhasa, the capital of Tibet, is now conveniently reachable by train from mainland China. It affords a fantastic view of the scenic spots along the span of the Qinghai-Tibet railway with the snow-capped mountains, charming villages, rolling grasslands, crystal clear lakes, and pristine wilderness as backdrops during your train travel.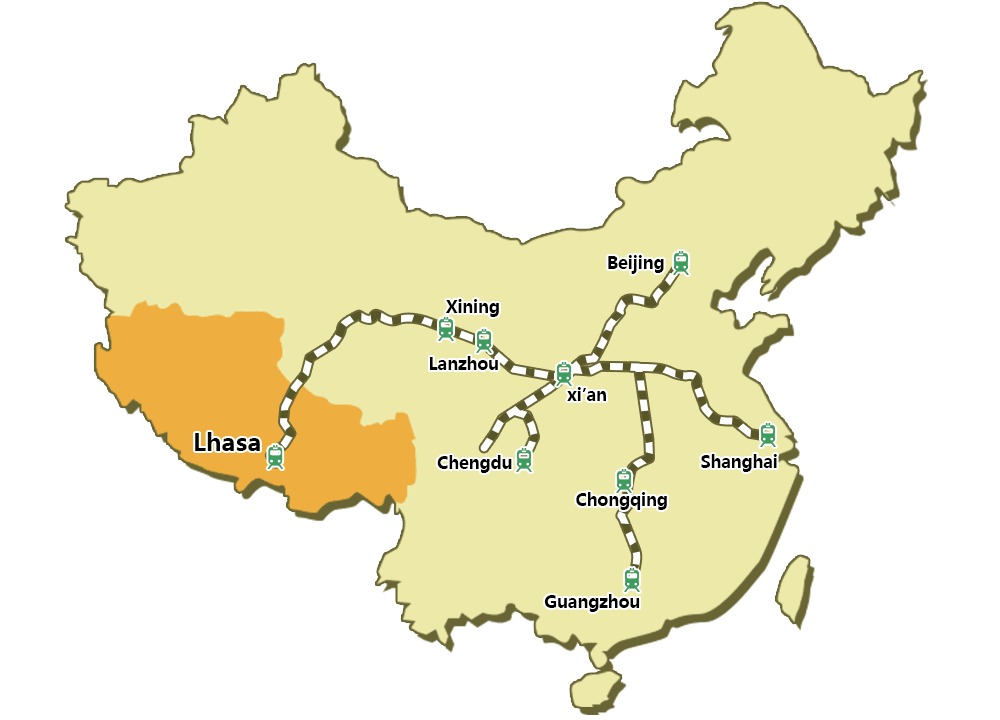 Train travel to Tibet is also the cheapest way compared with other modes of transportation going to Tibet from China. Usually, the train fare is just half of the airfare, especially during the high season. Moreover, with the availability of railroad networks from the different major cities of mainland China, you can now get to Tibet by boarding a train from Beijing, Shanghai, Guangzhou, Xi'an, and Xining any day of the week; while you can board a train going to Tibet from Chengdu, Chongqing, and Lanzhou every other day.
Traveling to Tibet by train is popular so train tickets are usually in large demand. From April to October, millions of travelers flooded into Tibet by train. During the high tourism season, it's hard to get a ticket, and it's unlikely to get a ticket on your own. You'd better book your tour with a Tibet travel agency in advance so that your travel agency can help you manage a ticket. During the low tourism season, most passengers are able to book the tickets on their own. Please book it one month before your departure date.
Types of Train Accommodations
These trains going to Tibet are characterized by three kinds of accommodations, namely, hard seater, hard sleeper, and soft sleeper. The hard seat is not recommended as the train duration is long(at least 22 hours) and it's not comfortable to sit all the way. Hard sleeper cabins generally have 6 beds; while soft sleeper cabins have four beds in each compartment. All the trains leading to Lhasa come with basic facilities like washbasins, toilets, a dining car with drinks and food, and charging points. Moreover, these trains are equipped with centralized oxygen supply systems that readily activate after Golmud(the altitude will ascend abruptly after this station). These oxygen supply systems can prevent passengers from suffering altitude sickness that typically occurs.
>> See more about Train to Tibet
Travel to Tibet from China by Road
Aside from flight and train travel, there are now many road networks leading to Tibet. Road travel is the most adventurous and exhilarating way to reach Tibet. It is also the best way to get a firsthand experience of the life of the native Tibetans and their culture along the way. It also allows you to discover hidden spots along the way. However, it's the most time-consuming and expensive way to reach Tibet because it takes more than a week to get to Tibet by road and the cost on the way will be very high consequently.
There are five overland routes going to Tibet, and four of them originate from mainland China. The other one is from Nepal. These four overland routes include Yunnan-Tibet Highway, Sichuan-Tibet Highway, Qinghai-Tibet Highway, and Xinjiang-Tibet Highway.
Qinghai - Tibet Highway
This highway begins in Xining and the destination is Lhasa. It usually takes eight days to completely travel through this highway. This highway spans almost 1,937 km and it traverses a road network with an average elevation of 4,000m. Starting from Xining, it passes Daotan River, Caka, Golmud, Wudaoliang, Tuotuo riverside, Yanshiping, Tanggula Mountains, Amdo, Nagqu, Damxung, Yangbajain, and ends in Lhasa.
Sichuan - Tibet Highway
This highway starts at Chengdu and branches into two viable routes, namely: the southern route and the northern route. The northern route is almost 2,293 kilometers and starts at Chengdu and passes through Yingxiu, Danba, Bamei, Garze, Dege, Qamdo, Nagqu, Yangbajing, and ends in Lhasa. The southern route, on the other hand, is 2,149 kilometers long, and also starts at Chengdu and passes by Kangding, Litang, Markam, Zogang, Ranwu, Nyingchi, and ends in Lhasa. >>See more about Sichuan - Tibet Highway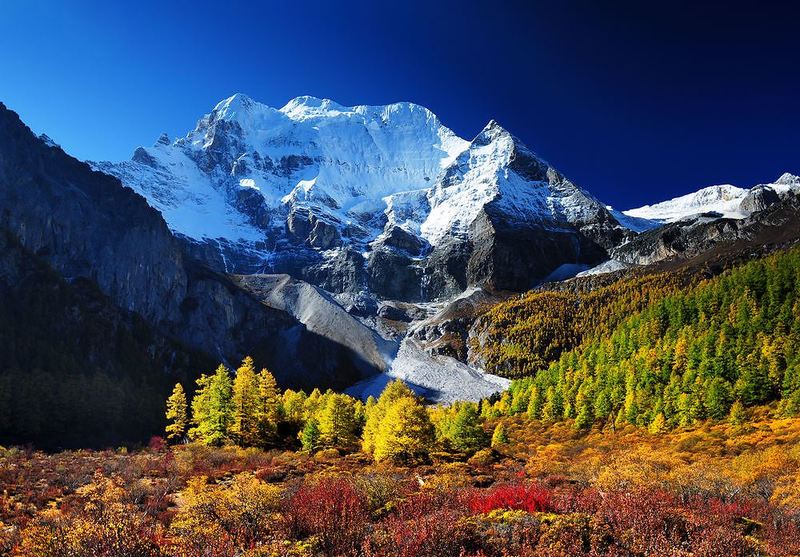 Xinjiang - Tibet Highway
This highway is almost 2,086 kilometers and offers awesome views along the way. This highway also branches into two viable routes, namely: the southern and the northern route. The southern route begins at Kashgar and passes through Yecheng, Domar, Rutong, Shiquanhe, Zanda, Darchen, Zhongba, Saga, Lhaze, Shigatse, and ends at Lhasa. The northern route, on the other hand, also starts at Kashgar and passes along Yecheng, Domar Rutong, Shiquanhe, Xiongba, Renduo, Wenbu, Nyima, Baingoin, and ends in Lhasa.
Yunnan - Tibet Highway
This highway covers a distance of 2,086 kilometers and also offers fantastic tourist spots and views along the way. It starts at Kunming and passes via Dali, Lijiang, Deqin, Yanjing, Markam, Ranwu, Tongmai, Nyingchi, Bayi, Kongpo, Gyambda, Medrogungkar, and ends in Lhasa.
>> Check more about the road to Tibet
Tibet Travel Permit
If ever you would travel to Tibet as a foreigner, the prerequisite permits that you should secure beforehand are the Chinese Visa and Tibet Travel Permit. You can apply for a Chinese Visa through the Chinese Embassy in your country, and apply for Tibet Travel Permit with the scans of your Chinese Visa and passport. However, Tibet Travel Permit won't be issued to individual travelers, and foreign travelers must be on organized tours that only can be arranged by Tibet Travel Agencies. Therefore, you need to book a Tibet tour with a Tibet Travel Agency before entering Tibet. With the info of your fixed itinerary, tour guide, accommodation, driver, Chinese visa, passport, etc. your travel agency can apply for your travel permit prior to your departure date. Usually, your travel agency will secure the travel permit within 7-10 working days. Then we will hand this Tibet Travel Permit to you once you arrive in China. Other necessary permits when traveling in Tibet are the Alien's Travel Permit or Military Permit that allows you to travel outside of Lhasa or go to the backend of Tibet. It looks complicated but you don't have to worry as your travel agency will obtain all the permits for you according to your tour package. Lastly, you must present your Tibet Travel permit when boarding a train or plane in Tibet.
Related Articles
Ask a Quick Question Below?
Email response within 0.5~24 hours.