Road to Tibet
by Apple
Last Updated: 2023-02-14
There are several roads to Tibet which is of particular interest to adventurous travelers. However an expedition as such is demanding in physical health, complicated in local regulations, and often very costly, so unless you are determined and travel with a large gang to share the expenses, there is no need to consider it. 
Why Tibet Overland Routes So Costly?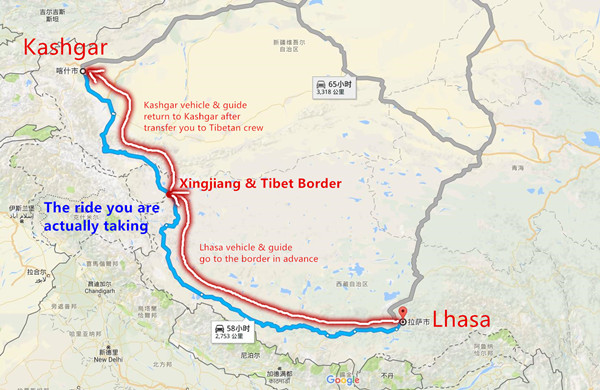 Some were wrongly under the impression that to travel overland to Tibet was going to be cheaper since the train or flight expense was thus saved, but this definitely not the case for Tibet. 
Based on the regulation of the Tibet Tourism Bureau, foreigners must be accompanied by a local licensed guide and vehicle, which means we have to send a guide and vehicle days in advance from Lhasa to pick you up at the Tibet border. The original vehicle which takes you to the Tibet border has to return to its original city. This means you are paying not only the ride you are actually taking, but you are also paying it to double for the vehicles' return and getting there. 
Tibet Overland Routes Availability
Of the several Tibet Overland Routes, not all of them are available to foreign travelers due to the local authority's restrictions, which means your application based on these routes will be rejected by Tibet Tourism Bureau and TIBET TOURISM BUREAU PERMIT (TTB) will not be issued to you. Without TTB, you will not be able to enter Tibet. Some said on the internet that you may give it a try without TTB, which is rather irresponsible. There are many checkpoints along these roads which you will not be able to pass without TTB, and a local guide & vehicle. 
These restrictions may change from time to time. If you are interested, please send us an inquiry to get accurate up-to-date information.
| | |
| --- | --- |
| Tibet Overland Routes | Availability |
| Xinjiang, Kashgar - Lhasa Overland Route | ✔ |
| Yunnan, Kunming - Lhasa Overland Route | ✘ |
| Qinghai, Golmud - Lhasa Overland Route | ✔ |
| Sichuan, Chengdu - Lhasa Overland Route | ✘ |
| Nepal, Kathmandu - Lhasa Overland Route | ✔ |
Xinjiang, Kashgar - Lhasa Overland Route ✔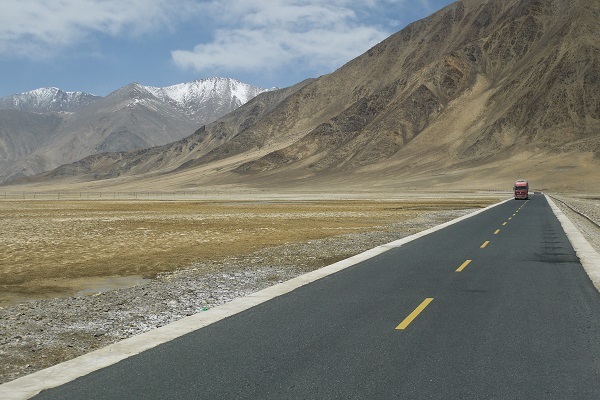 Located in the westernmost corner of China, Kashgar has been the epicenter of regional trade and cultural exchange for more than two millennia. Kashgar has a rich history of over 2000 years and served as a trading town on the Silk Route between China and the Middle East. It has been always a strategically important city in history and today.
Xinjiang, Kashgar - Lhasa Overland Route is the most challenging road among all Tibet Overland Routes. With at least to pass over 5400m, Xinjiang-Tibet Highway is the highest road in the world. It can be bitterly cold and closes down for the winter months from December to February. The whole trip takes at least 4 days of travel, depending on if your sightseeing plans along the route; Coming from Kashgar, you have to be particularly careful about altitude sickness as the initial rate of altitude gain is dramatic; Xinjiang, Kashgar - Lhasa Overland Route covers the most inhabited regions in China, you may not encounter any other person for couple hundred kilometers. There are many confusing intersections leading to different directions, so have an experienced local Xinjiang guide & driver is essential.  
Yunnan, Kunming - Lhasa Overland Route ✘
Yunnan-Tibet Highway is a wonderful way to approach Tibet, though once again the road is officially limited to organized groups. Yunnan-Tibet Highway was put into use in 1973, and it is connected with Sichuan-Tibet southern Highway(G318) at Mangkang. Part of the Yunnan-Tibet highway was Tea Horse Road in ancient times. You can choose to start the journey from several places in Yunnan: Kunming, Lijiang, or Shangri-la. 
The best time of the year to travel this route is from August to October. From Lijiang, a road heads up to the Tibetan towns and monasteries of Zhongdian, Benzalin, and Deqin, then across the Tibetan border 112km to Yanjiang. From here it's 111km to Markham, where the National Highway 214  joints the southern route of Sichuan - Tibet Highway. The natural landscapes are various and charming along the Yunnan-Tibet highway, such as gorges, glaciers, rivers, etc. The road condition is rather bad in the section from Zhongdian and Yanjing, where debris flow and landslides often happen.
Qinghai, Golmud - Lhasa Overland Route ✔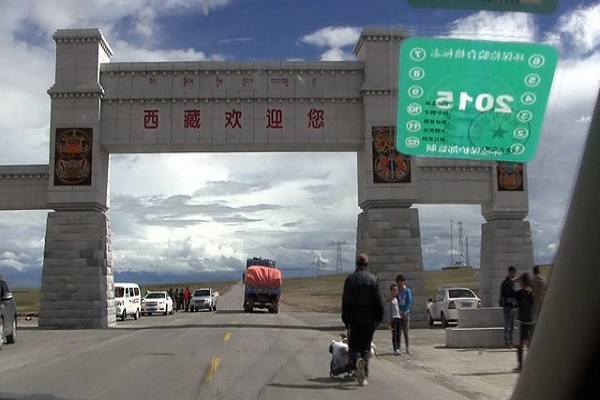 The road from Golmud to Lhasa is about 1115km long and averagely 4000m above sea level. Qinghai-Tibet Highway starting from Xining to Lhasa (1,937 km), was built from 1950 to 1954. Xining to Lhasa road is a main state secondary road with a 10-meter-wide roadbed. Qinghai-Tibet Line crosses many mountains and rivers, such as Kunlun Mountain (4700m), Tangula Mountain (5515m), Tongtian River, and Tuotuo River. Besides, you can view grasslands, salt lakes and deserts and so on.
The road is available all year long, but the best time to travel is from May to September for tourists. The journey starts from Golmud which is a new industrial city as well as the second-largest city in Qinghai and the third-largest in the Tibetan Plateau. There are two must-see places in and around Golmud, that is, Qarhan Salt Lake and Hu Poplar Woods. Golmud to Lhasa is also available by train. 
Sichuan, Chengdu - Lhasa Overland Route ✘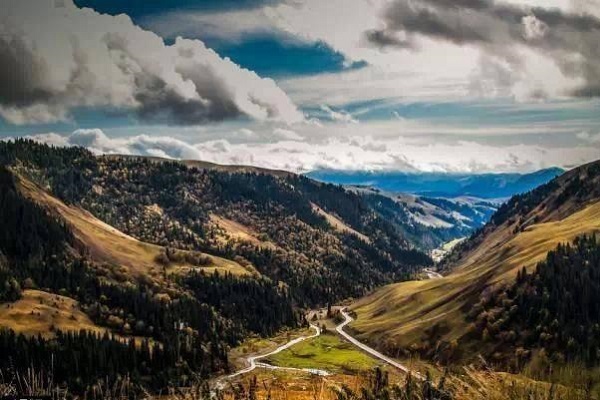 The road between Chengdu and Lhasa is an epic 2400km or 2100km, depending on whether you take the northern or southern route. The Sichuan section of the Sichuan-Tibet Highway was open to foreigners as far as the Tibetan border at the time of writing. Later, this road was closed to foreign travelers. 
Chengdu - Lhasa Overland Southern Route: Chengdu – Ya'an – Luoding – Kangding – Xinduoqiao – Litang-Batang – Markham – Bangda – Basuo-Rawok Lake – Lugu Glacier – Midui Glacier – Bomi-Nyingtri – Gongbo Gyangda – Mendrok Gongka – Lhasa
Chengdu - Lhasa Overland Northern Route: Chengdu – Danba – Daofu – Luohu – Gantse – Manigangol – Yilhun Lhatso Lake – Dege – Jiangda – Chamdo – Dingqing – Baqing – Nakchu – Damxun – Namtso Lake – Lhasa
Nepal, Kathmandu - Lhasa Overland Route ✔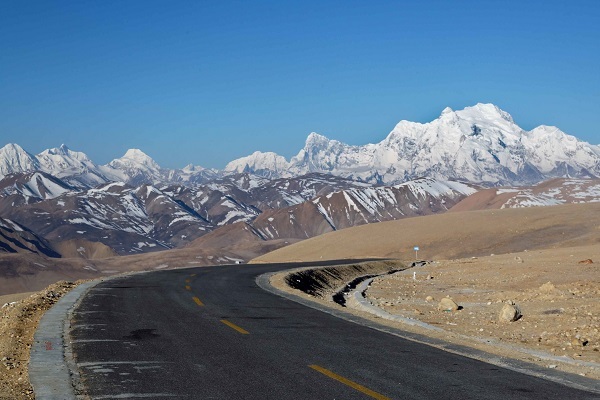 The earthquake in Nepal back in Apr 2015 had damaged the border port called Zhangmu. In response to the closure of Zhangmu, many rumors flew that another porter called Gyirong Port was to be opened for its sake, but never really happened for two years. At the moment both ports are open only to locals, nearby Nepalis, and Indian pilgrims but not foreign tourists. After August 2017, Gyirong Port officially opened.
Sino-Nepal Highway, aka. Friendship Highway, about 943km in length, among which 829km in Tibet, used to be a very popular travel route between Tibet & Nepal, which Great Tibet Tour has a Lhasa-Kathmandu budget group tour available, at a cost of about USD 1100/person. If you are interested in the overland tour between Kathmandu and Lhasa, you may also check the reverse route Kathmandu-Lhasa group tour. For more details, please contact us.
Related Articles
Ask a Quick Question Below?
Email response within 0.5~24 hours.