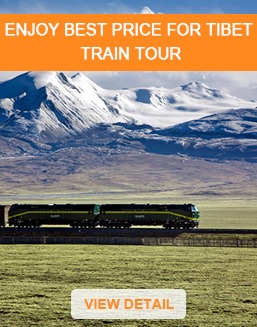 Xining to Lhasa Train

The distance of Xining to Lhasa train is 1972km/1233 miles, which takes 22 hours. It's an ideal place to start your Tibet train tour, as you will ascend your altitude from Xining(2,261 meters) to Lhasa(3,650 meters) gradually therefore you will have enough time to acclimatize the elevation. Xining is the start point of the Qinghai-Tibet Railway and the capital city of Qinghai Province.
The railway from Xining to Lhasa was finished until 2006 while the station was set in 1959. It now serves as the main station for trains to Lhasa, and all trains to Tibet pass through the city so it's actually the main train station for many trips to Tibet.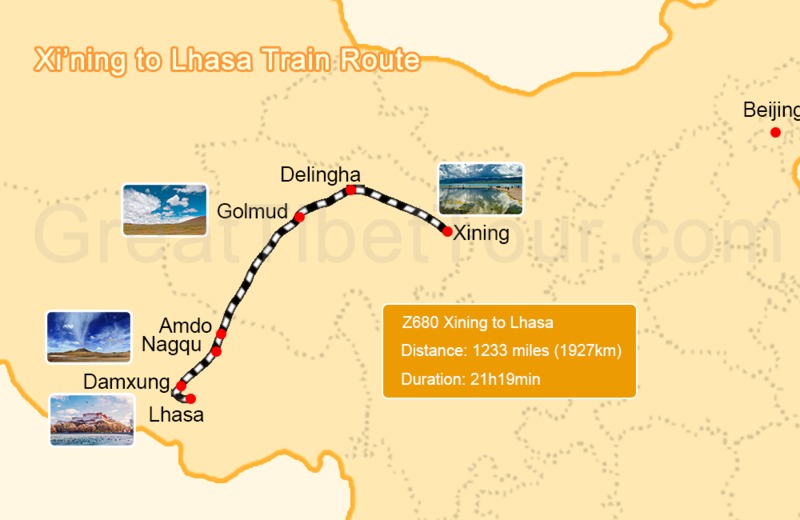 Xining to Lhasa Train Schedules
The Z6801 is the only train from Xining to Lhasa. It departs from Xining at 13:50 from Xining Train Station every day and arrives in Lhasa at 11:20 on the next day. And the rest are all through trains. The train running from Xining is pressurized, supplied with artificial oxygen, and sealed. The windows have ultraviolet filters to protect passengers from UV radiation.
Besides Z6801, you also have other choices. For better scenery, you are recommended to take Z165 as it passes through the major scenic spots in the daytime.
| Train No. | From / To | Dep. / Arr. | Duration | Frequency | Hard sleeper Ticket | Soft Sleeper Ticket |
| --- | --- | --- | --- | --- | --- | --- |
| Z323 | Chengdu to Lhasa | 12:20/09:56 | 21:36 | Every Other Day | CNY495 / 76USD | CNY781 / USD120 |
| Z223 | Chongqing to Lhasa | 12:20/09:56 | 21:36 | Every Other Day | CNY495 / 76USD | CNY781 / USD120 |
| Z9821 | Xining to Lhasa | 13:50/11:20 | 21:30 | Daily(seasonal) | CNY495 / 76USD | CNY781 / USD120 |
| Z21 | Beijing to Lhasa | 15:20/12:30 | 21:10 | Daily | CNY495 / 76USD | CNY781 / USD120 |
| Z265 | Guangzhou to Lhasa | 19:41/16:56 | 21:15 | Daily | CNY495 / 76USD | CNY781 / USD120 |
| Z165 | Shanghai to Lhasa | 21:20/19:26 | 22:06 | Daily | CNY495 / 76USD | CNY781 / USD120 |
How to Get to Xining Railway Station?
There are three railway stations in Xining, among which only Xining Railway Station( 西宁站) provides passenger service. Xining Railway Station is located in the center of Xining City, Qinghai Province. It is the starting point of the Qinghai-Tibet Railway and connects Lhasa, Golmud, Beijing, Shanghai, Xi'an, etc. Therefore, it has become the largest railway hub on the Qinghai-Tibet Plateau. Most trains to Lhasa stop at Xining Railway Station, and it takes about 22 hours from Xining to Lhasa.
From Xining Downtown, 5 miles(8 km) away.
By Bus: There are 10 special bus lines to the West Railway Station in Xining City, including No.1, No.2, No.3, No.4, No.5, No.26, No.41, No.58, No.83, and No.109. Also 7 bus lines pass through Xining Railway Station, including No. 17, No. 22, No. 33, No. 105, etc.
By Taxi: It takes about 24 minutes and 35 CNY.
From Xining Caojiabao International Airport, 19 miles(30 km) away.
By Bus: You can take the direct airport bus line 1 (Chengdong District). The fare is 21 yuan, and the journey takes about 50 minutes.
By Taxi: It usually takes about 35 minutes. If you go through the Beijing-Tibet Expressway G6, travel time can be shortened to about 25 minutes.
Facilities Onboard
Cabins on Tibet trains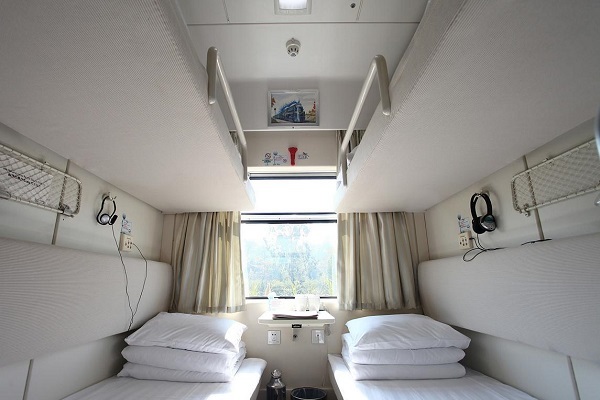 There are two kinds of cabins onboard where you can sleep overnight during your train journey to Tibet. The first-class cabin is the soft sleeper cabin, with 4 beds in one compartment; And the second-class cabin is the hard sleeper with 6 beds in one compartment. The soft sleeper is recommended.
Oxygen supply
Altitude sickness is always an important and considerable issue for travelers who are planning train tours to Tibet. As a matter of fact, there are two kinds of oxygen supply systems that can relatively reduce the effect of high altitude on the train. So there is no need to worry too much about suffering from altitude sickness on board.
Life on the train
There is one dining car offering food and drinks on each train to Tibet. At the end of each coach, there are toilets and washing basins. The train from Xining to Lhasa offers spoiled water for 21 hours so you can bring some instant noodles, coffee, and tea with you.
The Advantages of Taking Xining to Lhasa Train
1. The shortest way to Lhasa by train within 22 hours
Xining is the ideal choice for travelers who want to travel to Tibet by train but not willing to stay too long on the train. The train to Lhasa takes around 21~ 22hours across the Qinghai-Tibet Plateau with a distance of 1,972km. It is the shortest train journey to Tibet that only takes one night on the train.
2. More helpful to acclimate altitude changes
It is ideal for travelers to get to Xining (2,261 meters) first, stay there for at least 1 day and then take a train to Lhasa. Comparing with departing from Beijing (44 meters), Shanghai (16 meters), Chengdu (485 meters) and other cities, the altitude changes are the smallest so it's easier for people to acclimate.
3. More chances to get a train ticket to Lhasa from Xining
The demand for train tickets from Xining to Lhasa is the largest among all the other trains going to Tibet. And it is much easier to get a ticket meeting your required departure time from Xining than from any other city in China. There are about 6 Tibet trains from other cities with larger transportation capacity heading to Lhasa passing from Xining each day.
4. No need to transit to the Tibet train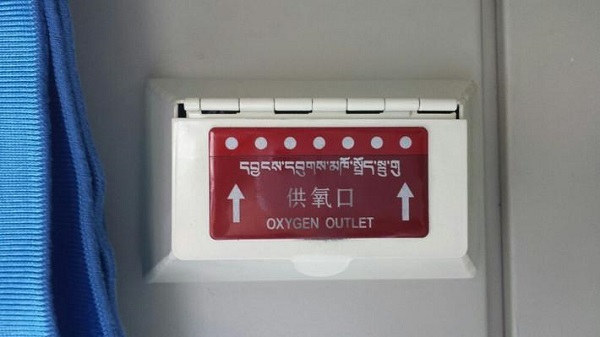 No matter where you start your Tibet train journey, you need to transit to the oxygen-supplied train in Xining except you take Z6801. As the original train can't adapt to that high altitude and harsh plateau environment, so you have to change trains. When the train arrives in Xining from your original starting city, passengers need to move to the oxygen-supplied train, you have to unload your luggage and move them into the new train.
5. Numerous tourists attractions in Xining
As the east gate of the Qinghai-Tibet Plateau, there are many top attractions in Xining. In the southwest part of the city is the Kumbum Monastery - one of the six Great Monasteries of the Gelugpa Sect of Tibetan Buddhism. And a 600-year-old Dongguan Mosque, one of the top 4 mosques in Northwest China, just in the Xining city zone. And it's big enough to hold over 300 Muslims in prayer.
Top Highlights along Xining-Lhasa Train
Qinghai Lake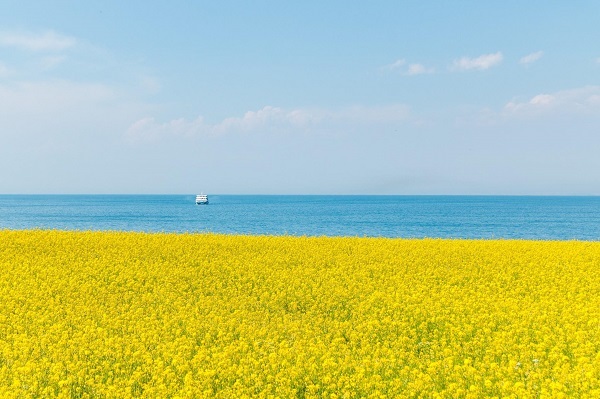 Qinghai Lake, which means "blue sea", is the largest inland lake as well as the largest saltwater lake in China. It covers an area of 4,456 square kilometers, with a circumference of more than 360 kilometers around the lake. In different seasons, the scenery of Qinghai Lake varies greatly. In summer and autumn, the vast undulating grassland looks like a thick green blanket. In the cold winter, the surrounding mountains and grasslands are covered with a thick layer of snow. In November, Qinghai Lake starts to freeze. It's a huge treasure mirror given by nature to the Tibetan Plateau, shining brightly in the sunlight.
Hoh Xil
Hoh Xil, a national nature reserve, is located in the hinterland of the Tibetan Plateau and retains the original ecological environment and unique natural landscape. There are the Kunlun Mountains to the north and Tanggula Mountains to the south, with an average elevation of more than 4,500 meters. Along with the railway, you can see many wild animals, not only the yaks, wild donkeys and horses but also the Tibetan antelopes if you are lucky. The natural landscape of Hoh Xil is unique, with rivers crisscrossing and lakes dotted around. There are also "Salt Flowers" blooming by the salt lake and hot springs steaming under the glaciers.
Tanggula Mountains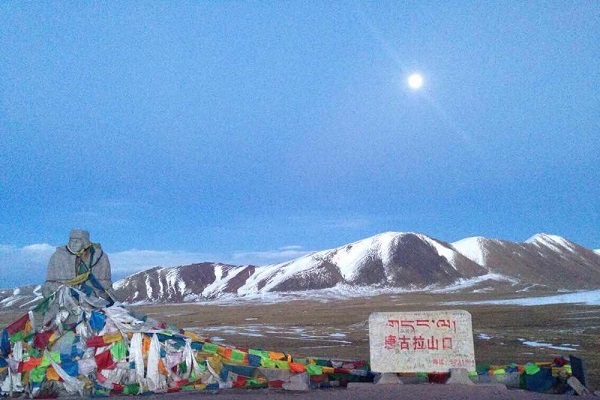 Tanggula Mountains are the natural boundary between Qinghai and Tibet. In Tibetan, it means "mountain on the plateau". The Tanggula Mountains are a mountain range in the middle of the Tibetan plateau that runs from east to west, with an altitude of 6,839 meters. It is the birthplace of Nu River, Lancang River and Yangtze River. Tanggula Mountain Pass at an altitude of 5,231m is not only the highest point of the Qinghai-Tibet Railway but also the highest point of the world's highway. 
Cona Lake
Cona Lake is the highest freshwater lake in the world, at an altitude of 4,800 meters above sea level.  It is the "holy lake" in the minds of the local Tibetans. Thousands of believers come to worship every Tibetan dragon year. It's one of the most famous scenic spots in Amdo and along the Qinghai-Tibet Railway. On the east side of the lake, the Qinghai-Tibet Railway passes by the tranquil and beautiful sacred lake, just 20 meters closer. >> See more scenic spots along Qinghai-Tibet railway
Related Articles
Recommended Tour Packages
Ask a Quick Question Below? Or Call 0086-891-6679450
Email response within 0.5~24 hours.