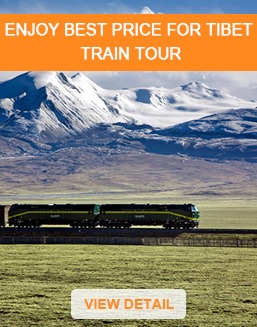 Shanghai to Lhasa Train
by Mark
Last Updated: 2023-03-20
Starting from Shanghai, travelers with leisure time would like to take a train to Tibet. Shanghai to Lhasa train Z164 departs at 20:02 every evening, passes through 15 cities in mainland China, and takes a full 46 hours and 44 minutes to reach Lhasa. Sitting on the train running on the roof of the world, you can admire the grasslands of northern Tibet, the Jade Pearl Snow Mountain, the Cona Lake, and see the wild donkeys running in the Hoh Xil no man's land, the brisk Tibetan antelope, and the large swamp wetlands along the way. Traveling to Tibet by train is an exciting and delightful experience for travelers.
Most of the main attractions along the Shanghai-Lhasa Railway will start from Xining because Xining is the start point of the Qinghai Tibet Railway.
Content Preview
Shanghai-Lhasa Train
The Shanghai-Lhasa train No. Z164 departs every day from Shanghai Railway Station at around 20:02 and arrives two days later at Lhasa Railway Station at around 18:46. This train takes around 46 hours and 44 minutes to reach Lhasa. It covers a 4,373-kilometer distance and runs from East to West in China. The broadcast of each carriage uses Chinese, English and Tibetan to introduce the highlights along with the railway.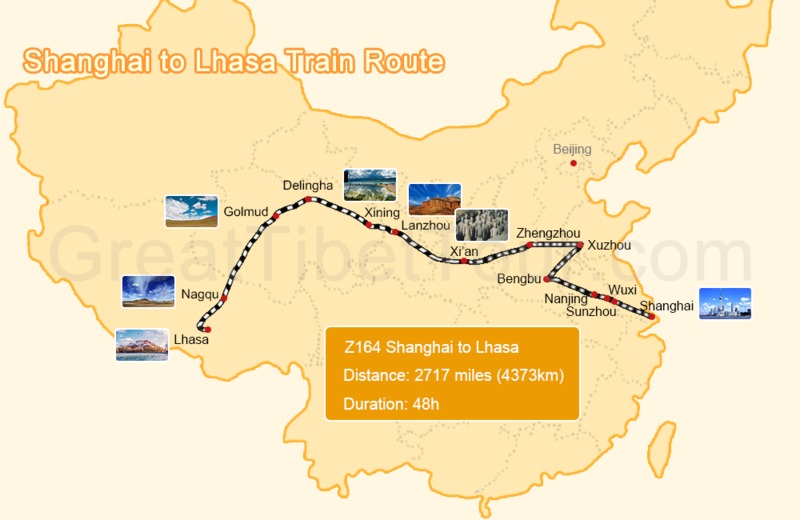 Shanghai-Lhasa Train (Z164) Timetable
Train No. Z164 makes 14 stops en route to Lhasa. The stops vary in duration from a short 3-minute stop to around a 25-minute stop. Moreover, altitudes gradually vary along the way. Here is a tabular representation of the necessary information about the Shanghai-Lhasa Train Travel.
| Station | Altitude | Arrival | Departure | Stop Time | Days | Distance |
| --- | --- | --- | --- | --- | --- | --- |
| Shanghai | 16 m | -- | 20:02 | -- | Day 1 | -- |
| Suzhou | 5 m | 20:52 | 20:58 | 6 min | Day 1 | 84 km |
| Wuxi | 8 m | 21:22 | 21:25 | 3 min | Day 1 | 126 km |
| Nanjing | 5 m | 22:54 | 23:01 | 7 min | Day 1 | 301 km |
| Bengbu | 25 m | 00:34 | 00:39 | 5 min | Day 2 | 485 km |
| Xuzhou | 36 m | 02:04 | 02:12 | 8 min | Day 2 | 649 km |
| Zhengzhou | 108 m | 05:08 | 05:17 | 9 min | Day 2 | 998 km |
| Xian | 385 m | 11:10 | 11:20 | 8 min | Day 2 | 1,509 km |
| Xianyang | 479m | 11:36 | 11:38 | 2 min | Day 2 | 1,532 km |
| Lanzhou | 1,520 m | 18:18 | 18:35 | 17min | Day 2 | 2,185 km |
| Xining | 2,200 m | 21:03 | 21:23 | 20 min | Day 2 | 2,401 km |
| Golmud | 2,780 m | 04:15 | 04:40 | 25 min | Day 3 | 3,231 km |
| Amdo | 4,800 m | 12:40 | 12:44 | 4 min | Day 3 | 3,661 km |
| Nagchu | 4,500 m | 14:17 | 14:23 | 6 min | Day 3 | 4,051 km |
| Lhasa | 3,650 m | 18:46 | -- | -- | Day 3 | 4,373 km |
Nota Bene:
The above-mentioned schedules and timetables are only provided as a reference for travelers. The schedules are subject to changes depending on the weather conditions and other factors that may affect the train schedules.
What Kind of Seat Should I Choose?
a. Hard Seater/Soft Seater
On every train, there is a hard/soft seat class. We would not recommend that you take this option for overnight train travel will surely be uncomfortable if you are seated, whether you are seated on a soft or hard seat. But if you travel during peak season, you may end up in a soft or hard seat if you don't book your ticket early. The net cost of a hard seater is around CNY 402.5.
If you happen to get a hard seater ticket, you should bring a blanket for overnight travel that can be very cold. You should also bring with you a U-shaped soft pillow to cushion your head and neck. You should also bring with you an eye mask and earplugs for added eye and ear protection.
b. Hard Sleeper
Hard sleepers are available on the ordinary train. It is also available on train no. Z164. The seven carriages of the Shanghai-Lhasa train are equipped with 407 hard sleeper berths. The hard sleeper compartment has no door. It opens straight into the corridor. Thus, you will find the hard sleeper compartment quite noisy, especially during the daytime. The net ticket price of a hard sleeper is CNY 793.5.
There are three bunks in the hard sleeper compartment, namely: the lower berth, the middle berth, and the upper bunk. The most convenient for sleeping is the lower berth, but it comes with a higher price. The middle berth is pricier than the upper bunk, while the upper bunk is the cheapest among the three hard sleeper berths.
c. Soft Sleeper
The soft sleeper usually consists of 9 compartments. In the Shanghai-Lhasa train, there are only 2 soft sleeper carriages, around 36 soft sleeper berths. There are also four berths inside a compartment and the compartments come with a door. Each berth comes with reading light. Moreover, each compartment comes with an overhead luggage rack along with one power socket. So the soft sleeper berth is larger and provides more comfort than the hard sleeper berth. And the soft sleeper provides better privacy and security by adding a door for each cabin, though, you may find it uncomfortable if you are sleeping with other passengers with whom you are not familiar.
The price of the soft sleeper has doubled the price of the hard sleeper berth. The net price of a soft sleeper is around CNY 1,262.5. Usually, we suggest our clients choose soft sleepers for such a long duration. The soft sleeper would allow you to relax during the trip and enjoy the sceneries along the way.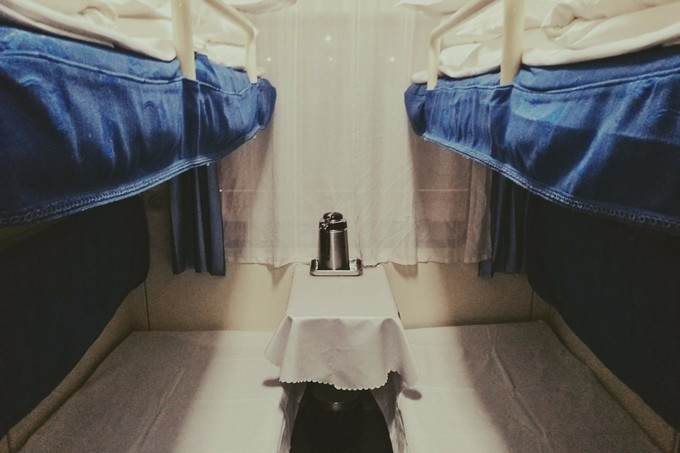 Here is the price list of the hard seater, hard sleeper, and soft sleeper:
| Hard Seater | Hard Sleeper | Soft Sleeper |
| --- | --- | --- |
| CNY402.5 / USD62 | CNY793.5 / USD122 | CNY1,262.5 / USD194 |
Train Amenities and Facilities
The Shanghai-Lhasa train comes with the necessary facilities and amenities. The train has a dining car along with moving trolleys that provide food. At the end of each car, there is free hot water for making hot coffee, milk, or tea. Each car comes with power sockets, the power plugs for chargers are located in the corridors or under your table in the cabin. There's one western-style toilet and one squat-style toilet in the soft-sleeper carriage; in the hard-sleeper carriage, only squat-style toilets are available.
Train Ticket booking tips:
The above-mentioned ticket prices are considered net prices. Tickets, however, may vary depending on the season and demand. During peak season, the prices of train tickets tend to rise. The peak seasons generally occur during the summer holidays and the early days of October. We would advise you to make an early booking so that you can get the most convenient and preferred seat for your travel date. Choosing a trustworthy and reliable Tibet travel agency to help you book your Tibet train tickets and make it easy!
How to Get the Tibet Train Ticket?
In China, paper train tickets are needed to board the train. If you book train tickets with us, we will provide you an eTicket. You can collect your train ticket at the local train station with your passport and the printed-eTicket.
How to Have a Hassle-free Train Travel?
Proper planning and coordination can help you avoid any hassle or problem with your train tour. If you are coming from other countries like Australia or The US, you will find yourself upon arrival in Shanghai at the Shanghai Pudong International Airport. Or if you just need to depart from downtown to the train station running the Tibet train. Here are some tips on how to get to the Shanghai Railway Station for you.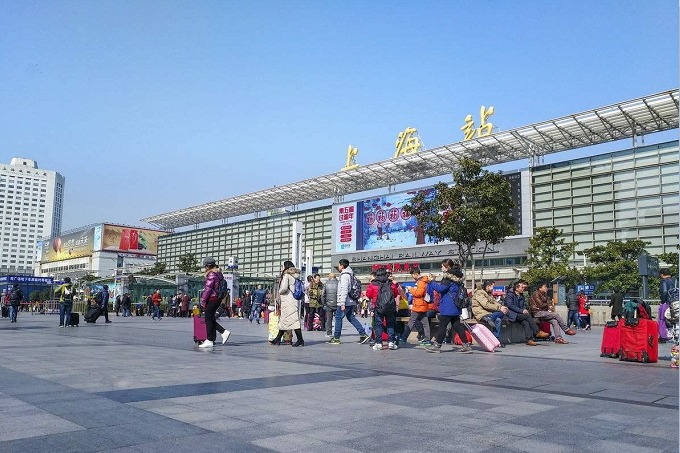 Four Railway Stations of Shanghai
Shanghai has four railway stations, namely, Shanghai South, Shanghai West, Shanghai Hongqiao, Shanghai Railway Stations. You should go to the Shanghai Railway Station because it is the only station that operates the train going to Lhasa. The address of the Shanghai Railway Station is Moling Road, Zhabei District of Shanghai.
a. From Downtown to Shanghai Railway Station
You can ride a taxi or go via the metro Line 1, Line 3, and Line 4.
b. From Pudong International Airport to Shanghai Railway Station
The major air travel hub in Shanghai is the Pudong International Airport. From the Pudong International Airport, you can either ride a taxi, bus, shuttle, train or via subway.
Better be Ahead of Time
As mentioned earlier, you should book your ticket early so that you can get your preferred accommodation. During your travel date, make sure that you are already at the train station at least 60 minutes before the departure of the train. Make sure also that you are boarding the right train.
Secure Your Tibet Travel Permit
Before you board train Z164, your Tibet Travel Permit will be checked. The Tibet Travel Permit can only be applied through a registered Tibet Travel Agency on behalf of the individual traveler. If you travel with us, you just need to email us the info page of your passport and China Visa 10 working days before your departure date. We would ensure that you have this permit before boarding the train.
How to Shorten Shanghai to Lhasa Train Travel?
The easiest and time-saving way to travel from Shanghai to Lhasa is to take a plane from Shanghai to Xining (the real starting point of the Qinghai-Tibet Railway), and then take a train from Xining to Tibet. There are several daily trains to Lhasa in Xining, and the capacity even exceeds that of Shanghai to Lhasa. It is much easier to get a train ticket.
Since most of the scenery appears in the last section of the Qinghai-Tibet railway line - Golmud to Lhasa, and staying 47 hours on the train is quite a long time, if you have enough budget, we recommend that you fly from Shanghai to Xining, and then take a train to Lhasa, so you can save much time and energy.
Tips When Boarding the Shanghai-Lhasa Train
If it is your first time boarding a train to Lhasa at the Shanghai Railway Station, you will feel a bit at a loss as to what to do. Here are some tips that can guide you along the way:
The first thing that you should do before boarding the train is to fill out a Passenger Health Declaration Form. As a tourist, you will be required to fill out this form about your health history. If you are beset, for example, with illnesses like hypertension, chronic respiratory disease, stroke, and other cardiovascular diseases, chances are, you will never be permitted to board the train.
Before you can enter the waiting hall, you will line up along the security counter to undergo the required security protocol. You will need to present your documents, like passport, train ticket, and a copy of your Tibet Travel Permit. Your luggage will be scanned, and you will need to pass by the detector gate. You should also follow the railway station guidelines on things and substances that are prohibited inside the train.
Once you have entered the station, you must find the designated waiting room for your train. The waiting room for Z164 is properly marked for easy access to passengers. Once you've found the right waiting room, you can check in 15 to 30 minutes before the departure of the train. The barriers usually close five minutes prior to the departure of the train.
You will be properly guided to the right platform by an overhanging LED screen along the way. You simply need to follow the instruction. Before boarding the carriage, the staff at the carriage gate will inspect your ticket to ensure that you are boarding the right carriage.
Onboard Train No. Z164
Once you board the train and find your berth, you may observe the surroundings. There's a small table next to the lower berth, where you can put some food on it. Under the lower berth, you can put some smaller luggage or items. If your luggage is big, you can put it on the "vacant shelf" opposite the berth. For important items, you can put them on your bed or on the hook of the bed.
Then the train staff will exchange a plastic "bunk card" for your ticket right after the train departs from Shanghai. One hour prior to your arrival at Lhasa, the train staff will again give you back your ticket in exchange for the bunk card. The staff will also remind you to get off at the right station.
Take care of your ticket because you will need to present it when you get off the train. Additionally, you should keep your passport, wallet, permits, and other valuables safely. You should also keep your valuables and important things close to you.
During your train travel, you can buy food peddled around on trolleys. You can also eat in the train's dining car. You can buy three meals plus drinks at the dining carriage. The dining carriage is usually situated in the train's middle part. We would also advise you to bring some snacks and fruits because such kind of food offered on the trolleys is expensive.
How to Cope with Altitude Changes?
The train route from Shanghai to Lhasa is far better than a direct flight from Shanghai to Lhasa when it comes to acclimatizing your body. As we mentioned in the abovementioned tabular graph, the altitude of Shanghai is around 16 meters above sea level while Lhasa is 3,650 meters above sea level. If you choose a direct flight from Shanghai to Lhasa, chances are, you're more likely to suffer from altitude sickness due to abrupt changes in altitude.
What is Altitude Sickness?
Altitude sickness is a variety of discomforts caused by rapidly entering the plateau above 3000 meters and being exposed to low pressure and low oxygen. It is a common disease unique to plateau areas. It's characterized by fatigue, dizziness, headache, and nausea. It can sap your energy and prevent you from enjoying your stay at Lhasa. As such, it is a major concern for those who travel to Lhasa.
The Shanghai-Lhasa train travel allows you more time to gradually adapt your body to the changing altitudes along the way. The gradual ascent to Lhasa from Shanghai could prevent you from suffering acute altitude sickness. Train Z164, for example, would make a stop at Xining for twenty minutes. It is more than halfway along the way and has an altitude of 2,200 meters above sea level. You can use these quick stops to gradually acclimate your body to high altitude.
Z164 is Designed for High Altitude
If you are still worried about altitude sickness, you should not worry much for train Z164 is specifically designed for high-altitude travel. It has pressurized cabins and is tightly sealed. Besides, it is equipped with two oxygen supply sets, namely, the dispersion-mode oxygen supply and the distribution-mode oxygen supply.
As the train ascends to Golmud—which is 2,780 meters above sea level—the distribution-mode oxygen supply automatically pumps more oxygen into the train to assuage the impact of high altitude and thinner atmosphere. Lastly, the windows of the train are lined with protection from ultraviolet rays.
Highlights of the Shanghai-Lhasa Railway Train Travel
The Shanghai-Lhasa train route is replete with beautiful and awe-inspiring sceneries that you would only see along this route. The railway traverses central China and moves up to the Tibetan Plateau. The highlights of this train travel are mostly situated along the Xining-Lhasa section of the railway line. Among the most anticipated highlights in this railway section are the following:
Jinyintan Prairie
Qinghai Lake
Qarhand Salt Lake
Kunlun Mountains
Hoh Xil
Tanggula Mountains
Nagqu
Cona Lake
Nyainqentanglha Mountains
Yangpachen
Dagze County
Lhasa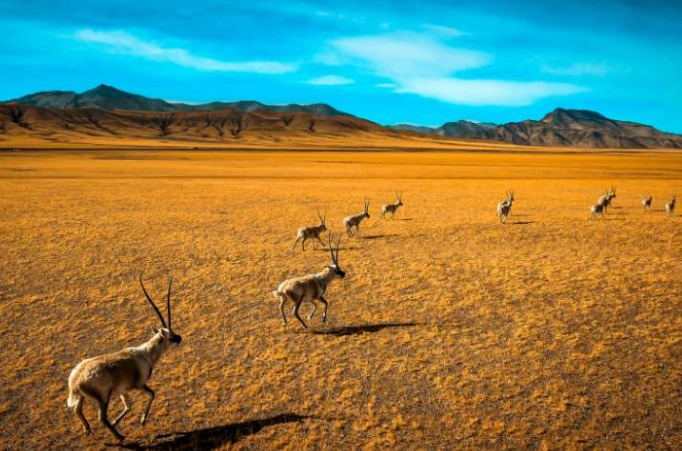 You can check more details of the above-mentioned scenic highlights along this train journey. Moreover, you'll get to travel along the Qinghai-Tibet Railway which is the highest rail line in the world that is also considered an engineering wonder of contemporary time.
The Shanghai-Lhasa Train Travel takes you from the easternmost shores of China to the far west part of the country. Although it is a long train journey, nevertheless, it is one of the best train routes that you can ever take.
Related Articles
Recommended Tour Packages
Ask a Quick Question Below?
Email response within 0.5~24 hours.