Travel to Tibet from Japan
Travel to Tibet from Japan
by Cherry
Last Updated: 2023-02-06
Many Japanese tourists travel to Tibet to explore the stunning plateau landscape and unique culture of Tibetan Buddhism and architecture. Fortunately, Japan is very close to China, so it's easy to get to Tibet from Japan via mainland China. Alternatively, you also can get to Tibet via Kathmandu, Nepal.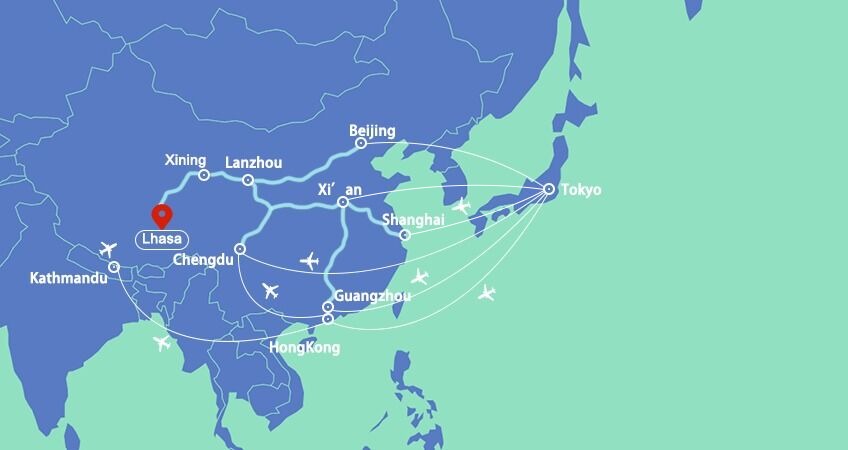 Travel to Tibet via Mainland China(Recommended)
First, we'll talk about reaching China. You can take a flight to China from Narita International Airport, Haneda International Airport in Tokyo, Osaka International Airport, and Central Japan International Airport in Nagoya.
Three major cities in Japan now have direct flights to China. Please check the flight duration below,
| From | to Beijing | to Shanghai | to Guangzhou | to Chengdu | to Hongkong |
| --- | --- | --- | --- | --- | --- |
| Tokyo | 3h 50min | 2h 50min | 4h 40min | 5h 30min | 4h 35min |
| Osaka | 3h 20min | 2h 20min | 3h 45min | 4h 15 min | 3h 40min |
| Nagoya | 3h 20min | 2h 15min | 4h 10min | up to 9h 5min(1 stop) | 4h 10min |
If your schedule is tight, you can choose to fly from Japan to Shanghai first. If you prefer budget flight tickets, indirect flights are the best choice. You can find multiple online flight ticket booking sites to compare plane cost, which varies according to peak season or off-season. Generally, China Eastern Airlines offers the least expensive flight tickets with one to two stops. The stops are either in Shanghai, Beijing, or any other major city.
What Permits Do You Need?
China and Japan are friendly neighboring countries, and Japanese tourists can enjoy visa-free access within 15 days. But for visiting Tibet, you will be required a Tibet Travel Permit, so you need to apply for a China Visa first.
China Visa
You can apply for a China visa at the Chinese Embassy in Tokyo. It is important to note that you should not mention Tibet during the China visa application process. If the Chinese embassy requests more details of your tour, we can provide supporting documents for you if you book with us.
Tibet Travel Permit
All foreign travelers need to obtain Tibet Travel Permit before getting to Tibet. After you book your Tibet tours, you need to send copies of your China visa and passport to your travel agency. Usually, they can get your permit within 20 days.
Tibet Flights to Lhasa
Taking flights to Tibet is very convenient. Some airlines offer trips to Lhasa, namely, Sichuan Airlines, China Eastern Airlines, Air China, Tibet Airlines, and China Southern Airlines. We list three major gateway cities here,
Chengdu
During the peak season of tourism, there are more than ten flights every day to Lhasa. During the off-season, the frequency drops to under five flights a day between morning and afternoon. A one-way ticket to Lhasa costs around 260 USD with 30 USD included for the Airport Tax. >> See more about Chengu to Lhasa flights
Beijing
Air China and China Southern Airlines, both offer a one-morning 5-hour flight from Beijing. It comes with a stop in Chengdu, which reaches Lhasa in the afternoon. During peak seasons, tickets can go as high as 395 USD. >> See more about Beijing to Lhasa flights
Shanghai
Flying through China Eastern Airlines from Shanghai at an all-year consistent rate of about 445USD (total), 6-hour flight. For the best price, call them directly. >> See more about Shanghai to Lhasa flights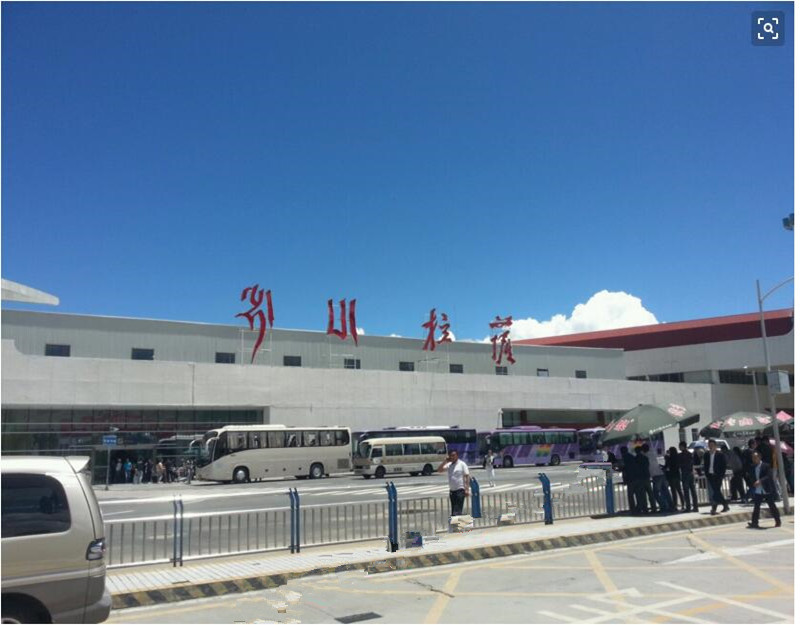 Tibet Train to Lhasa
Taking a Train is the best way to travel to Tibet. Although you will stay at least 20hrs on the train, you can adapt to the altitude gradually, therefore minimizing the occurrence of acute altitude sickness. Qinghai-Tibet railway is also the highest railway in the world. The entire journey is a visual feast.
Train from Beijing
Traveling from Beijing to Lhasa will turn out to be one of the highlights of your trip. Being 3,757km long, it vastly covers eight provinces in the Northern China Plain. This train journey takes about 41 hours. >> See more about Beijing to Lhasa train
Train from Shanghai
The only train to Lhasa, Z164, leaves from Shanghai at 08:02 pm. It reaches Lhasa at 06:46 pm on the 3rd day. This train journey covers a distance of 4,373km and takes about 46 hours and 44 minutes. >> See more about Shanghai to Lhasa train
Train from Chengdu
Traveling to Lhasa from Chengdu, via Z322, takes you the least amount of time besides Lanzhou and Xining. The Chengdu-Tibet leaves at 09:08 pm on Day 1 and reaches by 10:24 on day 3.  This train journey covers a distance of 3,000km and takes about 37 hours. Please note, the train from Chengdu to Lhasa runs every other day. Please check if there is a train on your departure date prior. >> See more about Chengdu to Lhasa train
Train from Xining
Xining, capital of Qinghai, is about 1,972km far from Lhasa. It is one of the shortest train rides to Lhasa as it only takes 21 hours. If you're not going to spend too much time, flying to Xining and taking the Xining-Lhasa train is the best option for you. You can experience the Qinghai-Tibet railway and acclimatize your body at the same time. There are five trains from Xining to Lhasa every day. Z165 is the best train to explore the scenery along the Qinghai-Tibet Railway as travelers can view the most beautiful highlights in the daytime. >> See more about Xining to Lhasa train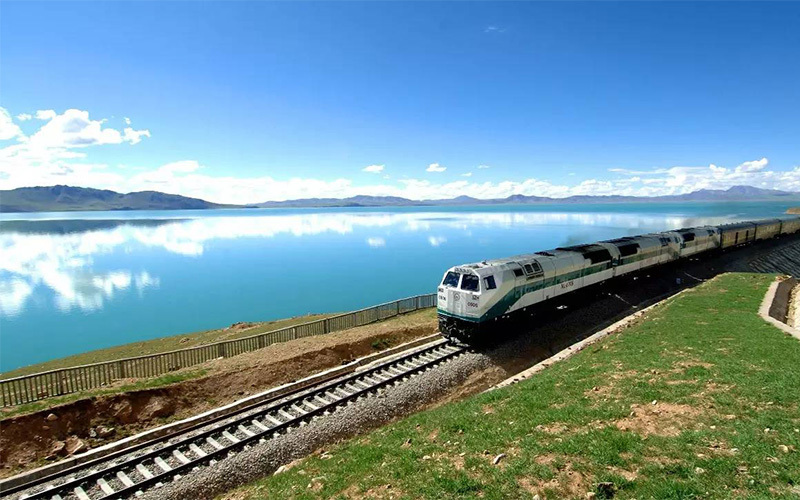 Travel to Tibet via Kathmandu
If you are interested in visiting the other side of the Himalayas and exploring the exotic culture, getting to Tibet via Kathmandu is a good choice. As you can omit the China Visa application process, instead, you need to apply for a China Group Visa with the help of your Tibet Travel Agency.
Flights from Kathmandu to Lhasa
Flying from Kathmandu to Lhasa, which is considered one of the most beautiful air routes in the world. During the flight, you will see Mount Everest, Mount Kanchenjunga, and other peaks of the Himalayas. And the flight duration is not so long, about 1.5 hours. You will feel convenient and comfortable traveling in this way. There are 2 or 3 direct flights from KTM Airport to Lhasa every week in the low season. In peak season(from April to October), there's a direct flight every day. >> Check more about Kathmandu to Lhasa Flights
Overland Trip from Kathmandu to Lhasa
There is a highway connecting Nepal and Lhasa - China-Nepal Highway, also known as the Friendship Highway. Driving along the highway is a unique experience. Along the way, you will see the majestic peaks of the Himalayas at an altitude of 8,000 meters, holy lake Yamdroktso, winding Yarlung Zangbo River, as well as forests, canyons and streams, etc. The natural landscape on this road will make you fascinated.
Related Articles
Ask a Quick Question Below?
Email response within 0.5~24 hours.