Travel to Tibet from India
Travel to Tibet from India
Tibet holds a lot of significance in Hinduism and is held close to the hearts of many Indians. Tibet hosts locations like Mount Kailash where the revered Indian god Shiva is supposed to reside. Kailash is recognized by the Hindu people as the center of the world. There is a Lake called Manasarovar where you can find eternal life. According to Hindu scripture and mythology, the Lake Manasarovar was created by Brahma in his mind. Famous as one of the five holy lakes in Hinduism, Lake Manasarovar plays an important role in Hinduist theology. What's more, Mount Kailash and Lake Manasarovar are regarded as the most sacred places in Hinduism. Therefore, pilgrims from India make frequent travel here. Also, tourism in Tibet is highly celebrated, and many folks travel to experience the scenic beauty of Tibetan charm.
To help Indian travelers enjoy the Tibetan landscape and practice their faith, we offer various trip packages to Kailash and Manasarovar. It's easy to travel to Tibet from India.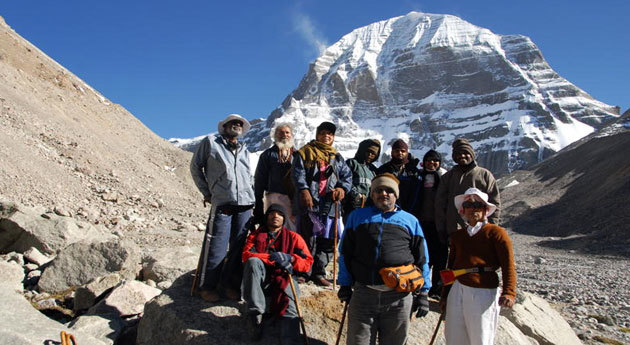 How to Travel to Tibet from India
From India to Tibet is relatively easy now. You can fly or travel overland from India to Kathmandu, then take a flight or a land trip to Tibet. Another option is to reach Tibet from mainland China. Then you take a domestic flight or Tibet train to Lhasa.
Option I - India to Tibet via Nepal(Recommended!)
There are plenty of flights to Kathmandu starting from Delhi, Goa, Ahmedabad, Bengaluru, Mumbai, Varanasi, Hyderabad, and Kolkata. Royal Nepal Airlines, Air India, Jet Airways and IndiGo provide direct flights. The flight departing from Delhi to Kathmandu costs about INR 9, 100. You can check the price online to obtain a ticket. Then you can take a flight or road journey to Tibet. There is currently no train from Kathmandu to Tibet.
Delhi to Kathmandu by flight
The flight from Delhi to Kathmandu only takes 1 hour and 45 minutes. A direct flight from Nepal Airlines RA218 (19:40-21:40) costs about US$90(6,697 INR). Due to the close distance between the two countries and the short flight duration, the cost of flying from India to Kathmandu is relatively lower. Nepal is also the preferred gateway for Indian passport holders to enter Tibet because there is visa-free travel between India and Nepal. They do not need a passport or visa to enter Nepal and only need a government-issued ID card.
Delhi to Kathmandu by land
The direct drive from New Delhi to Kathmandu is 700 miles (1126 km), which should take about 13 hours and 10 minutes in normal traffic. If you want to drive by yourself, the route is Delhi - Lucknow - Basti - Sunauli border. (Not touching Gorakhpur) - Butwal - Chitwan - Kathmandu. Alternatively, you also can take a bus. Delhi-Nepal bus starts from Delhi's Dr Ambedkar Stadium Bus terminal, Delhi Gate at 10 am in the morning and then takes Delhi-Agra-Kanpur-Lucknow route. The bus trip takes about 27 hours and the cost is 2,800 INR as one-way fare. You need to reserve in advance. >> See more methods to travel from India to Nepal
Kathmandu to Lhasa by flight
There are two flights a day from Kathmandu to Lhasa, provided by Air China, and Sichuan Airlines. The flight costs about US$300(22324INR) and it takes 1 to 30 hours. And there is an additional advantage that when the plane flies over the Himalayas, you can get a bird's eye view of the summit of Mount Everest. >>See more about Kathmandu to Lhasa flight
Kathmandu to Lhasa by land
The land trip from Nepal to Tibet is an incredible journey via the border between Tibet and Nepal, and the distance is around 1120km. From the lowland valleys of Kathmandu to the highlands of the mighty Himalayas, you will visit Mount Everest and the holiest Mount Kailash for Indian Hindus. Then get across the plains and prairies, see the sparkling lakes, finally travel to the holy city Lhasa - the religious and cultural center of Tibet. It usually takes 3 to 4 days, and you will have time to see the amazing sights on the plateau and enjoy the magnificent landscape.
Option II - India to Tibet via China
You can take direct/connecting flights from major Indian cities like Delhi, Cochin, Mumbai, Mumbai to China. Airlines like Air India, Aeroflot, All Nippon Airways, British Airways, Cathay Pacific, etc., operate these flights. Among all the flights, flying from Delhi to China is the most convenient and cheapest.
Delhi to gateway cities of China
There are many flights from New Delhi, India to Beijing, Shanghai and Guangzhou. There are several different airlines operating flights, so it is best to choose the most suitable departure airport for you. Below we list the flight schedule for your preference.
| | | |
| --- | --- | --- |
| Flights | Non-Stop | One-Stop |
| Delhi to Beijing | 6h 5m | 21h 15m(SIN,CAN,HKG) |
| Delhi to Shanghai | 6h 10m | 24h 55m(SIN,CAN,HKG) |
| Delhi to Guangzhou | 5h 5m | 27h 30m(CMB,SIN,MCT) |
| Delhi to Chengdu | 10h 50m | 34h 20m(CAN,HKG,SIN) |
| Delhi to Hong Kong | 5h 10m | 20h 35m(SIN,CMB,KUL) |
If you choose to fly to Beijing, the cheapest is Air China CA948 (03:10-11:25). A direct flight costs about US$580 and takes about 5 hours and 45 minutes.
If you choose to fly to Shanghai, the cheapest is Air India AI348 (11:55-20:20). The flight cost is about US$400 and it takes about 6 hours.
If you choose to fly to Guangzhou, there's only one flight - China Southern Airlines CZ360 (00:05-07:15). The flight cost is about US$520, and it takes about 4 hours and 40 minutes.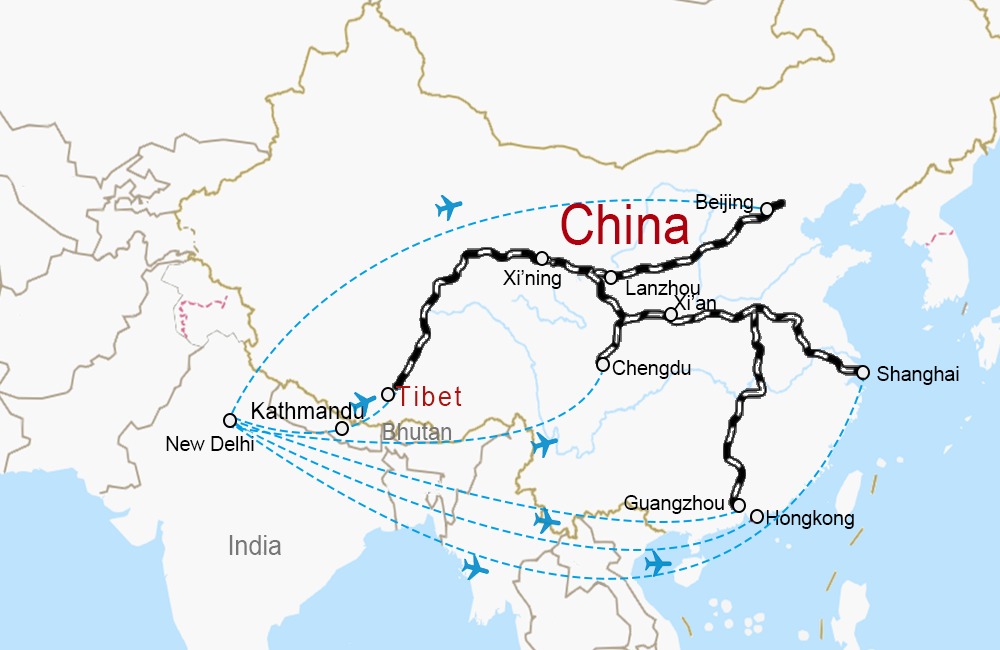 After you arrive in China, you can transfer to another direct flight or take a train to Lhasa.
Beijing to Lhasa
There are three flights a day from Beijing to Lhasa, departing from Beijing Capital International Airport T3. The departure times are 07:35, 08:15 and 14:50 respectively. The fare is expensive. The full fare is RMB 3260 per one way, plus the airport construction fee and fuel fee of 60 yuan, the total ticket price is 3320 yuan, and the annual discount is very small. >>Check more about Beijing to Lhasa flight
There's only one train Z21 (20:00-12:40) running from Beijing to Lhasa each day, and it takes 40 hours and 40 minutes to arrive. Since the soft sleeper has only one carriage and 36 beds, it is very difficult to book the train from Beijing to Lhasa during the peak tourist season. The fare for the soft sleeper train from Beijing to Lhasa is around RMB 1,200. It is recommended to check your travel consultant in advance for the train tickets.>>Check more about Beijing to Lhasa train
Shanghai to Lhasa
There are two flights a day from Shanghai to Lhasa. One flight MU2335 (06:45-14:40) takes off from Pudong Airport T1 in the morning and another flight (TV9882 16:45-23:25) takes off from Hongqiao Airport T2 terminal in the afternoon. The full price of each one-way ticket is RMB 3,360, and the airport construction fee and fuel cost are RMB 60, totaling RMB 3,420 per ticket. >>Check more about Shanghai to Lhasa flight
The train from Shanghai to Lhasa Z164 (20:10-19:30) departs every day and lasts 47 hours and 20 minutes. The fare for the soft sleeper is about RMB 1,300. Since there is only one carriage per day, it is difficult to buy tickets during peak tourist seasons. >>Check more about Shanghai to Lhasa train
Guangzhou to Lhasa
There is only one flight from Guangzhou to Lhasa a day. China Southern Airlines CZ3463 (08:25-14:40) takes off from Guangzhou Baiyun Airport T2. The full price of each one-way ticket is RMB 2,930, and the airport construction fee is RMB 60, RMB2,990 in total. >>Check more about Guangzhou to Lhasa flight
The train from Guangzhou to Lhasa Z264 (11:45-16:19) departs every day, and there is only one train per day. It lasts 52 hours and 34 minutes. The price of the soft sleeper is about RMB 1,468, and it is difficult to buy tickets during the peak tourist season. >>Check more about Guangzhou to Lhasa train
Visas Required for Visiting Tibet
Going to Tibet from India is convenient, but the permits are indispensable. Generally, several types of visas are required for Indians for their pilgrim journey to Tibet.
Enter Tibet via Nepal
Entering Tibet via Nepal requires a Tibet Travel Permit(also called Tibet Visa) and a China group visa. If you go to Tibet from Nepal, regardless of whether you have applied for a Chinese visa or not, it will turn invalid. You must apply for a China Group Visa to enter Tibet from Nepal. Great Tibet Tour can help you get the required documents.
Once you arrive in Kathmandu, you only need to provide your passport, and a tourist invitation letter(approved by the Tourism Bureau, the voucher for group visa application) to apply for your China Group Visa. Our staff will help you obtain a tourist visa from the Chinese Embassy in Kathmandu. Although it is called a "group" visa, you don't need to be in a group to apply.
Enter Tibet via China
Entering Tibet via China requires a Chinese Visa. You can apply for it at your nearby Chinese Embassy. If it is not an "L" tourist visa, you need to provide relevant certification, please consult our professional travel consultant for details.
And, you need a Tibet Travel Permit. It's issued by Tibet Tourism Bureau, and only a local Tibet Travel Agency can apply for it for you. So you should book a tour and send your documents to your travel agency to obtain it in advance. The procedure usually takes 10 working days. You need to present it when you board the flight or train to Tibet.
For Pilgrimage Journey to Mt.Kailash
For Indian pilgrims who're going to Mt.Kailash in Purang, Tibet, in addition to the Tibet Travel Permit, China Visa/China Group Visa, another special visa is required, which is issued by the governmental Foreign Affairs Office, Military Office, Armed Police Corps OF Frontier Defence and the Department of Public Security of Tibet Autonomous Region jointly. And there is another particular non-governmental organization called "Pilgrim Reception Center" for Indian people to get such a visa. Please contact us to consult more details.
The two organizations provide a free touring service to Indian pilgrims. They assist in accommodation and different modes of transportation means. They are also very helpful and are the best guides you will receive. You're suggested to plan your Tibet tour in advance so that they can prepare all the visas for you in time.
The pilgrimage to Tibet is said to be more expensive than an ordinary tour due to the monopoly of the two organizations. But actually, Indians can consult online services and many tourism offices to get better travel deals and packages.
Conclusion
A journey to Tibet is more than just about the scenery and the beautiful locations, it's a spiritual one. Whether you go there for a pilgrimage or not, you will leave with your soul feeling full and nourished. It is a journey to be taken by everyone at least once in their lives.
Don't hesitate to contact Great Tibet Tour, we are always here and ready to help. Please be our guests and have an unforgettable tour in Tibet.
Related Articles
Ask a Quick Question Below?
Email response within 0.5~24 hours.