by Apple
Last Updated: 2019-10-18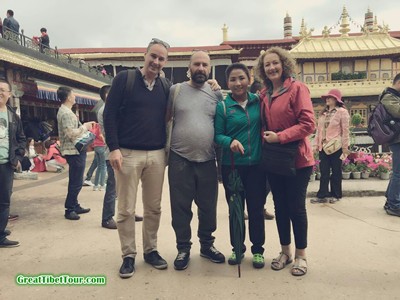 Why Not Mention Tibet when applying for Chinese Visa? You will hear this suggestion often from any experienced tour consultants, but why it is so? --- it is because if you mention that you would travel Tibet during your stay in China, China Embassy would require you to present Tibet Tourism Bureau Permit (also called Tibet Travel Permit, short for TTB); but here in Tibet, Tibet Tourism Bureau would not issue TTB until your Chinese Visa copy is provided. To sum up they are contradictory policies of different government departments which never get fixed, somehow. 
It's terribly annoying, to you as well as to us, but we don't see it be fixed any time soon. Thus to avoid unnecessary trouble, we suggest you NOT TO MENTION TIBET when applying for Chinese Visa, or your visa application will be rejected. 
When you avoid mentioning Tibet but only indicate that you will travel China in general, sometimes China Embassy may require you to provide more information of your stay in China, eg. daily itinerary and hotel, etc. When this occurs, Great Tibet Tour will provide you with a Visa Supporting Doc with a fake China tour program avoiding Tibet which will do the trick. For Visa Supporting Doc, we need below information from you:
*When & Where will you first land in China
*When & Where will you last depart China
If your general route is as HOME → China → Tibet → China → Home, you only need to show China Embassy your international flight booking of HOME → China & China → Home. The domestic flight/train to & from Tibet, within China, must be left unmentioned. 
But if you were to travel as HOME → NEPAL → TIBET → CHINA/NEPAL → HOME, you do not need to apply for Chinese Visa at home by yourself, but have us applying you China Group Visa in Kathmandu upon your arrival with your original passport, thus no such concern of not to mention Tibet. Read more info about it here: China Group Visa from Nepal
Both route as their pros & cons, if you don't take the trouble earlier back at home, you will go through some trouble later at Kathmandu, so don't let this decide your general route. 
All these sounds rather complicated, but really an experienced tour consultant will guide you one step at a time, just follow our instructions, together we will get it done. Please get in touch with us. Our professional tour consultants are ready to provide you with information which suits your travel plan best. 
Related Articles & Posts
Ask a Quick Question? Ask below or call 0086-891-6873166