Kailash Mansarovar Yatra: Once In A Lifetime Experience
Kailash Mansarovar Yatra: Once In A Lifetime Experience
Kailash Mansarovar is a pilgrimage site nestled in the Himalayas in Tibet. Over the years, Yatris across the world come here to do the Kailash Mansarovar Yatra, and travelers come to witness its mystical beauty. In this article, you will find the routes, cost, best time and etc. to undertake the Kailash Mansarovar Yatra.
Mount Kailash pilgrimage site's beautiful scenery in the sunset
The Kailash Mansarovar Yatra
Kailash Mansarovar Yatra means mainly doing a parikrama of Mount Kailash and taking a holy baptism in the Mansarovar Lake. It is said that these can alleviate any sins of the pilgrims and bring them salvation.
People who are between 18 and 70 years old and in good health are eligible to take the Kailash Mansarovar Yatra. The yatra can be done on foot, by bus, by Land cruiser, or by helicopter. To undertake the yatra, please book either through the Ministry of External Affairs or through a Tibet/Nepal tour operator.
How to Take a Kailash Mansarovar Yatra
To reach Kailash Mansarovar, Indian pilgrims can take a road trip from Dehli. The Ministry of External Affairs organizes the yatra from June-September each year through two different routes -- Lipulekh Pass (Uttarakhand) and Nathu La Pass (Sikkim). The yatra is conducted in batches with a certain number of pilgrims each year.

Via Lipulekh Pass

The route through Lipulekh Pass (a Himalayan pass on the border between India's Uttarakhand state and the Tibet region of China) involves some trekking. The Kailash Mansarovar Yatra cost is about Rs 1.6 lakh per person/USD2133, which is the lowest cost. The duration of the Kailash Mansarovar Yatra is 24 days, including 3 days of preparation in Delhi.
The route has three sections. The first section is a 107.6 km long road from Pithoragarh to Tawaghat, the second section is a 19.5 km single-lane road from Tawaghat to Ghatiabgarh, and the third section is 80 km from Ghatiabgarh to Lipingkh Pass at the Chinese border. Only trek through. A new road in the third section is under construction in 2020 to allow vehicles. After completion, it cuts travel time from 5 days by a trek to just two days by a vehicle.
This route crosses important locations, such as Narayan Ashram. Yatris can also see the beauty of the scenery of the Chialekh Valley or "Om Parvat", where snow naturally appears in the form of "Om".

Via Nathu La Pass

The route through Nathu La Pass (4309 meters, connecting Sikkim India with China's Tibet Autonomous Region) is reachable by bus and especially suitable for elderly yatris. The cost is about Rs.2 lakh per person/USD2667. The duration would be 21 days including 3 days in Delhi for preparatory work. It passes through scenic spots such as Hangu Lake and the vast landscape of the Qinghai-Tibet Plateau.

Apart from these religious groups, plenty of tourists are simply enchanted by the beauty of the place. They can travel to Tibet/Nepal first and book Kailash Mansarovar yatra packages operated by a local travel agency. The duration is 12 ~15 days. Kailash Mansarovar tour cost via GTT starts from Rs 140,219/1870USD per person. Along the way, you can visit the Potala Palace, Yamdroktso Lake, Everest Base Camp, and view the sand dunes, beautiful grassland, and local's villages, etc.
A Kailash Mansarovar Yatra by helicopter package is easier and faster. The duration is 12 days. The cost is Rs 210,000/USD2800 per person. You will be flying from Kathmandu to Simikot via Nepalgunj and take a helicopter ride from Simikot to Hilsa. The view over the Himalayan mountains is breathtaking and wonderful. After entering Tibet we will drive you to Kailash and Mansarovar.
Extra Expenses You Might Need To Make During the Trip
Throughout the trip, you will have to pay for services that are not covered by your travel agency. These expenses are personal, and thus it is entirely dependent on you to spend or not. Moreover, there may be incidents like natural disasters and emergency medical situations, which cannot be covered by any travel agency.
Nevertheless, it is always wise to carry extra cash wherever you go. Some of the excluded personal expenses are:
Horse rides or yak rides. This is for people who cannot walk long miles at a stretch. USD50/day
Laundry, extra snacks and drinks, telephone services, etc. USD50/day
Extended hotel stays if you are sick. USD65/room/night.
Airport transportation costs. USD80/vehicle
Please note these expenditures are uniform for all travel packages. The number of days of your packages may affect the total amount of these personal payments.
Lake Manasarovar
Lake Manasarovar is one of the reasons why thousands of people around the globe come for the Kailash Yatra. It is known as one of the holiest lakes on earth. It is located 32 km away from Mt Kailash and has an elevation of 4,950 meters.
The derivation of Manasarovar comes from the combination of two Sanskrit words. They are- "Manas," which means mind and "Sarovar," which means lake.
The water of the lake is famous for its holy and pure properties. It is said to have many disinfecting and magical healing properties too. Pilgrims after touring Kailash Parvat, come to this river for three main reasons-
To get rid of all their past sins and purify themselves.
They consider it to be a wish-granting lake. Thus, come here for wish fulfillment.
To get rid of mental and physical illness. The healing properties are said to bring good health. Thus, people take a dip in the lake to purify themselves and enhance their health.
The purity and crystal-clear water of this lake is a major attraction. Visitors can clearly see the deep bottom of the lake. The purity of water is as that of Sapphire stone.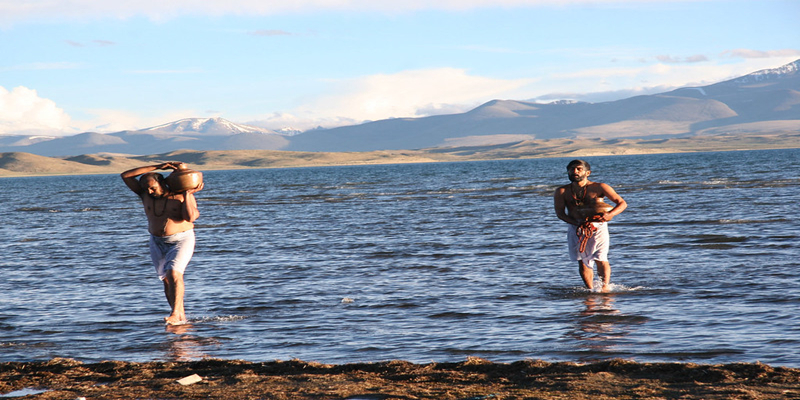 Pilgrims collect water from Lake Manasarovar
The fresh-water lake is also said to change its color. The sunlight beams directly reflect at the lake as the sun rises and sets. This phenomenon makes it possible for the color of the water to change continuously. 
The colors transform from shades of blue to green, making it a mesmerizing scene. In rare cases, you can also witness rainbow colors on the surface of the lake, which enriches the liveliness of the lake. 
If you can spare a night from your entire tour, then you should camp beside the lake. The shore of the lake is firm so it can support a tent. This mystical camping night stay will be one of the most soothing experiences in your life.
Trithapuri
This place is a well-known Buddhist pilgrimage located near Kailash. The hot water springs hold the utmost holy importance. Tourists and pilgrims without fail, visit this place after they finish trekking Mount Kailash.
Devotees believe that the hot springs' water has medicinal values that can cure physical illness. Tourists often dip their sore feet in hot water and relax after completing the long journey from Kailash to Manasarovar. This is an ideal opportunity to unwind and relax from the tiresome journey.
The view from nature's Holy hot springs is simply splendid. If you visit Mount Kailash, don't forget to take a dip in Trithapuri's water to get rid of fatigue.
Gauri Kund: The Lake Of Compassion
Another major attraction of the Mount Kailash Yatra is Gauri Kund. It is a popular spiritual site located at the edges of the Mandakini River. The clear water of Gauri Kund and the serene site of the Mandakini river flowing fills your heart with tranquility.
The lake holds great religious value to Hindus. It is the place where Goddess Parvati, also known as Gauri, paid her penance. She meditated and practiced yoga for several centuries until she won over Lord Shiva's heart.
There are many hotels situated around this place overlooking Gauri Kund. You can enjoy a comfortable stay at one of these hotels while visiting the lake. Be sure to request your travel agency to book you a hygienic hotel with tasty food.
What Is The Ideal Time For Mount Kailash Yatra?
The Tibetan mountains have unpredictable and irregular snowfall. The limited supply of oxygen, cold temperatures, and the rough terrain make it all the more difficult to visit this place. That's why to enjoy the entire trip; it is imperative to choose a particular time to go on this Yatra.
Kailash Mansarovar can be toured at any time during the months. However, the idealistic time for a Kailash Mansarovar Yatra would be- April to June or from September to October. April-June is the summer period, so; you will be able to witness clear blue skies, lush greenery and stunningly beautiful views. The weather will be pleasant on most days, and there are also high chances of rain.
Mid-September to mid-October is the starting of the winter period. A thick blanket of snow covers the terrain as far as the eye can see. This might hinder your sightseeing experience, travel transport, etc. There are chances that you may fall sick due to the cold. 
On an average day, the temperature reaches as high as 14°C and as low as -12°C. During the summer period, it varies around 16°C-21°C. During the winter period, it varies around 0°C to -4°C.
The average difference between the day and night temperature is around 14°C. The nights are much colder than the day.
High Altitude Sickness and How To Get Rid of it
Mount Kailash is located 22,000 feet above sea level. When a person goes for Kailash Mansarovar Yatra, they can experience high altitude sickness. This sickness is caused due to lower rates of oxygen at high altitudes.
Your body is used to working at certain amounts of oxygen. Therefore, the lack of oxygen supply can cause you physical distress.
Common symptoms of high-altitude sickness are:
Vomiting and nausea
Appetite loss
Severe headaches
Fatigue
Dizziness
Breath loss
Laziness
If you experience any of the above symptoms during the Kailash Mansarovar Yatra, you likely have high altitude sickness. To make yourself feel better you can do the following things.
Hydrate regularly
Don't trek for straight long hours
Avoid exercise
Don't drink alcohol
Eat fiber-rich foods
Carry portable oxygen cylinders
Vital Travel Permit Documents
Foreigners have to get several valid Travel permits for Kailash Mansarovar Yatra. They are-
Tibet Travel Permit or Tibet Visa- It is necessary to travel anywhere in Tibet.
Military Area Permit- Mount Kailash is a militarily sensitive area, and thus this permit is critically important.
Foreign Affairs Permit
Frontier's pass
Aline's Travel Permit- also called the PSB permit. China's Public Security Bureau issues this permit for 50 Chinese Yuan.
List Of Must-have Items For Kailash Mansarovar Yatra
It is human nature to forget things while packing for a trip. When packing up for the Yatra, you must remember to pack light. Due to high and irregular terrain, it becomes difficult to carry your luggage.
Especially if you're going to spend most of your time on foot, consider this as a must-have list, so you don't forget these essentials while packing.
A backpack- To carry all your essential personal items. You can carry this every day throughout the trek.
Clothes- Pack lightly. Only carry what's necessary. Mostly pack winter clothing.
Medicine-If you're on medications, then carry extras so that you don't run out.
Toiletries- Carry one of each: toothbrush, toothpaste, Shampoo, Soap, and towel.
Water bottle- Remember to hydrate yourself. Carry a water bottle and a thermos for hot water
Socks- Your feet are going to freeze in the cold, so carry extra pairs of woolen socks.
Shoes- Since you're going to walk and trek, carry trekking boots or sport shoes. They have a good grip and will keep you from slipping on the terrain.
Gloves and beanies- To protect your hand and ears from cold.
Moisturizes and lip balm- the dryness can crack your skin. Carry moisturizers, sunscreen, and lip balm.
Snacks- Dry snacks and power drinks to keep up your stamina. Canned food is also advisable.
Rainwear- Umbrella and Raincoat
Candles/flashlight/torchlight also carry extra sets of batteries.
To Sum Up
The few days you spend at the Kailash Mansarovar yatra will be an unforgettable experience for you. The trekking and walking to Mt Kailash may get tiring, but the view at the peak is worth it. Hurry up now and book your tickets before they sell out!
Related Articles
Ask a Quick Question Below? Or Call 0086-891-6679450
Email response within 0.5~24 hours.