How to Go to Kailash Mansarovar from Delhi?
How to Go to Kailash Mansarovar from Delhi?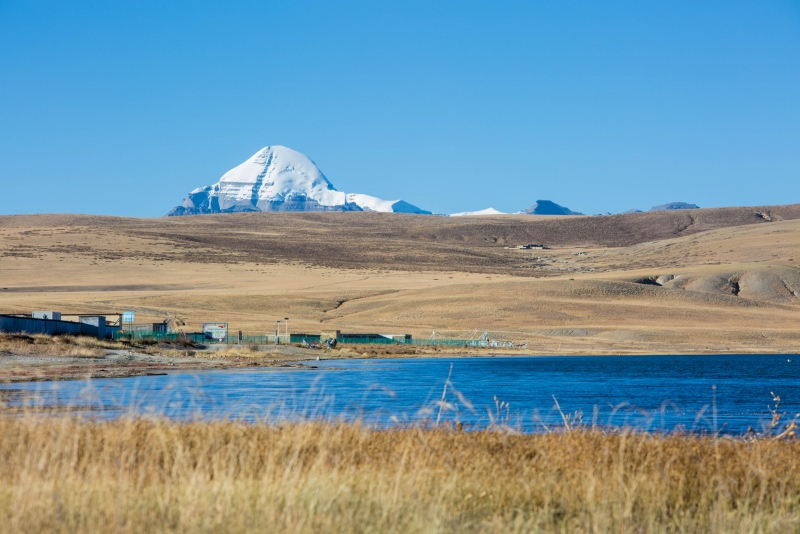 Indians, whether Buddhists or Hindus have a passion for Tibet. They are in a belief that Kailash is the centre of spiritual existence. Drinking and bathing in Lake Mansarovar, and doing a parikrama of Mount Kailash tend to bring good fortune to the worshippers. Therefore, going to Mount Kailash and Lake Mansarovar is an important pilgrimage route for Indians. According to the records in the Indian creation epic Ramayana and Tibetan historical books Gangdisi Sea Records and Puranas, people's worship of Kailash can be traced back to around 1000 BC.
The main peak of the Kailash range is located in Burang County, Ngari Prefecture, Tibet. As a world-recognized sacred mountain, Mount Kailash is not only the birthplace of the Ganges, Indus, and Yarlung Zangbo rivers, but also the "center of the world" recognized by Hinduism, Buddhism, Bon (Tibet's native religion), and ancient Jainism. Mount Kailash means "treasure of the snow mountain" or "snowy saint" in Tibetan. According to legends, it was the dojo of Buddha Sakyamuni and referred to as Mount Meru in Buddhism. In Hinduism, it is the residence of Lord Shiva, known as the "King of the sacred mountains".
Reach Kailash Mansarovar from Delhi
There're several ways to have a Kailash Mansarovar yatra from Delhi, including by flight, by road and by train.  Currently, you can't go to Tibet from India directly, so all passengers have to transit through Nepal(recommended) or mainland China.
Delhi to Kailash Mansarovar by Flight(distance: 1,385)
Although there's no direct flight from Delhi to Lhasa, you can still fly from Delhi Indira Gandhi International Airport to Kathmandu Tribhuvan International Airport, then transfer the flight to Lhasa Gonggar Airport, which is also the quickest and most convenient way. To fly to Nepal, Indian citizens must present a valid passport or Voter ID upon check-in and entry. The estimated distance from Delhi to Kathmandu is 813 kilometers, and the flight time is 1 hour and 27 minutes. The lowest price for a flight from Delhi to Kathmandu is INR 6,390, and the highest price is INR 16,546. From Kathmandu to Lhasa Gonggar Airport, the voyage is 572 kilometers, and the flight duration is about 1 hour and 25 minutes. The lowest price for a flight from Kathmandu to Lhasa is INR 23,479, and the highest price is INR 34,406. The ticket price depends on the season of your travel.
After arriving in Lhasa, you may join an overland tour to Kailash parvat. Usually the tour lasts 12~15 days and covers almost all prominent Buddhist attractions and natural scenery from Lhasa to Kailash. It will also gradually ascend altitude to lower the occurring of altitude sickness. And doing a parikrama is one of the most demanding and challenging trekking in the world. You need a professional team like us so that you can fully enjoy the spiritual journey. After going to Kailash Mansarovar, you can get to Kathmandu or Lhasa.
√  15 Days Mt.Everest & Mt.Kailash Kora Pilgrimage Group Tour
And of course, you can also opt to fly from Lhasa to Ngari Kunsha Airport, and the flight duration is 2 hours. The abrupt altitude change is likely to cause altitude sickness, so you are not suggested to fly from Lhasa to Ngari.
Delhi to Kailash Mansarovar by Road(distance: 2,003km)
Traveling by road is a popular choice for Indian travelers to get to Kailash Mountain for enjoying the scenery along the route. This is relatively easy as Indian citizens have unrestricted access to Nepal and its surrounding areas. You can take a bus from Delhi to Kathmandu first and it's a long journey. The road distance is about 1,150km and it takes approximately 26 hours. The bus fare varies between INR 2,499 to INR 3,200 according to the operators and bus type.
Then you can take a car from Kathmandu to Mt.Kailash. You will cross the Nepal-China border into Tibet via Gyirong Port and meet your tour guide and driver here on the first day, then continue proceeding with your long road journey to Kailash Mansarovar in the following two days. The distance in this section is 853km. Please note, there's no bus from Kathmandu to Mt.Kailash so you'd better join a group tour from Kathmandu. The group tour cost is INR 212,634 including accommodation, meals, all entrance fees, tour guide, vehicle, etc. from Kathamndu to Kailash then getting back to Kathmandu.
√ 14 Days Kailash Mansarovar Yatra by Road from Kathmandu
Delhi to Kailash Mansarovar by Train
Since there is no direct train from India to Tibet, you only can take a train from Delhi to Gorakhpur, including a Superfast Express. The railway distance between Delhi and Gorakhpur is around 822 kilometers. It takes 11 hours 40 minutes to 14 hours 30 minutes according to train numbers. And the ticket price varies from INR 215 to INR 2,785.
But there's no train between Nepal and Tibet and you need to transit several times. In fact, there're only two railways available in Nepal, both of which are close to the Indian border. And in the Tibet part, the Tibet train has not yet reached the Nepali border, but only stretched to Shigatse(500km away from the border), although Nepal-Tibet Train is already in the plan of construction.
So from Gorakhpur, to make it easy, you can take a bus to Kathmandu directly. The road distance is about 323km, which takes about 10 hours and 30 minutes. The ticket price is INR 1,899.
From Kathmandu, you can either take a flight or a car to Kailash Mansarovar as mentioned above.
Travel Documents
The Tibet Travel Permit is a necessary document for you to travel in Tibet. Even if you are not going to visit Lhasa, you still need this permit to enter Tibet. If you book a tour with us, we will use the scanned copy of your passport to apply for the necessary permits for you, which takes about 20 days.
Reach Tibet from Nepal
From Delhi to Nepal, it's relatively easy because Indian nationals can access Nepal and its surrounding areas by either a valid passport or voter ID. From Nepal to Tibet, you need a China group visa, which is issued by the Embassy of the People's Republic of China in Kathmandu. The visa application also requires an invitation letter from the Tibet Tourism Bureau, which can only be obtained by a Tibet travel agency. Please be noted that visa processing takes approximately 3 working days, so you should arrive in Kathmandu at least four days before the estimated departure date. The embassy does not accept individual applications, and your application list should have 5 or more people on it.
Reach Tibet from Mainland China
From Delhi to China, you need a Chinese tourist visa. You can get it at a Chinese Consulate near your city by filling in an application form. If the consulate staff ask you for more information, we will be happy to provide you with it.
Indian Pilgrims
For Indian nationals or Indian passport holders, the rules are a bit different. All Indian nationals who intend to visit Kailash Mountain and Manasarovar Lake will be classified as pilgrims, even if the trip is only for sightseeing. All Indian pilgrims must apply for the Tibet Travel Permit and China visa through the Foreign Affairs Office of the Tibet Autonomous Region. There are two operators that can handle the affairs of Indian pilgrimages in Tibet: the Foreign Affairs Office and the China-India Pilgrim Service Center (CIPSC). These two organizations are responsible for organizing the Indian pilgrimage, including accommodation, transportation, itinerary, tour guide, yak, etc. Other organizations and institutions are not allowed to receive Indian pilgrims. Please get in touch with us for free consultancy.
Conclusion
The expedition to Mount Kailash and Lake Mansarovar will definitely be a spiritual journey. For travelers, this trip allows them to fully appreciate the fascinating scenery and mysterious culture of Tibet. For Hindu pilgrims, Kailash Manasarovar Yatra can help them get cleaned from lifetime sins. In order to make the most of the trip, please plan a travel time of at least a few weeks so that there is enough time to get familiar with the cultural spots. In addition, please be sure to hire a professional Tibet travel agency to organize your Kailash Manasarovar Yatra for a high-level experience.
Related Articles
Ask a Quick Question Below?
Email response within 0.5~24 hours.