Tibet Visa for Indian
Tibet is one of the most attractive and popular tourist destinations for Indians, especially Kailash Mansarovar Yatra in Ngari, which is the sacred dream journey of many Indian pilgrims. Then the most important thing for Indian citizens or passport holders to travel to Tibet is to obtain a Tibet visa. Depending on the destination, the requirements of the Tibet visa are different for Indian passport holders. Generally, Indian tourists to Tibet are divided into ordinary Indian tourists, Indian pilgrims and American Indians.
Type One: Ordinary Indian citizens travel to Tibet, except for the Ngari area (Mount Kailash). It's very easy to obtain a Tibet visa and the process is like ordinary foreign tourists from all over the world. You can book with a Tibet Travel Agency directly.
Type Two: Indian pilgrims traveling to the Ngari area(Mount Kailash). As long as Indian travelers going to the Ngari region, no matter for religious purposes or not, they will be regarded as pilgrims.
Type Three: Indians with a US passport or other passport, even if you are going to Mount Kailash, you will not be considered a pilgrim.
What is Tibet Visa?
Tibet Visa is an approval letter for foreign tourists traveling to Tibet, also known as Tibet Travel Permit and Tibet Entry Permit. For international tourists, before entering Tibet for tourism, you must apply for a Tibet Travel Permit issued by the Tourism Bureau of Tibet Autonomous Region (TTB). It's an essential travel permit for international tourists entering Tibet.
The tourism bureau of Tibet Autonomous Region stipulates that it's free to apply for entry to Tibet but it can only be handled by the local travel agency in Tibet, instead of individuals. According to where you go, the application time of getting your Tibet Travel Permit is different. If you just visit Lhasa and the surroundings, an essential Tibet Travel Permit is enough, which takes about a week. While, if you are going to Nyingchi or Shigatse, Aline's travel permit is required, which needs 10 working days. If you are going to Ngari, you need a Military permit in addition to the above documents, which takes 30 days.
Once you book your Tibet Tour, your travel agency will take care of everything for you. Great Tibet Tour is a reputable Tibet Travel Agency, we can guarantee your Tibet Travel Permit if you sign up with us.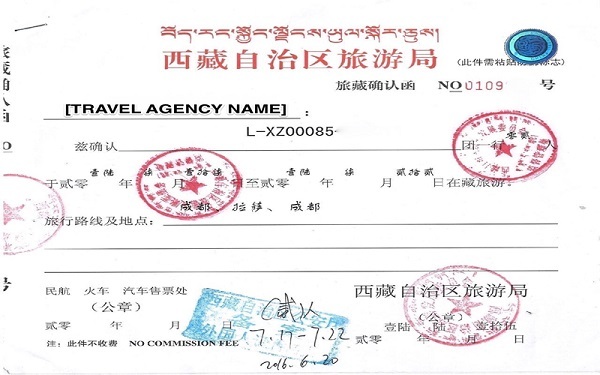 How to Apply for Tibet Visa for Indian Citizens?
If you are an ordinary Indian tourist and plan to visit Tibet without going to the Ngari area, we can handle your Tibet Visa. Please email us the photocopy of your passport and Chinese visa and your photo at least 20 days in advance.
Normally, your Tibet visa will take 7 to 10 working days to process, and then we will deliver it to your hotel by the courier before you take the Tibet train or fly to Lhasa.
How do Indian travelers get to Tibet?
For many Indian tourists, a highly recommended travel route is to fly directly from Delhi to Kathmandu, and then travel from Kathmandu to Lhasa by land to experience the classic 8-day Kathmandu to Lhasa overland tour or fly from Kathmandu to Lhasa to enjoy the 8-day Lhasa Everest tour.
Sidenote: If you enter Tibet from Kathmandu, please arrive in Kathmandu at least 3 days earlier and give your original passport to our partner in Kathmandu to apply for your Chinese group visa. Chinese group visa is a particular type of visa issued to a tourist who entering China from Nepal. It's issued by the Chinese Consulate in Kathmandu for single entry only but you can stay in China and Tibet for 30 days. After our partner gets your group visa, he will hand it to you together with your original passport at your hotel in Kathmandu.
Meanwhile, we can obtain your Tibet Travel Permit in Tibet. As it's the official government document, we can't post it overseas. After you cross the Gyirong Port or arrive at Lhasa Gonngar Airport, your tour guide will hand it to you.
Alternatively, you can also fly from Delhi to Chengdu, Beijing, Shanghai, Guangzhou, Xining, and other mainland Chinese cities, and then take the highest altitude Tibet train in the world or fly to Lhasa.
The most popular route for ordinary Indians Citizens
√ 8 Days Kathmandu Gyirong Lhasa Overland Group Tour
√ 8 Days Lhasa to Everest Group Tour
√ 5 Days Lhasa to Yamtroktso Lake Tour
How to Apply for Tibet Visa for Indian Pilgrims?
As long as Indian travelers want to make a pilgrimage to Mount Kailash and Manasarovar Lake or pass through the Nagri area, even if they are not for religious purposes, they will be considered pilgrims. The pilgrimage permit to Tibet needs to be jointly issued by the Tibet Autonomous Region Foreign Affairs Office, the Tibet Military Region, the Tibet Border Guard Corps of the Armed Police, and the Ministry of Public Security of the Tibet Autonomous Region.
Currently, only two organizations can authorize tourists of Indian nationality to visit Ali. One is the Foreign Affairs Office of Tibet Autonomous Region (governmental) and the other is Pilgrimage Center (non-governmental). Other organizations and travel agencies in Tibet are not allowed to arrange pilgrims. But Indian pilgrims can take a Kailash yatra through Nepali and Indian travel agencies, which are authorized partners of the Pilgrim Center and the Tibet Autonomous Region Foreign Affairs Office. They can arrange pilgrimage activities (accommodation, transportation, itinerary, tour guide, yak, etc.) for Indians going to the Kailash mountain area. Currently, due to the monopoly situation, the cost of a pilgrimage is much higher than other ordinary trips to Tibet. Please contact us for a free consultation. Our professional Tibet travel consultants will work with you to customize your pilgrim trip and save costs.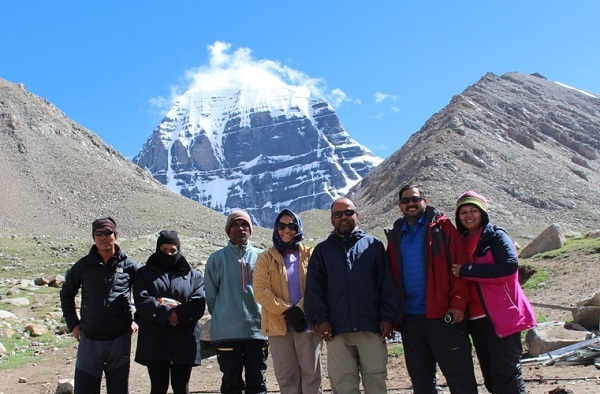 How do Indian pilgrims get to Kailash Manasarovar?
The shortest route is to fly from New Delhi or other cities of India to Kathmandu, then pass through the Gyirong port on the China-Nepal border and head northwest to Saga town to adapt to the high altitude environment, then continue to Zhongba, Payang Town, Manasarovar Lake, and Darchen, and finally reach Kailash Mountain.
However, for many Indian pilgrims, the most popular pilgrimage is to take connecting flights from Delhi to Lhasa. Then, you start your Mount Kailash yatra from Lhasa. In this way, you have enough time to adapt to the altitude in Tibet before moving forward to higher altitude areas like Mount Everest and Kailash.
The most popular route for Indians Pilgrims
√ 14 Days Kailash Mansarovar Yatra by Road from Kathmandu
√ 10 Days Kailash Mansarovar Yatra by Helicopter from Lucknow
√ 12 Days Kailash Mansarovar Yatra by Helicopter from Kathmandu
How to Apply for Tibet Visa for Indians with US Passport?
For people of Indian origin holding a U.S. passport or other passport, even if you are going to visit Mount Kailash, you will not be considered a pilgrim. Therefore, you can easily get a Tibet Visa through a Tibet travel agency to enter Tibet. The application procedure for the Tibet Entry Permit will be the same as above.
Conclusion
All in all, if you hold an Indian passport, except for Ngari, you will get a Tibet visa and travel like other international travelers. If you plan to visit Ngari, you will be considered a pilgrim. And your Tibet Visa needs to be verified and issued jointly by the Foreign Affairs Office of TAR, Tibet Military Region, Border Guard Corps of the Armed Police and the Department of Public Security of TAR. If you have a passport from the United States or other countries, even if you go to Ngari, you will be treated as a normal tourist to get a Tibet visa smoothly.
If you have more questions about Tibet visa or Tibet travel, please feel free to leave us a message or send us an inquiry for a free consultation.
Related Articles
Ask a Quick Question Below?
Email response within 0.5~24 hours.