Ultimate Guide about Teahouse Trekking in Nepal
Ultimate Guide about Teahouse Trekking in Nepal
by Ghita
Last Updated: 2023-06-29
Located at the southern foot of the Himalayas, Nepal is one of the most scenic countries in the world and the country with the second-largest altitude difference on earth. Along the foothills of the Himalayas, the topography of different levels has a quite different landscape. From the Tara Plain, 100 meters below sea level, to the Kathmandu Valley at 1,300 meters, to the 8 snow-capped mountains above 8,000 meters, to Mount Everest, the top of the world, every quick flash of a shot will be undoubtedly a feast of vision.
Nepal is known as a paradise for hikers, and there are various routes suitable for different people. Nepal now has at least dozens of mature trekking routes, from entry-level to the toughest, you can easily choose the route that suits you. In this travel guide, you will read a detailed introduction to all aspects of teahouse trekking in Nepal including best time, routes, costs, etc.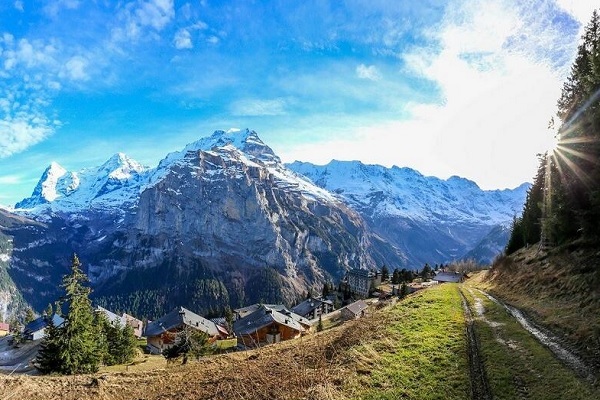 Best Time for Trekking in Nepal
Autumn (September to November)
The best time of the year for Nepalese trekking is from Mid September to Mid November. The air is clear, the sky is blue, and the temperature is pleasant. One thing to note, the hotel is often overcrowded during the peak season. Please book in advance.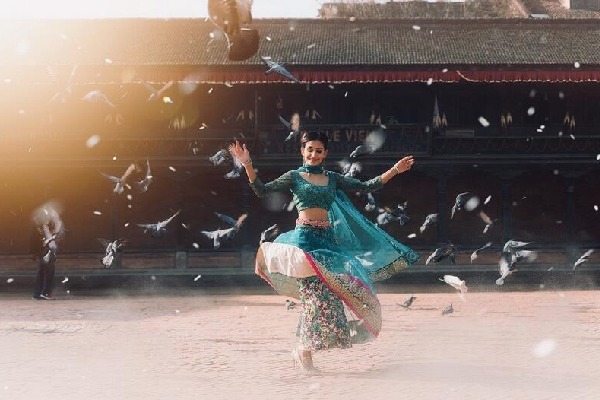 Spring (March to May)
Mid-March, April, and May is the second-best time for trekking in Nepal. The weather is suitable. The road condition is much better than in the late winter. And the scenery is breathtaking. In March, the rape blossoms bloom first on the hillside. The endless golden color and the snow-capped mountains complemented each other, which was extremely magnificent. Then, the cherry blossoms in the Annapurna Mountains are in full bloom, and the petals fall on the mountain path as if it is a fairy tale world. In late April and May, the alpine azaleas under the snow-capped mountains bloom everywhere.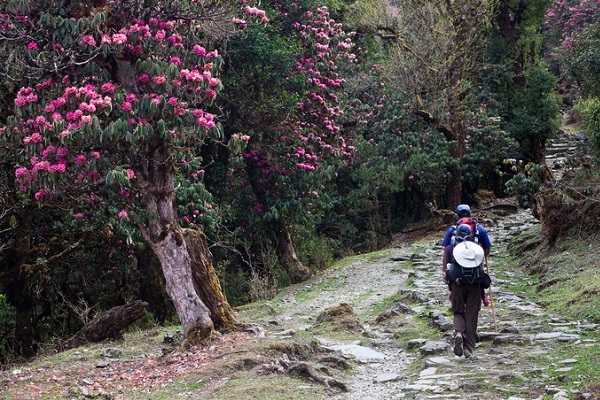 Deciduous Season (November to January)
From mid-November to mid-January is one of the best times trekking in Nepal recommended by Lonely Planet. The temperature is getting colder but it is acceptable, and the number of hikers is greatly reduced. Trekking in Nepal in December, you need to prepare equipment for hiking on snowy trails and winter clothes because the snow starts to accumulate in this month. You are likely to encounter heavy snow and extremely low temperatures, which may reach minus 10-20 degrees at night. In addition, lodges in some remote places will shut down, and a large number of hotels in big places will also be closed. When making reservations, you'd better avoid staying in small places.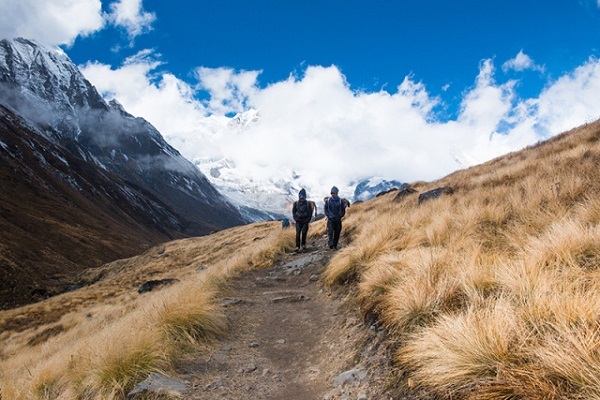 Winter (January to March)
Winter is the off-season. The area above 3000 meters is covered with snow. Trekking in Nepal in January is more difficult than every other time. The temperature will be below -10 degrees at night even in the hotel. It is very difficult to watch the sunrise and sunset because it could be below -30 degrees and windy on the viewing platform. Be sure to bring a super thick down jacket.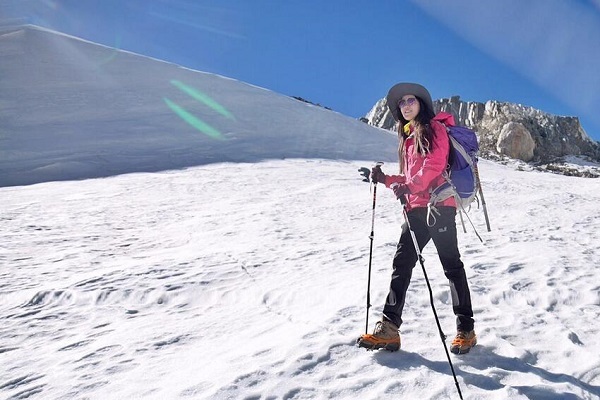 Summer (June to September)
From mid-June to mid-September is the offseason too. Rainfall from mid-July to mid-September accounts for 2/3 of the entire year. Generally, it is sunny in the morning and rainy in the afternoon. Trekking in Nepal in July and August isn't that great, but the scenery after raining is a kind of misty beauty. Snow-capped mountains are surrounded by clouds. By the way, summer is a good time for family trips.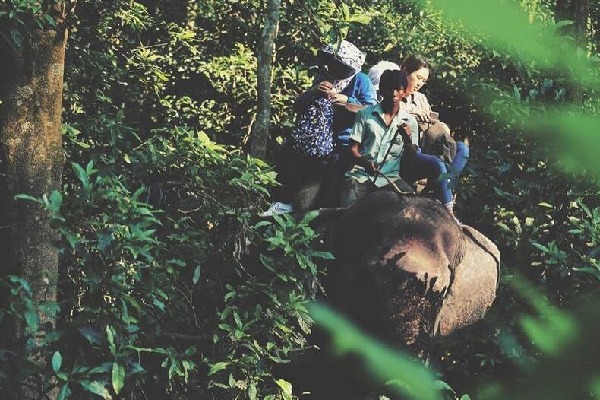 Altitude Sickness
Nepal has a large altitude variation, ranking second in the world. But tourists rarely have altitude sickness when trekking in Nepal. It usually starts at an altitude of more than 1,000 meters, then, reaches an altitude of more than 3,000 to 4,000 meters after three days. Your body can gradually adapt to the high altitude.
Some high-altitude routes are prone to altitude sicknesses, such as EBC, ACT, and Manaslu. To acclimatize to the altitude, it is recommended to take one or two days of rest during trekking. Do not ascend by more than 400M every day when the altitude reaches more than 3,000 meters, as it is more likely to have altitude sickness.
Please note that hiking is not a competition. Slow down and enjoy the fun of hiking, rather than bragging about how short the time it takes to complete hikes.
Tips:
Elevation of various places - Kathmandu: 1300 meters Pokhara: 800 meters Chitwan: 150 meters Nagarkot: 2000 meters
Popular Nepal Teahouse Treks
"Tea house trekking" refers to staying in a lodge or mountain hut every night during trekking. In general, the "Teahouses" refers to the small mountain lodges distributed in popular trails such as Everest Based trekking where you can take a short rest to meet other travelers, eat a home-cooked meal, warm your toes by the fire, and bed down for the night. The accommodation conditions of teahouses are usually simple but very affordable. The snacks, drinks, hot waters, as well as wifi, are available in those small teahouses. Nepalese trekking is mostly tea house trekking. No trekking tour anywhere else can compare with such a journey, from one teahouse to the next. Below are 8 popular Nepal teahouse trekking routes, as well as tours.
1. Poon Hill Trek
Poon Hill (3000 meters/10,531 feet) trek is a short hike, 4-5 days. It is very easy to see the Annapurna Mountains and the sunrise from a distance. It is suitable for tourists that trekking in Nepal for the first time and touring with a family. Even people who are prone to altitude sickness can join in this hike. The booking cost through a travel agency is around 700USD per person.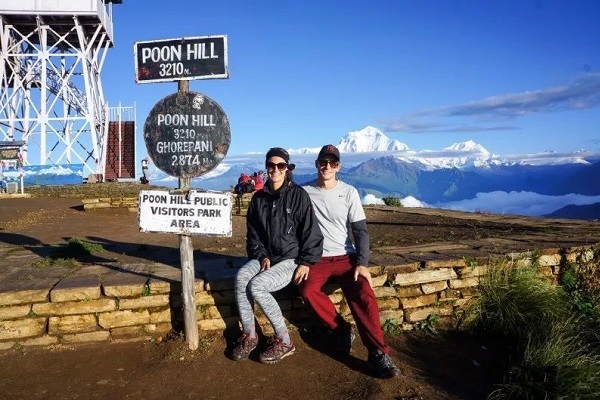 √ 12 Days Nepal Cultural and Soft Adventure Trek
2. Annapurna Base Camp (ABC)
Annapurna Base Camp (4130 meters/13,550 feet) trek is one of the favorite trekking routes in Nepal. This trek takes 7-10 days. It is of medium difficulty but has rich scenery. You can see Annapurna Peak up close, and see Nepal holy Fishtail Mountain opposite it. The facilities along the trekking trail are relatively complete. There are lodges about every two hours' walking distance. This trek is suitable for climbers that are inexperienced, medium physical strength, or lack of time. The booking cost through a travel agency is about 800USD~1200USD.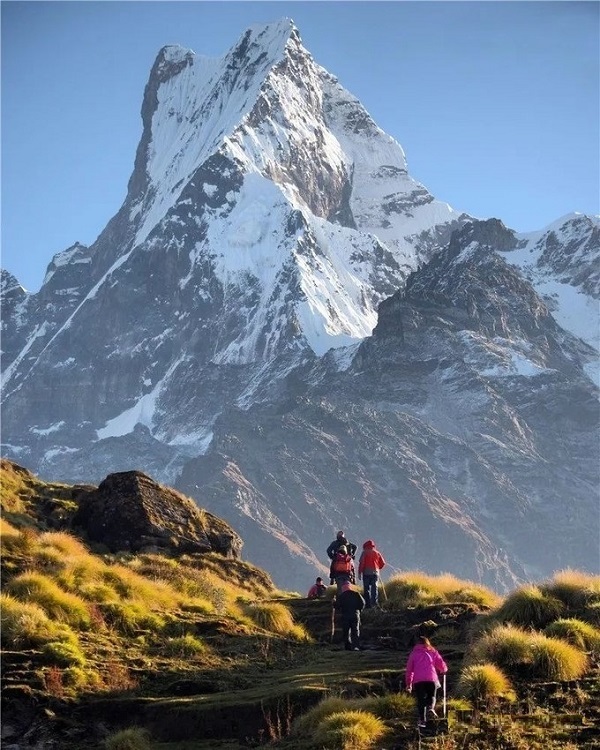 √ 11 Days Annapurna Base Camp Trek
3. Annapurna Circuit Trek (ACT)
Annapurna Circuit Trek is one of the world's top trekking routes, lasting 12-16 days. You will circle the entire Annapurna Mountains region and enjoy various peaks' magnificent views in 360 degrees. You get a chance to experience different religious cultures, from Hinduism to Tibetan Buddhism. The booking cost through a travel agency is about 800USD~1000USD.
√ 16 Days Annapurna Circuit Trek
4. Nepal Everest Base Camp (EBC) Trek
Nepal EBC (5,364 meters/17,598 feet) trek takes about 15 days. You can get close to Mount Everest, the top of the world. It is popular with many mountaineering enthusiasts too, because climbers can also trek to many 6,000-meter-level snow mountains next to Mount Everest. The Everest Base Camp trek cost is about 1400USD ~ 1700USD per person.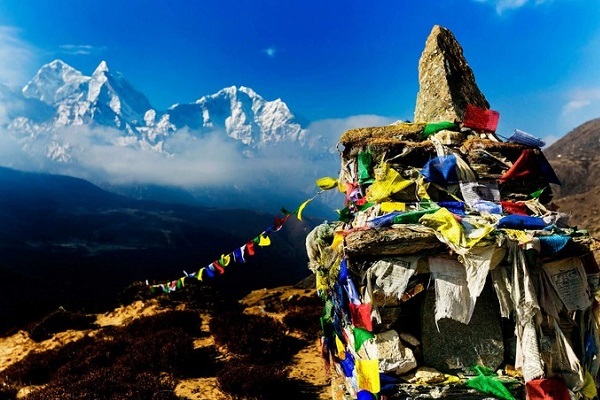 √ 16 Days Everest Base Camp Trek
5. Upper Mustang Trek
Upper Mustang (average 2,500 meters) trek takes 10-12 days and is for adventure lovers. Upper Mustang was the seat of the ancient Kingdom of Lo and it borders Tibet. It preserves the most complete traditional Tibetan culture. Hiking in high altitude areas above 4000 meters, you can see the magnificent plateau scenery similar to Tibet's Ngari. Upper Mustang Trek belongs to niche high-end hiking routes. The trek cost is about 1785USD to 3500USD per person through a travel agency.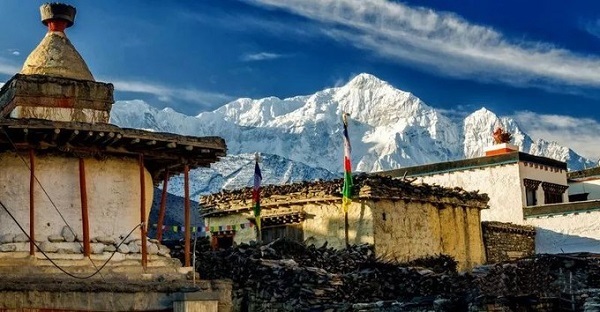 6. Langtang Trek
Langtang Trek is the nearest one to Kathmandu. Langtang National Park is 51 kilometers north of the Kathmandu Valley. You can enjoy the beautiful valley scenery and experience the culture of ancient villages. This trek takes 7-9 days. The altitude variation is up to 2,600 meters. The trek cost is about 500USD~900USD per person.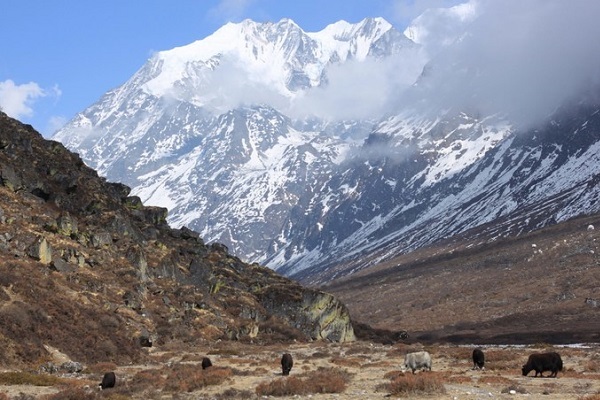 7. Mardi Himal Trek
Mardi Himal (5,587 meters/18,330 feet) Trek actually refers to Mardi Himal Base Camp trek. This is a small and low-key trek. It allows you a quiet self-cultivation, away from popular trekking routes. It takes 10 days. The trek cost is about 500USD - 700USD per person.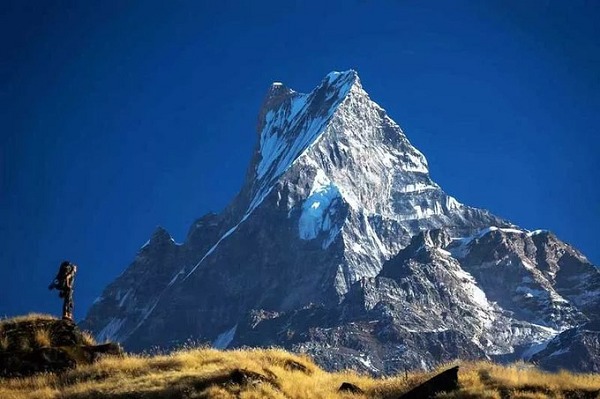 8. Manaslu Circuit Trek
Manaslu trek provides you a view of the world's 14th highest peak and panoramic snowy mountains. Manaslu Circuit Trek takes 16-18 days. The trek cost is about 1600USD ~ 2000USD.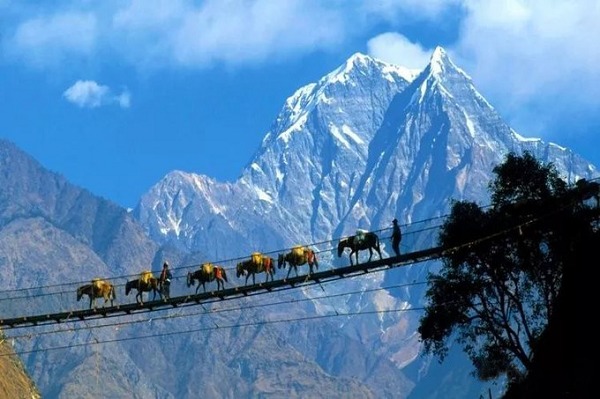 Nepal Tour Guide and Porter
You can be a backpacker or book a tour with a travel agency when trekking in Nepal. To hire Nepal tour guides and porters through a travel agency is more reliable. These tour guides and porters can provide cost-effective services to save you from the pain of carrying heavy backpacks at high altitudes and also help you with tedious matters such as mountain entry permits along the way. You don't have to worry about logistical problems, you will not risk getting lost, and if an emergency occurs, you will be well taken care of.
The cost of hiring a Nepal tour guide ranges from 30USD up to 60USD per day. Porters 15USD per day, the tip is generally 10% of the total cost. You can totally tip them at the end of the service.
Below are some treks' guide and porter fee,
Annapurna Base Camp Trek - the cost of a guide is 20USD to 30USD per day and porter is 15USD to 20USD per day respectively.
Nepal Everest Base Camp Trek – the guide cost is 30–40USD per day and Porter gets 10-20USD per day.
Manaslu Circuit Trek – 20-25USD per day for a professional guide. 15-20USD per day for a porter.
Nepal Visa and Permit
Nepal Visa
Nepal visa on arrival is easy to obtain for citizens of almost all countries except for a few countries or regions such as Afghanistan and Somalia. Nepal visa application at the airport is a very easy procedure. So when you travel to Nepal, you don't need to worry about being denied a visa. There are three types of tourist visas for Nepal, which are divided into 15 days, 30 days, and 90 days according to the length of stay. The corresponding Nepal visa fees are 25USD, 40USD, and 100USD.
>> Read more about How to get a Nepal Visa
Mountain Entry Permit
To apply for a mountain entry permit, the travel agency can do it for you, and you need to bring a copy of your passport and a 2-inch photo with white background. The entry permit fee is around 2,000 rupees per person. Here is the Entry permit fee list,
Annapurna Conservation Area: 28USD (NRs. 2800)
Sagarmatha National Park: 40USD (NRs. 4000)
Langtang National Park: 40USD (NRs. 4000)
Manaslu Conservation Area: 28USD (NRs. 2800)
Other
A special climbing permit for trekking at 5,650 – 6,500 meters, the cost is 350USD for 1-4 members.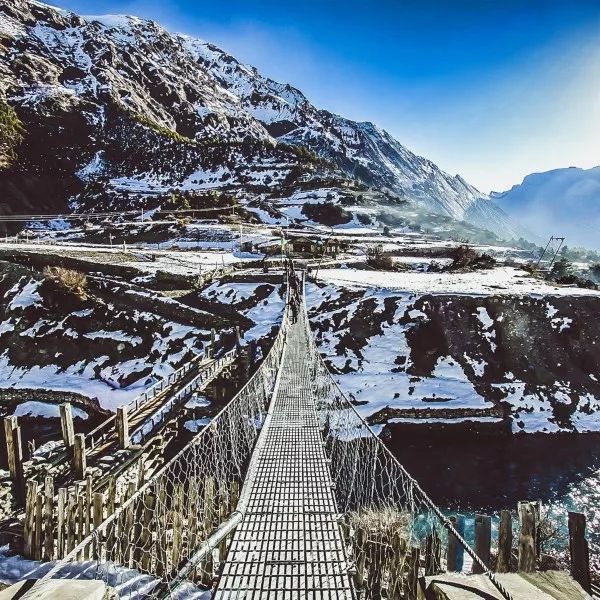 Accommodation and Food
The accommodation is in teahouses during trekking in Nepal. In general, the higher altitude, the simpler facility. The accommodation fee is reasonable and its service is good. In most mountain lodges, hot water is available for a shower except for the extremely high altitude places. Teahouse's fee is generally 5USD/night. Some luxury lodges offer a higher standard of comfort and cost around 100USD to 300USD per night.
The food here is mainly in Indian style, and the mainstream is all kinds of curry with rice. The Nepalese food, Dal Bhat is served in every teahouse. You can refill rice and vegetables when they are not enough. (ps: To quickly blend into Nepal teahouse culture, learn this sentence "Dal Bhat Power 24 Hour!!"). Of course, as a popular international hiking destination, various foods can be easily found on the menu, such as pasta, toast, French fries, Shin Ramyun, fried rice, pizza, etc. Each meal is about 2~10USD.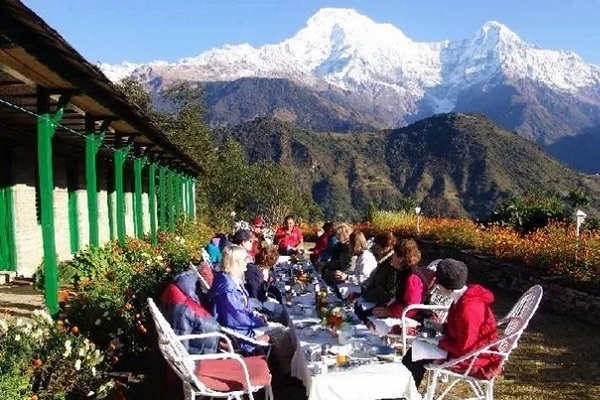 Nepal Currency Exchange
Nepal currency is the Nepalese rupee (RS). US dollar, Euro, Chinese Yuan, and other foreign currencies can be exchanged at the airport, Nepal banks, and money exchangers. Debit cards can be withdrawn at ATMs. Some restaurants and hotels accept US dollars and credit cards. It is easier to get a good exchange rate in Kathmandu Thamel District. Nepal rupee is the only currency during hiking in the remote mountains.
Tips:
Upon arrival at the airport, you can exchange for a small amount of Nepalese rupees to prepare for taxi and baggage tips (the exchange rate for USD is the best value). You can then exchange for Nepalese rupees at Kathmandu Bank or exchange points later.
>>Read more about Nepal Currency
Some Frequently Asked Questions
Do I need to bring my own sleeping bag?
Yes, although most lodges have blankets to keep warm, you may want a light sleeping bag to use with the blanket in the warm season. In cold weather, you will want a thick sleeping bag. You can bring your own sleeping bag from home, or rent one in Kathmandu.
When does the long trail hiking start?
Your long trail hiking starts on the date that suits you best, given that all treks organized by our travel agency are tailored to your travel dates. Usually, you need to stay in Kathmandu for at least 1-2 days before the trek so that the travel agency has time to apply for the necessary Nepal trekking permits.
Where can I store my luggage during a trek?
You can leave your luggage at your hotel in Kathmandu.
What trekking equipment should I bring from home?
It is especially recommended to bring your own trekking boots. Worn trekking boots can avoid any potential problems for buying new shoes. You can buy everything else in Kathmandu you need for hiking, from down jackets to water bottles. There are a variety of genuine brand-name shops, and there are many counterfeit products but good quality to choose from.
What kind of trekking boots do I need?
You should bring a pair of comfortable trekking boots, strong and durable. It should have a thick sole, preferably made of durable material and it should protect your ankle. Especially when passing high altitudes, there may be some snow, so it is good to be prepared for various conditions. In any outdoor-gear store, there are a variety of boots' styles to choose from, so you can decide for yourself which is more comfortable.
How long do we hike every day?
Trekking in Nepal requires 4-6 hours of walking each day. When the trek starts at 8 in the morning and ends at 4-5 in the afternoon, it is not very hard because you will stop for lunch during the period. The higher your altitude (especially in the Everest region), the shorter your trekking time will be to ensure that you do not rise too quickly which can cause altitude sickness.
Do I have to carry the backpack by myself?
No, your porter will carry most of your equipment, such as clothes and overnight necessities. You may carry some daily necessities like your sunscreen, water, hat, light jacket, and camera. Hiring a porter is a good way to support the local economy, and it is also very affordable. The porter is especially helpful for long trail hiking. For a shorter itinerary (2-3 days), you might carry the backpacks by yourself.
How much can a porter carry?
Porters can usually carry max. 30 kg. If you have more than 30 kg, Please put the extra weight in your daily backpack. Make sure they are not overloaded. It is best to carry these fragile items, such as a camera by yourself. Generally, every two hikers share a porter, and the cost can be shared.
What if I get sick during the long trail hiking in Nepal?
If you get sick during a long journey, our tour guide will take various actions depending on what goes wrong. If it is altitude sickness, moving down to lower altitude areas and taking altitude medication can solve most cases. If you're sick very serious, a helicopter emergency rescue is applicable (some travel insurance includes helicopter emergency rescue). If you have stomach problems or other types of food or water-related diseases, our tour guide has medicines for the most common diseases.
When can I meet my trekking tour guide?
Usually, your guide will pick you up at the airport. You will get a complete briefing on the trek. You can ask questions and get all the trekking information you need.
Related Articles
Ask a Quick Question Below?
Email response within 0.5~24 hours.