Travel From Kathmandu to Everest Base Camp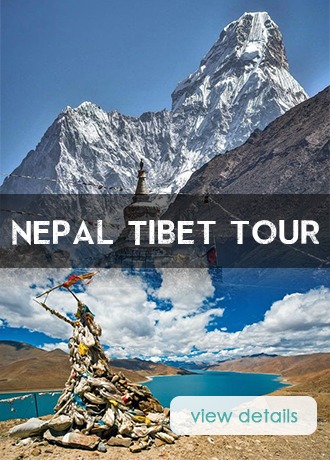 Travel From Kathmandu to Everest Base Camp
Mount Everest is also known as Qomolangma in Tibetan but Sagarmatha in Nepali. It is the world's highest peak at 8,848 meters. To see this world's highest peak with your own eyes is probably the dream of all mountaineers and adventurers. But for general travelers, climbing Mount Everest is a very difficult task, which requires a lot of mountaineering practice and experience accumulation, and the cost of climbing Mount Everest is not low, so if you are not a professional mountaineer, go to the Everest Base Camp (referred to as EBC) to appreciate the Everest is a very good choice.
Mount Everest belongs to the Himalayas, which is located on the border between China and Nepal. Two Everest base camps were built respectively on the north and south sides of Mount Everest. The EBC of Nepal is located in Sagamartha National Park, at an elevation of 5,545 meters, and the EBC of Tibet is located in Tingri County of Tibet, China, at an elevation of 5,200 meters. Usually, people fly to Nepal's capital - Kathmandu, or Lhasa, China, from where they start their Mount Everest Base Camp tours. This article will focus on how to travel to EBC from Kathmandu, including route planning, itinerary, beautiful scenery along the way, packing list, and budget.
Travel from Kathmandu to EBC in Nepal
For travelers who are going to visit the EBC in Nepal from Kathmandu, usually, it takes 15 days. However, for travelers with a tight time schedule, they can also enjoy the snowy mountain peaks in a day.
Option I - Fly to Lukla Then Trek to EBC
From Kathmandu, take a propeller-driven plane or helicopter to Lukla, at 2,823 meters, and then from Lukla, after a 6-7 day hike, you can finally get to the Nepal base camp. This hiking route has a total length of 130 kilometers and a maximum altitude of 5,634 meters. The commonly mentioned EBC trekking in Nepal is a round-trip route wi Gorek Shep as the destination. It is a very accessible and popular hiking route and has always been one of the most popular hiking routes in the Himalayas.
Classical Tea House Trekking Route
You will be shocked by the towering snow mountains of the Himalayas, the magnificent glaciers, and the rich cultural landscape. This route is a classic tea house trekking route. There are villages or rest stations every 1 or 2 hours along the way, so it is not too difficult to carry food and camping facilities yourself. The difficulty of this route is high altitude as the second half of the route is to hike and stay above 4000 meters. And there will be a few days of hiking and staying above 5000 meters. The ability to adapt to altitude is a challenge.
En route, it offers views of nine 7000-8000 meters mountains, including Mount Everest, Lhotse (8,516 meters, the 4th in the world), Makalu (8,463 meters, 5th in the world), Cho Oyu (8,201 m, the 6th in the world), etc. So during your trekking, you will be surrounded by snowy mountains, it's very spectacular!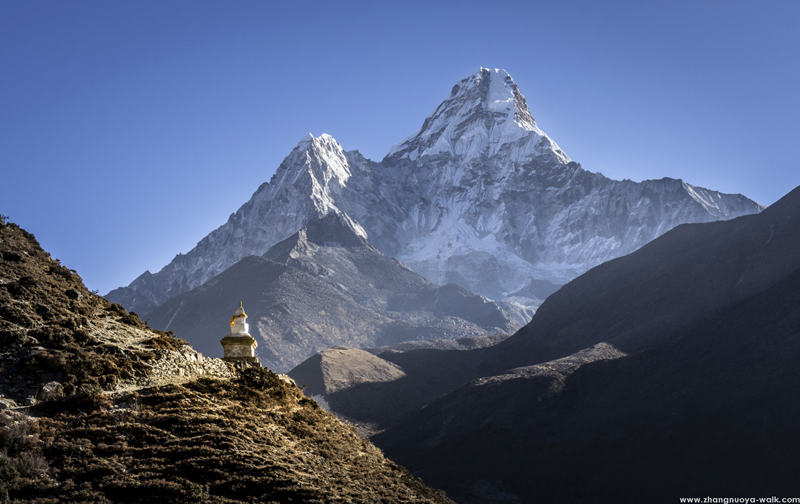 16-Day Nepal Everest Base Camp Trekking Tour Overview
Day 01: Arrival in Kathmandu - The city of arts and architecture
Day 02: Kathmandu Sightseeing
Day 03: Drive to Manthali, then Fly to Lukla & Trek to Phakding [2652m] |3hrs|
Day 04: Phakding to Namche [3440m] Major Trading Village|6hrs|
Day 05: Rest Day in Namchebazar [3440m] | Acclimatization | Namche Exploration
Day 06: Namche to Tengboche [3867m] A legendary monastery | 5-6hrs |
Day 07: Tengboche to Dingboche [4400m] a beautiful mountain river, Imjakhola|5-6hrs|
Day 08: Rest Day in Dingboche [4400m] | Dingboche Exploration |
Day 09: Dingboche to Lobuche[4900m]Memorial Stupas dedicated to the climbers and trekkers|6-7hrs|
Day 10: Lobuche to Gorak Shep[5180m]|Fiery & glorious sunrise view from Kala Patthar|5-6hrs|
Day 11: Gorak Shep to Everest Base Camp [5364m] & Back to Gorakshep| the trail weaves its way through ice pinnacles and crevasses of the Khumbu Glacier | 7-8hrs |
Day 12: Gorak shep to Pheriche [4200m] |Walking down steep hills through Imja River| 5-6hrs |
Day 13: Pheriche to Namchebazar[3440m]Mountain goats, pheasants, and birds on the way|6-7hrs|
Day 14: Namche Bazar to Lukla [2860m] Walking on the suspension bridges..|6hrs|
Day 15: Fly From Lukla to Kathmandu | 40mins | Celebration for accomplishments|
Day 16: Final departure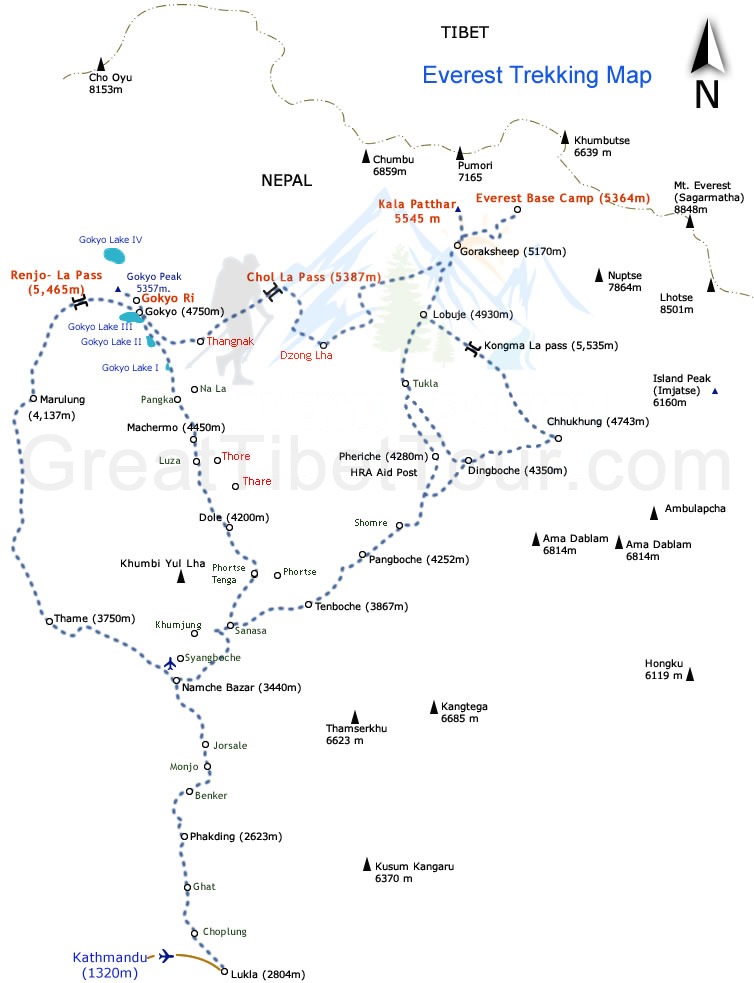 Peak Season is the Best Time to Travel to EBC
Peak season: September ~ November & March ~ Mid April
Off-season: May ~ August & December ~ February
During the low season, some hotels may close and have no wifi. In summer (monsoon season), clouds surround the mountain and rain is abundant. In winter, the road to the mountain can be blocked at any time. >> Read more about the best time to visit Nepal
Preparation
Because the EBC journey is at a high altitude, at least 6 days stay at more than 4,000 meters above sea level, so, if you are not a very professional mountaineering expert, joining the trekking tour led by an experienced guide is really important!
Prevention of altitude sickness: Acetazolamide(Diamox) is a prophylactic drug. Take 125-250mg Acetazolamide(Diamox) once in the morning and once in the evening. Ibuprofen has a slight relief. The best way to prevent this is to drink more water, ensure sleep, pay attention to adapt to the altitude along the way, and add a few rest days. >> Read more about how to deal with altitude sickness
Packing list: thick socks, gloves, slippers, down jacket, vacuum cup, stove, emergency medicine, wet paper towels, sunscreen, sun hat, bags, ebook/map, sticks, sleeping bags, camera, charger, backup battery, and so on.
Budget: around $150 per day. Expenses include trekking permits, air tickets (currently around 350 US dollars for round-trip tickets between Kathmandu and Lukla), daily necessities, the cost of guides and backpackers, accommodation, and so on.
Guide/Porter: Not a must, but a good English guide is key to Nepalese culture. Most travel packages include porter fees. Many tea restaurants offer Sherpas guide services. It is recommended to hire at least one porter if you are older, without hiking experience or prone to high altitude sickness. Please note, an extra 15% as the tip should be added based on the service fee.
Nepali Visa: There are three types of tourist visas to Nepal, which are divided into 15 days, 30 days, and 90 days according to the length of stay. The corresponding visa fees are 25, 40, and 100 US dollars. >>Read more about Nepali Visa
Travel services: Generally, hotels in Kathmandu are linked to all travel services, including buying air tickets/contacting travel companies/finding guides, etc., but the prices may be slightly higher.
Option II - Fly to EBC from Kathmandu by Helicopter
A direct helicopter flight from Kathmandu to EBC takes only about two hours (including helicopter refueling at Lukla and waiting at Pheriche), but the price is expensive, costing around $4,500 for a six-person charter flight during peak season.
Travel from Kathmandu to EBC in Tibet
Visitors who want to visit the EBC on the north part of Mt.Everest can get to Tibet by air or road and then join a tour. It is said that the train between Tibet and Nepal will open within five years, which is bound to provide more choices for passengers.
Fly from Kathmandu to Lhasa, then drive to EBC
There are direct flights between Kathmandu and Lhasa, the capital of Tibet, which last for 2 hours. There are two flights every day in peak season and one flight every other day in the low season. The price is 350 ~ 500 US dollars. >> Read more about Flights to Tibet from Kathmandu
The road from Lhasa to the north base map of Mt.Everest is well-paved and broad so you will have a nice driving experience. Usually, it takes 3 days. Alternatively, you can also drive from Lhasa to Old Tingri and then trek to EBC.
√ 8 Days Lhasa Gyantse Shigatse Mt. Everest Group Tour
√ 7 Days Lhasa Mt. Everest Kathmandu Overland Group Tour
√ 12 Days Tingri to Everest Base Camp Trekking Tour
Drive Overland from Kathmandu to EBC
To reach EBC by road, you need to pass through the Gyirong Port in Tibet, China, and then follow the Sino-Nepal Highway to reach Tingri County, Shigatse City before driving to EBC. The journey is divided into two sections,
1. It is a 140km drive from Kathmandu to Gyirong Port, and it takes 8-10 hours to reach it by car;
2. The distance from Gyirong Port to the EBC is about 400 kilometers, which can be reached within a day by car.
√ 8 Days Kathmandu Nepal Mt Everest Lhasa Overland Tour
Tip:
The elevation from Kathmandu to the Gyirong Port is relatively low, with an average altitude of about 2300 meters. After entering Tibet through the Gyirong Port, the altitude will gradually increase. On the way to the Everest Base Camp, the altitude will abruptly rise from 2500 meters to 5200 meters. If you are worried about altitude sickness, you can divide the journey from Gyirong to EBC into multiple days of driving. Every time you reach an elevation point, you can have a rest, so that you will have no problem getting to EBC after a few days of adaptation.
Tibet requests a well-organized group for any foreigners traveling in Tibet. Driving to the EBC in Tibet from Kathmandu requires a Tibet travel permit and a China group visa, and both need to be handled by a travel agency in Tibet for the guests. So joining a reputable travel agency is the best way to visit Everest's northern base camp.
Related Articles
Ask a Quick Question Below?
Email response within 0.5~24 hours.