Hartalika Teej Festival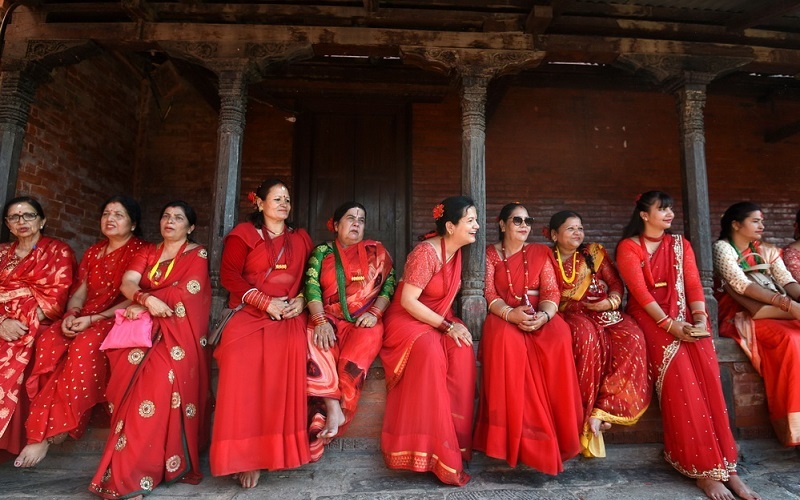 Teej, also known as Hartalika Teej, is a holy festival in Nepal. It's one of the three prominent Teej festivals for Hindu women that comes after the monsoon season. The other two are Hariyali Teej and Kajari Teej celebrated in northern and western India. The second day of the festival is the most important, which is commonly known as "Fasting Day". Pashupatinath Temple (Burning Temple) in Kathmandu plays a festive-shrine role in the celebration.
When is Teej?
Hartalika Teej arrives on the third day of the new moon of the Bhadrapad, a month of the Hindu calendar. This holiday marks the start of Nepal's monsoon season. Dates vary by the Gregorian calendar, usually in late August or early September. In 2023, Hartalika Teej falls on Sep 18.
Traditions of Teej
Teej is dedicated to Parvati, the great Hindu goddess Parvati (Goddess of Snow Mountains), commemorating her union with Lord Shiva. Women who believe in Hinduism in Nepal must fast during "Hartalika Teej" and pray for their families. Married women fast and pray for their loved ones for longevity, and unmarried women pray to find a good husband.
Teej is actually the name of a small red bug that burrows out of the soil during the rainy season in Nepal. This is why red is popular during Hartalika. Women always wear beautiful red dresses, matching green sarees or clothes(refers to the lush plant growth), and put on luxurious gold and silver jewelry during the festival occasion. They sing and dance in temples and various meeting venues, as well as visit relatives and friends to celebrate the arrival of Teej. During the festival, almost all women are on holiday. And there's lively and cheerful Nepali music playing in the streets and alleys, with red and green as the major colors. On this day, men are supporting roles, sharing the happy moments of women's festivals.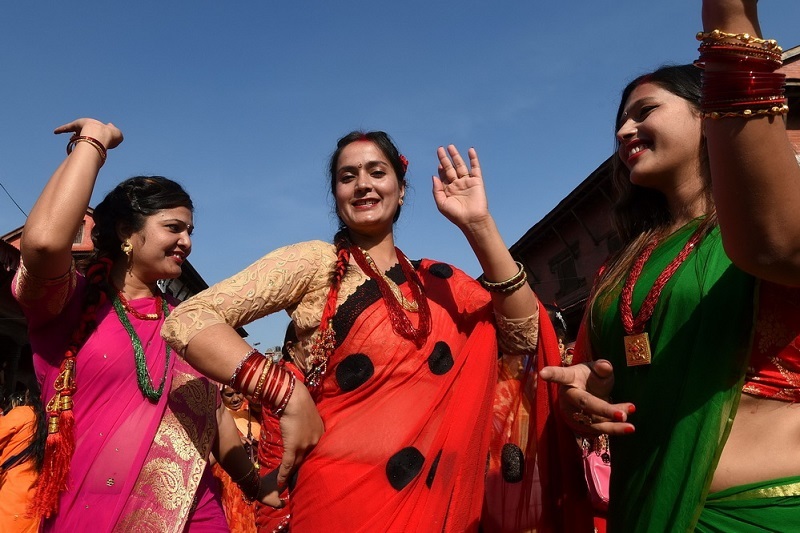 Origin
In the age of mythology, the Himalayan Mountain King had a beautiful daughter named Parvati. She was the reincarnation of Sati, the wife of Shiva's previous life. She had been very intelligent since she was a child. She worshipped Shiva, the god of destruction and reproduction in Hinduism, and was born to love him. But Shiva was immersed in the pain of losing his beloved wife 10,000 years ago and turned a blind eye to her. Then the king of the Himalayas wanted to marry his daughter to a rich God. The depressed Parvati fled at night with the help of her girlfriends. She hid in a forest and began an ascetic life greater than Shiva, which lasted for 10,000 years.
When Lord Shiva, who lives on Mount Kailash, heard that a young and beautiful girl was practicing hard to become his wife, he was shocked. He decided to test her sincerity himself. Shiva disguised as a wealthy Vishnu coming to Parvati in an ornate carriage and trying to lure her to marry him, but Parvati was unmoved. Then he said a lot of bad things about himself again. The girl blushed and covered her ears. Finally, touched by her sincerity and determination, Shiva revealed his true self and told Parvati: "From today onwards, I am the slave you bought through asceticism."
In the end, the two lived happily together and became the main deity worshipped by Hinduism. To thank the help of her girlfriends, Parvati invited them to have a party and have some fun. This is the origin of Hartalika Teej.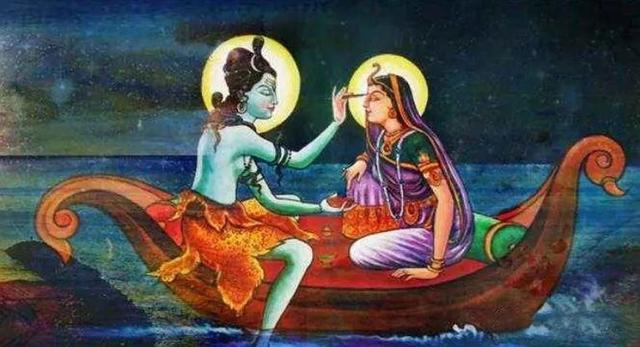 Celebrations and Rituals
First Day(Happy Day)
Today is a happy day. During the day, women go big shopping. Then at night, they prepare a big meal and lots of desserts. The celebration doesn't really start until midnight. Many women who are usually close to each other gather together. They bring meals, talk over dinner and enjoy the joy of the festival heartily until dawn.
Second Day(Fasting Day)
Today is the most important day, and it is also a public holiday. Women wear their most beautiful clothes and jewelry after bathing themselves, as pretty as newly married brides. Then visit a nearby Shiva temple in groups to offer flowers and make their own wishes to Shiva, then sing and dance here.
The Pashupatinath Temple on the banks of the holy river Bagmati (one of the sources of the Ganges) is the most important Shiva temple in Nepal. Stone carvings of "lingam" (symbols of male genitalia) of various sizes can be seen everywhere here, reflecting the enthusiasm of Hinduism for fertility worship. The Pashupatinath Temple is the preferred place for women to worship during Teej.
On their way to the temple, women will do their best to look happy, with the hope of being blessed by Lord Shiva. Walking on the street, you can see women and girls in red dresses everywhere. Crimson or bright red sarees decorate Kathmandu so enchantingly, making red the unique landscape here.
Interestingly, it's the day of fasting for Hindu women. They cannot eat anything from morning till night, not even a drop of water. Devout women want to pray for good luck for their husbands and family by doing this. Surprisingly, the women did not look tired after a day of prayer and entertainment while fasting.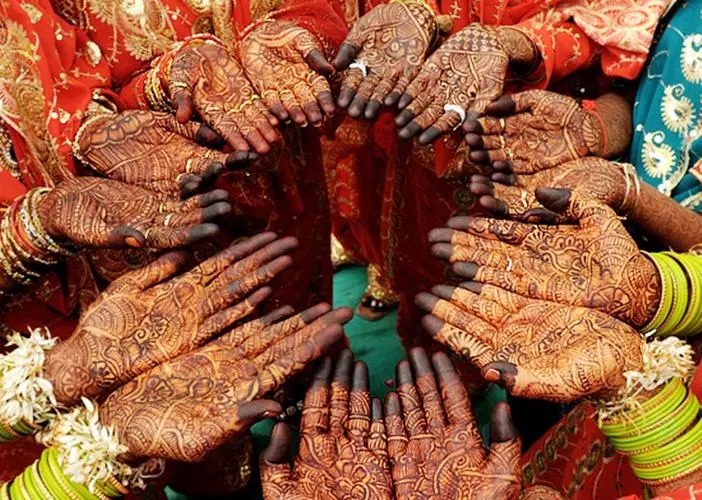 Third Day(Bathing Day)
In the morning light, women take on red sarees, hold flowers, sweets, grains, coins, and golden marigold garlands in Bodhi leaves. With bright red "tika" on their foreheads, they line up against hunger to enter the temple Pashupatinath. At the temple, women circumambulate the thick lingam. After praying, women would gather in the open field to sing and dance.
In the end, there is a special ceremony: to bathe in the nearby holy river. This symbolic bath will cleanse them of sins. Then they go to worship Ganesha, hoping that their wish made the day before will come true. On that day, women can enjoy a sumptuous meal. Many dishes are unique to the festival, such as special bean soup, exotic mutton soup, and desserts made from carrots.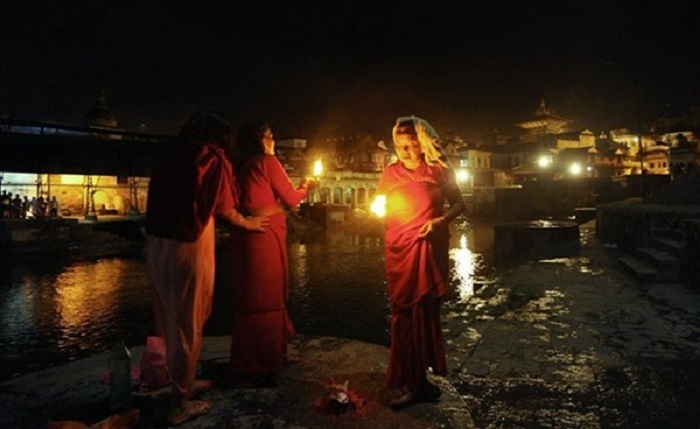 Conclusion
Hartalika Teej is often the first grand festival after the rainy season in Nepal. At that time, the sky is clear and sunny, and there is green everywhere. Women indulge in the festival with all their hearts, while also bringing laughter and auspicious blessings to the men and families.
With the development of the times, the festivals of Nepal have been integrated into the economy, daily life, and tourism. The non-Hindus and foreign tourists can join in the celebration of these festivals. Many tourist girls will also slip into a red saree and dance.
On this day women assemble at Pashupatinath Temple. So it's almost impossible for tourists to squeeze in. This is the prayer and longing for happiness. Women's sensibility is doomed to their desire to have these good things.
Related Articles
Ask a Quick Question Below?
Email response within 0.5~24 hours.