How to Get to Everest Base Camp
How to Get to Everest Base Camp
by Gloria
Last Updated: 2020-11-06
If you want to experience the charm of Mount Everest by yourself, Everest Base Camp(EBC) is your best choice. It's the environmental protection zone for the core area of Mount Everest. For tourists, Everest Base Camp means the highest point in life and the closest place to the sky. For mountaineering adventures, Everest Base Camp is the place to stay and save lives. If you watch Mt.Everest from EBC,  it seems that the highest mountain in the world can be within your reach.
How to get to EBC? Well, since Mount Everest located at the border of China and Nepal, the southern part is in Nepal and the northern part of Mount Everest is in Tibet, China. The Everest Base Camp in Nepal is a dream destination. And the Everest base camp in Tibet is active for international mountaineering adventurers and tourists. 
The Southern Base Camp in Nepal 
The Southern Base Camp in Nepal is very popular among hikers, although it takes a long journey to get there. Everest Base Camp is still one of the important choices in the hikers' wish lists. It is one of the most visited areas in the Himalayas. This base camp is actually located on the west side of Mount Everest. Because it is too close to Mount Everest, the view will be blocked by Lhotse Peak. But the significance of the EBC base camp is far more than the sight here cos during the trekking tour, tourists have already enjoyed great scenery along the way. The base camp is built on the Khumbu Glacier, at the upper corner(for the stability of the glacier activity), where you can see climbers of Mountain Everest from all over the world and enjoy the Khumbu Glacier better.
Basic info of Everest Base Camp in Nepal
Location: Located in the Sagarmatha National Park, on the southern slope of Mount Everest in the Himalayas.
Altitude: 5364m
Best hiking time: from mid-November to mid-January of the following year
How to Get to the Everest Base Camp in Nepal
Fly from Kathmandu to Lukla
No matter where you depart from to Everest Base Camp in Nepal, most travelers will choose to fly from Kathmandu to Lukla, as it's the only tourist transportation link between Kathmandu and Lukla town. If you want to choose the overland transportation, it takes about a week for riding from Kathmandu to Jiri then trekking from Jiri to Lukla. Lukla Airport is known as one of the most dangerous airports in the world due to its special terrain. Lukla town, at the altitude of 2,804 meters above sea level, serves as the starting point for the entire Everest Base Camp hiking tour.
Trek from Lukla to Everest Base Camp in Nepal
After arriving in Lukla from Kathmandu, all trips to Everest Base Camp can only be performed on foot. The following is the most classic Nepal Everest Base Camp trekking route:
Day 01 Arrive in Kathmandu( 1,300m) via respective airlines, transfer to Hotel
Day 02 Fly from Kathmandu to Lukla about 40 minutes with the scenic view of white mountains & trek to Phakding( 2660m), which takes you 3–4 hours
Day 03 Trek to Namche Bazaar (3,440m). which takes 6 hours walk.
Day 04 At Namche for acclimatization, make a day trip to Khumjung village or Everest view hotel, which takes 3–4 hours walk.
Day 05 Trek to Tyangboche (3860m) which takes about 5 hours walk.
Day 06 Trek to Dingboche( 4410m), which takes about 6 hours walk.
Day 07 At Dingboche for acclimatization, make a day trip to Chhukung, which takes about 4–5hours walk.
Day 08 Trek to Lobuche( 4930m), which takes about 6 hours walk.
Day 09 Trek to Gorakshep 5170m, After your lunch, make a day trip to Mt. Everest Base Camp (EBC)(5364m), which takes about 7 hours to walk.
Day 10 Early morning climb up to Kalapathar( 5555m) for sunrise and Mt. Everest( 8848m) view and walk down to Dzongla( 4850m), which takes about 6–7 hours walk.
Day 11 Trek to Dragnak (Thagnag)(4750m) via Cho-La Pass 5,400m which takes about 6–7 hours walk. which is one of the challenging days with a great mountain view along the pass.
Day 12 Trek to Gokyo (4800m) which takes about 3–4 hours walks over rocky and glacier path.
Day 13 Trek down to Machhermo (4070m), which takes about 5–6 hours walk.
Day 14 Trek down to Namche Bazaar (3440m) which takes 6–7 hours.
Day 15 Trek down to Lukla (2860m) which takes 6–7 hours walk.
Day 16 Fly back to Kathmandu and rest.
>> See more about Kathmandu to EBC trekking tour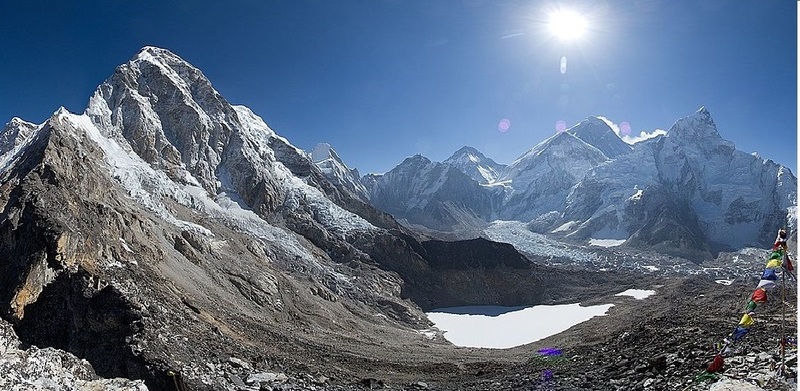 The stunning scenery of EBC in Nepal
The Northern Base Camp in Tibet
The base camp is not only the place established to protect Mount Everest, but also the best viewing place to watch the Mount Everest. Everest Base Camp is located in the south of Rongbuk Monastery, surrounded by a group of tent hotels. There're simple teahouse hotels, convenience stores, even a post office(the highest post office in the world), all built by tents. There're solar panels in front of each tent to provide night lighting. The monument of 5200 meters is located 4 kilometers south of Mount Everest Base Camp and tourists can reach here by eco-car or on foot.
Basic info of Everest Base Camp in Tibet
Location: located in the Gamagou of Qudang Township, Tingri County, Shigatse, Tibet.
Altitude:  5200m
Best hiking time:  from April to June, and from September to October
How to Get to Everest Base Camp in Tibet
Due to Tibet's special ethnic traditions, cultural monuments, also taking into account the ecological and environmental protection, Tibet's traffic conditions, tourism service facilities, and reception capacity, China requires foreign tourists, Taiwan tourists, and overseas Chinese (except Hong Kong and Macau residents with Chinese special administrative region passports or  H.K./Macao Home-Return Permit.), before entering Tibet, they must apply for the "Letter of Approval for Foreigners to Enter Tibet(Tibet travel permit)" issued by the Tibet Tourism Bureau of Tibet Autonomous Region.
In other words, foreigners, Taiwanese, and overseas Chinese without Chinese special administrative region passports or mainland Home-Return Permit must pre-arrange an itinerary through travel agencies with capable of receiving foreign guests, instead of traveling alone. After you contact a reliable local travel agency, you can choose from the different ways to travel to Everest Base Camp under the arrangement of the travel agency:
Drive to Everest Base Camp in Tibet from Lhasa
The whole journey is about 700 km for driving from Lhasa to Mount Everest. After taking a rest for a night in Shigatse, then continue heading to Tingri, finally to EBC. From Lhasa to Shigatse, the shortest route is Friendship Expressway(north route), which takes about 5hrs for covering 280km. But by going this route, you will miss famous attractions, such as Yamdroktso Lake and Karola Glacier. Alternatively, you can choose the route going through Yamdroktso Lake - Karola Glacier - Gyantse, by which you can view magnificent sceneries. For this route, it covers about 350km and takes about 7hrs. Please note, after getting through Shigatse, there's speed limitation, for 40km per hour. So even if there's only 250km distance, it takes 6hrs. And the last part, there's 114km distance from Tingri to EBC. The whole way is in good condition, and it takes about 4 hours. To cross the Gawula Pass, the winding highway around the mountain has a lot of sharp turns, and you should control the speed appropriately. In addition, the Gawula Pass is a great place to view the Himalayas and Mount Everest.

Mt.Everest view from Rongbuk Monastery
Trek to Everest Base Camp in Tibet from Tingri
The trekking route from Old Tingri to Rongbuk Monastery is full of small Tibetan villages and original Tibetan scenery along the way. And it's a challenging and interesting trip. You need to drive from Lhasa to Tingri first. The trekking route from Ganggar Town, Tingri to EBC is 70km long, along with 218 rural roads, through which you can see many snowy mountains. There are many small villages in Tibet on both sides of the road. If you want to understand the experience of the original Tibetan life, feel the daily life of the indigenous Tibetans on the roof of the world, you can choose this hiking route.
Note: This route is suitable for all people with no severe altitude sickness because the roads are all rural roads. The hiking routes are flat, and the trip is safe.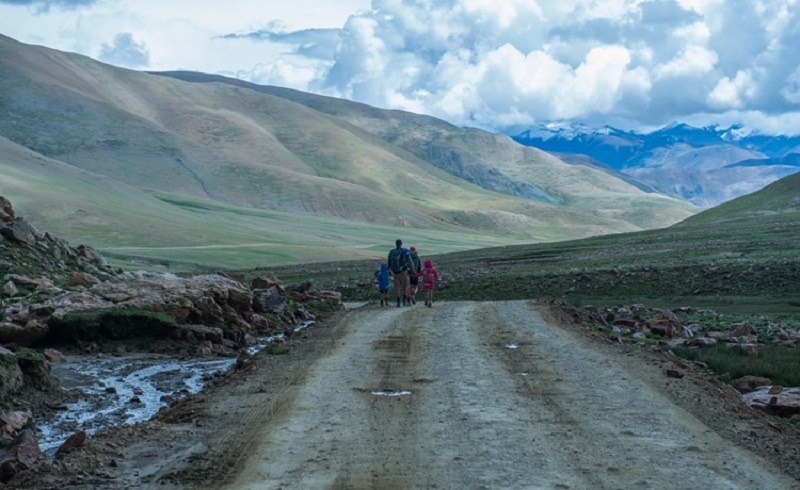 Trek to EBC in Tibet
Cycle to Everest Base Camp in Tibet from Lhasa
Cycling o Everest Base Camp from Lhasa, the whole journey is about 720km. The EBC Cycling Tour is a lifelong dream for many bikers. On the way, you will have the opportunity to visit the Potala Palace, Tashilhunpo Monastery, as well as other Tibetan cultural or natural landmarks. To complete a ride from Lhasa to Mount Everest requires a lot of physical strength and strong perseverance. This will be an arduous journey full of adventure for 18 days.
Note: Due to long-term travel and various tools and items spent on the way, the cost of riding Everest Base Camp is much higher than the cost of ordinary vehicle travel.
>>See more about Lhasa to EBC biking tour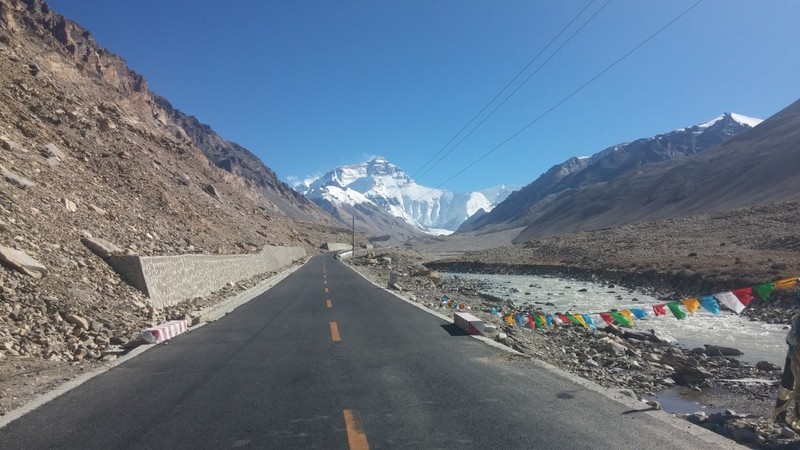 The road to EBC in Tibet
Drive to Everest Base Camp in Tibet from Kathmandu
There's long-distance between Kathmandu and EBC in Tibet, about 600km. First of all, you need to drive from Kathmandu to Gyring Port, which takes 7 to 8hrs for 160km. After getting through Gyirong Port, your Tibetan driver and tour guide will take you to stay overnight in Gyriong Port. On the second day, you will stay overnight at Tingri to adapt to the high altitude. On the 3rd day, you can visit EBC in Tibet and get back to Tingri.
Note: For tourists enter Tibet from Nepal, you are required China Group Visa besides Tibet Travel Permit. You need to book a tour with a Tibet Travel Agency first to get an invitation letter from Tibet Tourism Bureau, then apply for your China Group Visa at the Chinese Embassy in Kathmandu.
Conclusion
There's more than one Everest Base Camp in Nepal and Tibet separately. Among them, the Southern Base Camp on Khumbu Glacier in Nepal and Northern Base Camp of Gamagou in Tibet are the most popular ones. Traveling to Everest Base Camp is not as "difficult" as one thinks. Make some necessary preparations, with a relaxed and happy mood, Mount Everest is waiting for you there.
Related Articles
Recommended Tour Packages
Ask a Quick Question Below? Or Call 0086-891-6679450
Email response within 0.5~24 hours.