Nepal-Bhutan Flights: Everything You Need to Know!
Nepal-Bhutan Flights: Everything You Need to Know!
Bhutan, referred to as the "The Last Shangrila," is a lovely landlocked country of South Asia. It is bordered by Tibet in the north and west, by India's Sikkim state in the west, by Arunachal Pradesh in the east, and West Bengal and Assam in the south. As a landlocked country, it is best accessed by plane through its only airport—The Paro International Airport.
Two local carriers—the Bhutan Airlines and Drukair—provide incoming and outgoing direct flights to and from Paro International Airport. These two carriers service regular flights to Bhutan from other countries like India (Delhi, Bagdogra, Gaya, Guwahati, and Kolkota), Thailand(Bangkok), Singapore, and Nepal(Kathmandu) and Bangladesh(Dhaka).
Other international airlines are not permitted to operate at Paro International Airport, and for this reason, if you want to go to Bhutan from Tibet, you need to take a connecting flight to any of the abovementioned 5 international cities serviced by the abovementioned two Bhutanese carriers.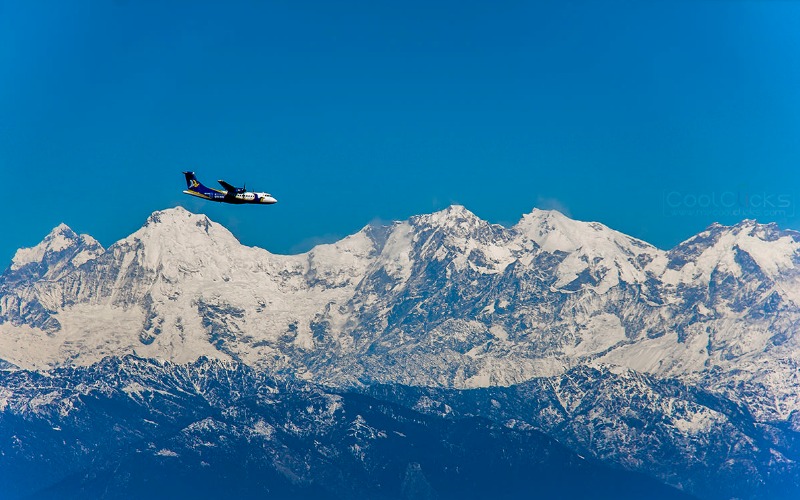 Best Flight Route Option to Bhutan
Many travelers to Bhutan opt for the Kathmandu-Bhutan Air Route because it is the best air route to Paro International Airport of Bhutan. First, it provides the shortest air route distance to Bhutan. Moreover, the flights from Kathmandu to Bhutan are usually the cheapest among the available flights to Bhutan. Furthermore, flights from other cities are not that regular and come only once a week.
Two local carriers provide non-stop flights to Paro International Airport (Bhutan) from Tribhuvan International Airport (Nepal). These two local carriers are Bhutan Airlines and Drukair.
1. Bhutan Airlines
Bhutan Airlines offers non-stop flights to Bhutan's Paro International Airport from Kathmandu's Tribhuvan International Airport every Monday, Wednesday, Friday, and Sunday. These flights approximately take 1 hour and 15 minutes. These flights also usually depart at 10:20 am and 2:10 pm. The average fare cost of these flights is $233.50 (economy) and $279.50 (business class), good only for a one-way flight. 
Bhutan Airlines also offers return flights to Kathmandu every Monday, Wednesday, Friday, and Sunday. These return flights usually depart at 7:30 or 8:45 in the morning. These return flights last for 1 and 20 minutes.
Bhutan Airlines is the first private airline in Bhutan. It started operating on December 4, 2011. But after six months of operation, the airline suspended its domestic flights due to financial losses. But it resumed its operation on October 10, 2013, providing international flights to Bangkok and India.  Soon after, it also offered flights to Kolkata, Delhi, and Kathmandu. At present, this airline operates 3 flights a week to Delhi via Kathmandu and 2 flights a week to Bhutan from Bangkok via Kolkata.
The head office of Bhutan Airlines is in Tashi Mall in Thimpu, the capital of Bhutan. It also has an office in Paro and other major offices in Kolkata, Bangkok, Kathmandu, and Malaysia. Its fleet consists of Airbus A319-100 and can handle 122 up to 125 passengers.
2. Drukair
Drukair, as the other local airline, provides daily flights from Kathmandu to Paro International Airport. These flights usually last for 1 hour and 20 minutes. The economy fare for a one-way flight is $233.60 while the business class ticket usually costs around $279.60. The flights offered by Drukair usually leave at 9:45 am or 1:20 pm. Drukair also operates daily return flights to Kathmandu and offers flights 7 days a week. These return flights usually depart from Paro International Airport at 7:45 am, 11:40 am, and 7:40 pm.
Drukair-Royal Bhutan Airlines is Bhutan's flag carrier. Its main office is in Paro. It is founded in 1981 and began its first international flight in 1983. It serves, at present, 12 destinations in 6 countries.
Kathmandu to Paro Flight Details
Airlines
Duration
Frequency
Distance
Departure-Arrival
Bhutan Airlines
1 hour - 1.5 hours
Mon., Wed., Fri., Sun.
505 Km
10:20 - 11:45
14:10 - 15:20
15:00 - 16:15
Drukair
about 1 hour and 20 minutes
Daily
505 km
09:45 - 11:05
13:20 - 14:40
14:30 - 15:50
Return Flights from Paro to Kathmandu
Airlines
Duration
Frequency
Distance
Departure-Arrival
Bhutan Airlines
about 1 hour and 20 minutes
Mon., Wed., Fri., Sun.
505 km
07:50 - 08:45
08:30 - 09:20
08:45 - 09:40
Drukair
about 1 hour
Seven days a week
505 km
07:40 - 08:40
07:45 - 08:45
11:40 - 12:40
Basic Requirements for Booking a Flight to Bhutan
There are several basic requirements before you can book a flight to Bhutan. First, you should have already booked a tour to Bhutan with a travel agent in Bhutan, and that you should have confirmed this booking. Second, you need to have a valid visa. Moreover, you need to have the necessary permits for traveling in that country(we can help you with all the options). Always bear in mind that you will not be issued a plane ticket by any of the two airlines if you don't have the confirmation code issued by Bhutan's Tourism Council (TCB). You should also remember that independent travel isn't permissible in the country. It should be within a tour package.
So, at the onset, you need to get in contact with a travel agency in Bhutan. This travel agency should be approved or registered with TCB. Your travel agency will be the one to process your visa application and all the necessary permits you need to carry while traveling to Bhutan. Once all these applications are confirmed, your local travel agency will then send your travel agent a confirmation letter that will be forwarded to you. TCB will then send a confirmation code to each of the airlines in Bhutan. 
You will not be issued a flight ticket by these two airlines if they did not receive a confirmation code. You should, therefore, ask your travel agent to book your tickets directly to spare you the hassle of having to do it on your own.
How to Reach Kathmandu's Tribhuvan's International Airport?
It is important at the start of your journey to Bhutan that you know how to navigate your way to Kathmandu's Tribhuvan International Airport. You can reach from your hotel the Tribhuvan International Airport in three ways, namely: by prepaid taxi, by hailing a street taxi, or by public transport.
1. By Prepaid Taxi
Booking a prepaid taxi is the most convenient way of reaching the airport from your hotel. But more often, it is more expensive than the other two options. However, the taxi fare is all set, so you need not worry about how much you are going to pay for your fare.
The average fare for booking a prepaid taxi is around 750 rupees. This option is your best option if you want a more convenient way of reaching Tribhuvan's airport.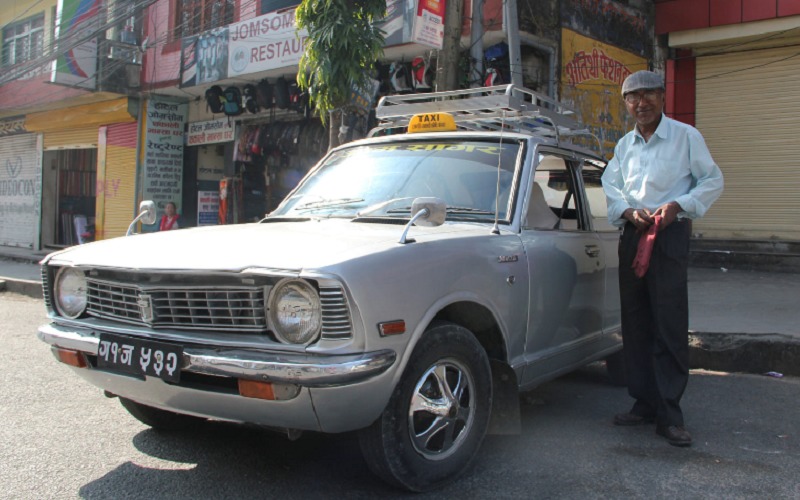 2. By Hailing a Street Taxi
The second way to reach Tribhuvan International Airport from your hotel is by hailing a street taxi. This may be an inconvenient way of reaching the airport, yet, it is less expensive than the prepaid taxi. It costs around 500 rupees or less if you know how to haggle with the taxi driver. Don't rely on the taximeter for the meter may be calibrated in favor of the driver. Agree first on the price of the fare before you even ride the street taxi.
3. By Public Transport
Public transport may be the most inconvenient way to commute from your hotel to the airport, especially, if you got a lot of baggage to carry around. However, if you opt for public transport, you can proceed directly to the Ratan Park Station from where buses can run directly to the airport's main gates. Thus, after alighting from the bus, you simply need to walk to the terminal. Public transport, of course, is the cheapest way to reach the airport.
At the Airport
Once you've arrived at Tribhuvan International Airport, you should carefully check and take care of your baggage. You are allowed around 40 kg of luggage if your ticket is for business class and around 30 kg for economy class. You can get your tickets from the departure desk of your airline if you booked through your travel agent or online. At this point, you need to provide the confirmation letter and passport given to you by your agent.
The check-in counters usually open 3 hours before departure and they close 45 minutes prior to the departure time. Standby guests can get a chance to have a seat at the airplane if a passenger did not report 45 minutes before the flight departure. Thus, you should be in the check-in counters an hour before your scheduled flight.
Your hand luggage should not be more than 7 kgs and should have dimensions of 55 x 40 x 20 centimeters for Bhutan Airlines. For Drukair, it should be 5 kgs with dimensions of 45 x 35 x20 centimeters. Passengers are permitted to bring ladies handbag, overcoat wrap, walking stick, and umbrella tax-free.
Tribhuvan International Airport has a nice and cozy lounge. You can make use of the lounge while waiting for your flight by buying a lounge pass using your credit card. You can also make use of this lounge if you have availed of a lounge membership program.
Before you can board your plane, you need to present your confirmation letter (for your visa) and your passport. Twenty-five minutes before departure, the airport personnel will close the boarding gate. So, if you were unable to report on time at the boarding gate, you could no longer go through the boarding gate once it closes.
Flight from Tribhuvan International Airport to Paro International Airport
The flight to Paro International Airport is very special because it passes through the Himalayas, allowing you to get a glimpse of the highest mountains in the world like the Mt. Everest, Mt. Lhotse, and Mt. Makalu. This flight is also exciting because the approach to Bhutan's Paro International Airport is well known for being unique and dangerous.
The airport is situated between mountains, so the pilots who handle flights to Paro International Airport come with exceptional flying expertise. Moreover, only captains are allowed to fly to Paro International Airport. To qualify and become a captain, you need to have 8 to 10 years of flying experience.
Paro International Airport
The Paro International Airport features only one terminal and a sole runway. It is around 6 kilometers away from the center of the city and is located in Paro Chhu's banks. Once you arrive at the Paro International Airport, your tour agent will meet up there with you and help you get out of the airport to your designated hotel.
The capital of Bhutan is Thimphu which is around 50 kilometers away from Paro. It is also about a one-hour drive from the airport. Along the way, you'll get to see some lovely villages and sceneries.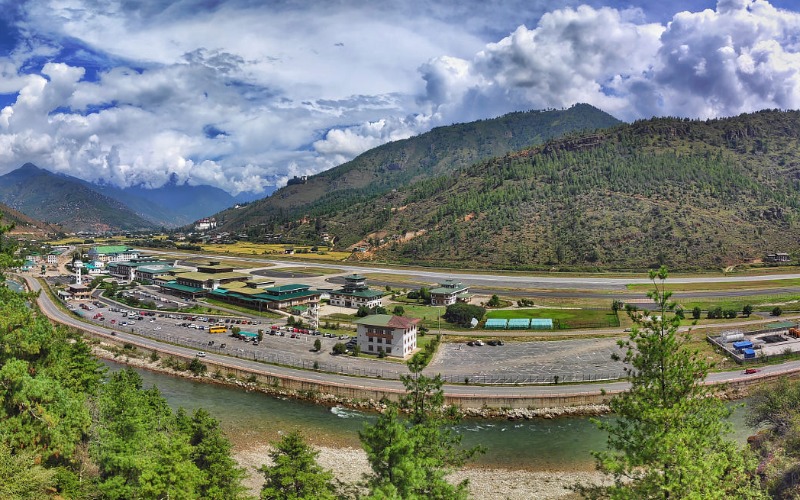 Places to Visit in Bhutan
Bhutan is slightly larger than the state of Maryland, and thus, you need several days to thoroughly visit the major tourist sites of Bhutan. The influx of tourists into Bhutan is increasing despite its partially isolated location. The tourism industry likewise is a thriving industry in the country with more than 21,000 people employed in that industry.
At present, Bhutan is working on eight tentative sites that it wants to be included in the UNESCO World Heritage Sites. These sites include Bumdelling Wildlife Sanctuary, Ancient Ruin of Drukgyel Dzong, Punakha Dzong, Phodrang Dzong, Wandue Phodrang Dzong, Paro Dzong, Dagana Dzong, and Trongsa Dzong, Jigme Dorji National Park, Sacred Sites, and Royal Manas National Park. Tamzhing Monastery, and Sakteng Wildlife Sanctuary. Bhutan is also famous for hiking and mountain adventure trekking like the Jhomolhari Base Camp Trek and Masagang trek. The Himalayan Kingdom of Bhutan definitely has a lot to offer to tourists. Here are our top places to visit in Bhutan that you should never miss:
1. Tiger's Nest Monastery
Tiger's Nest Monastery, also known as Paro Taktsang, is a popular Himalayan Buddhist site located in Paro Valley. This temple complex is perched on the cliffside which makes it a very unique and intriguing place to visit. It was built in 1692 on the site where Guru Padmasambhava was believed to have meditated for 3 years, 3 months, 3 weeks, 3 days, and 3 hours in the 8th century. He was known to have introduced Buddhism to Bhutan. This temple complex offers a birds-eye-view of the valley. It is also considered the unofficial symbol of Bhutan.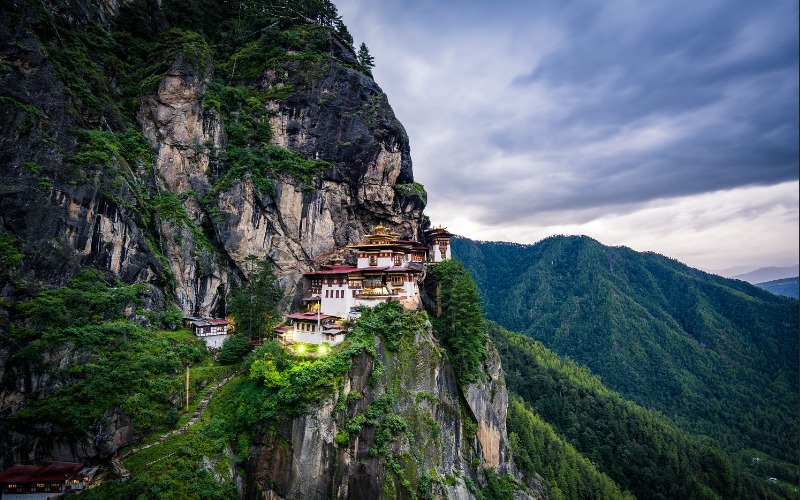 2. Punakha former capital of Bhutan
Punakha is Bhutan's former capital. It offers a picturesque beauty that makes this place a must-visit place in Bhutan. Two sacred rivers meet in the town of Punakha, and thus, it is so blessed with fertile terrain. There, you will find the Chimi Lhakhang, one of the most beautiful monasteries of Bhutan. You can also visit the famous Punakha Dzong, which is an important religious center of Bhutan. Other must-see sites in Punakha include the Khamsum Yulley Namgyal Chorten, Guru Rinpoche Caves, Sangchhen Dorji Lhuendrup Lhakhang Nunnery, Dochula Pass, and Punakha Suspension Bridge, Talo, and Limbukha.
3. Wangdue
Wangdue Phodrang is a town in central Bhutan. It is known for its famous dzong that was built in 1638. Wangdi Phodrang Dzong, however, burned down last June 24, 2012. Renovation is still going on to restore this famous dzong to its original form.
4. Paro and the Paro Valley
Paro is not only famous for hosting the only international airport in Bhutan. But the town itself is historic with several sacred sites and historical buildings that litter the place. It has the Rinpung Dzong, a fortress-monastery that overlooks the valley. On the hill, overlooking the Dzong, there stands an old watchtower called "Ta Dzong" which serves as the National Museum of Bhutan since 1967. You'll also see in Paro the Dungtse Lhakhang as well as the Perli Palace.
5. Thimpu
Thimpu is the largest city and the capital of Bhutan. It features noteworthy architectures that are worth visiting. You can see in Thimpu structures like the Tashichho Dzong, Drubthob Goemba, Tango Goempa, and the Changangkha Lhakhang. You should also visit the Buddha Dordenma, Memorial Chorten, Dechencholing Palace, Tango Monastery, and Dechen Phodrang Monastery. Other must-see places in Thimpu include the National Post Office, Clock Tower Square, and Motithang Takin Preserve.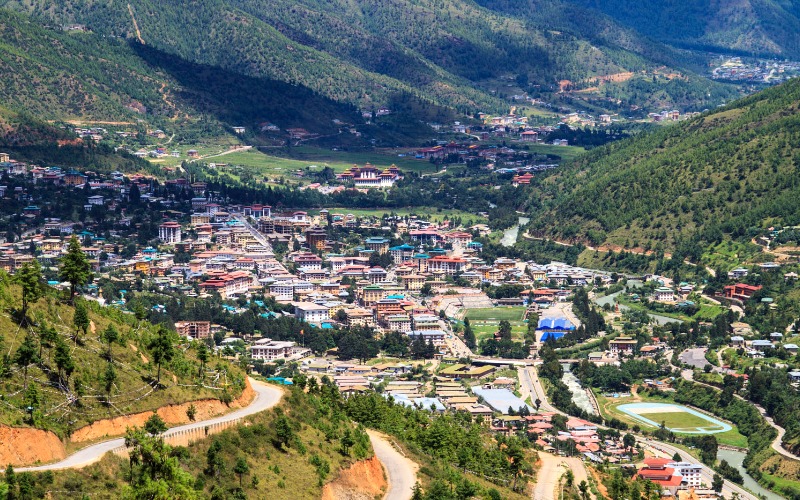 Final Words
There are other must-see places in Bhutan that include Trongsa, Gangtey Valley, Manas National Park, Bumthang, and Gasa. This means you will have your hands full when you visit Bhutan and will surely bring home lots of once-in-a-lifetime great memories of your visit to this mysterious country. You can readily contact us if you want to book a tour to Bhutan and we will be more than happy to facilitate everything for you.
Related Articles
Ask a Quick Question Below?
Email response within 0.5~24 hours.