Flights to Tibet from Bangkok
Flights to Tibet from Bangkok
by Eric
Last Updated: 2021-04-01
With the development of Tibet Tourism, now it is convenient to travel to Tibet from other countries. Bangkok, the capital city of Thailand has much in common with Tibet as both of them are two significant lands of Buddhism. But there's still some difference between those two cities. It is worthwhile for Thai people to experience the Buddhist Culture of Tibet. Taking flights to Tibet from Bangkok is seems to be the greatest way to travel to Tibet. If you are a Thai citizen, you should travel to Tibet at least once in your life. If you have imaged traveling to Tibet, don't hesitate to do it!
Why Traveling from Bangkok, Thailand to Tibet?
1. Both Bangkok and Tibet are The Holy Land of Buddhism
As a significant land of Buddhism, there is about 93.6 percent of Thailand is Buddhist and about 33,902 active temples in the country. Buddhism has been prevalent in Thailand since the 3rd century BC. It was first introduced by King Asoka who sent out monks to follow and learn the teachings of the Buddha of Siddhartha Gautama. As Buddhism plays an important role in the culture of Thailand, taking a visit to some of the holiest Buddhist sites in the world is a necessary tour to seek the real doctrine of Buddhism. As a sacred land of Buddhism, Tibet is abundant in holy sites of Buddhism. Every year, there are thousands of hundreds of Buddhists from all over the world flood into Tibet to do a pilgrimage.
2. Explore the Unique Natural Scenery that You Never Find in Thailand
Another reason for Thai people to travel to Tibet is to explore the unique scenery of Tibet. Tibet is a place cherished by nature. The Tibet tour will take you to enjoy the beauty of the holy lakes, sacred Moutain Kailash and Moutain Everest, the highest mountain in the world. Besides, during the tour, you may see some Buddhist temples and monasteries.
How to Take Flights to Tibet from Bangkok?
There are two convenient ways to take flights to Tibet from Bangkok.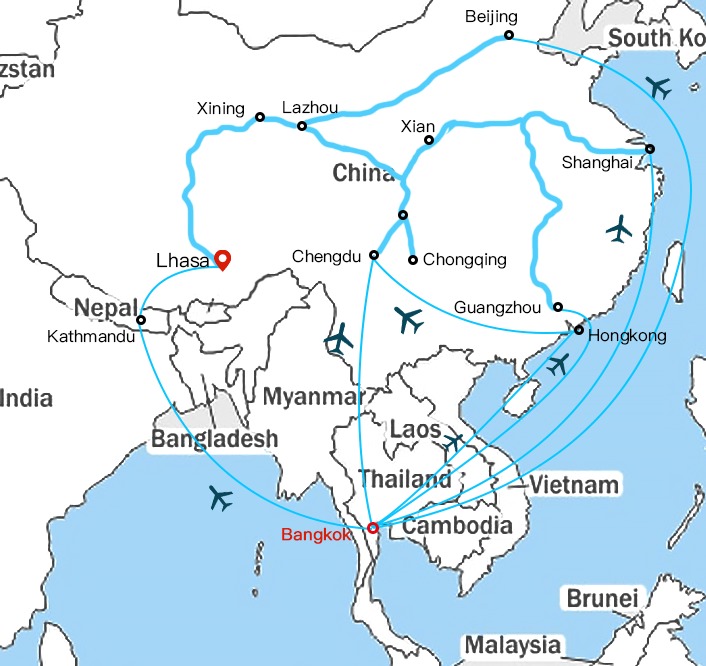 1. Bangkok-Kathmandu-Lhasa
Since there is no direct flight from Thailand to Tibet, You can travel to Tibet via Kathmandu, the only country that operated direct flights to Tibet. Flights from Bangkok to Kathmandu run several times a day and cost about $510 for a one-way ticket of the economy class cabin. And it will take about half-past 3 hours from Bangkok to Kathmandu. Meanwhile, there are two direct flights from Kathmandu to Tibet and several connecting flights to Tibet from Kathmandu. Taking a direct flight from Tribhuvan International Airport of Kathmandu to Lhasa Gonga International airport will take about 1.5 hours and cost $484 for a one-way ticket of the economy class cabin.
Kathmandu to Lhasa Flight Schedule
| | | | | | | |
| --- | --- | --- | --- | --- | --- | --- |
| Flight Route | Flight Code  | Airlines  | Dep. |  Arr. | Type |  Schedule |
| Kathmandu to Lhasa | 3U8720 | Sichuan Airline | 11:10 | 14:50 | 319 | every other day |
| Kathmandu to Lhasa | CA408 | Air China | 12:10 | 16:00 | 319 | every  day |
>>See more Kathmandu to Lhasa flight info
2. Bangkok-Chengdu-Lhasa
As the most popular way, taking a flight from Bangkok to Chengdu then transferring from Chengdu to Tibet is definitely a great idea. The journey from Bangkok to Chengdu will take about 3 hours and cost about $524 for a one-way ticket of the economy class cabin. In Chengdu, there are more than 10 flights to Lhasa and other cities of Tibet which makes it easy for you to get there.
Chengdu to Lhasa Flight Info
| | | | | |
| --- | --- | --- | --- | --- |
| Air Route | Distance | Duration | Flight Type | Tickets Price |
| Chengdu-Lhasa | 768miles | about 3 hours | direct flights​​​​​​​ | 280$​​​​ |
>> See more Chengdu to Lhasa flight info
Travel Documents for Thai Citizens
Travel from Bangkok to Tibet via mainland China
When traveling to China, Thai nationals need a Chinese Visa which can be obtained through the local Chinese Embassy in Bangkok. The process is quite fast and normally only takes 4 days. Once you get your visa, you can apply for your Tibet Travel Permit which is only be obtained by a registered tour operator in Tibet. Without a Tibet Entry Permit, foreigners are not permitted to travel to Tibet. Therefore there is necessary for you to book with a local travel agency in Tibet which will not only help you apply for the Tibet Entry Permit but also design a suitable tour for you according to your demands. Other permits might be required for travel outside the area of Lhasa and your travel agency will handle it for you.
Travel from Bangkok to Tibet via Kathmandu
When traveling from Kathmandu to Tibet, you need to apply for a China group visa rather than the China Visa. If you have already booked a travel agency in Tibet, they will take care of it. What you need to do is to give them a scan of your passport. Even if you travel from Kathmandu to Tibet, you also need to obtain the Tibet Entry Permit.
Related Articles
Ask a Quick Question Below? Or Call 0086-891-6679450
Email response within 0.5~24 hours.