Military Permit
For traveling to Tibet, the government requires you to apply for a slew of permits - sometimes, even ten. The basic of them all is the Tibet Travel Permit (TTP), which is issued by the Tibet Travel Bureau (TTB). TTP is the first and foremost permit that you would need to travel to Tibet. You will have to apply for it with a Tibet Travel Agency. Once provided, you will have access to most tourist destinations in Tibet.
But if you are feeling a little inquisitive and want to discover more of Tibet, the TTP permit is not enough. The military sensitive areas of Tibet require you to apply for a military permit, which is issued by Military office in Lhasa. Only then can you explore the backend and unopen areas. If your itinerary includes military sensitive areas such as Ngari (Lake Mansarovar, Mt. Kailash etc.), Nyingchi (Pomi, Rawu, etc.) , or places that are remote around the Shannan area, you will not only have to apply for a Military Area Entry Permit but also a Foreign Affairs Permit. But you don't have to worry about it. All you need to do is submit your scanned documents(your Passport and Chinese Visa) to your travel agency then your trip advisor will handle all the related documents for you.
Areas Require Military Permit
Ngari: all the places you will visit such as Mt. Kailash, Lake Manasorovar etc.
Nyingchi: all the places you will visit such as Draksumtso, Pomi etc.
Chamdo: all the places you will visit such as Chamdo, Riwoche etc.
You are also expected to apply for a Military Permit if you are planning to make any overlanding trips from Chinese provinces such as Yunnan, Xinjiang, Sichuan, or Qinghai to Tibet, during which you need to get through the unopen areas. The same condition also applies if you takes a flight from Lhasa, Urumqi or Kashgar to Ngari.
Applying for a Military Permit is not that difficult, but it sure is a lengthy process. So we would advise you to submit the necessary documents about a month before making the journey. Scanned copies of documents which you are required to submit are your passport as well as visa. You can relax as much as you want. Your travel agency will take care of the rest.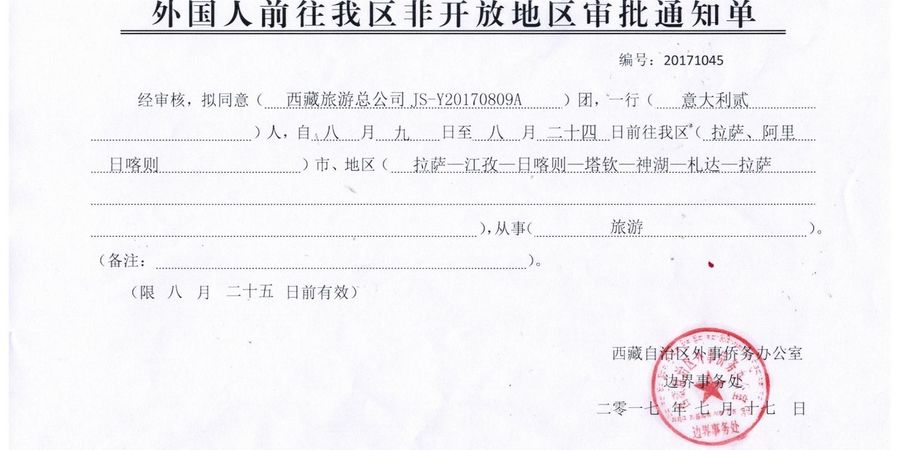 Related Articles
Ask a Quick Question Below?
Email response within 0.5~24 hours.