5 Days Lhasa & Yamdrotso Lake Tour
Lhasa & Yamdrotso Lake Tour
Duration:

5 Days

Price:

From

USD630

Route:

Lhasa - Yamdrotso - Lhasa

Season:

Spring
Summer
Autumn
Winter

Tour Type:

Group Tour

Group Size:

Max 12
Add

to Favorites
Overview
This trip is a perfect choice for first-time visitors who would like to not only experience the most important Tibetan cultural attractions but also enjoy the treasures of plateau scenery. First, you will pay a visit to Lhasa city, home of famous monasteries and devout Tibetans, and explore the top tourist spots such as Potala Palace, Jokhang Temple, Bakhor Street, Drepung Monastery, etc., then you will enjoy the stunning plateau scenery of Yamdrok-tso Lake. As one of the top 3 holy lakes in Tibet, dazzling Yamdro-tso is at an altitude of 4441 meters. It lies tens of meters below the road and shows a fabulous shade of deep turquoise. You will see some Tibetan villages nearby and the huge Mt. Nojin Kangtsang(7191m) in the distance.
| Day | Route | Attractions & Activities | Accommodation | Meals |
| --- | --- | --- | --- | --- |
| 1 | Arrival in Lhasa (3650m) | Pick up and transfer to the hotel | Lhasa, 3★/4★ | |
| 2 | Lhasa Sightseeing | Drepung Monastery, Sera Monastery | Lhasa, 3★/4★ | B, D |
| 3 | Lhasa Sightseeing | Potala Palace, Jokhang Temple, Barkhor Street | Lhasa, 3★/4★ | B |
| 4 | Lhasa - Yamtrok -Lhasa, 230km, Approx 4hrs 40mins | Yamdrok Lake | Lhasa, 3★/4★ | B |
| 5 | Lhasa departure | Send off to the airport/train station | | B |
When you arrive in Lhasa, our staff will pick you up at Lhasa Airport/ Railway Station and transfer you to the hotel. From the airport, it takes about 1.5 hours. From the train station, it only takes 20 minutes. Afterward, it's better to relax and take it easy on the first day to get acclimatized to high altitude and alleviate the jet lag. You might go to the local market and wander around the city on your own but try not to overtax yourself.
Stay overnight in Lhasa, 3★/4★
Today is your first day of sightseeing on the high plateau. In the morning, the first station is the Drepung Monastery, which is the largest Tibetan monastery that housed more than 10,000 monks in the past. Drepung means Rice Heap in the Tibetan language. The entire monastery is large in scale and the white buildings cluster and covers the hillsides. It's the highest-ranking monastery in the Gelug Sect.
Then after lunch, you will head to the Sera Monastery, which is another one of the 'Great Three' Gelug monasteries. It is famous for the Buddhism activities of "Monks Debate" from around 3 to 5 PM in the afternoon. Also, the three sand Mandalas and colorful Rock Paintings of Buddha are worth your appreciation.
Stay overnight in Lhasa, 3★/4★
Meals:
Breakfast
Welcome Dinner
On your third day, you will be feeling much more acclimatized to Lhasa's high elevation. It is an excellent idea to spend the day exploring the Potala Palace, which is the winter palace of the Dalai Lama. The most valuable collections of Potala Palace are the gilded burial stupas of former Dalai Lamas and the meditation cave of the 33rd great king of Tibet. It's best to explore the inside of the Potala in the morning for 2-3 hours. Afterward, you may walk the pilgrimage route around the Potala Palace.
In the afternoon, you will head to the Jokhang Temple, which is well known as the center of Tibetan Buddhism and features Buddhist prayer wheels, reclining deer, and golden sutra streamers, etc. Also, you can see many pilgrims praying in front of the temple and doing kora.
After visiting the Jokhang Temple, you will stroll in the old alleys of Barkhor Street, where you can drink sweet tea, chat with locals and even bargain with the street vendors to understand the real-life in Lhasa.
Stay overnight in Lhasa, 3★/4★
After your amazing journey in Lhasa city, the next destination is the Yamdrok Lake. Not long after having breakfast, we will pick you up in the hotel. The travel distance is about 105 kilometers away from Lhasa. On the way, you can have a glimpse of Ngachu Valley in the morning lights, and after pass over the Kamba La Pass (5030m), we will finally arrive at the holy lake Yamdrok.

Located in the north of the Himalaya Mountains, Yamdrok Lake is the largest fresh lake in the district with an area of 675 square meters. According to local Tibetan, the lake is the transformation of turquoise earrings scattered by Goddess. You will be stocked by the natural beauty but can't get a whole view here. If you look it on the map, you will find the lake panorama like a shape of eardrop surrounded by the mountain. The scenery appears different color of blue from different moment in one angle as a dreamland. Looking around, you can also find other scenery. Local animals are walking along the fertile lakeshores and Tibetan villages can be seen in the valleys near Yamdrok Lake.

In the afternoon, we will drive back to Lhasa.

Stay overnight in Lhasa, 3★/4★
Your tour ends today. Your tour guide and driver will drop you at the Lhasa Gonggar Airport or Lhasa Railway Station for your next destination.
Cost & Calendar
All prices are in US Dollar / Person
Economic Class (3-Star Hotels)
| | | |
| --- | --- | --- |
| 2022-09-01 ~ 2022-10-07 | 2022-10-08 ~ 2022-10-31 | 2022-11-01 ~ 2022-12-31 |
| USD750 | USD680 | USD630 |
Comfortable Class (4-Star Hotels)
| | | |
| --- | --- | --- |
| 2022-09-01 ~ 2022-10-07 | 2022-10-08 ~ 2022-10-31 | 2022-11-01 ~ 2022-12-31 |
| USD800 | USD730 | USD680 |
Schedule
| Starting Date | Price From | Booked | Book Now |
| --- | --- | --- | --- |
| 2022-10-04 | USD750 | open for booking | Book |
| 2022-10-11 | USD680 | open for booking | Book |
| 2022-10-18 | USD680 | open for booking | Book |
| 2022-10-25 | USD680 | open for booking | Book |
| 2022-11-01 | USD630 | open for booking | Book |
| 2022-11-08 | USD630 | open for booking | Book |
| 2022-11-15 | USD630 | open for booking | Book |
| 2022-11-22 | USD630 | open for booking | Book |
| 2022-11-29 | USD630 | open for booking | Book |
| 2022-12-06 | USD630 | open for booking | Book |
| 2022-12-13 | USD630 | open for booking | Book |
| 2022-12-20 | USD630 | open for booking | Book |
| 2022-12-27 | USD630 | open for booking | Book |
No desired date of departure? Please send us an inquiry and we will try to arrange your tour according to your plan.
Discount Policy
You may only enjoy one of the advantageous policy, not both.
Option A:
3 or More to Join the Same Group
$30 Off / person
Option B:
Tour in Apr~Oct

To book 6-month prior tour starts 5% Off / person
To book 3-month prior tour starts 3% Off / person
Booking Policy
Confirmed Dates
12-working-day prior
Dates Listed
1 Person, 90-day prior
2 Persons or above, 60-day prior
Not Listed
A minimum of 2 persons, 90-day prior
3 Persons or above, 30-day prior
Our Service
INCLUSIONS
*Lodgings: 4 Nights, twin room en suite in 3★/4★;
*Meal: 4 Breakfasts & 1 Welcome Dinner;
*Travel-licensed vehicle according to group size & season as itinerary needed including gas and parking fee;
*Free Lhasa Railway Station transfer at all time on first & last day;
*Free pick-up from airport to hotel at 9:30 am and 4:00 pm on the first day;
*Free drop-off from hotel to airport at 6:00 am and 12:30 pm on the last day;
*Guide: experienced local English-speaking tour guide;
*Attractions: all entrance fee mentioned in itinerary;
*Permit: Tibet Tourism Bureau Permit (TTB);
*Travel Agency Liability insurance;
*Government Tax;
*Express delivery fee of Permit (eg. SF. Express);
*Food & lodgings for guide & driver;
*Oxygen tank for emergency use;
*Two bottles of mineral water per person per day;
EXCLUSIONS
* International flight to and out of China;
* Domestic flight/train to and out of Lhasa; (We can help you book the domestic flight/train ticket at the BEST price. Please contact us for details.)
* If you miss the free transfer schedule due to flight delay or cancelation, then you are required to pay a private transfer from USD 80/vehicle/time.
* Lunch & Dinner are not included but we will recommend some good ones for you according to your requirements. Usually, it takes 3-10 USD per person for each meal.
* While the gratuity for guide and driver is NOT mandatory, it is expected. Based on their service, you can tip them on the last day of the tour. Each of you is suggested to tip them 5-10 USD/day in total;
* All the commission and tax charged by PayPal, Bank, and government when making payment. (e.g. PayPal --- 4.2%. Wire transfer --- 2%);
* Personal expenses;
* Anything not mentioned in the Inclusions.
Note
*Tibet Tourism Bureau Permit (TTB) usually takes about 12-working-day to apply. If you couldn't provide the required docs & info on time, an extra handling fee will be charged. Please consult your travel consultant for details;
*We reserve the right to change the itinerary order and attractions in Lhasa;
*If you prefer to book your own hotels over those included in our group tour, please meet the rest of the group at their daily hotel on time. We don't include the transfers to your own hotels;
*We need to pick up and drop off all members of the group on first & last day from Lhasa Airport/Railway, thus there may not always have guide presence but driver;
*Due to the special nature of Tibet travel, any unforeseeable and unavoidable objective circumstances, including but not limited to natural disasters, war, terrorism, riot, civil commotion, strikes, public health emergencies, government action, major traffic jams, delay or cancellation of flight/train, attractions temporarily closed. etc., resulting in a change of itinerary, the increased cost will be paid by travellers; if any attraction visits have to be cancelled due to the same reasons above, GTT won't be held responsible for the refund except certain attraction entrance fee which will be solely decided by GTT.
*Single Supplement: our quote is based on twin rooms. For single travellers, single supplement is required at the time of booking. If later we manage to match you with another traveller to share the twin rooms, the single supplement will be refunded.
What Our Customers Say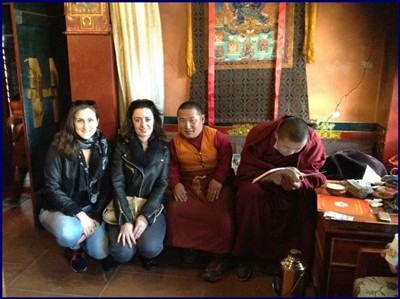 We are back to Shanghai now. Tibet was great and Tibetans are nice. Your driver was very nice and his driving was super nice too.. better than in China! Car was clean as well. I think we definitely could have seen more things and do more visits..  Wish to visit Tibet again next time ! ....
Read more testimonials...
INQUIRY ABOUT THE TRIP
Email response within 0.5~24 hours.