Bhutan Visa
Bhutan Visa is the most important entry permit for traveling to Bhutan. According to the Bhutanese government, except for passport holders from India, Bangladesh, and the Maldives, tourists from other countries need to apply for a Bhutan Visa online in advance, which will be issued by the Department of Immigration Ministry of Home and Cultural Affairs in Thimphu. Moreover, tourists must apply through a local travel agency in Bhutan.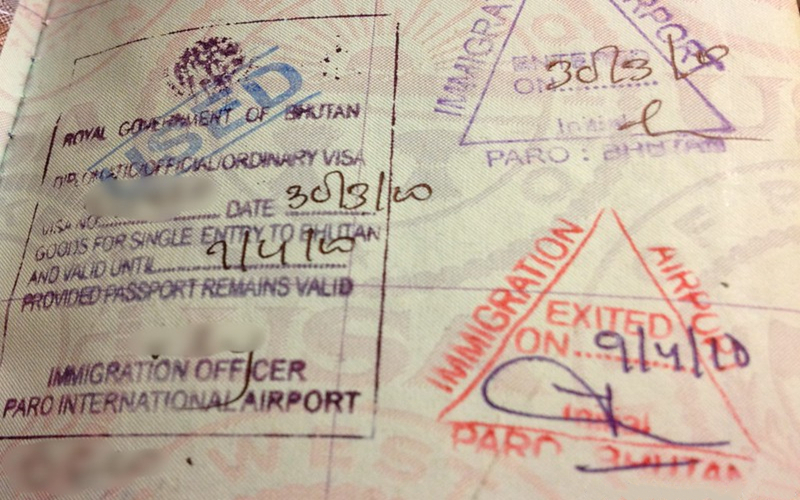 How Much Is A Visa To Bhutan?
The Bhutan Tourism Commission has set a non-negotiable minimum daily tariff for all Bhutanese tourists. The tax includes all accommodation, meals, transportation, services of a licensed guide and porter, and cultural programs provided where feasible. The cost of cultural excursions and hiking is the same. The total cost can be divided into two parts: a visa fee of 40USD per person and minimum daily consumption.
The minimum consumption for groups of 3 people and above is as follows:
Peak season: USD250 per person per night (March, April, May, September, October & November)
Low season: USD200 per person per night (January, February, June, July, August & December)
Minimum daily consumption includes:
Class hotel in Bhutan (equivalent to domestic 3-4 star hotel standard, luxury hotel surcharge is extra) Bhutan tour vehicle (SUV/minibus, etc.)
Hotel welcome reception (simple drink)
English-speaking tour guide certified by the Tourism Bureau of Bhutan
Full meal and mineral water (three meals a day)
Full attraction fee
Bhutan tourism surcharge and other taxes
Equipment required for trekking in Bhutan (sleeping bags, tents, toilets, and bathing tents, other equipment please specify in advance)
Bhutan Visa Requirement for US and Canadian Citizens
For US and Canadian citizens traveling to Bhutan, getting a visa is a very easy procedure. The first step is to choose a reliable Bhutan travel agency by booking a Bhutan tour. Then pay your Bhutan travel fee in full. Submit a clear passport scan or passport photo, and the passport is required to be valid for at least six months. After you get the Bhutan Visa Approval Letter in 7-10 working days, you must print it out as soon as possible. When you check in at the airport, you need to show your Bhutan Visa Approval Letter to get your boarding pass. When you arrive at Bhutan Paro International Airport, please show your passport and printed Bhutan Visa Approval Letter to the customs staff. They will stamp your passport with the visa stamp.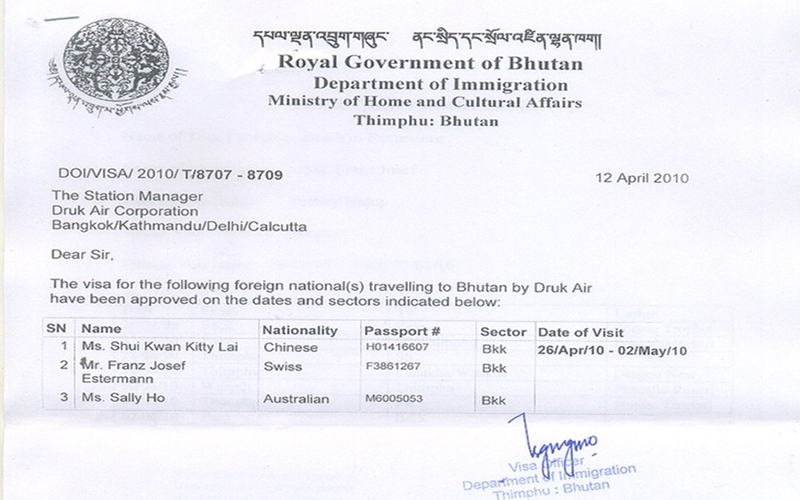 No matter which city you are in the United States, such as Los Angeles, New York, San Francisco, Seattle, Boston, San Diego, Chicago, etc., you need to fly to one of the five countries with direct flights (Bangkok, Thailand, Kathmandu, Nepal, India, Singapore, Bangladesh), and then fly to Bhutan. There are flights between Bangkok/Kathmandu/India and Bhutan once a day, while flights between Singapore and Bhutan are not available every day. Please consult our customer service for details.
Travel to Bhutan via Nepal
When taking a connecting flight, United States and Canadian citizens do not need to apply for a Nepal visa in advance. When you need to leave the airport transfer area for rest or claim your luggage and then enter the airport customs again from the arrival hall, citizens of the United States and Canada, like tourists from most countries, need to obtain a tourist visa on arrival in Nepal. Druk Air is the only airline that provides the Nepal-Bhutan route, and Kathmandu Airport does not provide automatic transfer of luggage from other airlines to Druk Air flights. >>Read more about Nepal Visa.
Travel to Bhutan via India
For a connecting ticket, as long as the stay time is within 24 hours, and you do not leave the transit area, Canadian and US citizens are not required to apply for an India Visa;
However, if Canadian and US citizens need to leave the transit area or stay in India for more than 24 hours, you are required to apply for an India Transit Visa online in advance. It only takes a few minutes to fill out the online application form, with the basic passport information and travel information (the estimated date of arrival and the intended port of entry in India). The last step is to use a valid debit or credit card for paying the visa fee to submit the application. Approval can be made about 4 days later. Therefore, passengers should submit the application at least 4 days before departure to allow sufficient processing time. India Transit Visa is valid for 15 days from the date of issuance, and the stay in India shall not exceed 3 days.
To travel to Bhutan by land, an India Transit Visa is required for entry. The journey from the Indian airport to the border between India and Bhutan usually takes three days, which happens to be within the validity period.
For stays longer than 3 days, citizens of the United States and Canada need to apply for an Indian Visa (eVisa). U.S. citizens can stay on an electronic tourist visa for up to 180 days, and the visa fee is USD 60. Canadian citizens can stay for up to 60 days and the visa fee is USD 48. The e-visa is valid for multiple entries. Please enter India for the first time within one year after the issuance of the visa (the period of stay is calculated from the first entry, the number of days will continue to be counted during the halfway departure, and only the remaining days can stay after re-entry).
Tips: Bhutan has two entry ports by land, one is Phuntsholing in the southwest, and it borders West Bengal State, India. You can take a bus to the Indian border town Jaigaon through Kolkata city or Darjeeling city. You must contact your Bhutan travel agency in advance to get your Bhutan Visa Approval Letter. Otherwise, the Jaigaon border guard in India will not post the departure stamp for release. The other land port is Samdrup Jongkhar in the southeast, which is the gateway to eastern Bhutan. Ordinary tourists can fly to Guwahati city, the capital of Assam, and then a three-hour drive to Samdrup Jongkhar.
Travel to Bhutan via Thailand
Citizens of the United States and Canada can get visa-free entry to Thailand for a period of up to 30 days. If you enter by land or sea, you can get visa-free up to two times a year, but there is no restriction on entering by air. When checking in for the Bhutan flight at the counter, you need to show your original passport, a printed copy of your Bhutan Visa, Bhutan travel code, etc.
Travel to Bhutan via Singapore
Drukair has two flights a week from Changi Airport to Paro Airport. US citizens can enter the country without a visa for 90 days; Canadian citizens can enter the country without a visa for 30 days.
Travel to Bhutan via Bangladesh
No visa is required for connecting flights without leaving the airport. If you plan to tour this country first, American and Canadian citizens can obtain visas on arrival. You need to prepare $50 for the visa fee, a return ticket, and documents to prove the purpose of your journey.
US Consulate and Embassy
The United States has no diplomatic relations with Bhutan, and Bhutan does not have a US consulate. Consular issues related to Bhutan, including assistance to American citizens, are handled by the US Embassy in New Delhi.
U.S. Embassy New Delhi
Shantipath, Chanakyapuri
New Delhi - 110021
India
Telephone: (91) (11) 2419-8000
Emergency Telephone: (91) (11) 2419-8000
Fax: (91) (11) 2419-8407
Bhutan Visa Policy for Indian Citizens
Indian citizens do not need to apply for a visa to enter Bhutan. This is based on the 1949 agreement between Bhutan and India that allowed the people of the two countries to move freely on the basis of reciprocity. However, an entry permit is required. The entry permit is valid for 7 days, and those who travel to Bhutan by road need to show the permit at each checkpoint for verification. Indians who intend to stay longer than 7 days need to visit the immigration office in Thimphu and apply for an extension of their permit. The permit issued by the Bhutan Immigration Department to allow Indian citizens to enter is absolutely free.
To obtain the entry permit to enter Bhutan by road, you will need to visit the Immigration Office of the Royal Government at Phuentsholing, which is located at the Indo-Bhutan border. While if you are entering Bhutan by air, you must obtain this permit at the Paro International Airport.
Application requirement
Indian passport;
Voters Identity Card (VIC) with photo;
The identity certificate presented by the Indian Consulate in Phuntsholing.
FAQ
Why is Bhutan so expensive?

Because the cost covers a lot of things from standard accommodation and meals to internal taxes and tourist usage fees. However, despite these fees, the trip to Bhutan is still an amazing journey.

How much is a visa for Bhutan?

Generally, the cost of a Bhutan tourist visa is about USD40 and it's paid in advance through a travel agency. If you are from a visa-free country, there will be no cost to enter Bhutan.

Can you give me some suggestions about a self-guided tour to Bhutan?

Currently, Bhutan only allows package tours, so if you want to travel to Bhutan, let us arrange a visa and journey for you. In addition, when you pass the customs, you can get an official visa with the Bhutan visa letter we gave you.

I heard that Bhutan Visa is very troublesome. Which country does Bhutan grant visa exemption?

The Bhutanese government only accepts foreign tourists to travel to Bhutan with a travel agency. So the government can handle visas and other matters, and tourists are required to go with a group. However, holders of passports with the nationality of India, Bangladesh, and the Maldives do not need a visa to enter Bhutan.

Can you arrange a trip to Bhutan if I have a holiday temporarily?

Generally, it is best to apply for a Bhutan tourist visa one month in advance. For tourists whose application time less than a month, as a professional travel agency, we can provide Bhutan visa expedited service.
In addition to the Bhutan Visa, air tickets to and from Bhutan, Bhutan hotel reservations, and other factors also determine whether you can make your Bhutan trip.
Once you have decided to travel, please contact our customer service immediately. We are experienced and capable to guarantee you Bhutan Visa. We wish you a pleasant journey.
Related Articles
Ask a Quick Question Below?
Email response within 0.5~24 hours.