Lhasa Altitude: Main Attractions with Various Elevations
Lhasa Altitude: Main Attractions with Various Elevations
Lhasa is located on the Tibetan Plateau, at the north side of the Himalaya Mountains, with an altitude of 3,650 meters(11,975 ft), which is one of the highest cities in the world. Due to the high elevation, thin air, and sufficient sunshine(more than 3000 hours annual sunshine), Lhasa city is also being called the city of sunlight. It's the capital city of Tibet and also the holy place of Tibetan Buddhism.
The Altitude Of The Main Districts Of Lhasa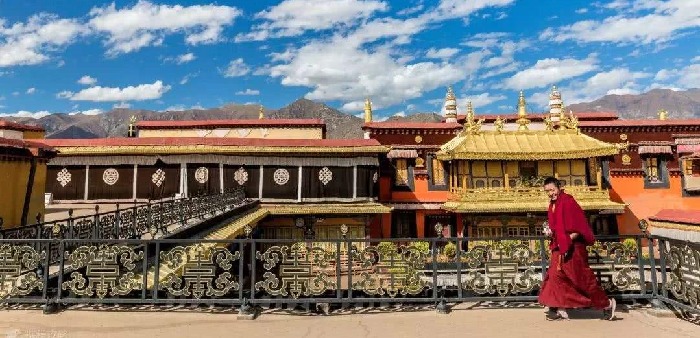 Jokhang Temple
Chengguan District is located in the river valley alluvial plain with an altitude of 3,650 meters(1,1975 ft), which is the only municipal district of Lhasa city. Chengguan District covers an area of 523 square kilometers. It is not only the center of Tibet's politics, economy, culture, transportation, communication, and education but also the most developed region of Tibet's religious culture. After a long historical process, it has developed into a destination for tourists from home and abroad to come to Tibet and an important window to understand Tibet. As the most developed religious and cultural areas in Tibet, there're many places of interest such as Potala Palace, Jokhang Temple, Ramoche Temple, Norbulingka, Sera Monastery, Drepung Monastery.
Doilungdêqên District is close to the west of the Chengguan District, with an average altitude of 4,500 meters(14,764 ft). The terrain is high in the northwest and low in the southeast. Lhasa River and Duilong River pass through the territory. The main tourist attraction is Tsurphu Monastery, at 4,300 meters(14,108 ft) above sea level. It is the traditional seat of the Karma Kagyu sect in Tibetan Buddhism and has a history of 800 years.
Damxung County is to the northwest of Doilungdêqên District, with the highest altitude of 7200 meters(23,622 ft) and the average altitude of 4200 meters(13,780 ft). Lake Namtso, the largest lake in Tibet, with an altitude of 4718 meters(15,479 ft), is a fascinating place. Half of Namtso Lake situated in Damxung. Yampachen Hot Springs is also located in Damxung county. It's proved to be the largest high-temperature geothermal and humid steam field in China.

Ganden Monastery
Dagzê District is on the east of the Chengguan District, with an average elevation of 4,100 meters(13,451 ft) and the lowest elevation of 3730 meters(12,238 ft). The region covers an area of 1,373 square kilometers and has a population of 30,000. There are 14 temples in Dagzê District, including Ganden Monastery, the head of six temples of the Gelug sect (yellow Religion) with a history of more than 600 years, and Drak Yerpa. Ganden Monastery was built at the top of Wangbur Mountain, 3,800 meters(12,467 ft) above sea level. It takes about three hours to go round the mountain. The Drak Yerpa located on a hillside, with an altitude of nearly 5,000 meters(16,404 ft).
Maizhokunggai County is to the east of Dagzê District, surrounded by river valleys and widely spread grasslands. The terrain is high in the east and low in the west, with an average altitude of more than 4,000 meters(13,123 ft). In Maizhokunggai County, there are Songtsan Gambo's birthplace, Gyama valley, Drigung Til Monastery, Tidrum hot spring.
The Altitude Of Places Near Lhasa

Samye Monastery
Tsedang Town situated in Shannan, 150 kilometers from Lhasa, at 3,560 meters(11,680 ft) above sea level. Along the way, you can visit Samye Monastery, Tradruk Temple, and Yungbulakang Palace.
Yamdrok Lake is one of the three holy lakes in Tibet, only 1.5 hours' drive from Lhasa, 90 kilometers distance. The lake is 4,441 meters(14,570 ft) above sea level.
Gongga Airport, 60 kilometers away from Lhasa City, is 3569.5 meters(11,711 ft) above sea level.
How To Deal With The Altitude Sickness?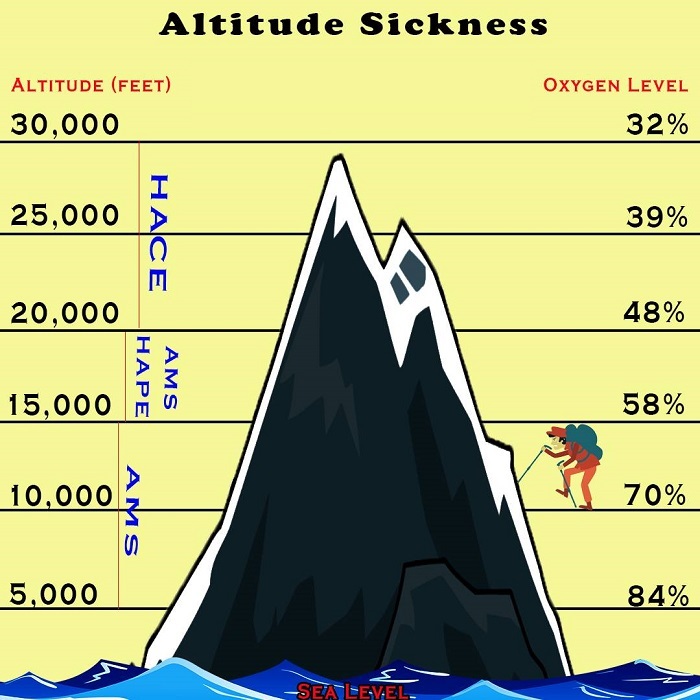 Altitude and oxygen level
Altitude sickness is a common disease that occurs when people living in plain areas suddenly enter the plateau above 3,000 meters(9,842.5 ft) above sea level and expose to the low-pressure and low-oxygen environment. Usually, about 50% of people may have altitude sickness, and the symptoms will gradually disappear after 1-3 days' adaptation. Common symptoms include headache, insomnia, loss of appetite, fatigue, difficulty breathing, etc. Patients with severe anemia, hypertension, cardiovascular and cerebrovascular diseases are not suitable to travel to the plateau area. Lhasa is 3650 meters above sea level. Since it's likely to have some symptoms of altitude sickness for many people for the first few days, learning something about how to prevent altitude sickness will be very helpful. Especially for those who plan a trip to Lhasa for the first time. Here are some tips,
1. Take targeted physical exercises before entering the plateau. Do aerobic exercise a month or two in advance, such as jogging or weight-bearing walking.
2. Prepare the necessary personal items: sunglasses, sunscreen, sports clothes, down jacket, travel shoes, flashlight, rain gear, daily cleaning supplies, as well as anti-altitude sickness drugs, medicine for headache, diarrhea, etc.
3. Keep a positive attitude. Don't get too nervous or excited, and avoid running fast or doing strenuous exercise at high altitude areas.
4. Drinking plenty of water can make your blood circulate smoothly, increase your oxygen supply, reduce the burden of your heart and lungs, and expel toxins quickly so that you can adapt to the high altitude environment in a very short time. Generally speaking, you should drink at least 1-2 liters of water per day at high altitudes. In addition to plain water, it still can be added in the water glucose, American ginseng slice, juice powder and so on to supplement energy, enhance the ability to resist disease.
5. Protect yourself from cold and keep warm. Plateau weather features low temperature, a big temperature difference between day and night, and the weather changes quickly. Therefore, you must take enough warm clothing, then add or take off clothing timely. Also, take a shower as little as possible to avoid catching a cold.
6. Eat right. In the anoxic environment on the plateau, the function of the digestive system is weakened compared with that in the plain area. Accordingly, in the diet, choose more digestible food, less greasy food. It's also not suitable to eat too full. Increase the proportion of carbohydrates (should occupy 60% above) and high plant protein, and increase the intake of all sorts of vitamins, in order to provide a quantity of heat quickly, therefore improve the body adaptability.
7. Organize tour schedule reasonably. It's better to take a train to Lhasa for the first time comer, as you can acclimatize the altitude gradually to avoid altitude sickness.
Related Articles
Ask a Quick Question Below?
Email response within 0.5~24 hours.