Lhasa History
Lhasa, one of the most elusive part of the world in ancient times. As time passed by, these secrets were unraveled to all people, not just to Tibetan Buddhism pilgrims but also the rest of the world. A secluded part of China, Lhasa offers a beautiful culture and splendid history, and shrouded by a lush and beautiful tapestry of heavenly given nature.Tibet, especially Lhasa has its own flow of history which is different from the rest parts of China.. Called as "place of the gods" in its direct English translation, one would wonder how Lhasa would come to be, its humble beginning, how it rose to be known as the sacred land, its struggles, and how a culture survived and endure all challenges to become such a magnificent place we all know today.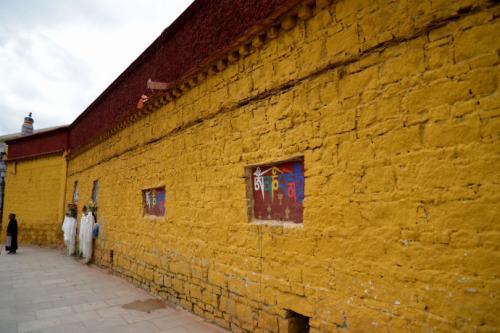 Lhasa was formed around the 7th century AD spear headed by Songtsen Gampo. He was a respected icon in his valley of Yarlung, with a goal of unifying the whole Tibetan region started by his father, he systematically did that and as a sign of power, moved the capital to Lhasa and built a castle there which we all now known as the Potala castle, one of UNESCO's world heritage sites. Religion was a big part of his conquest of Tibet, marrying two brides from China and Nepal, each presented dowries of precious Buddhist idols from their countries to be housed in Ramoche and Jokhang, where are still considered as the place of worship and holy grounds by the Buddhist population.
The Yarlung empire didn't last forever, after 250 years it had broken-up and Buddhism was now flourishing outside of Lhaksa, where monastery centres are being built and power within Lhasa shifted to China's Tsang dynasty. No longer the Capital Lhaksa suffered a great blow to its economy, culture, religion and way of life. It would be a backwater country within Chinas great Tsang dynasty until it was given salvation by the hands of the 5th Dalai Lama, who defeated the kings of the dynasty with great assistance from the even greater Mongol forces at the time. He (The 5th Dalai Lama) moved the capital back to Tibet and it stayed there as Tibet's capital from 1642.
The present-day Lhasa gives the best tales of Tibet. Before October of 1950 a town on the foot of Potala was known which had links and pathways going to the residents of Jokhang, it was called Shöl but now has disappeared. The west gate was demolished for charging admissions to the holy city during the cultural revolution, but was rebuilt with a smaller version in 1995.In conclusion Lhasa had been through a lot of ups and down with the flow of time, nonetheless, it had survived it all and now have stood the test of time and now seen as an important part of not only Buddhism but also a part of the rich history of our world.
Related Articles
Ask a Quick Question Below?
Email response within 0.5~24 hours.