Dublin to Lhasa Flights
by Meo
Last Updated: 2023-01-27
Tibet is one of the most mysterious and special places on our planet. There's splendid scenery of Mt. Everest, sacred monasteries with sincere Buddhists, and unique traditional culture.
Dublin is 7,869 kilometers away from Tibet. To travel to Lhasa, the capital city of Tibet, you need to take connecting flights with a least 2 layovers. Generally, you can get to Tibet via China or via Nepal. If you're going to fly to Lhasa via China, you need to apply for your China Visa and get your Tibet Travel Permit in advance. If you're going to fly to Lhasa via Nepal, in this case, you need to obtain a China Group Visa and a Tibet Travel Permit.
Dublin to Lhasa Flight Brief Info
Distance: about 7,869 kilometers (4,254 miles)
Duration: at least 23 hours
Flight Type: connecting flight
Popular connecting Airports: Frankfurt Airport (FRA) or Amsterdam Airport Schiphol 

(AMS) or Paris Charles de Gaulle Airport(CDG)

Airports: Dublin Airport (DUB) – Lhasa Gonggar Airport (LXA)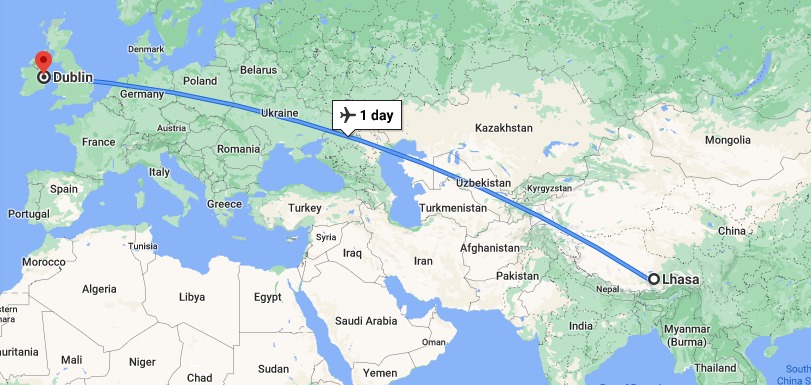 Connecting Flights from Dublin to Lhasa
At present, the fastest flight between Dublin and Lhasa takes 23hrs 10mins with two stops at Frankfurt Airport in Germany and Chengdu Shuangliu Aiport(CTU) in China before you land in Lhasa Gonggar Airport, which is one of the highest airports in the world with brisk air in your lung. However, the tickets are usually in high demand and the best time to book is six to twelve weeks before your departure date. If you have less than six weeks to Lhasa before your departure, prices are likely to rise. The one-way ticket is about €1000 with two stops. However, the flights vary from time to time. You may contact us for the most recent flight ticket info.
How to Get to Lhasa from Dublin
Via Mainland China
You can fly from Dublin Airport to Frankfurt Airport then to Chengdu Shuangliu Aiport, where you can transfer to Lhasa by plane or train. The connecting flight between Dublin and Chengdu takes about 17hrs and costs about €700 per person. Besides, the flight from Chengdu to Lhasa takes about 2.5hrs and the train takes about 36hrs.
Via Nepal
You can fly to Kathmandu and then get to Tibet by plane or car. Currently, there is no direct flight from Dublin to Kathmandu, you have to spend at least 13hrs 30mins on the connecting flights with a stop in Hamad International Airport(DOH) before flying to Tribhuvan International Airport(KTM). The cost is about €720. Afterward, you can take 1.5 hrs to fly to Lhasa, which costs €390; or take overland travel into Tibet.
Related Articles
Ask a Quick Question Below?
Email response within 0.5~24 hours.